Hi-Crush Partners LP (HCLP) has been roasted over the flames the past 6 months with unrelenting selling pressure which I believe might be coming to an end here shortly. Hi-Crush's next quarterly report in May will feature pretty much a whole quarter's worth of ramping up Kermit 2's volumes, along with an update of the company's C-Corp conversion expected to close sometime before the end of the first half of 2019. Although sentiment for the sector seems to be perpetually at rock bottom and dropping, Hi-Crush's valuation and future prospects might be worth taking a chance on at this time especially if you believe the market is a forward looking entity.
Hi-Crush's Q4 earnings report and management are primarily concerned about where the company is heading in the future now that it has its newest facility Kermit 2 ramping up towards full capacity. CapEx should moderate noticeably for the company moving forward as Kermit 2 construction has been completed and its Wyeville facility expansion remains on target for completion in Q1 2019. It is now in prime position to benefit from the clearing up of the Permian's pipeline bottleneck issues that have hampered the Permian since last fall as several new pipelines are scheduled to come online in the back half of 2019.
Kermit 2 will double Hi-Crush's potential volumes in the critical Permian Basin going forward at a significantly better contribution margin than its Northern White operations. Kermit 2 avoids costly train transportation to basins that Northern White facilities use and will utilize different roads in the Permian than Kermit 1as it will also help promote the company's differentiating PropStream and Silo solutions. This is one reason that management has forecasted first quarter's sales volumes to come in at 2.4-2.6 million tons, a possible 21.4%-31.5% sequential increase from Q4's volumes which were a paltry 1,976,805 tons. The Producer Price Index for hydraulic fracturing sand hopefully will be nearing a bottom also in the second half of 2019 as takeaway capacity finally starts to clear up and things hopefully revert back to a more normal state in the Permian.
The market hates uncertainty and the conversion of Hi-Crush from an MLP into a C-Corp before the end of the first half of 2019 should clear up a lot of the confusion of where management is taking the company going forward. Hi-Crush has set up February 19th as the record date for scheduling the upcoming special meeting of its unitholders to vote on converting to a C-Corp and a listing on the NYSE under the ticker symbol "HCR". Converting to a C-Corp should open it up to more investment from retail and institutional investors who don't want to deal with K-1 tax forms associated with Master Limited Partnerships. Under 2018's revised tax plan, C-Corps receive a better tax rate than before, offsetting a lot of the former benefits of being a MLP. The conversion also should help reduce Hi-Crush's cost of capital. This should give the company the option to refinance its $450 million offering of notes due in 2026 at better rates, or to borrow additional funds over time at better rates, if new M&A opportunities arise, or they plan additional build-outs in the Permian or at their Northern White sites.
The C-Corp conversion could also easily come with a restart of a brand new dividend for the company, especially when takeaway concerns in the Permian start to abate, after the company axed its former distribution in response to last quarter's sub-par results. The pain of a distribution cut or elimination was expected by many with a C-Corp conversion anyway, so this headwind is already now built into the stock with the potential start of a brand new dividend in the back half of the year as a potential upcoming tailwind for the company.
Finally, valuation and sentiment for Hi-Crush are at amazing lows as revenues looks to have bottomed out with this last quarter's report. This, along with the acquisition of its former general partner last October for 11 million newly issued units of Hi-Crush stock, has helped destroy the unit price over the past half a year as I imagine a lot of these former partners decided to cash out of their positions with large block sales in order to free up cash for future investments.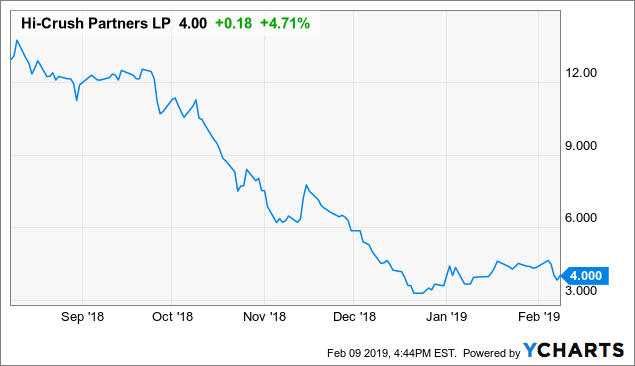 This also might mean that much of the forced selling is behind Hi-Crush, as 6 months should have been plenty of time for these former partners to fully exit their positions. With valuation of the company currently sitting at approximately $400 million, a restart of the company's buyback authorization after its C-Corp conversion could be a significant tailwind for the company when sand prices and volumes potentially rebound in coming quarters.
With $172 million in current liquidity, including $114 million in cash, Hi-Crush is in pretty much no danger of near-term financial trouble, even if prices and volumes remain low over 2019, or the takeaway concerns in the Permian take longer than expected to clear up, or if oil retraces back down into the $40s or even $30s a barrel. Management continues to close and open facilities to optimize sales as in the past as it nimbly adapts to the ups and downs in the market.
I have regularly bought and sold units in Hi-Crush over the past year and continue to look for opportunities to add or dispose of units as the company continues its roller coaster ride. I see a potential opportunity now with units under $4 again, and much of the bad news already baked in, and have decided to double up my current position, which has dwindled from a regular position over the past 6 months to a small one in my portfolio. With Kermit 2 now complete and expected to contribute much needed volumes and margins going forward, I see much more upside at these levels moving forward as the company's C-Corp conversion is on the near-term horizon and the Permian Basin takeaway concerns should mitigate over the back half of 2019. Timing the forward looking market is a fool's game, so I'm making a bet now as valuation looks to be potentially bottoming out. Best of luck to all.
Disclosure: I am/we are long HCLP. I wrote this article myself, and it expresses my own opinions. I am not receiving compensation for it (other than from Seeking Alpha). I have no business relationship with any company whose stock is mentioned in this article.