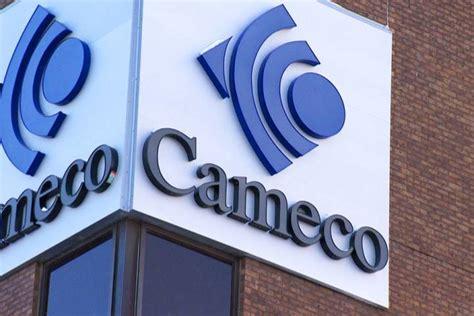 source: globalnews
For those following or investing in commodities, it's a well-known adage that the answer to low prices is more low prices. The reason for that is eventually the market will correct itself as companies tighten production and supply in order to give a commodity a sustainable price boost.
That is true with uranium, which has gone through a prolonged, cyclical downturn in prices, which appears to have bottomed out, as the price of uranium has jumped over 40 percent since April 2018, helping to push the price of Cameco (CCJ) close to the $13 per share mark in midday trading.
On February 1, 2018, Cameco was trading at $8.82 per share, and on February 8, 2019, it closed at $12.34 per share, after shedding $0.35 for the day.
In this article we'll look at whether or not Cameco still has some decent upside left, or it has almost everything priced in where it stands at this time.
Latest earnings
Revenue in the quarter ended December 31 was C$831 million, up 2.7 percent from the C$809 million in revenue during the same reporting period last year. Full-year revenue ended at C$2.1 billion, down from the C$2.16 billion generated in full-year 2017.
Net earnings in the quarter jumped to C$160 million, up from the C$62 million loss year-over-year.
Non-GAAP earnings per share in the fourth quarter was C$0.51, beating by C$0.28. GAAP earnings per share was C$0.40. Full-year earnings per share finished at C$0.53, up from the C$0.15 of full-year 2017.
The slightly lower performance in some metrics came from the company suspending production "at McArthur River/Key Lake and the change in reporting for Inkai."
Cost-cutting measures also resulted in the company bring its balance sheet to $1.1 billion, with most of that attributed to inventory draw down.
Uranium prices
The price of uranium has been jumping lately, but the overall market hasn't rewarded uranium producers to the level you would expect, based upon the expected ongoing upward trajectory of prices.
I think that's primarily because of the couple of price feints over the last two years, starting near the beginning of 2017 and also near the latter part of the same year. Neither moves were able to find sustainable support after the quick moves, and they settled back down until recently.
Over the last year, the price of uranium, rather than taking off in a spurt, has incrementally climbed in price from $20 per pound to about $29 per pound. This was primarily from the production cuts put in place by Cameco and its major competitor Kazatomprom in 2017.
Jonathan Guy, research director at Numis Securities, said the company sees the price of uranium continuing to climb over the long term, reaching a "contract price of $60 per pound ($/lb) and a spot price of $50/lb...."
Numis added that the "price rebound is likely to be more acute however, market tends to be shock catalyst driven."
In the near term the uranium market remains oversupplied, but that appears to be rapidly moderating, which should push prices up rapidly once supply contracts.
The pace and level of the price catalyst will be the timing and number of Japanese nuclear power station restarts, what Kazatomprom does, and Chinese contract actions.
Outlook for demand
On the demand side the major catalyst for Cameco will be the restarting of Japanese reactors in 2019. From 2015 to 2017 only four nuclear reactors were restarted in Japan. In 2018, that increased by five, and at this time there are another six reactors that have been given government approval to restart.
Also, there are 12 more nuclear reactors going through the review process in Japan, with the probability they'll be given the green light. In the end, Japan, on the high end, will restart up to 34 reactors, 20 less than the 54 operating when Fukushima happened.
Expectations are the review process in Japan will accelerate on the approval side of the ledger. That will benefit Cameco.
On the other hand, it's not as clear in regard to demand from the Chinese. While China continues to boost nuclear capacity, it has primarily sourced its uranium from Kazakhstan. The question moving forward is whether or not China moves outside of that loop or decides to stay within it.
This isn't going to be an issue anytime soon, but over the long term it's definitely something Cameco shareholders will have to take into account concerning the uranium producer with the most sustainable future growth outlook.
Conclusion
Cameco has taken a more defensive posture because of the bearish demand environment since the Fukushima disaster. It has a solid balance sheet as it cut costs, but it will have to change tactics some in order to take advantage of the increasing demand from Japan, and possibly, from China, if it manages to win some of that business.
With or without China Cameco should boost sales and earnings on Japanese demand for a couple of years. It won't be the biggest mover in the uranium space, but it should be the most consistent, and in my view, still has room to grow. I don't think everything on the supply side of the business has been priced in yet.
If it does manage to win some business from China, the long-term outlook for the company looks a lot stronger than it does now.
So at a time when uranium inventory has tightened, energy utilities are starting to increase contracts, which will in turn continue to drive up the price of uranium as more nuclear plants restart.
That, and sales cuts in the U.S., which used to be five million pounds a year, is turning this into a transitioning bullish uranium market, which should drive up the price of uranium much higher, and push up the revenue and earnings Cameco generates.
While I don't see a huge upward move in Cameco's share price, I think it does have enough impetus and catalysts remaining to make it a safer and less volatile uranium holding than some of its smaller competitors.
The good news is most of the market has ignored uranium since it entered into the lengthy and deep bear market. Once it discovers the positive catalysts driving it, it will generate some solid returns for traders.
I think the reason this is likely to be sustainable is because speculators appear to have ignored the price move of uranium over the last year or so, and that is probably why the price has behaved in a more incremental manner than in the wild swings in 2017. That suggests to me investors with a longer term outlook have taken positions in the sector, implying a more healthy and consistent market performance.
We're likely to see another surge in uranium prices, but it'll be based upon a higher bottom and lower ceiling, which should limit the price swings. That will attract more investors and fewer speculators.
For that reason, Cameco isn't going to generate the strongest results within the uranium sector, but it should provide a safer and steadier long-term performance.
Disclosure: I/we have no positions in any stocks mentioned, and no plans to initiate any positions within the next 72 hours. I wrote this article myself, and it expresses my own opinions. I am not receiving compensation for it (other than from Seeking Alpha). I have no business relationship with any company whose stock is mentioned in this article.