Snap, Inc. - Closing Short Position - down 65% vs. S&P up 14%
Snap (NYSE:SNAP) was originally selected as a Danger Zone Idea on 2/6/17 in advance of its March 2 IPO. At the time of the initial report, the stock received an Unattractive rating. Our short thesis highlighted declining economic earnings, slowing user growth, and an inability to compete against entrenched social media giants. Where other investors saw the next Facebook (FB), we saw the next Twitter (TWTR): a platform that was limited in size and would always struggle with monetization.
During the 707-day holding period, SNAP outperformed as a short position, declining 65% from its IPO day closing price of $24/share and 50% from its offering price of $17/share, compared to a 14% gain for the S&P 500.
In the nearly two years since its IPO, just about everything that we said could go wrong for SNAP has gone wrong. A short list of SNAP's woes includes:
None of the issues we identified in our initial report have changed. However, it appears the market has absorbed so much bad news at this point that there's little left to drive the stock down further and a low bar for it to pop back up. In its latest earnings report, SNAP reported no user growth and nearly $200 million in operating losses. Since the market expected users to decline and losses to be even larger, the stock jumped 25%.
With the market willing to reward such a poor quarter - along with the possibility of an acquisition if CEO Evan Spiegel ever changes his mind - we've decided to take our gains and close our position. SNAP still earns an Unattractive rating in our model, but we're not recommending it as a short idea at these levels.
Figure 1: SNAP vs. S&P 500 - Price Return - Successful Short Call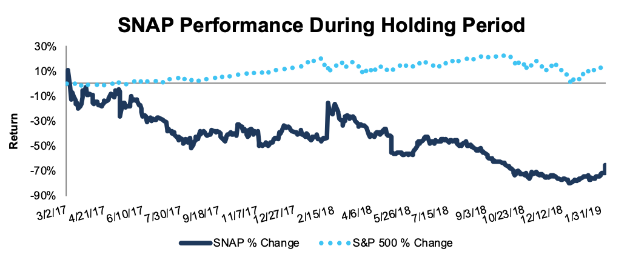 Note: Gain/Decline performance analysis excludes transaction costs and dividends.
This article originally published on February 8, 2019.
Disclosure: David Trainer, Kyle Guske II, and Sam McBride receive no compensation to write about any specific stock, style, or theme.
Get our long and short/warning ideas. Access to top accounting and finance experts.
Deliverables:
1. Daily - long & short idea updates, forensic accounting insights, chat
2. Weekly - exclusive access to in-depth long & short ideas
3. Monthly - 40 large, 40 small cap ideas from the Most Attractive & Most Dangerous Stocks Model Portfolios
Both Ernst & Young and Harvard Business School demonstrate the superiority of our research in recent white papers.
Disclosure: I/we have no positions in any stocks mentioned, and no plans to initiate any positions within the next 72 hours. I wrote this article myself, and it expresses my own opinions. I am not receiving compensation for it. I have no business relationship with any company whose stock is mentioned in this article.