Introduction
I have always been aware of KKR (NYSE:KKR) and its long-storied history, a history that was immortalized by the 1980s film "Barbarians at the Gate," which depicted KKR's hostile takeover of RJR Nabisco. An image from the film is below.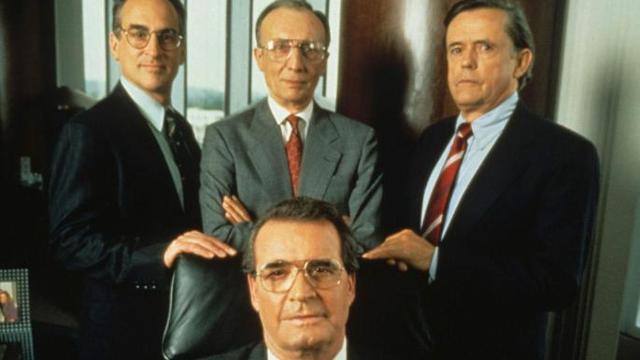 That said, I never really gave the company any serious consideration as an investment because of its limited partnership structure. The stock came under my radar, however, at the end of 2018 for two reasons:
First, the company had switched to a corporate structure; and
second, the company's stock fell below $19 to a 52-week low.
I started to do some digging, but as I was researching the company, the stock ran away from me, increasing by more than 25%.
KKR remains on my watchlist, but currently priced near $24 per share, I believe KKR is a Hold for the reasons noted in this article, coupled with my belief that a recession is coming and that a recession will have a materially adverse impact on KKR (as well as the other private equity/alternative asset manager firms), at least in the short run.
In addition, my determination that KKR is a Hold also reflects the fact that KKR is very complex, its investment portfolio is opaque, it relies on volatile incentive and performance fees, and it is generally subject to market, trading and credit risks.
About KKR
Led by Henry Kravis and George Roberts who co-founded the firm in 1976, KKR & Co. Inc. (KKR), formerly KKR & Co. L.P., is a leading global investment firm that manages investments across multiple asset classes and industries, including (without limitation) private equity, energy, healthcare, infrastructure, real estate, credit and hedge funds. Throughout its history, the firm has consistently been a leader in the private equity industry. KKR seeks to create value by bringing its operational expertise to its portfolio companies, and through active oversight and monitoring of KKR portfolio investments.
KKR has a global presence and platform with offices around the world, and KKR primarily operates through four segments:
1) Private Markets,
2) Public Markets,
3) Capital Markets, and
4) Principal Activities.
In recent years, KKR has grown by further expanding its geographical presence and building businesses in new areas, including fixed income, hedge fund solutions and infrastructure. When exiting investments, KKR seeks to optimize returns for fund investors.
Financial Matters
KKR recently reported Q4-2018 distributable earnings of $0.55 per share, up from $0.48 a year earlier and above the consensus of $0.50. KKR's revenues rose 19% to approximately $1.08 billion. The rise was largely attributable to growth in management and transaction fees.
Other highlights include:
- Q4-2018 distributable earnings were $460 million, up from $373 million a year earlier;
- assets under management were $194.7 billion at December 31, 2018, up 16% from the prior year;
- full year 2018 revenues increased 19% to $3.9 billion; and
- full year distributable EPS rose to $1.93 from $1.66.
The company's top five holdings as of December 31 were First Data Corp. (FDC),* USI Inc., Heartland Dental, KKR Real Estate Finance Trust (KREF), and PetVet, with a total carrying value of $2.6 billion.
[*First Data has agreed to be acquired by Fiserv in an all-stock transaction.]
Overall it was a solid quarter and year for the company, and its recent shift to corporate status has simplified its reporting structure relative to the other publicly traded private equity firms. The simplified structure also permits KKR to be included in equity stock indexes and the required share buying by index funds is an additional source of capital for KKR. For this reason (mandatory index fund buying), a number of its competitors, including Blackstone (BX), are considering conversions to a corporate structure.
KKR's book value was $15.57 per share as of December 31, implying a price/book multiple of approximately 1.5.
At 1.5 book value and approximately 13 times its 2019 distributable earnings estimate of $1.76, KRR is trading at a reasonable valuation, but not necessarily cheap (particularly when it appears that we are late in the business cycle).
KKR's primary asset is a portfolio of investments with a fair value of about $9.8 billion as of December 31, 2018. Other assets include cash and short-term investments of $2.5 billion and unrealized carry of about $1.2 billion.
Liabilities are about $4.1 billion.
In May 2018, KKR increased the amount available for share repurchases to $500 million. Between September 30, 2018 and January 25, 2019, KKR spent $167 million to buy back 5.5 million common shares. KKR also retired equity awards representing 1.6 million shares. KKR has approximately $254 million remaining on its share repurchase authorization.
Risks
An investment in KKR carries substantial risks, a handful of which are outlined below.
Investors must be comfortable with the opaque nature of the alternative asset manager business model.
Investors in KKR are betting that the company's outstanding investment track record will continue in the future. There is no assurance that KKR will be able to do so.
Competition within the private equity space is fierce.
KKR depends on favorable credit markets and favorable capital raising conditions in order to finance/fund its investments. As alluded to above, I think we are overdue for a recession, which would adversely affect credit markets and likely have an adverse impact on KKR's capital raising ability, in addition to reducing the value of KKR's assets.
KKR relies on volatile incentive and performance fees. The stock itself is volatile, carrying a beta well above 1.0.
Compensation for management of a firm like KKR is usually not transparent, and frequently asymmetrical (i.e., managers are often paid well even when the stock does not appreciate, and even more when the stock does).
Bottom Line:
For the foregoing reasons, and even though the company is currently performing well, I require a larger margin of safety than the market currently offers in order to invest in KKR. Trading near $24 a share, I think KKR is a Hold, but will keep it on my Watchlist - should it fall below $20 again, I will be looking to initiate a position.
Disclosure: I/we have no positions in any stocks mentioned, and no plans to initiate any positions within the next 72 hours. I wrote this article myself, and it expresses my own opinions. I am not receiving compensation for it (other than from Seeking Alpha). I have no business relationship with any company whose stock is mentioned in this article.