What do autonomous driving, cloud storage, the robotics industry, and the fastest growing CapEx areas of Amazon (AMZN), Google (GOOG) (GOOGL), Alphabet, General Motors (GM), Lyft, and Uber have in common? They all rely on the type of services provided by CyrusOne (NASDAQ:CONE).
Background

CyrusOne (the "Firm") provides mission-critical data center facilities and IT infrastructure for approximately 1,000 customers across the United States, Europe, and Asia, with the addition South America in progress. The Firm's customers include 200 of the Fortune 1000 and nearly half the Fortune 20 (or private/foreign enterprises of similar size), demonstrating the Firm's ability to take on the largest and most technical of projects.
CyrusOne wasn't always a REIT, nor was it always publicly-traded. As an institutional investor, I often work with companies long before they become household names with public investors. CyrusOne converted to a REIT for the 2012 tax year followed by an IPO, and it has provided outstanding returns ever since.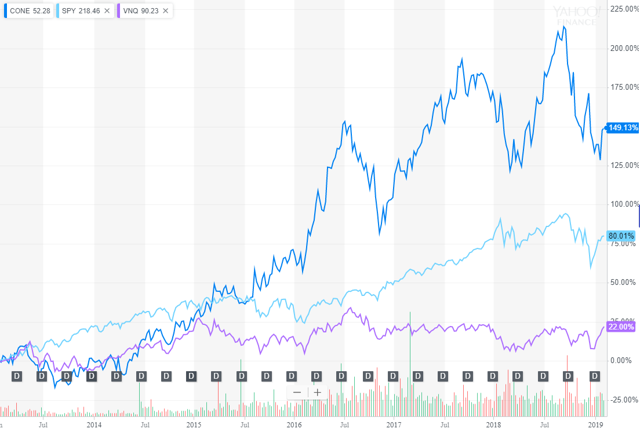 Source: Yahoo Finance
In fact, since inception CyrusOne has smoked the S&P 500 (SPY) and absolutely crushed the Vanguard Real Estate ETF (VNQ). The challenge has been taking advantage of the minimal time it has traded below long-term averages in terms of FFO/AFFO. Albeit a modest discount, this is one of those times.
Landscape
CyrusOne, CoreSite Realty (COR), Digital Realty (DLR), QTS Realty (QTS), and Equinix Inc. (EQIX) are the major players in the data center segment. Let's do a quick analysis, leveraging the research we, at Williams Equity Research, have on tap internally, coupled with information from Fast Graphs. Please keep in mind that CyrusOne does not report Q4 results until February 21st before boldly asking why we didn't include Q4 results in the comments.
FFO Per Share Growth (Q3 2016-Q3 2018)
#1 EQIX @ 18%
#2 COR @ 9%
#3 CONE @ 8.5%
#4 DLR @ 7%
#5 QTS @ 3.5%
Distribution Payout Ratio (FFO Q3 2018)
#1 CONE @ 56%
#2 EQIX @ 57%
#3 DLR @ 60%
#4 QTS @ 63%
#5 COR @ 84%
Trailing FFO Multiple (Q3 2014-Q3 2018)
#1 DLR @ 15.0
#2 CONE @ 18.0
#3 COR @ 19.2
#4 QTS @ 19.0
On average, CONE is more attractive than its peers, but we'll analyze it through a critical eye. Only QTS Realty and CyrusOne currently trade at discounts to their five-year trailing FFO multiple, and the former is better priced on average from a valuation perspective. It also has the lowest dividend payout ratio by FFO of the entire group. In terms of yield, the Firm is just under the peer average of 3.6% but slightly better than the peer average when adjusted for the payout ratio. What do I mean by that? COR's yield would be 3.3% instead of 4.3% if it maintained CONE's payout ratio. That's the real comparison. CyrusOne generated $0.79 in normalized FFO per diluted share during the last reporting period in Q3 2018. All of the Firm's fundamentals point toward 10% FFO (and AFFO) growth in 2019. This double-digit growth rate means we only need to obtain CyrusOne at a modest discount to its historical average to maintain a high probability of significant gains over a medium to long-term hold period. The $3.16 in annualized FFO results in a favorable 17.2 FFO multiple versus the long-term of approximately 18. At our internal buy target, which we are still confident will be reached in the near term, that multiple decreases toward 16. Using 2018's high of 22.0x, that represents a 25% gain, excluding distributions received along the way. If the company outperforms in the interim, we'll raise our internal target accordingly and update the model portfolio in Institutional Income Plus. We'll also do our best to provide updates to the public as we always strive to do time permitting.
Company spending on the services provided by companies like CyrusOne must remain strong for it to maintain its current growth rate much less accelerate. This has been a fear as of late but an unjustified one based on what we've read. In the first half of 2018, for example, capital spending by Amazon, Facebook (FB), Google, and Microsoft (MSFT), a large percentage of which is dedicated to their cloud services, totaled $35 billion which was up 59% year over year ("y/o/y"). With a presence in Asia and deals currently in progress in Columbia and Brazil, CONE is global, so let's look toward a leading company overseas. Alibaba Group (BABA) CEO stated during the last conference call that its cloud service revenue was up 93% y/o/y. CapEx spending on data storage, as well as within each specific type, is something we and data center REIT investors should keep a keen on.
Key Financial Measures Contd.
While the factors evaluated are effectively the same for every REIT, our focus shifts depending on the unique aspects of the company. For CyrusOne, we know the company has outstanding growth and is in a highly favorable sector. We must ensure that growth is durable, linear, and profitable, however. This is polar opposite of the average mall REIT, for example, which may be struggling to maintain last year's revenue and fighting an uphill battle in a dying segment of the economy. Simon Property Group (SPG) has mitigated many of these challenges but it has done so strategically and not by chance. Simon Property Group has an excellent balance sheet behind its $65.5 billion market cap, steady leverage and minimal share issuance, and a well-covered distribution. These are the areas we need to evaluate carefully for a smaller $5.75 billion and rapidly growing REIT like CONE. As stated above, the dividend payout ratio is quite conservative compared to REITs in general and its peers but we still need to review several others.
Leverage
CyrusOne raised a total of approximately $450 million in common equity in the later part of 2018 much of which it is using to reduce leverage. S&P subsequently raised the Firm's issue-level credit ratings to investment grade BBB- and issuer credit rating to BB+ with a stable outlook. While it is far from the highest rated REIT, it achieves the key benchmark of being able to issue investment grade debt. We don't prefer the issuance of new shares, but done for the right reason, as is the case here, it's palatable.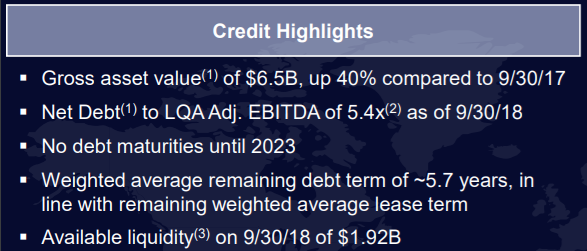 CyrusOne's gross asset value has grown rapidly to $6.5 billion resulting in a net debt to Adjusted EBITDA of 5.4x. It has no material debt maturities for another four years and decent remaining average debt term of just under six years. For those intimately familiar with the Firm's asset base, these statistics are adjusted for the Zenium acquisition. The Firm's liquidity of nearly $2.0 billion is more than sufficient to fuel its grown engine.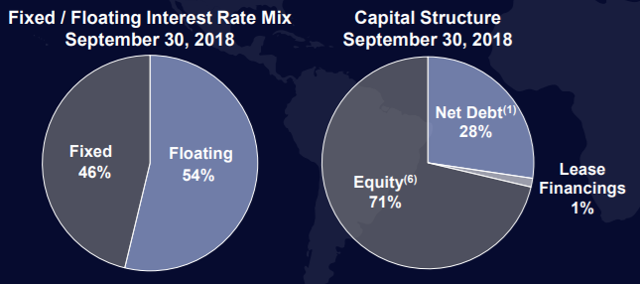 Source: CyrusOne
Importantly, the asset base remains unencumbered, and approximately half the Firm's interest rate exposure is fixed rate. Net debt is also a manageable 28% of the capital stack. COR's balance sheet is modestly superior, but CONE's is better than its peer average in terms of the traditional methods of analysis. The Firm pays a weighted average interest rate of 4.36% which is very favorable for a company of its size, type, and credit rating.
Durable & Diversified Growth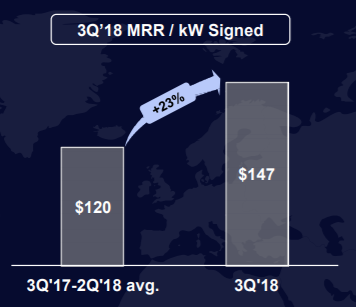 Source: CyrusOne
The Firm experienced significant growth in Q3 2018 versus the recent average in terms of kW. The $27 million in annualized GAAP revenue signed last quarter or $147 in monthly recurring rent ("MRR")/kW was up 23% as shown above. 500 leases were signed across nine business verticals and 10 markets, which was a 14% increase compared to previous quarterly averages (Q3 2017-Q2 2018).

In the last 12 months, the Firm signed $150 million in annualized GAAP revenue or an impressive 22% of all existing revenue. Revenue growth was primarily attributable to an expansion of the Firm's customer base, a 26% increase in occupied colocation square feet ("CSF"), and additional interconnection services. The Firm's lease turnover rate or churn is also in line with the bottom range (lower is better) of the 6-8% annual target.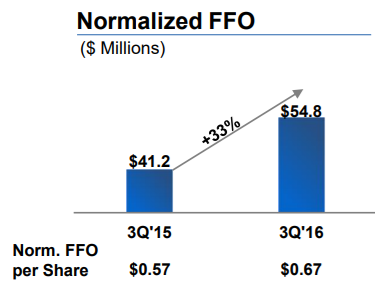 We at Williams Equity Research go through years of reports, SEC filings, and investor materials for every investment we analyze. Of those, only a small fraction is sufficiently near what we conclude to be an attractive value to result in an article or recommendations. If we consider the company's business model, finances, and management quality strong, we'll set an entry multiple target and review each quarter's finances to determine if it needs to be adjusted. The above data points demonstrate not only the significant increase in Revenue, Normalized FFO, and Adjusted EBITDA the Firm has generated in recent years but also that the growth rates have been maintained over a significant period of time.

Source: CyrusOne
Revenue growth remains well diversified with the exponential growth in CyrusOne's IT - Cloud division clearly demonstrated over the three-year period shown above. In fact, the IT - Cloud vertical represented over 65% of total MRR signed in the last two years and 58% of the MRR signed in Q3 2018. Weak capital spending in this area at a macro level would be a significant drag on CyrusOne's growth story.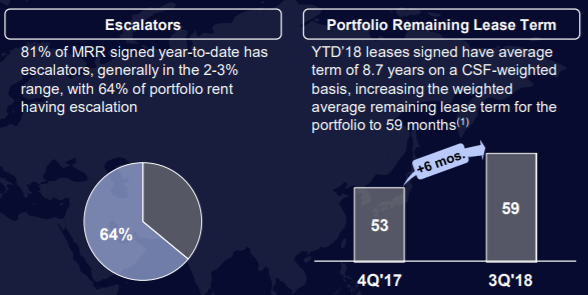 Source: CyrusOne
The Firm's existing 64% of portfolio rent with integrated escalators wasn't one of its best statistics. We'd preferably see that figure in the 75%+ range based on market dynamics. CyrusOne has improved significantly in its underwriting with 81% of MRR signed in Q1-Q3 2018 (as another friendly reminder, Q4 won't be released until February 21st) having 2-3% built-in rent escalators. Its remaining lease terms also rose half a year to 59 months. It did this by signing longer 8.7-year leases on average during the first three quarters of 2018, which is significantly higher than the portfolio's previous average of 53 months or 4.4 years. I'll mention, however, that Q4 2015-Q3 2016's deals had a weighted average lease term of 9.25 years, so this is not an all-time high.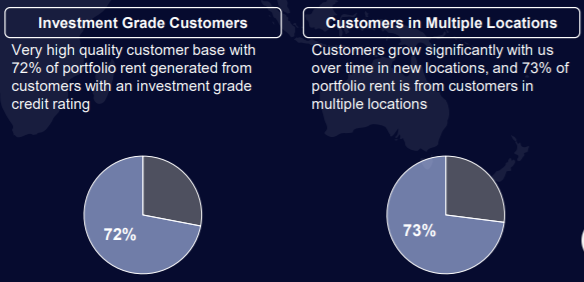 Source: CyrusOne
The investment grade rating of its customer base has increased linearly over time though you won't see that in any of the Firm's materials. As an example, 2016's portfolio ended with 63% of revenue generated by investment grade customers. Looking forward, the company has embedded revenue growth of over 10%. This is derived from existing projects and rent escalators meaning its reliable. The $89.1 million project backlog is the highest in CyrusOne's history.
Conclusion & Recommendation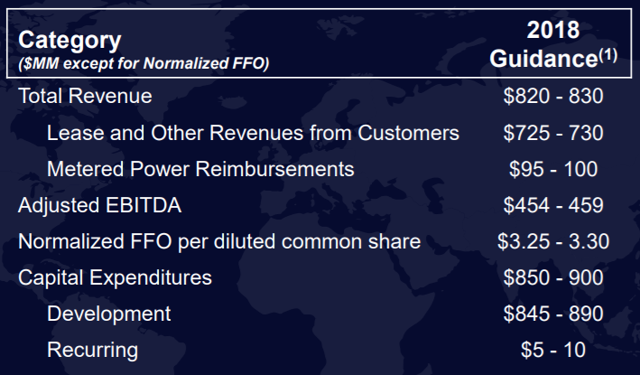 Source: CyrusOne
As mentioned previously, the $3.16 in annualized FFO results in a favorable 17.2 FFO multiple versus the long-term of approximately 18. We reserve specific entry and exit points for subscribers, but this alone suggests we are near a favorable price.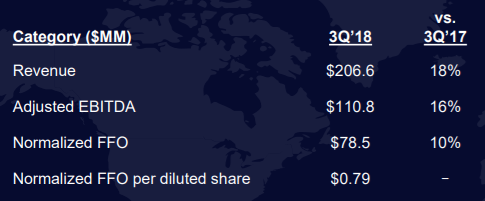 Source: CyrusOne
Given our conservative expectation is approximately 10% FFO growth during 2019, the tentative price target, which will more likely than not adjust as information is released throughout the year, is well above 2018's high. Including 12 months of distributions, this has a high double-digit total return potential.
CyrusOne announces Q4 results on February 21st, which we'll be analyzing immediately upon release. Please consider a free trial of our service if interested in more guidance around valuation based entry and exit prices as well as position sizing. As always, thank you for reading and commenting! - WER