Intel (INTC) is trading at an attractive discount to its intrinsic value as a result of the market focusing on the current slowdown for semiconductor manufacturers rather than the numerous catalysts coming in the years ahead. Investors should take advantage of the weakness in chip makers by initiating a position in this innovation leader. Intel has made big bets in memory, autonomous driving, artificial intelligence, and 5G. Technology companies that do not invest in R&D, drive innovation, and reinvent themselves are headed towards almost certain obsolescence. To avoid this fate, about five years ago Intel implemented a strategy to move from a PC-centric company to a data-centric company. This transformation demonstrates the company's ability to adapt, remain on the cutting edge of technology, and drive growth.
CCG Remains a Cash Cow
Intel's Client Computing Group remains a cash cow. While the business is never going to grow at the rates of the last decade, it can still grow at a reasonable rate while throwing off cash. This cash is used to reinvest in faster growing areas via R&D and acquisitions. It is also returned to shareholders via dividends and buybacks. While revenue in the data-centric business grew by 18% compared to 2017, the PC-centric business grew by nine percent. Nine percent growth is quite impressive for this segment and was better than Intel's own expectations. Part of this growth was attributed to the launch of the 9th generation Core i9 processor which targeted a growing segment, gaming. Despite the market's pessimism towards PCs, CCG has now recorded revenue and operating income growth for three years in a row. The PC-centric business accounted for 52% of Intel's total revenue in 2018. Intel estimates CCG's total addressable market to be $60 billion. This figure includes CPU, memory, graphics, and connectivity. This number is in addition to a $40 billion modem market where the company is gaining market share.

Source: 2018 10-K – Client Computing Group Trends
Diversification
This company is much more diverse in its product offerings compared to most or all of its competitors. It is targeting many fast growing and emerging areas as part of its transformation to a data-centric company including memory, autonomous driving, and 5G. Mobileye, which Intel acquired about two years ago, has grown its EyeQ family of system-on-chip devices into the automobile industry's leading solution for advanced driver assistance systems. Another big growth driver is cloud computing where Intel's Optane DC persistent memory started being shipped to data centers in 2018. The company's solutions cover almost every need across the areas of platform, storage, connectivity, and software.
The data-centric business will continue to account for a greater share of total revenues going forward. It already accounted for 46% of revenues in 2018. The data-centric business is split into four main groups including the Data Center Group (DCG), the Internet of Things Group ((OTC:IOTG)), the Non-volatile Memory Group, and the Programmable Solutions Group. DCG is by far the biggest of these accounting for 32% of 2018 revenue. This group focuses on workload-optimized platforms and related products designed for cloud, enterprise, and communication infrastructure market segments. Per the 2018 10-K, Intel calculates its 2022 data-centric total addressable market to be $200 billion. The company sees the biggest opportunities in cloud, networking, AI, and data analytics. Intel's data center market TAM expanded to over $70 billion in 2018 and is expected to grow to over $90 billion by 2022.
Research and Development
Intel has continued to successfully enter new markets thanks to its R&D program. R&D is the company's first priority in terms of capital allocation. The company shifted its R&D focus to its high growth data-centric business and maintained R&D investments at about 20% of revenue. R&D has increased by about 12% reaching $13.5 billion since 2015 due to these increased data-centric investments. To understand the scale of Intel's research effort one can compare its R&D spending to some of its competitors. For example, AMD's R&D spending was $1.4 billion in 2018 which was a 20% increase over 2017 levels for the company. In percentage terms, AMD's R&D spending is only 10.6% of Intel's. Of course, the amount of R&D spending tells us little to nothing about the effectiveness of the R&D spending. For this, we point to the previous discussion on Intel's transformation to a data-centric company and the new markets in which it is dominating. Overall, we believe that a combination of the massive size of Intel's addressable markets, its proven R&D programs, and numerous growth drivers will allow for these investments to produce an attractive return.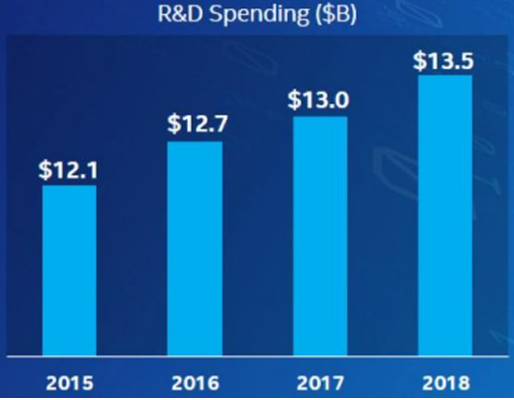 Source: Q4 presentation
Aside from R&D the company also acquires and integrates companies. While there were numerous small acquisitions, Mobileye continues to be touted as a success achieving record revenue in 2018 while announcing the ability to retrofit existing vehicles to provide full autonomy.
Valuation
Our discounted cash flow model shows that Intel is currently trading at 82% of fair value based on Friday's close of $48.84. This model assumed that EPS would grow by 7.8% annually for the next five years. This growth rate is equal to the annual average EPS growth rate of the last five years and lower than the average analyst estimate of 10%. During this period, sales grew by a modest 3.3% per year while the share count dropped from 4,875 million in 2016 to 4,701 million at the end of 2018. This amounts to a share count reduction of only 3.7% as R&D and acquisitions took priority. Our model assumes that dividends will increase at the same rate as earnings. This is in line with its historical dividend growth for the company. The dividend grew from $1.04 in 2016 to $1.20 in 2018. The model did not assume any share buybacks to keep it more conservative. We feel that the model, which used a 10% discount rate, shows that even using somewhat pessimistic estimates, Intel is undervalued. We think the company has the potential to surprise both in terms of top-line growth and EPS growth by capitalizing on the move to 5G and the increased reliance on data and demand for cloud infrastructure.
Another point to highlight is that Intel currently offers an attractive dividend yield of 2.46% and is trading closer to the lower end of its PE range over the last five years. The table below summarizes some of the valuation metrics for Intel compared to AMD and the sector as a whole.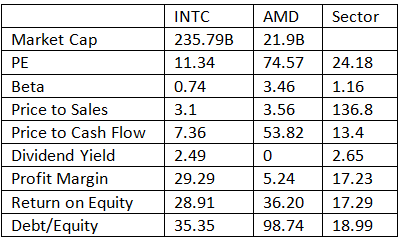 Source: Reuters
Final Thoughts
Over the last five years Intel has generated $59 billion in free cash flow. The majority of this ($55 billion) was returned to shareholders via dividends and share repurchases. We think the next five years will bring even better total returns for shareholders as 5G drives growth in addition to continued expansion in cloud computing, data center demand, and autonomous automobiles. We also want to highlight the stability in Intel's earnings and cash flow. The company has reported positive net income and free cash flow for well over a decade including during the great recession. We rate the company a buy and recommend investors initiate a position at current levels. For investors that want to receive an additional yield boost, selling covered calls is an attractive option. Here, we like the $55 strike expiring on July 19th. Investors that sell this call option would only lose their shares if the stock appreciates by 12.61% in a little over 5 months. This would result in a total return of over 14% not including any dividends. If the option expires worthless, investors keep the $112 and get an annualized yield boost of about 5% based on the current bid of $1.12.
Disclosure: I/we have no positions in any stocks mentioned, but may initiate a long position in INTC over the next 72 hours. I wrote this article myself, and it expresses my own opinions. I am not receiving compensation for it (other than from Seeking Alpha). I have no business relationship with any company whose stock is mentioned in this article.