Diamondback Energy (FANG) recently completed a merger with Energen (EGN) to cement its place as one of the largest Permian producers along with Occidental Petroleum (OXY). Unlike Occidental, Diamondback is still concentrated in the Permian. More importantly, all of Diamondback Energy's operations are unconventional, whereas Occidental has significant secondary recovery operations in the Permian. Therefore, the rapid Permian growth that Diamondback Energy management expects this year will translate into rapid corporate growth.
Diamondback Energy has a very long history of acquisitions by using its stock to pay for important acreage additions or even some production growth. The stock of the company soared initially and provides a relatively dilution-free way to expand because the stock price was so high. The stock still remains one of the higher-priced stocks in the industry. However, the production growth probably more than justifies the stock price. The price-earnings ratio has been steadily decreasing the last several years though to provide a rare chance to invest in an industry leader with rapid growth without paying for that growth.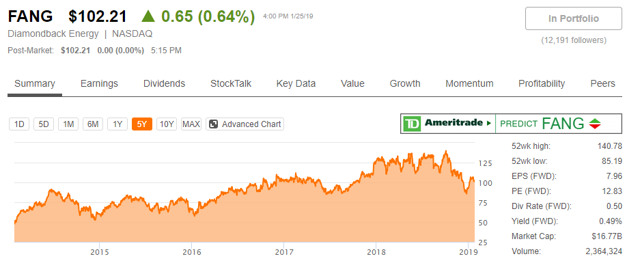 Source: Seeking Alpha Website January 27, 2019
The price-earnings ratio for this stock has rarely been lower since the company went public. Much of the stock price appreciation happened early in the corporate public life before the oil price crash in 2015. The common stock did not suffer the precipitous decline of many in the industry at that time. It may be that a steady string of acquisitions and positive news kept the stock afloat, while much of the industry crashed with the declining oil prices. Therefore, the company could continue to grow by acquisitions using its stock as the currency.
The advantage of the growth using the common stock was the low financial leverage and strong balance sheet. Combining that financial strength with low production costs has led to consistent profit reporting for several years now. That is a very rare accomplishment in the industry. Management has begun to veer away from the debt-free balance sheet to a relatively low-debt strategy. That is still a conservative debt strategy.
2019 capital spending of about $3 billion should be completely supported by cash flow from operations. The ratio of long-term debt to cash flow from operations should also remain close to 1:1. Production should grow about 28% in 2019. Not many oil and gas companies can "live within cash flow" and still forecast 28% production growth.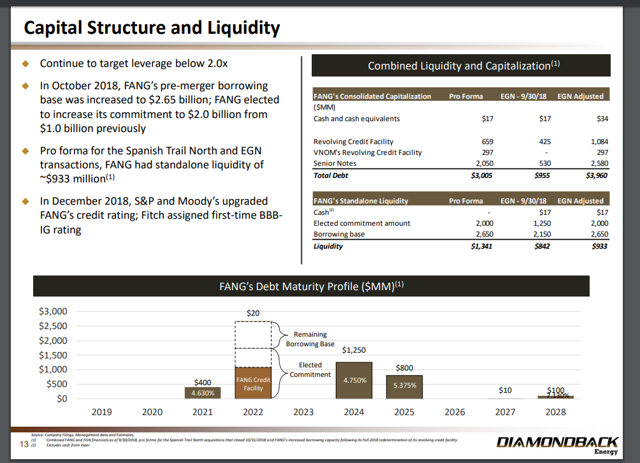 Source: Diamondback Energy January 2019 Investor Presentation
Management has plenty of financial flexibility to take advantage of more acquisitions should oil prices show unexpected weakness. The debt shown above can easily be refinanced as needed. The newly combined companies have increased financial ratings. Therefore, the debt markets are available on reasonable terms. Diamondback is finally on the verge of an investment grade credit rating.
The enterprise value of the company is in the $22 billion range with projected cash flow of at least $3 billion next year. The 28% projected production growth is slower than the 2018 production growth rate. But the current value is still very cheap for a company that grows production as fast as Diamondback Energy. The current growth rate would deserve a multiple of enterprise value at least 12 times the projected 2019 cash flow. Some would argue much higher multiples. But it appears that this industry leader can now be purchased for a 50% discount from a reasonable value.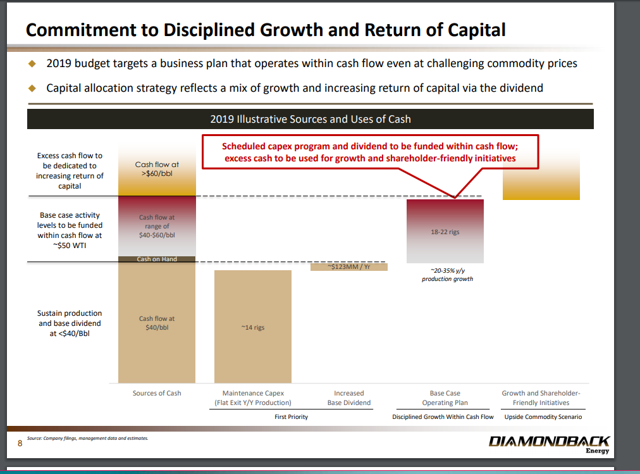 Source: Diamondback Energy January 2019 Investor Presentation
The company believes that it can maintain production with 14 rigs. Therefore, there is about one-quarter of the latest budget devoted to growing production. The low debt load shown above means that this company could withstand a substantial production decline in the event of sustained low commodity pricing until oil prices recover.
Continuing industry improvements give this company a very good chance of beating its own guidance. Wells continue to outperform the previous year, which leads to steadily lower lease operating expenses. More importantly, the company leads the industry in testing new intervals. Therefore, the current acreage could have some significant profit opportunities in intervals that have not yet been booked.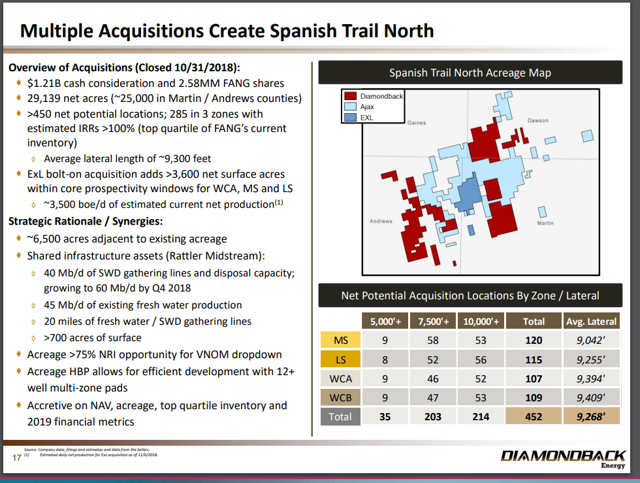 Source: Diamondback Energy January 2019 Investor Presentation
The latest acquisitions clearly add some very profitable territory. The real question would be the profitability of these wells taking into account the amount paid for the land. Not many operators discuss that profitability with shareholders. Nevertheless, this company was one of the first to operate unconventional leases in the Permian. Therefore, its overall costs of acreage are fairly low even after the latest purchases.
The use of common stock for the purchase means that much of the purchase will not have to be repaid. It is in many ways a fairly conservative way to grow. Debt and financial leverage are very risky in the oil and gas industry due to the unpredictability of commodity prices long term.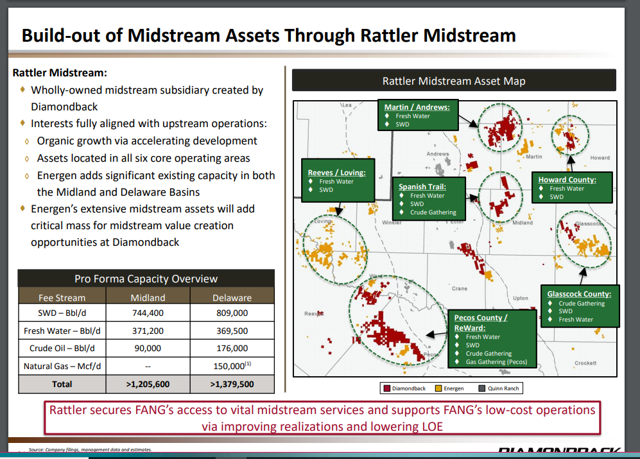 Source: Diamondback Energy January 2019 Investor Presentation
A very significant competitive advantage is the access to sufficient midstream capacity. Diamondback Energy has its own midstream subsidiary. This midstream operation insulates the company from Permian pricing discounts. Many competitive operators accept larger discounts until more Permian midstream capacity comes online. Eventually, the midstream assets could be spun off to shareholders or sold for a considerable profit.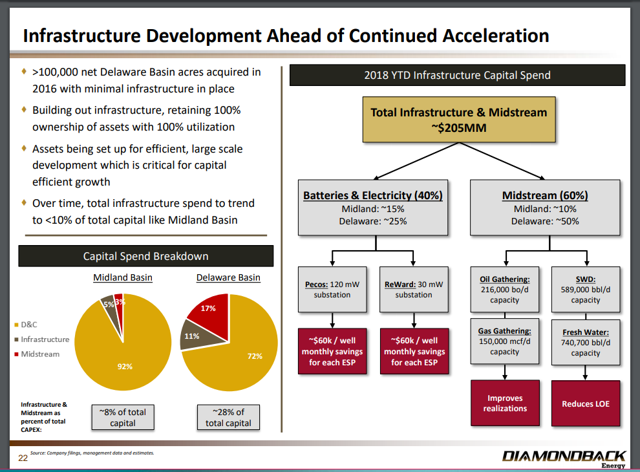 Source: Diamondback Energy January 2019 Investor Presentation
Management plans to keep excess infrastructure capacity so that current industry shortages do not affect future growth plans. This may limit growth flexibility somewhat should oil prices rise significantly. But the future planning provides assurances to the company to satisfy its growth needs.
The infrastructure planning shown above is the main reason the company can grow production 28% this fiscal year without any expanding WTI discount worries.
Summary
Diamondback Energy's stock has pulled back some on the takeaway capacity worries and the latest merger stock issuance. However, this management clearly plans its growth ahead of time. The result is it can continue to grow without oil pricing discount worries.
The stock market has dropped the prices of many Permian producers. But this Permian producer now has one of the lowest price-earnings ratios in its history. Yet management forecasts another year of rapid growth. The company is getting large enough that growth will inevitably slow. But that should be a relatively smooth transition that takes several years or even decades. In the meantime, the next few years promise significant production growth.
The common stock is not currently priced for rapid production growth. In fact the enterprise value is currently about seven times cash flow. Many highly leveraged and hence far more risky producers have higher valuations. The market will recognize the growth track record and balance sheet strength to send this stock price higher. Currently the stock appears to be about 50% undervalued.
But management's growth plans assure investors of decent returns in future years unless oil prices crash. The current economic boom makes that possibility extremely unlikely. The merger with Energen has below-average risks because much of the acreage is near existing Diamondback Energy's acreage.
Rapid growth has its own risks. However, this management has been growing the company rapidly for a long time. The management's experience is a major safety feature for investors. All that is needed now is some patience until the market realizes the bargain this stock presents.
I analyze oil and gas companies like Diamondback Energy and related companies in my service, Oil & Gas Value Research, where I look for undervalued names in the oil and gas space. I break down everything you need to know about these companies - the balance sheet, competitive position and development prospects. This article is an example of what I do. But for Oil & Gas Value Research members, they get it first and they get analysis on some companies that is not published on the free site. Interested? Sign up here for a free two-week trial.
Disclosure: I am/we are long FANG. I wrote this article myself, and it expresses my own opinions. I am not receiving compensation for it (other than from Seeking Alpha). I have no business relationship with any company whose stock is mentioned in this article.