Market Intro

CNBC: 11:22AM EST
US stocks (SPY, DIA, QQQ, IWM) are mostly higher to open the new week of trade, while spot VIX is up 3.50%, still near the low of its four-month range.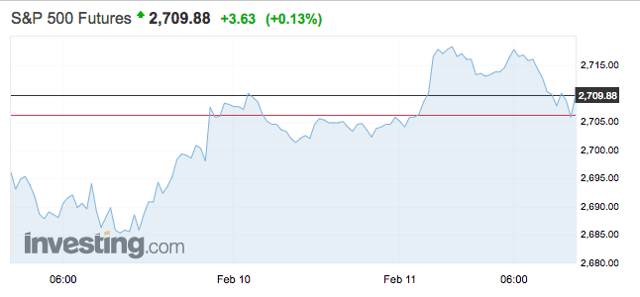 The pre-market session looked decent for S&P futures, but the enthusiasm fizzled and we're now trading closer to unch. After a squirrelly period for equities last week, a set of days where not much happens could be just what stocks need if they are to continue their march higher.
Thoughts on Volatility

Dialogue is a good thing. Policy makers should be open to discussing which tools do or do not belong in the toolkit. I argue that, to protect its long term credibility, a central bank needs to be cautious about taking on too large a menu of tactics.
Each situation is different, and threats that remained subdued on one period may wreak havoc in another. A streamlined, reasonably simple set of policy goals and response mechanisms may promote efficient decision making by economic agents who feel they can grasp the ways in which the central bank may respond to the economic environment.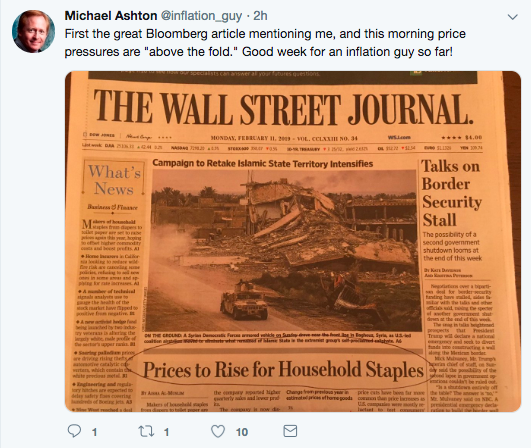 Importantly, the central banks of developed economics did not have to worry too much about price instability, particularly in the form of inflation (as opposed to deflation), too much in the last decade. Most of the money that was "printed" remained parked as excess reserves.
Inflation, however, may be one of the core limitations of central bank policy in the upcoming decade. The collective balance sheets of the Fed, ECJ, BOJ, and PBOC are quite bloated, and it is unclear how these bodies would handle a scenario like, say, the stagflation of the late 1970s.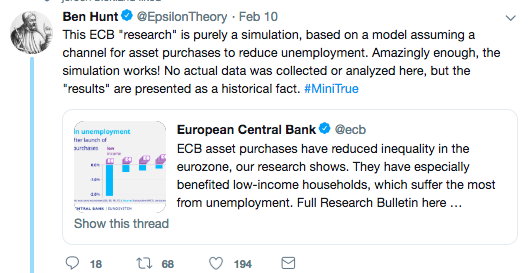 For better or worse, much macroeconomic theory is more theoretical than empirical. That goes for monetary policy as well as fiscal policy. Microeconomics is more science, while one could justifiably accuse macro as art that masquerades as science.
There's nothing wrong with art! Having theories can promote discussion and tighten our understanding of issues that are of tremendous importance. We do want to proceed, however, with a sense of humility. We inhabit an era of great experimentation.
Until (I doubt this ever happens) the balance sheets are fully unwound, the lab is still in session.
Term Structure

The very front end of the VX term structure dipped lower. This makes sense as the Feb contract expires on Wednesday morning, and so the M1 needs to "think" carefully about how far to trade from spot.
Most of the rest of the VX futures curve trades much in line with where the contracts settled at the end of last week. What will catch my attention in the upcoming days, particular just after the CPI print, will be how whippy the futures become. Are we in a period of relatively locked term structure, or more floating? VVIX suggests locked, but even that measure is on the rise.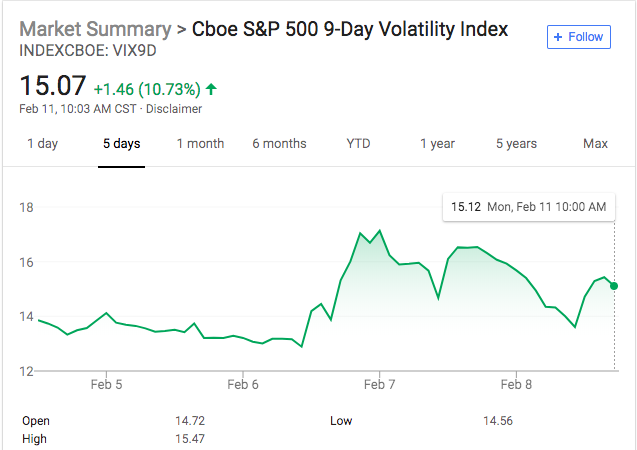 Google Finance
The five-day chart on the VIX9D displays a reasonably wide range for the index in percentage terms (though pretty narrow in absolute points). It looks as though the metric is attempting to settle again, but I think it's wise to remain open to higher readings here.
So long as we spend minimal time above the 20 mark on this reading, the short-vol trade (SVXY, ZIV) remains in a privileged position relative to long-vol (VXXB, UVXY, TVIX).

Investing.com: 11:21AM EST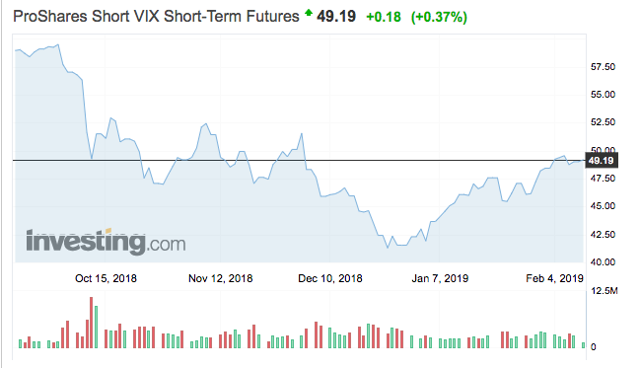 Today is curious insomuch as most equities are higher, spot VIX is also higher, and SVXY is managing a small gain as well! SVXY takes short positions in the VX M1 and M2 contracts. Due to the drop in M1, the SVXY is up a tad (the ETF carries only a small weighting to the Feb contract at present).
Traders of the ETPs should always bear in mind that they are not trading the VIX itself, but rather futures on the VIX. While we expect a lot of correlation between these two (based on the cash settlement at futures expiration), the two markets can behave in ways that can confound our expectations.
Wrap Up
If this is your first time reading Market Volatility Bulletin, thanks for giving it a try. If you're a regular, I thank you for your ongoing contributions in the comments section.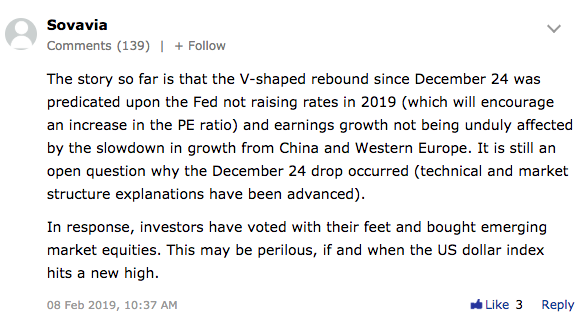 Ima Sovavia puts forth a concise synopsis as to theories surrounding the cause of both the plunge and subsequent recovery in risk assets.
Importantly, he raises the issue, well known to many at this point, that the emerging market play is perhaps predicated on a stable or depreciating USD (UUP). Because so many emerging market debts are dollar denominated, a strengthening dollar puts a great strain on some of these economies.
Thank you for reading, and thanks once again for the robust comments you left in the last MVB.