Lithography is a key part of the chip manufacturing process and improving it is critical to keeping Moore's Law alive: To make chips more powerful, or to increase the size of memory, transistors need to be made smaller to be able to fit more of them. This reduction in size is referred to as node shrinking, and to be accomplished lithography improvements are critical. ASML N.V. (ASML) is a Dutch company that provides a significant percentage of the photolithography machines for the chip manufacturing industry, and is widely considered a leader in extreme ultraviolet (EUV) lithography, which is one of the most promising next-generation lithography techniques. For example, according to a market research report ASML had 85.4% semiconductor lithography equipment revenue share in 2017, and has been the market leader for more than a decade with direct competitors Nikon (OTCPK:NINOY) and Canon (CAJ) having only a tiny fraction.
By making major R&D investments for many years to secure a leadership position in the photolithography industry, ASML has created a significant amount of value for its shareholders. This can be seen in the total return generated by its shares for the last decade, substantially outperforming the PHLX Semiconductor Sector ETF (SOXX), as well as the Nasdaq (NASDAQ:QQQ) and S&P 500 indices (NYSEARCA:SPY).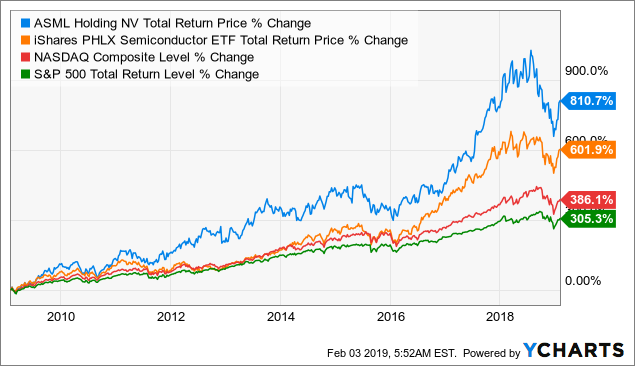 To reap these rewards investors had to be patient. It took many years of building the business and R&D investments for ASML to start generating significant profits. Once ASML started generating large amounts of gross profit, shares seem to have experienced a regime change that accelerated the trend higher.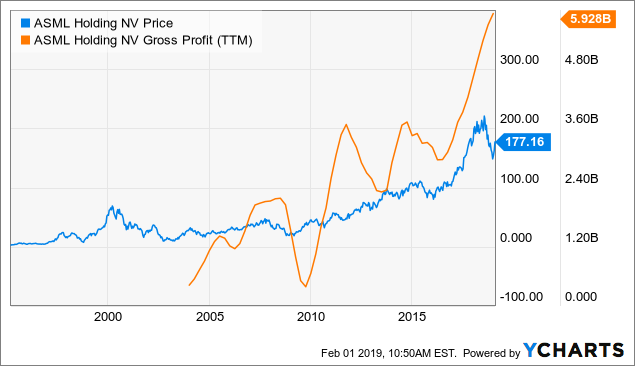 As margins have increased with increased sales, investors have been willing to pay a higher multiple on sales. During the market drawdown at the end of last year shares were briefly trading below this 10-year median PS ratio, but for most of the time in the last few years shares have exchanged hands above this multiple.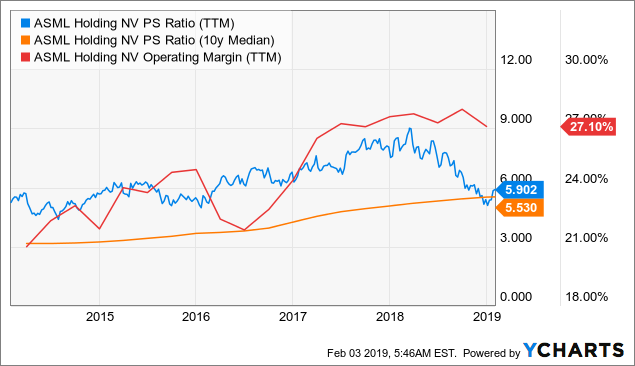 While sales have significantly increased, it's important to note there's some cyclicality to them. This is normal given the nature of capital expenditures in the semiconductor industry. Despite the cyclicality, it's easy to observe there is also a secular trend higher.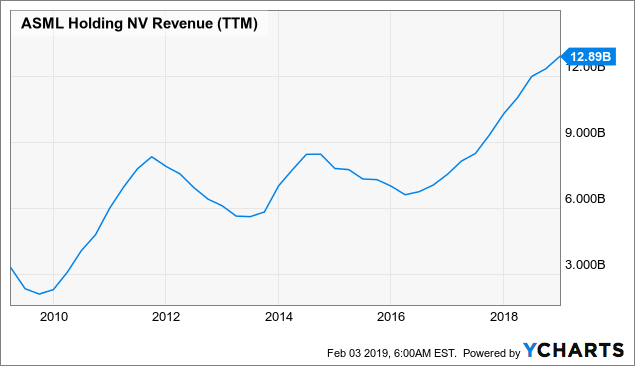 Since the financial crisis, ASML has made changes to make certain fixed costs variable in order to reduce the impact on profitability reduced sales would have. They seem to have succeeded, given the reduced impact on margins during the last two down cycles.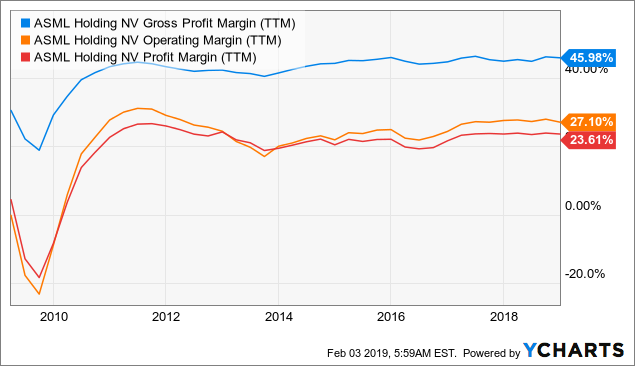 These impressive results have been accomplished despite a substantial increase in R&D investments as can be seen in the graph below.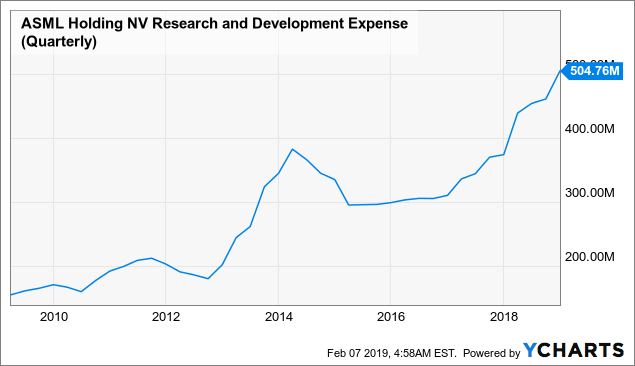 Valuation
Despite the price looking elevated, shares are actually trading with some valuation multiples close to multi-year lows.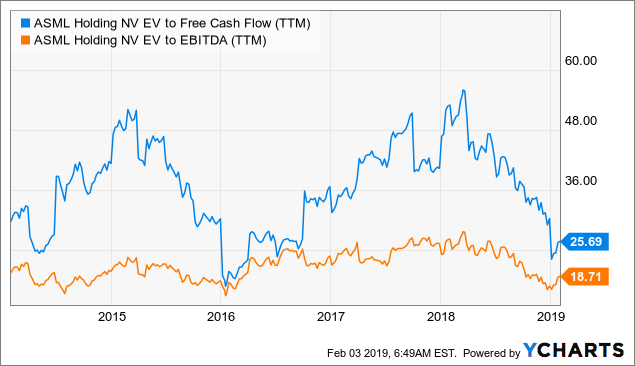 The company also has a strong balance sheet with significant amounts of cash, positive and growing tangible book value, and plenty of liquidity.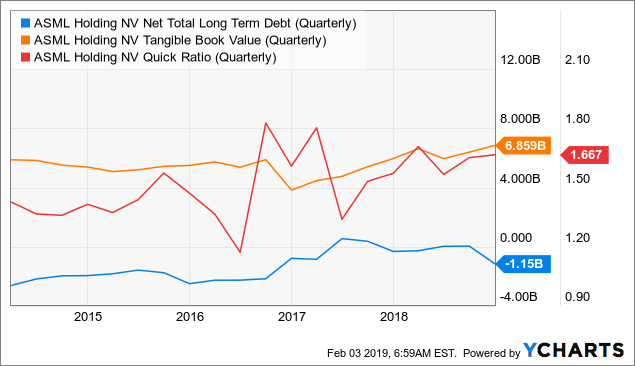 ASML has also been returning significant amounts of capital to shareholders, mostly in the form of share repurchases, but it also pays a dividend which currently gives it a yield of ~1%.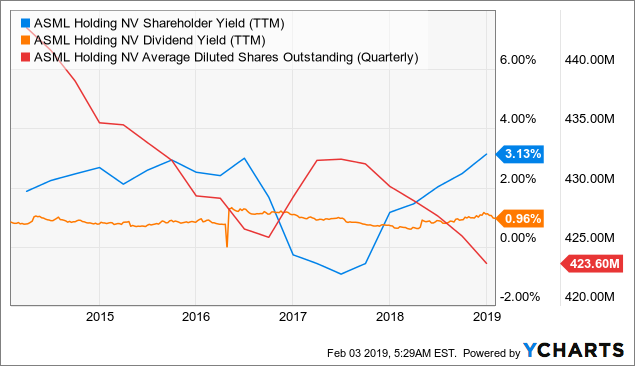 Looking at the P/E ratio ASML does not appear cheap. Adjusting for the quality of the balance sheet and margins, it looks more reasonable.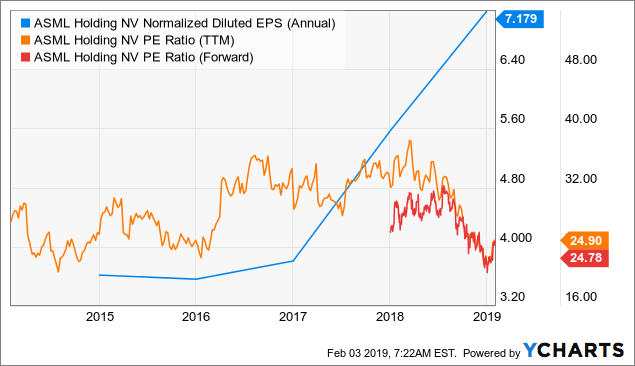 Incorporating management expectations that revenue will more than double by 2025, with higher gross margins and operating leverage benefits, we expect shares to offer double-digit returns, even if the earnings multiple compresses a little.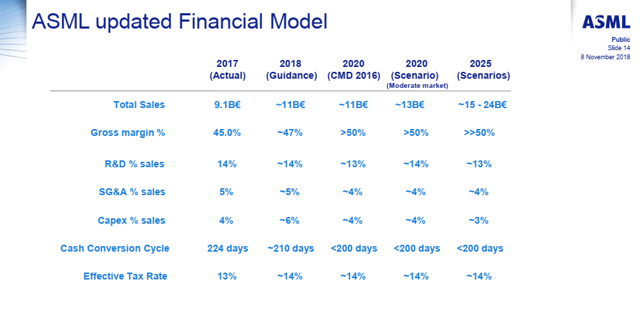 Source: ASML investor presentation
What the Market is Missing
While we believe the market is currently valuing ASML as a high-quality technology company with significant growth opportunities ahead, it appears the market is missing just how critical EUV lithography technology can become.
The investments to keep Moore's Law alive and technology nodes shrinking are rising quickly as the complexity of the machines increases and the needed R&D investments go up. This raises the stakes with every new generation forcing competitors out, giving the few remaining companies more pricing power and making their intellectual property more valuable. Some analysts however are starting to grasp the significance of these developments. For example, InsingerGilissen Bankiers analyst Jos Versteeg told Bloomberg:
ASML sees in its order portfolio it looks well for overall 2019, for a major part because it moves into EUV, in which they are the only player. The future for the coming seven years looks very bright.
These are incredibly complex machines that weigh more than a 100 tons, require the use of high-powered lasers and plasma, and took years and incredible amounts of engineering ingenuity to get to work.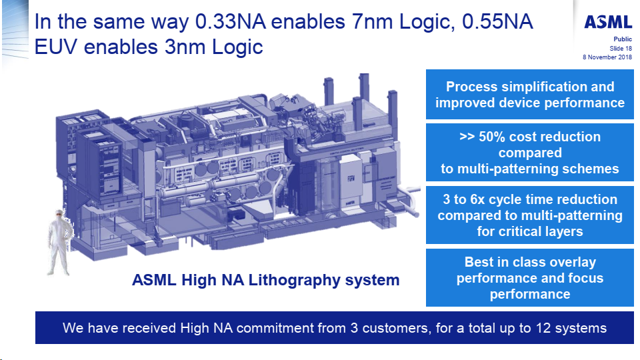 Source: ASML investor presentation
Not only is EUV lithography technology critical to keep shrinking technology nodes, but its adoption also has some side benefits for customers. These include cycle time reductions, process simplification, and cost reductions.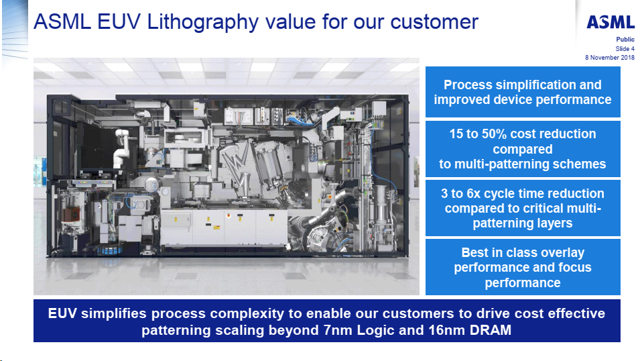 Source: ASML investor presentation
For these reasons several semiconductor technology leaders are building significant capacity for EUV systems.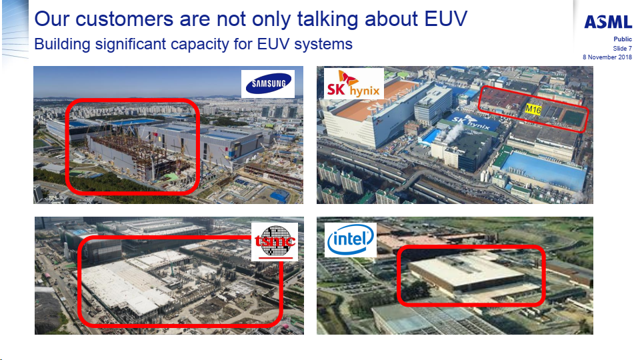 Source: ASML investor presentation
The company has a market cap of ~$75B, yet it's arguably more important for the future of technology than some companies that are valued 5-10x higher. Without the machines that ASML is developing Moore's Law could come to a halt, ending one of the biggest tailwinds to increasing computing power the world has enjoyed.
One of the key questions is what will happen to sales of the previous generation of deep ultraviolet (DUV) machines. While management indeed expects system sales to go down as the next-generation EUV ramps up, they believe total DUV sales could remain stable thanks to an increase in system management services. These maintenance and upgrade services can provide an attractive revenue stream for a long time.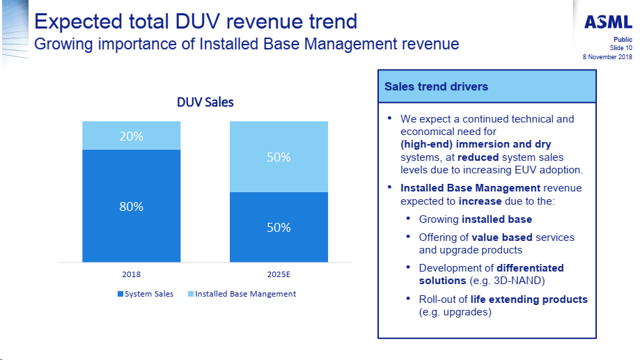 Source: ASML investor presentation
An additional tailwind for ASML is that as lithography becomes a more critical part of chip manufacturing, the percentage of capex expected to be captured by lithography companies increases. This varies depending on the type of product, with logic in particular expected to reach a very high percentage in the coming nodes.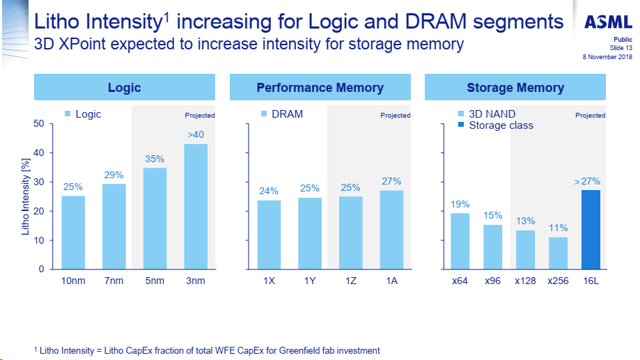 Source: ASML investor presentation
Risks
Despite the positive outlook it's important to remember that with high-tech companies there's always technology risk. With semiconductor equipment manufacturers there's also the risk of cyclicality in purchase orders. Another important risk comes from patent disputes. ASML and its supplier Zeiss (OTCPK:CZMWY) recently signed an agreement to settle litigation with Nikon, which reduces this risk moving forward, but IP disputes remain an important risk factor. This is the only patent dispute we found reading the "legal contingencies" section of the annual report, but ASML does state that:
While we have agreed to settle our current litigation with Nikon, we continue to face the risk that we may be subject to claims alleging the infringement of others' patents or intellectual property rights or involved in patent litigation to defend our intellectual property rights.
ASML lists a few other key risks in its annual report, including risks related to its ability to execute on its R&D programs and the risk of rapid and complex technological changes.

Source: ASML annual report
Competitive advantage
With its commanding market share ASML can invest more in R&D than its competitors furthering its lead. ASML has led the market in revenue share for more than a decade, achieving a share of more than 85% in 2017.
With the commercialization ramp-up of EUV systems ASML's competitive moat should widen, as they are currently the sole supplier. Customers are highly incentivized to adopt these new systems despite their high prices because of the process simplification and process cost reductions that they bring. As Moody's describes on their rating rationale:
Currently there are limited viable alternatives to ASML's high-end lithography solutions, capable of providing similar shrink capability and yields. The company is a sole supplier of the next generation technology – EUV (extreme ultraviolet) lithography, which facilitates the production of more complex chips, but equally, reduces customers' unit production costs, reinforcing continuation of Moore's Law. ASML's customers, such as Intel Corporation (NASDAQ:INTC) (A1, stable), Samsung Electronics (OTC:SSNLF) (A1, stable) and TSMC Global Ltd. (NYSE:TSM) (A1, stable) have contributed around €1.4 billion in cash to ASML's research and development in the framework of the Customer Co-Investment Program (CCIP) over the last five years and continue to invest in the entire ecosystem involved in building the EUV infrastructure
Takeaway
It's our belief that 10 years from now we'll look back and ASML will once again have outperformed the market by a significant margin. While investors appear to be assessing the company as a high-quality technology investment, they seem to be missing the enormous value of owning key enabling technologies necessary to keep Moore's Law alive.
The company also is sharing the value created with shareholders in the form of significant share buybacks and a quickly growing dividend. In fact the company recently proposed increasing the dividend for this year by 50%.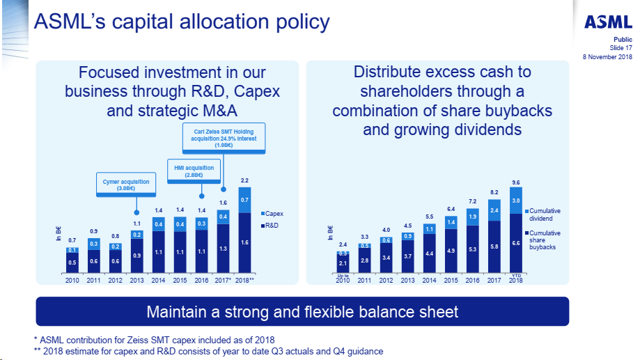 Source: ASML investor presentation
As required R&D investments become larger, machines more complex, and the stakes to compete are raised, fewer companies will be able to continue to stay in the race, giving those remaining strong pricing power and making their intellectual property considerably more valuable. By enabling the continuation of Moore's Law, ASML should continue to prosper well into the next decade.
The information contained herein is for informational purposes only. Nothing in this article should be taken as a solicitation to purchase or sell securities. Before buying or selling shares, you should do your own research and reach your own conclusion, or consult a financial advisor. Investing includes risks, including loss of principal.
Disclosure: I am/we are long ASML. I wrote this article myself, and it expresses my own opinions. I am not receiving compensation for it (other than from Seeking Alpha). I have no business relationship with any company whose stock is mentioned in this article.