In August 2014 I wrote a Seeking Alpha Top Idea article titled "Cash America: Spin-off Of Its E-commerce Business Should Unlock Substantial Value." The thesis played out very well with Cash America's share price doubling post spin-off and following its merger with First Cash Financial Services (FCFS) in 2016 has nearly doubled again. The e-commerce spin-off was Enova International, Inc. (ENVA) whose shareholders have endured a much more bumpy ride. Its share price plummeted from around USD25 post spin-off to a low of nearly USD5 in early 2016 on the back of regulatory pressures particularly in the UK before making a sustained recovery to its current level of USD23. Having originally backed the post spin-off Cash America, I rather fortuitously dipped my toe into the water with Enova just before the 2016 lows and have been well rewarded since then. As with all investments, it is important to periodically reassess their attractiveness and this article documents my review.
Brief business overview

Source: Enova November, 2018 presentation
Enova was an early entrant into the online subprime lending market launching in 2004. As shown in the graphic above, Enova's business mix has evolved materially since its early days. It has moved from a mainly short-term consumer lender to a more balanced provider of short-term loans, line of credit, installment loans and receivables purchase agreements (RPAs). Enova operates mainly in the United States but has international exposure to the United Kingdom and Brazil. It focuses on six business lines, U.S. subprime business (CashNetUSA), U.S. near-prime offering (NetCredit), UK consumer brands (QuickQuid, OnStride Financial and Pounds Pocket), U.S. small business financing (Headway Capital and the Business Backer), an installment loan business in Brazil (Simplic) and Enova Decisions, its analytics as-a-service business. Its main offerings are set out in the slide below.
Source: Enova November, 2018 presentation
The "Colossus" at the heart of Enova's business model
In my view, the key to investing in Enova is trusting that Colossus "the analytics engine [that] drives Enova businesses," as shown in the slide below, is capable of continuing to fuel profitable growth. I use the word "trust" because for many investors it will always remain a bit of an enigma. Enova's CEO Fisher emphasizes that the Colossus Platform gives Enova the ability to not only grow but grow profitably as the analytics model responds to demand by adjusting marketing spend and credit cutoffs up or down. Since inception, Enova has completed well over 43.2 million customer transactions and collected more than 22 terabytes of consumer behavior data enabling it to improve its analytical and underwriting capabilities. These proprietary systems:
decide whether to approve financing transactions,
structure the amounts and terms,
ensure the products comply with jurisdiction-specific regulations,
disburse the funds,
monitor collection and overall portfolio performance data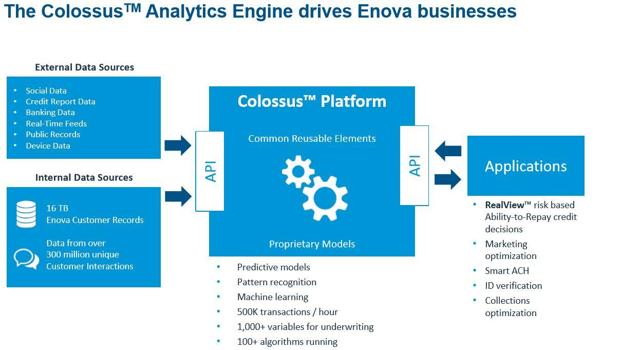 Source: Enova November, 2018 presentation
Unsurprisingly, Enova is not alone in promoting the effectiveness of its analytics platform. To pick a few competitor examples, Elevate Capital (ELVT) has DORA, OnDeck (ONDK) has OnDeck Score and Avant even goes as far as describing its management as "analytics driven." How can one tell their "black boxes" are working? In my view, as an investor, it comes down to the bottom line. They need to be able to demonstrate sustained profitability over an extended period of time through different economic cycles. Enova is one of the few online subprime players who has this track-record as demonstrated in the slide below. Enova believes that its online only platform gives it significant advantages over storefront consumer loan lenders that offer loans online or in storefronts such as Advance America, Ace Cash Express, Check Into Cash, Check 'n Go and One Main Financial. Advantages include a lower cost base, centralized operations and a greater ability to adapt to new regulations.

Source: Enova November, 2018 presentation
Benefiting from regulation - UK case study
Regulation is one of the biggest risks Enova and other subprime lenders face. In the US, Enova does not offer consumer loans in many states because it believes it is not economical to do so due to regulatory restrictions that include interest rate ceilings and caps on fee charges. However, one of Enova's biggest regulatory tests came in the UK when a number of new regulations were introduced in 2014. This included a rate cap, prohibition on certain types of line credit products, establishment of a price comparison website and restrictions on payment processing and marketing activities. Enova had to implement a raft of changes including discontinuing its U.K. line of credit product. As a result Enova's international revenue, comprising mainly the UK, fell from USD335 million in 2014 to USD142 million in 2015 bottoming at USD123 million in 2016 before recovering to USD168 million in 2018.

Source: Enova November, 2018 presentation
One might have expected this to be a nail in Enova's coffin as it proved to be for some of its UK competitors. For example, Wonga filed for administration in August 2018. However, due to strong growth in Enova's U.S. business and the flexibility of its business model, Enova continued to report positive consolidated net income through this period. By the end of 2015, Enova's CEO sounded credible when he put a positive spin on the UK developments pointing out that Enova had gained meaningful market share as other lenders struggled to comply with the new regulations and create profitable business models. By 2017 Enova became the UK number one subprime market lender with an estimated 8% share of consumer loan originations. Enova is one of the few online players able to operate profitably in the UK as shown in the graphic above. On its 4Q 2018 earnings call, Enova's CEO Fisher pointed out that UK revenue increased 9% compared to the fourth quarter of the year before, primarily driven by its installment loan product. There is an upside to regulation and it normally favors those with scale, flexibility and the most robust business models so much so that Enova actually seems to welcome it as a way to eliminate competition.
Valuation and key financial metrics

Source: Bloomberg and company filings
Enova looks cheap on an adjusted price earnings multiple especially for a company that forecasts its adjusted earnings per share will grow nearly 20% in 2019E. The main adjustments at the earnings level are losses on early extinguishment of debt (e.g. senior note due 2021) followed by stock-based compensation expenses. Enova has reached the point where it is confident enough to utilize excess cash to buy back shares. In its 4Q 2018 earnings release it highlighted a new USD50m share repurchase program approved by its board in 1Q 2019. Combined with high operating leverage and falling financing costs earnings per share growth is accelerating. Gross margins have deteriorated from 56% in 2016 to 49% in 2018 and fell as low as 43% in 4Q 2018. This cost of growth is a function of the market Enova operates in. New customers on average default at a higher rate than returning customers who have a history of payment performance. So when Enova exhibits robust top-line growth, as it did in 2018, its gross margins fall as they need to incur higher loss provisions upfront to account for the greater mix of new customers.
Key risks
Recession: one of the unknowns in the market's view is how Enova will perform in a recessionary environment. It did operate through 2008/09 as part of Cash America. CEO Fisher recalled these times in Enova's 4Q 2018 earnings call commenting, "We performed very well through the Great Recession and our credit analytics are much more sophisticated today than they were then." However, Enova's product mix has changed materially since 2009 so Fisher's comment may not apply to its newer business lines. It is worth noting that one of Enova's markets, Brazil, experienced GDP contraction in 2015 and 2016. During this time Enova grew its gross accounts receivable from USD0.4 million in 1Q 2015 to USD10.4 million by 1Q 2017 and for 3Q 2018 it stands at USD20.1 million. Overall, I think it is inevitable a global recession will have a negative impact on credit quality though there may be opportunities to increase market share.
Regulation: being able to profitably navigate the shifting regulatory landscape is key. Enova's view is that it should benefit from regulation as a scale participant. My view is that most regulators' priority is to prevent predatory practices and not completely eliminate access to credit for the unbanked. Regulators understand there is a high cost to doing business in a low credit quality environment and will leave some room for lenders to operate profitably. However, regulation has very real restrictive dimension. After 14 years it seems strange that Enova only operates in the US, has limited UK operations and very small Brazilian exposure. Efforts to grow in China, Canada and Australian have ceased and one reason may be unfavorable regulatory regimes.

Funding: Enova funds most of its growth through debt financing. Put simply, Enova is essentially an arbitrage between its cost of funding and the net return on its loan products. This makes access the capital markets, the cost of financing and restrictive covenants key risks. At present it relies on two senior notes due 2024 and 2025, a secured revolver and securitization facilities. Its cost of debt funds have fallen to around 9.50% but any deterioration in its business and/or the economy could trigger higher borrowing rates which would dampen profitability.

Competition: My main concern is the many financial institutions that are much larger than Enova rather than other subprime lenders. These larger financial institutions could aggressively target Enova's core customer base particularly the near-prime layer that have a greater ability to pay back loans than many credit scoring systems recognize.
Key takeaways
Enova has been a very rewarding investment. Though it operates in an unpopular sector, its products cater to the very real needs of the subprime consumer and small business. Elevate Capital estimates that the U.S. subprime consumer sector is larger than prime and the U.S. and UK non-prime population totals more than 170 million people. Enova estimates its market share of the non-prime consumer loans markets in the U.S. and Brazil is less than 2% indicating a long growth pathway. Though Enova seems to trade cheaply it is likely to remain this way due to significant regulatory, credit and financing risks. However, Enova's share price has been driven higher from its 2016 lows by steady profitable growth underpinned by its Colossus Platform. Having demonstrated it can navigate material changes to the regulatory landscape in the UK and weather recessionary conditions in Brazil, I am inclined to continue to bet that Enova is the colossus that can keep on growing profitably.
Disclaimer: Opinions expressed herein by the author are not an investment recommendation and are not meant to be relied upon in investment decisions. The author is not acting in an investment advisor capacity. This is not an investment research report. The author's opinions expressed herein address only select aspects of potential investment in securities of the companies mentioned and cannot be a substitute for comprehensive investment analysis. Any analysis presented herein is illustrative in nature, limited in scope, based on an incomplete set of information, and has limitations to its accuracy. The author recommends that potential and existing investors conduct thorough investment research of their own, including detailed review of the companies' SEC filings, and consult a qualified investment advisor. The information upon which this material is based was obtained from sources believed to be reliable, but has not been independently verified. Therefore, the author cannot guarantee its accuracy. Any opinions or estimates constitute the author's best judgment as of the date of publication, and are subject to change without notice.
Disclosure: I am/we are long ENVA. I wrote this article myself, and it expresses my own opinions. I am not receiving compensation for it (other than from Seeking Alpha). I have no business relationship with any company whose stock is mentioned in this article.