Introduction
Welcome to another edition of Focus on Europe. We will provide an in-depth review of a company, accompanied with a quick overview of some noteworthy events and updates in Europe last week. Today's main focus will be on Intesa Sanpaolo (OTCPK:IITOF) (OTCPK:ISNPY) (OTCPK:IITSF) the large Italian bank that seems to have a tough time (trying to) convincing the market it's no longer the unstable bank it used to be five years ago.
Did you miss the previous edition of Focus on Europe? You can re-read it here.
Intesa: solid financial results
Despite Intesa Sanpaolo's efforts to show the markets it's able to generate several billions of net profit per year, the bank remains one of the cheaper banks in the Eurozone. The bank reported a net income of 4.05B EUR in FY 2018 and considering its market capitalization is hovering around 35B EUR, the Price/Earnings ratio of the Italian bank is now just 8.5 which means Intesa is cheap by almost any metric.
Source: Yahoo Finance
The bank has done an excellent job to improve its operational metrics and with a current cost/income ratio of just 53%, it has reached an enviable status as most other large European banks have a less efficient cost/income ratio.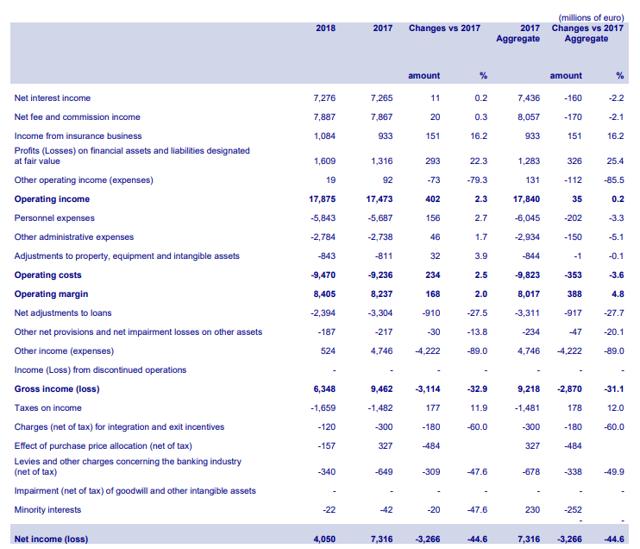 Source: financial results
The lower cost basis has helped Intesa to boost its net income, but it's also important to emphasize the bank continued to grow in every division. The net interest income increased by 0.2% while the proceeds from the insurance division increased by 16%. These elements pushed the operating income 2.3% higher to 17.9B EUR, an increase of almost 402M EUR. As the operating expenses increased by just 234M EUR, the operating margin indeed increased by 168M EUR or 2% to 8.4B EUR.
As the bank's loan books are seeing an improved quality as well, Intesa was able to reduce the impairment charges to 2.4B EUR, down from 3.3B EUR in FY 2017. This resulted in a pre-tax income of 6.35B EUR and a net income attributable to Intesa's shareholders of 4.05B EUR. This represents a 6.1% increase compared to the adjusted result in FY 2017.
Intesa Sanpaolo has confirmed it will be paying a dividend equivalent to 85% of the net income. The board of directors approved a dividend payment of 3.45B EUR, which results in a dividend of 0.197 EUR per share. Considering Intesa's share price closed at 1.975 EUR on Friday, this effectively represents a 10% dividend yield (the dividend will be paid on May 22nd).
Lower NPL levels and a strong capital ratio
One of the main issues Intesa Sanpaolo had to fight was the perception of the bank having an NPL level up to its eyeballs. Back in 2015, the bank unfolded a plan to aggressively reduce the total amount of Non-Performing Loans on its balance sheet:

Source: company presentation
In just 39 months, Intesa reduced the total size of the NPL portfolio by 28B EUR, from 64.5B to 'just' 36.5B EUR. Meanwhile, the coverage ratio of those Non-Performing Loans has increased from 47% to 54.5%. Long story short: there are fewer 'bad' loans and the reserves to cover these bad loans have increased substantially. It does look like Intesa Sanpaolo has its bad loan book under control.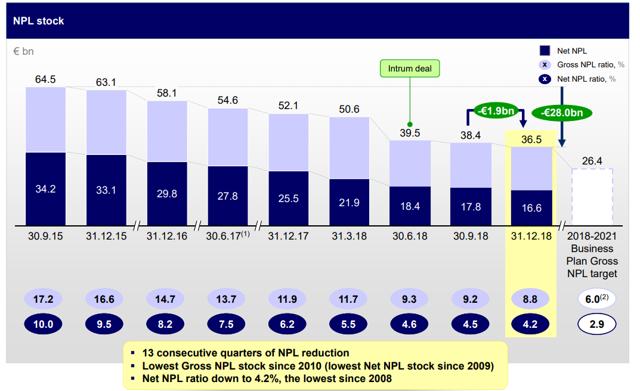 Source: company presentation
The stronger balance sheet also helps the Italian bank to make sure its CET1 capital ratios meet the minimum requirements of the ECB. According to the bank, it had a 13.5% CET1 capital ratio as of the end of December.
That's a good ratio, and substantially higher than the 9.33% requirement (consisting of 4.5% of Pillar 1, 1.5% of Pillar 2 capital, a capital conservation buffer of 2.5%, a 0.75% buffer for a systemically important bank as well as an additional small countercyclical buffer of 0.08%.
This indicates a capital surplus of 4.17% of the total amount of risk weighted assets (13.5% - 9.33%) and based on a total risk exposure of 282B EUR (I expect Intesa to update this number in its annual report), this indicates Intesa Sanpaolo currently has a capital surplus of 11.75B EUR.
Looking at the stress test performed by the European Banking Authority, it estimated that even after applying the 'adverse scenario' on Intesa Sanpaolo its CET1 capital ratio would come in at 9.66%, so 0.33% above the minimum requirement.

Source: EBA stress test results
Does this mean Intesa is a slam dunk investment?
Despite Intesa's strong profitability, reduced amount of NPL's and double-digit dividend, this doesn't mean Intesa is a strong buy. Despite having some assets in other countries, the bank is still primarily dealing with exposure to the Italian markets (unlike for instance its Spanish competitors Banco Santander and BBVA which have been able to increase the exposure to other markets as well). Let's have a look at the total loan book of Intesa Sanpaolo: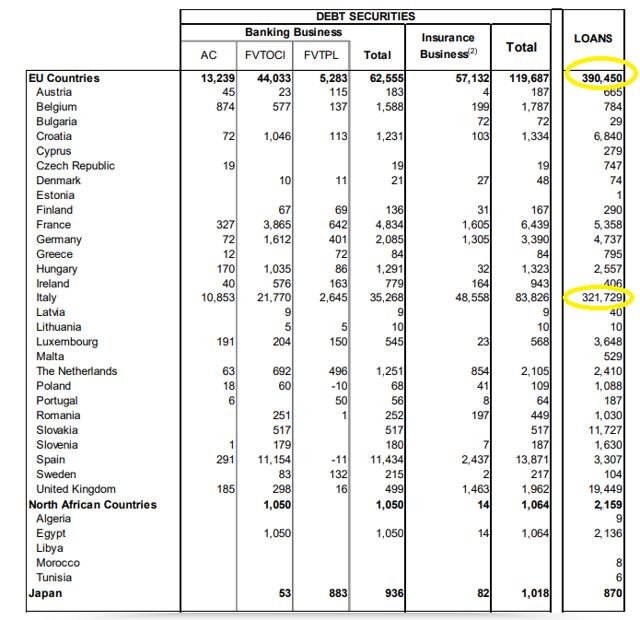 Source: company presentation
The total size of the loan book as of the end of December was approximately 390B EUR. That's indeed a very sizeable loan book, but unfortunately, Intesa remains very concentrated on the domestic Italian market. Of the 390.5B EUR in loans, almost 322B EUR was issued in Italy (82.4%).
We see a similar ratio appear on Intesa's current sovereign risk: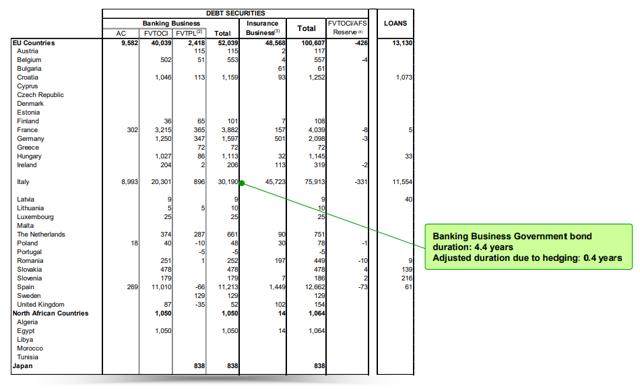 Source: company presentation
Fundamentally, there's nothing wrong with that. A bank should always focus on its core markets and deploy its expertise in the areas and sectors it's familiar with. But investors should not be blinded by the hefty dividend and realize buying shares of Intesa Sanpaolo essentially is buying a call option on the Italian economy. A call option that could provide a nice payoff if the Italian economic situation gains momentum and strength. But a 5% haircut on its Italian loan portfolio would wipe out approximately 35% of its equity.
That would be tough to swallow but not disastrous. A 10% haircut on the Italian loan portfolio would be more disastrous, so rather than seeing Intesa using an 85% payout ratio for its dividend (and 80% for 2019) to reward its shareholders, I think the bank should consider lowering its payout ratio and using the remaining net profit to boost its non-Italian presence and exposure.
Conclusion
Unlike its Spanish Big Bank counterparts, Intesa Sanpaolo isn't very diversified as its exposure to the Italian domestic market remains overwhelming. That's a valid business strategy, but it's just something you should be aware of.
Other news from Europe
Stockholm-listed Skanska (OTCPK:SKSBF) (OTCPK:SKBSY), a construction company, rattled the market last week as it announced a dividend cut despite a higher operating income in the fourth quarter. According to the company, the dividend cut will make more cash available for its push into real estate development (rather than just the construction activities). This is a more capital intensive sector, so a higher equity contribution will be needed. On the other hand, the development business should result in higher returns on the capital employed. Cutting the dividend by 2.25 SEK per share makes almost 1B SEK (approximately US$100M) available for these new ventures.
The story of the week was obviously the Wirecard (OTCPK:WRCDF) (OTCPK:WCAGY) - Financial Times issue. The FT accused Wirecard of applying 'creative accounting' and said some of the Germany-based executives were in on it. The initial article in the Financial Times in January was recently followed up with another article, and the gloves have now come off as Wirecard is now suing the Financial Times while it's cooperating with the local police in Singapore to get to the bottom of the issue.
Wirecard was trading at 170 EUR/share before the Financial Times started to publish its findings, but the share price has now fallen to less than 100 EUR, wiping out approximately 9B EUR in market capitalization. When there's smoke, there might be a fire. But even if Wirecard would have applied some creative accounting strategies, the collapse of the share price may be an overreaction. For now, all we can do is wait for the official investigation to be completed to see if Wirecard cooked the books and what the impact would be on the financial results.
French mall operator Klépierre (OTCPK:KLPEF) has published its preliminary results for FY 2018 and despite the worries about the European commercial real estate sector in 2018, Klépierre performed very well. Its direct result increased by 6.5% to 2.65 EUR per share (beating its own guidance of 2.57-2.62 EUR per share), and this allowed the board of directors to hike the dividend by 7.1% to 2.10 EUR per share for a current dividend yield of approximately 7%.
For 2019, Klépierre expects a slower growth rate as it's guiding for a direct result of 2.72-2.75 EUR per share, which would still be a respectable 3-4%.
Another French company, Total (TOT) has confirmed it made a large gas condensate discovery after drilling 57 meters of net gas zones in a new well that was drilled offshore South Africa. It's still too early to define the definitive size of the discovery, but Total's CEO mentioned the new gas field could contain in excess of 1 billion barrels of oil equivalent. Not only would this be good news for Total (which has a 45% stake in the block), it could also help South Africa to figure out if gas-fired power plants could help the country to increase the reliability of the power grid.
Belgium's Anheuser-Busch InBev (BUD) is still trying to diversify away from just the 'pure' beer market and as part of this strategy, it has now acquired full ownership of the beer-rating website Ratebeer.com. This will very likely only have a marginal impact on BUD's financial performance, and slashing the dividend will very likely prove to be a good move as it will allow InBev to reduce its net debt (and interest expenses) at an accelerated pace.
Austrian energy group OMV (OTCPK:OMVJF) released excellent financial results and has hiked the dividend by 17% to 1.75 EUR per share. OMV appears to be focusing on Second-Tier assets in countries with tough operating conditions. This could be an advantage for the company as it's able to secure these assets at relatively low prices.
That being said, OMV's recent transactions are indicating a higher investment in developed countries. It is spending almost $600M on purchasing the upstream business of Royal Dutch Shell (RDS.A) (RDS.B) in New Zealand while it will also acquire a 15% stake in the ADNOC refinery in Abu Dhabi. The total purchase price has been estimated at $2.5B, but this is still subject to changes based on the evolution of the working capital position and net debt position of the operating company. Additionally, the company confirmed in December its new gas project, Aasta Hansteen, has been successfully brought into production. OMV spent$600M on the development of the asset and estimates its net attributable production to be approximately 20,000 barrels of oil equivalent per day.
Consider joining European Small-Cap Ideas to gain exclusive access to actionable research on appealing Europe-focused investment opportunities, and to the real-time chat function to discuss ideas with similar-minded investors!
NEW at ESCI: A dedicated EUROPEAN REIT PORTFOLIO!
Take advantage of the TWO WEEK FREE TRIAL PERIOD and kick the tires!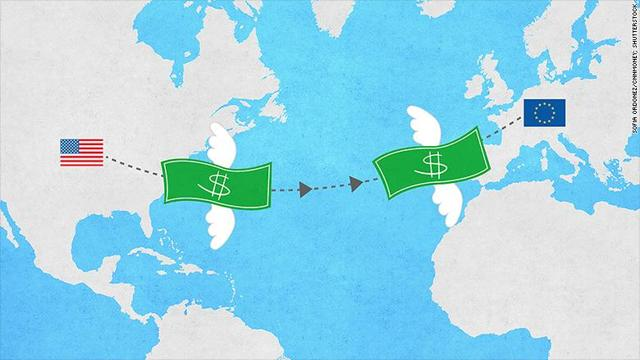 Disclosure: I am/we are long BUD, KLPEF, OMVJF, TOT. I wrote this article myself, and it expresses my own opinions. I am not receiving compensation for it (other than from Seeking Alpha). I have no business relationship with any company whose stock is mentioned in this article.