The pension is the largest unsecured individual debt in the Sears Holdings (OTCPK:SHLDQ) bankruptcy. The pension was currently underfunded by roughly $1.5 Billion. The PBGC in Doc 2002 has objected to the sale of "substantially all" of the assets of Sears Holdings to Transform Holdco, an entity formed by Eddie Lampert. In his Blog, Mr. Lampert reminded us that roughly $4.5 Billion had been contributed to the Pension plans since 2005; this is never mentioned in articles that bash him for the decline of the size of Sears.
A couple of weeks ago, the Pension Benefit Guaranty Corporation announced that they planned to seek to terminate the Sears Holdings pension plans. Unbeknownst to many, a mere bankruptcy filing does not terminate a pension plan. (See Questions and Answers on the PBGC website.)
The PGBC issued a statement found on their site that reads:
While underfunded pension plans often terminate during bankruptcy proceedings, a company bankruptcy filing by itself does not terminate a pension plan. However, PBGC is stepping in to become responsible for the company's two pension plans because it is clear that Sears continuation of the plans is no longer possible. The PBGC is seeking to terminate the plans as of January 31, 2019. The agency will become responsible for the pension plans when Sears agrees to plan termination or a court orders plan termination.
On February 8, 2019, a settlement term sheet was filed and signed with the PBGC and SHLDQ. (See Document 2529.) The settlement essentially terminates the pension plan for an unsecured claim of $800 Million; they also agreed to support the Chapter 11 plan and drop administration claims against KCD.
Eddie Lampert has been addressing the pension deficit for the last 18 months including the buy-out arrangements in 2017 which transferred roughly $1.27 Billion in defined benefit liabilities to MetLife (NYSE:MET).
SHLD can still do various transactions with an insurance company and the PBGC including a pension buy-in, a pension buy-out and a longevity risk transaction. Let's take a look at all three.
A Pension Buy-In
A pension buy-in is similar to a buy-out, but instead of the insurer taking responsibility for paying the members' pensions, the insurer instead makes these payments to the scheme, which in turn pays the members. An example of a pension buy-in is in Figure one below from MetLife insurance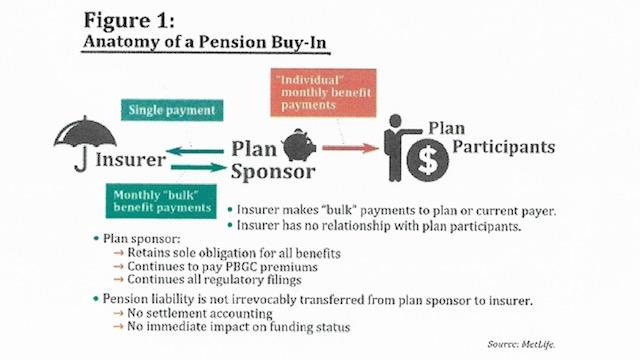 If I were a consultant for or on the Board of Sears Holdings, Inc., I would not recommend a pension buy-in. I think a better solution would be a pension buy-out or longevity swap transaction with our captive insurer Sears Reinsurance.
A Pension Buy-Out Or Longevity Swap
A pension buy-out is where a pension scheme pays a premium to an insurer and in return the insurer takes on all responsibility for paying the pension scheme's insured members. This transfers all investment, inflation and longevity risks associated with the insured benefits to the insurer.
A similar buy-out arrangement and/or longevity swap between the Pension Fund and Sears Reinsurance should be transacted (with Reinsurance subsequently purchased by Sears Re from a subsidiary of Berkshire Hathaway (NYSE:BRK.A) (NYSE:BRK.B) or another insurer)
The SRAC Bonds, Kenmore, Diehard and/or SHLDQ stock/Bonds or Newco stock/bonds could potentially be used as collateral (if needed). Below is an example of how I would perform a longevity swap transaction or buy-out with Sears Reinsurance: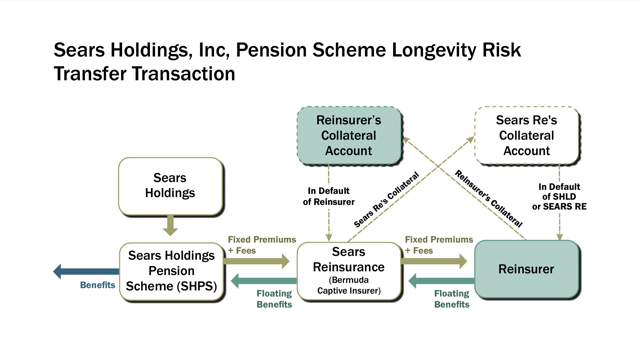 The pension payments are roughly $300 Million a year, with the recent increase in interest rates, the return on assets will be much higher (roughly $150 Million more), The Pension will be earning roughly a $200 Million a year profit compounded annually, there is literally 100% probability that the Pensions principle will never be paid out. Therefore, the pension will remain profitable in perpetuity. It is in the best interest of long-term shareholders to view the pension as an asset and not a liability. It is a major source of "Float"
Sears Reinsurance should back-stop the pension and/or sell the annuity contract to the plan so that the Pension assets can be invested by Eddie Lampert for the benefit of the pensioners and eventually for the benefit of long-term shareholders.
Conclusion
Sears Re should institute a buy-out and/or a longevity swamp transaction with the pension, and/or PBGC. The income and assets of this entity can more than cover any pension payment shortfall as most of the pensioners are at or close to average life expectancy, The reinsurance component in the chart above would provide even more security for Sears pensioners as the financial strength of Berkshire Hathaway is unquestioned. I would even consider exploring a merger with another declining business with a fully funded pension with similar metrics.
The pension is essentially a profitable business that is guaranteed to grow income and reduce expenses in perpetuity and eventually, have no expenses. Regardless of the success of the underlying business, the pension can be a source of "Float" to be invested by one of the greatest investors of our time (Eddie Lampert). The pension assets are the margin of safety.
In the right hands, the transaction I suggest in this article would eventually transform the company's largest liability into a multibillion-dollar asset of Sears Reinsurance, even if the underlying business eventually fails.
* See also Warren Buffett's Investment in Blue Chip Stamps; he and Charlie Munger turned a $65 Million "liability" into a $35 Billion-plus fortune in less than 30 years
Disclosure: I am/we are long SHLDQ. I wrote this article myself, and it expresses my own opinions. I am not receiving compensation for it (other than from Seeking Alpha). I have no business relationship with any company whose stock is mentioned in this article.