The iShares Gold Trust ETF (NYSEARCA:IAU) has rallied by about 11.46% from its 52-week low in August 2018, and is one of the few securities that performed relatively well during the Q4 market turmoil. The performance of gold is strongly inversely correlated to movements in the US dollar, because the metal is a dollar-denominated commodity. The stronger the USD becomes, the more expensive it becomes to buy gold. The dollar has been softening lately, which in turn benefits the demand for gold and consequently IAU. The chart below demonstrates the inverse correlation between the US Dollar Index (green line) and IAU (blue line). The latest developments could support gold prices higher.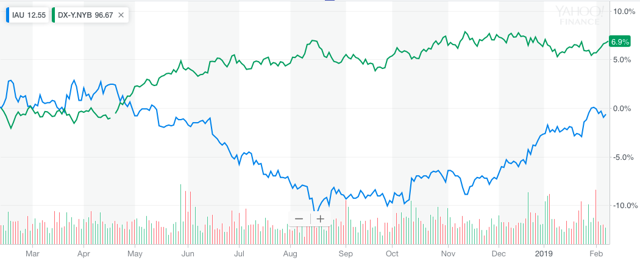 Source: Yahoo Finance
Prospectus Review
IAU tracks the price of gold by using the "LBMA Gold Price" as its underlying benchmark. The fund offers this exposure by holding physical gold in its portfolio. It seeks to offer a more convenient mechanism to invest in gold as an alternative to having to transport and store physical gold.

Risk note from prospectus:
Because the Trust does not have any income, it needs to sell gold to cover the Sponsor's Fee and expenses not assumed by the Sponsor. The Trust may also be subject to other liabilities (for example, as a result of litigation) that have also not been assumed by the Sponsor. The only source of funds to cover those liabilities will be sales of gold held by the Trust. Even if there are no expenses other than those assumed by the Sponsor, and there are no other liabilities of the Trust, the Trustee will still need to sell gold to pay the Sponsor's Fee. The result of these sales is a decrease in the amount of gold represented by each Share.
The reason I have chosen this ETF is because it offers a convenient investment vehicle through which exposure to physical gold can be achieved. Moreover, out off all ETFs that offer exposure to physical gold, this ETF has one of the highest Assets Under Management (AUM) according to ETFdb.com, currently standing at $12.4 billion. I consider AUM as a good indicator for how successful the fund has been in implementing its strategy to deliver on its objectives for investors. The higher its AUM, the more investors have allocated their capital towards the fund due to effective management. Furthermore, it has the highest average trading volume, presently at 14.5 million. Hence this means that the ETF has a very healthy level of liquidity. This is a good indicator for how easily investors can buy and sell shares in the ETF. Therefore, the higher the trading volume, the lower the liquidity risks.
Economic conditions not getting stronger
Powell has turned increasingly dovish lately in order to acknowledge the slowing economy and the various global headwinds. Since he last spoke, economic data has not been very supportive for more tightening either. While the jobs report for January showed strong jobs growth, it was accompanied by a downward revision for December and slower-than-anticipated wage growth. More recently, the ISM non-manufacturing data for January came in at 56.7, missing the consensus estimate of 57.1. While the current reading still reflects a healthy economy (reading above 50 reflects expansion), it still marks a slowdown from December's reading of 58. Thus, amid these softening economic indicators, it is safe to bet that the Fed will be holding off on raising rates for the foreseeable future, which will soften the USD and allow the inversely correlated gold price/IAU to move higher.
Fed members becoming increasingly dovish
Various Fed members, other than Powell, have come out lately to express their support for remaining patient with future rate hikes, including Loretta Mester and Richard Clarida. Most notably, voting member James Bullard has claimed that the current level of the Fed funds rate is actually "restrictive" as opposed to others' claim that it is at "neutral". He claims that this restrictive policy is the reason the inflation rate is still under the Fed's target. This is an even more dovish stance than other Fed members who are expressing the need to be "patient" with rate hikes this year. If economic conditions and/or financial market conditions continue to worsen, then more Fed members are likely to believe that they may have raised rates too far already. In which case, not only would more rate hikes certainly be off the table for this year, but the chances of a rate cut also increase.
In fact, CME Group's FedWatch, which exhibits the probabilities of interest rate movements based on Fed funds futures activity, is currently reflecting a 14.2% chance of a rate cut in December and a 24.1% chance of a rate cut in January 2020 (at the time of writing). The probabilities of rate cuts are continuously rising, which exhibits how market participants are increasingly expecting economic conditions to get worse from here, which will require monetary policy easing from the Fed. As a result, expectations of looser monetary policy conditions ahead will continue to put downward pressure on the USD, and thereby support the inversely correlated gold price/IAU.
Strategy
Gold prices and IAU have been rallying strongly over the past several months and have shown strength even amid the financial market turmoil. Given the uncertainty of economic and financial market performance going forward this year, holding exposure to gold through IAU is advisable. Persistently weakening economic data and an increasingly dovish Fed will continue to put downward pressure on the USD and push gold prices higher. While gold/IAU witness dips whenever there is a positive economic development/economic data release, I believe the predominant trend for gold is upwards, as the global economy continues to slow, and monetary policy easing is highly anticipated in 2020. Hence, I would consider these "dips" buying opportunities.
Disclosure: I/we have no positions in any stocks mentioned, but may initiate a long position in IAU over the next 72 hours. I wrote this article myself, and it expresses my own opinions. I am not receiving compensation for it (other than from Seeking Alpha). I have no business relationship with any company whose stock is mentioned in this article.