E-commerce provider PFSWeb (PFSW) has been one of the bigger victims of the small-cap tech sell-off that began in the second half of 2018. PFSW touched $11 in early June - a two-year high. The stock then fell steadily for the rest of the year, dipping below $5 before rallying this year (along with many of its peers).
Now trading just below $6, PFSW unquestionably is cheap - and I still believe too cheap. Even the low end of Adjusted EBITDA guidance suggests a 6x EV/EBITDA multiple. Normalized cash flow calculations suggest the stock is trading at 8-9x free cash flow. It doesn't take much from Q4 results, and 2019 guidance, to drive at least some multiple expansion, and thus material upside in PFSW shares.
That said, there's more going on here than just a category/sector sell-off. 2018 was a pivotal year for the company, given that a seemingly solid 2017 benefited from a comparison to an error-marred 2016. And the weakness in the company's LiveArea consulting/implementation business this year, combined with potentially unsustainable margins on the PFS fulfillment side, undercuts what look like still-decent consolidated numbers.
I've held my shares through the decline (though like many investors in this market, I regret I didn't sell at mid-2018 highs) and I'm not sure the story is completely over. E-commerce growth isn't going anywhere. There is some good news in YTD performance. And the valuation suggests close to a double if PFSWeb can get back on track and/or sell itself even at a discount to other transactions in the space.
But that's a big 'if' at the moment. And if PFSWeb can't show some promise with Q4 results and 2019 guidance next month, it might be time to move on.
The YTD Concerns
The good news as far as 2018 goes is that profit guidance hasn't moved. The company projected $24-$26 million in Adjusted EBITDA in its Q4 2017 release, and reaffirmed that figure in Q3 results in November.
That range would be an all-time high, and it seems to show that PFSWeb is posting growth that unquestionably is not priced in at the current valuation: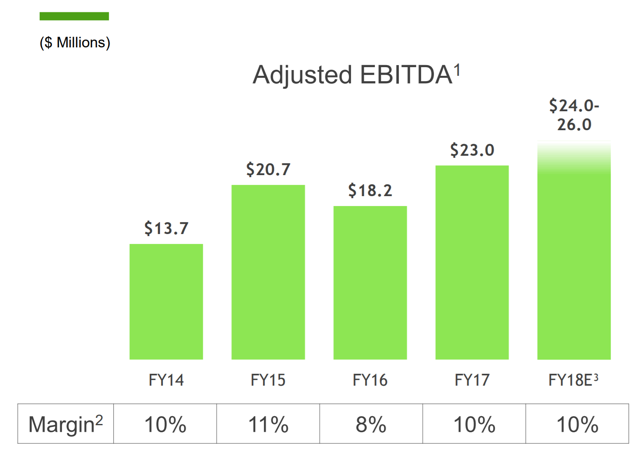 source: PFSWeb January presentation
That guidance doesn't look necessarily aggressive, either. The implied range for Q4 is $8.7-$10.7 million in Adjusted EBITDA against $9.4 million the year before. And solely from an EBITDA/profit standpoint, it does look like PFSWeb fully has moved past a difficult 2016, when the company quite literally took on too much business and wound up crushing margins (particularly around the high-volume holiday season) as a result.
The concern, however, is how PFSWeb has gotten to this point. While earnings guidance has been left intact, revenue guidance has been pulled down after both Q2 and Q3. And the trend on the top line now looks much more muted: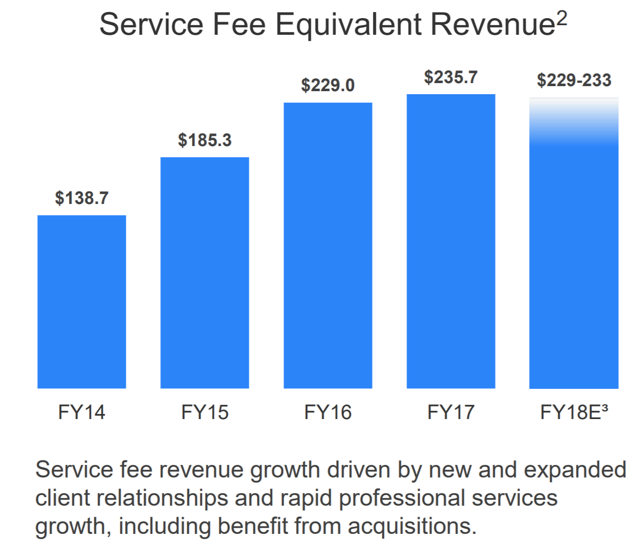 source: PFSWeb January presentation
Service fee equivalent revenue backs out pass-through and product revenue (the latter now just a low-margin distribution agreement with Ricoh (OTCPK:RICOY) for printers) - and it's essentially been flat for two years now. More concerningly, the company's LiveArea segment, which is more of a professional services/strategy/consulting offering, has seen expectations come down sharply. Heading into the year, PFSWeb expected 2018 LiveArea growth of 8-13%, right around a long-term target of 10%+. In PFS (the outsourced fulfillment business), sales were expected to be flat to down 3%, below expectations of ~5-10% annual growth.
PFS actually has outperformed on the top line: updated guidance post-Q3 suggests a 1-3% increase this year, above initial projections, even with the range tightened and lowered after Q3. But LiveArea projections have been pulled down twice: the updated outlook of $80-$82 million suggests a 7-9% decline this year.
That's a problem fundamentally - and it's a problem qualitatively, because PFSWeb management hasn't really explained what's causing both the decline and the significantly lowered expectations. The midpoint of guidance for LiveArea revenue growth has come down a full eighteen points in three quarters - an obviously significant move.
On the Q3 call, management cited project delays as one factor, with "a couple of large implementation project launches...now expect[ed] to be delayed into the early part of next year," as CEO Mike Willoughby put it. The problem with that explanation is that PFSWeb cited project delays on the Q1 call, and on the Q2 call as well, with Willoughby after the second quarter specifically saying back-half growth would "accelerate" as those delayed projects came in. That's obviously not been the case - and it raises the question of just how long these projects have been delayed.
Meanwhile, the supposedly pushed-out engagements aren't the only issue on the LiveArea side. Willoughby said in the Q&A of the Q3 call that "for me the issue is really the number of at-bats that we've had this year as far as opportunities to engage in these platform implementation projects." The CEO cited commentary from rivals and channel partners in arguing that "it's just been a slower year" for those big projects.
Looking around the space, that may be true. Publicis (OTCQX:PUBGY) has struggled with its SapientRazorfish business, taking a huge writedown in 2016 and changing its CEO once again, as discussed on its Q4 2018 conference call. Radial, now owned by bpost (OTCPK:BPOSY), saw revenue drop 12% in 2017 according to a bpost presentation - due to "lower than expected new clients" - and further top-line pressure this year. But the weakness across the industry leads to the obvious worry that PFSWeb's problems can't be fixed through better execution or improved sales processes - but rather that demand on the whole is receding.
On the PFS side, meanwhile, the performance has been solid on the top line. But it's been outstanding in terms of gross margin - and maybe too good. Consolidated service fee gross margin (ie, gross profit divided by SFE revenue) was over 37% in both Q2 and Q3 - a full two points-plus over a targeted range of 30-35%. Against SFE revenue of $107 million, that extra margin drives over $2 million in gross profit in the middle half of the year - for a company guiding for a $1-3 million increase in EBITDA for the full year.
Those 37% margins are being driven by PFS, thanks to a few higher-margin projects - and if/when those projects are lapped, and consolidated margins normalize, overall profitability here likely takes a hit. That in turn creates a risk toward 2019 guidance, to be issued next month. If PFSWeb can't lap the stronger margins - or the weaker LiveArea revenue - the 2019 outlook very well could be for EBITDA to come in flat to down. And with the concerns across the industry, even a 6x EBITDA multiple is unlikely to expand in that scenario.
The Broad Concern
The biggest concern looking to Q4 and 2019 is that the primary risk to the PFSW story may be playing out: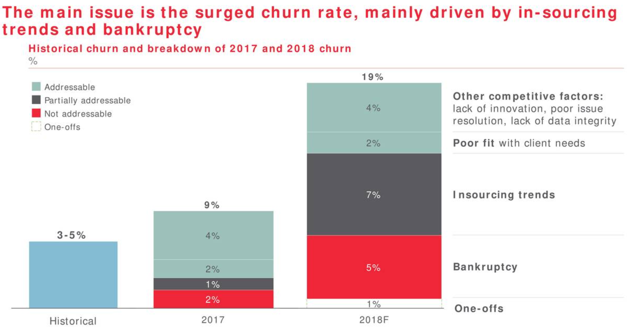 source: bpost presentation, August 2018
That risk boils down to one key question: does outsourced e-commerce have a significant adverse selection problem? Whether it's startups or multinationals, clients that succeed in driving consistent growth at some point are likely to bring the efforts in-house. Those that don't - or those that dipped their toe in the water due to shareholder pressure and/or a perceived need to have some sort of 'omnichannel' presence - will be left. And over time, those clients will either shut down their business (PFSWeb, for instance, lost Starbucks (SBUX) in 2017) or see demand fade.
In the meantime, how many new customers - how many 'at-bats', to use Willoughby's term - are really out there in 2019? Are there legacy brick-and-mortar businesses only now discovering the potential of e-commerce revenue? That seems unlikely. Yet back on the Q1 call, CFO Tom Madden broke down the estimated 5-10% long-term annual growth rate for PFS (the fulfillment side) as 5-7% growth from existing customers; 5 to 7-8% new customers; and 5-8% churn.
If that churn is higher than expected, PFS revenue slows markedly. And if those new customers don't show up - as has been the case in 2018 - both PFS and LiveArea take a substantial hit, and revenue perhaps starts declining. Per the Q3 call, bookings on the LiveArea side actually are up YTD ($42 million vs $39 million, +8% or so). But retainer bookings (12 months-plus, closer to consulting contracts) are $15 million versus $4 million. Project bookings, in turn, are $27 million versus $35 million - off over 20%. If those project bookings don't come back, neither does LiveArea growth. And PFSWeb's consolidated sales stall out - or worse.
There are signs that the growth algorithm here is breaking down. As cheap as PFSW is, that's still a reasonably significant problem.
Q4 and Valuation
Again, quite a bit of pressure does seem priced in at this point. 6x the low end of EBITDA and under 9x normalized free cash flow ($24 million EBITDA, $2.6 million cash taxes, $2.4 million interest, $6 million capex for $13 million) are multiples assigned a flat, if not declining, business.
And that sets up an important Q4 report next month. If PFSWeb can hit its guidance and give an outlook for growth in 2019, there's a ton of upside potential for the stock. 7-8x even $25-$27 million in 2019 EBITDA (and 10-12x free cash flow) still gets the stock to $7.50-$9.50, 25-50%+ upside. That kind of outlook also suggests that even with the pressures, PFSWeb still can grow. The rollout of what it calls FaaS (fulfillment-as-a-service), launched with a pop-up store in Toronto, and a new partnership with Simon Property Group (SPG) for omnichannel efforts in its mall do provide growth drivers in 2019 and 2020. It's possible 2018 is just a 'lull', rather than a sign of secular demand pressure.
PFSW at the moment is cheap enough to bet (hope?) on that type of outcome. Again, zero growth is priced in here; if the company can convince investors that its business can at least be stable, there's room to get to $8 or so (12x cash flow of $13 million). Bigger upside requires an acceleration in growth to something in the neighborhood of the long-term targets - but that should be probably be considered pure optionality at this point.
There's still some level of downside risk here, however. This is a lightly covered small-cap with real questions. If 2019 guidance is for a decline in EBITDA, the stock could retest December lows below $5. And that's not off the table. Normalized gross margins in PFS alone could present a high-single-digit (or greater) headwind to EBITDA. LiveArea, even with what should be an easy compare, may not be ready to bounce back just yet (or ever). There needs to be some consideration of management's role as well, given the execution problems in 2016 and the insistence on projecting sustainable, multi-year growth even as the industry has shown repeated signs it may not support that type of outlook.
It sets up a big report for PFSW, in terms of both Q4 numbers and the 2019 outlook. Near $6, with soft multiples, the risk/reward still looks favorable enough to give PFSW one more quarter. But that have been enough danger signs building in recent quarters (and, truthfully, recent years) to question whether this is a business that can grow at all. If that bearish thesis gets confirmation in Q4, patience probably should run out.
Disclosure: I am/we are long PFSW. I wrote this article myself, and it expresses my own opinions. I am not receiving compensation for it (other than from Seeking Alpha). I have no business relationship with any company whose stock is mentioned in this article.