Editor's note: Seeking Alpha is proud to welcome Andrew Aziz as a new contributor. It's easy to become a Seeking Alpha contributor and earn money for your best investment ideas. Active contributors also get free access to the SA PRO archive. Click here to find out more »
Investment Thesis: An investment in RRTS shares at a currently very beaten down market price provides upside potential of 2x+ and substantial downside protection in the case that the new management team completely fails in their turnaround efforts.
Situation Overview
Roadrunner Transportation Systems, Inc. (NYSE: RRTS) ("Roadrunner" or the "Company") is a logistics company that is as hairy and "special" a situation as they come. Just a few years ago, RRTS was trading at an enterprise value north of $1.2 billion versus a current pro forma enterprise value of $620 million. Beginning in late 2015, the Company experienced poor operating performance which then led to debt compliance issues with an over-leveraged balance sheet and ultimately exposed accounting irregularities that resulted in a restatement. The Company has since changed its management, recapitalized its balance sheet, reorganized and streamlined its operations and portfolio, and introduced a new long-term strategic plan. Although bottom line performance has suffered throughout these issues, revenue has grown, which indicates the strong transport environment and more importantly Roadrunner's high-quality asset-right business model and industry position.
Roadrunner's current capitalization is provided below, pro forma for the rights offerings that is currently underway to fully redeem expensive (~16%-18%) preferred stock held by Elliott Management ("Elliott") and provide additional cash on hand of ~$30 million to help support and provide a cushion to turnaround efforts. Elliott is backstopping the rights offering, which at a high level reduces the Company's cost of capital and increases the common equity float and thereby liquidity significantly. If no other investors participate in the rights offering, Elliott would end up increasing their net investment and exposure to RRTS by providing an additional ~$50 million of new money, signaling the attractiveness of the current valuation from the perspective of an insider.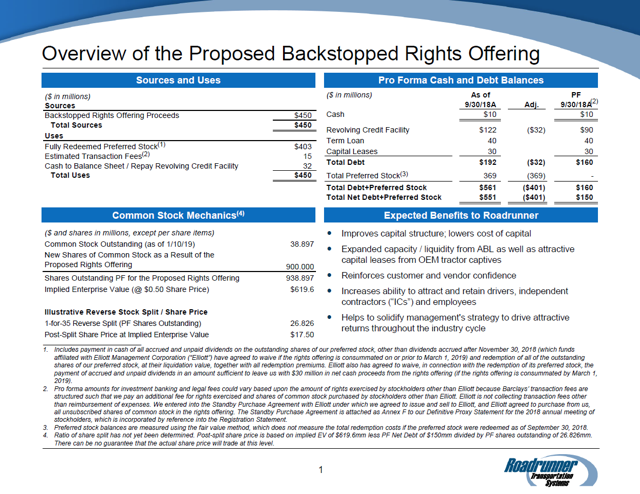 Source: RRTS Investor Presentation dated February 1, 2019.
Company Description
RRTS is a portfolio of many different logistics businesses and types of service offerings. In a past iteration, RRTS operated with an aggressive roll-up strategy making over 30 acquisitions from 2007-2015, spending more than $600 million. The Company currently reports its results across three reporting segments: Truckload & Express Services, Less-than-Truckload, and Ascent Global Logistics. A review of the different service offerings within each segment follows along with management provided labels: Asset-Free ("AF"), Asset-Backed Brokerage ("ABB"), Asset-Light ("AL"), and Asset-Based ("AB").
Truckload & Express Services ("TES")

Active On-Demand ("AOD") - market-leading, asset-backed air expedite and ground expedite brokerage with tech-enabled bid boards/track & trace --> Asset-Backed Brokerage
Over the Road - dry van, temperature controlled and flatbed motor carriers --> Asset-Based (dry van and temperature controlled), Asset-Light (flatbed)
Intermodal Services - drayage and chassis management with 20 terminals serving rail hubs and ocean ports --> Asset-Light

Less-than-Truckload ("LTL")

Roadrunner Freight - National LTL carrier with a focus on long-haul metro-to-metro service à Asset-Light --> Asset-Light
Expedited Freight Systems (EFS) - Midwest-based specialized LTL and dedicated services carrier --> Asset-Based

Ascent Global Logistics (Ascent)

Ascent Domestic Freight Management - Brokerage / 3PL solutions for truckload, LTL and managed transportation --> Asset-Backed Brokerage
Ascent International - import/export freight forwarding and customs brokerage --> Asset-Free
Prime Retail Consolidation - warehousing, consolidation, and transportation management --> Asset-Free
Source: RRTS Investor Presentation dated February 1, 2019.
As a rule of thumb, the greater the asset intensity, the higher the EBITDA margin you should expect to see as the company needs to cover a higher cost of capital. Additionally, the greater the asset intensity the more it could be thought of as insourcing capacity versus outsourcing it and therefore internalizing and reducing what would otherwise be accounted for as cost. That said, it is important not to confuse a higher EBITDA margin with greater capital efficiency.
For a more detailed review of RRTS' lines of business and their respective trends, I recommend referring to Stifel's report "Beep Beep! Roadrunner Escapes A Near Miss, But Emerges with a Plan; Resuming Rating with a Hold" dated January 15, 2019.
Investment Rationale
Downside protection from "Performing Well" businesses. The value of the businesses that RRTS management characterizes as "performing well", the AOD business and the Ascent segment, together cover the current enterprise value. The last twelve months ("LTM") Adjusted EBITDA as of 9/30/2018 for the TES segment is $39 million. According to the Company's investor presentation, the AOD business is the only part of the TES segment that is profitable. The temperature controlled, flatbed motor carriers, and intermodal services businesses are each characterized as "moving from loss making to profitable" and the dry van business is characterized as "loss making with path to profitability". By process of elimination, you can impute that TES' LTM Adj. EBITDA is all attributable to AOD (and then some to make up for losses generated by the other businesses in the segment). Landstar System (NASDAQ: LSTR), a comparable but higher quality asset-light transportation company, currently trades at a greater than 11.0x EV/EBITDA multiple. Assuming a discount to LSTR's valuation multiple, an 8.0x EBITDA multiple results in a $312 million valuation for AOD. The LTM Adj. EBITDA for the Ascent segment is $32 million. C.H. Robinson Worldwide (NASDAQ: CHRW), a comparable non-asset-based logistics provider, trades at a greater than 13.0x EBITDA multiple. Assuming a comparable 11.5x valuation multiple results in a $368 million valuation for the Ascent segment. It should be noted that RRTS sold Unitrans, a non-core subsidiary of Ascent, for $95 million in 2017, which equates to a greater than 10.0x EBITDA multiple. Summing these two parts alone results in $680 million in value compared to a pro forma RRTS enterprise value of $620 million (~10% upside). The $680 million sum-of-the-parts (SOTP) valuation equates to a $0.56 share price (using the pro forma net debt and share count referenced above), a ~13% upside to the current share price of $0.50. While not currently EBITDA positive, the LTL business (-$25 million LTM Adj. EBITDA) would still make an attractive acquisition target as-is for Daylight Transport (Roadrunner's largest direct competitor, privately owned) or another LTL or logistics operator that could absorb its network at a positive contribution margin by leveraging their existing infrastructure, which provides further downside protection to the market's current valuation in a break-up scenario. Not accounted for, but there may be additional value in a full break-up scenario from tangible/hard assets that are used in unprofitable businesses. It should be noted that this SOTP valuation does not account for the reduction in valuation due to general and administrative (G&A) expenses at the corporate level since such resources would be redundant for a strategic acquirer. Lastly, over the long-term, should the loss-making businesses fail to provide a positive EBITDA contribution, it is likely that they will be exited or shut down especially when considering the involvement of a sophisticated shareholder activist such as Elliott.
Significant upside from EBITDA improvement potential. Roadrunner's historically aggressive acquisition strategy was followed by poor or non-existent integration. Although not a narrative that one would generally look to invest in, the story for RRTS now under a new management team is one of a turnaround with relatively low hanging fruit for operational improvement. The LTL business used to be considered a crown jewel of the Company. It was built from the combination of Roadrunner Freight Systems, Dawes Transport, and Bullet Freight Systems to form the largest asset-light operation in the country and the only one with true national scale. Although it currently generates losses, LTL has the potential to produce around 8% EBITDA margins based on historical performance and comparable companies. Consensus 2018 expected EBITDA margins for comparable asset-light and asset-backed brokerage peers range from 8% to 12% (ArcBest 7.8%, Landstar System 8.1%, XPO Logistics 9.0%, Forward Air 12.3%). Assuming an 8% EBITDA margin on LTL 9/30/2018 LTM Segment Revenue of $459 million results in $37 million of EBITDA. Applying a slightly higher margin of 9% (capturing its greater asset intensity) to the entire TES LTM Segment Revenue of $1,223 million, results in $110 million of EBITDA. Rolling up these more normalized margin EBITDAs results in $179 million (8% margin) on a pre-corporate G&A basis and $144 million (6% margin) on a post-corporate G&A basis. It is likely that consistent with the streamlining opportunities at the individual businesses, there are comparably feasible efficiency improvement opportunities at the corporate level, which may prove the current $35 million spend to be elevated. It is worthwhile to note that before the performance and accounting issues, RRTS was achieving EBITDA margins in the 6-7%+ range, and that was while running all the business in a suboptimal, decentralized fashion. At an 8.0x EBITDA multiple, using the pre-corporate EBITDA (applicable in a break-up or strategic sale scenario), valuation results in a $1,430 million enterprise value (131% upside) and $1.36 in value per share (173% upside) (using the pro forma net debt and share count referenced above), while applying the post-corporate EBITDA (applicable in standalone scenario) results in a $1,150 million enterprise value (86% upside) and $1.06 in value per share (113% upside).
Opportunity for future acquisitions and roll-ups. Generally speaking, the truckload industry is highly fragmented with over 90% of fleets having 10 or fewer power units. Admittedly this would be a bold growth lever to bank on considering the Company's history and fumbling in this area. Over the long-term, however, after management has proven themselves to be capable and credible, there are pockets within the logistics industry where acquisitions make strategic and financial sense, in the intermodal subsegment, for example. After all, if streamlining efforts succeed, the management team will have integrated 25+ companies over two to three years. With such experience behind them, management's competency in this area would likely be amongst the best-in-class and all the easier if integration is one business at a time.
You can find a spreadsheet with back-of-the-envelope calculations used for points made above here.
Investment Considerations and Risks
Late stages of economic, industrial, and freight cycle. Although the current environment is favorable for freight, should there be an economic slowdown, demand for transport and shipping are bound to be affected. Such concerns are elevated given the length and likely maturation of the current economic cycle and geopolitical uncertainty around trade. Mitigating potential top-line weakness from an economic pullback is the margin improvement opportunities that are for the most part within management's control under strong or weak industry backdrops. Additionally, according to management, the LTL business, in particular, is net short truckload rates and would benefit from a decline in spot rates.
Driver market tightness and potential wage inflation. The market for drivers is supply constrained currently as pay has stagnated and employment conditions continue to be tough. Over the last 10 years, truck driver wage growth has trailed minimum wage growth, McDonald's pay increases, and even core inflation. Additionally, employment trends in and competition for jobs from the housing, construction, and oil and gas industries have been strong. Mitigating this potential cost inflation is that the Over the Road and Intermodal Services businesses have a high percentage of contracts in place for truckload rates. Additionally, Roadrunner's non-unionized workforce allows it to take advantage of independent contractors should more enter the market in a higher rate environment.
Likely that shareholder activist becomes controlling-shareholder. Though the rights offering is still in process and the ultimate results are to be determined, it is likely that Elliott becomes a controlling shareholder of RRTS and renders public market investors minority shareholders. Such a scenario is likely as the shares outstanding (before a 1-for-35 reverse stock split) are set to increase by 23x and existing investors are asked to invest $450 million into what is currently a ~$20 million market capitalization. The need for newer, larger/deeper-pocketed investors is significant and not likely to be accomplished in less than a month's time (per rights offering timeline), therefore causing Elliott's backstop to kick-in in size. All that considered, post right offering, there will be much greater alignment between Elliott, management, and public market investors mitigating concerns over Elliott's likely to be controlling shareholding.
Trading Considerations
The subscriptions rights trade on the NYSE under the symbol "RRTS RT" and allow the holder to subscribe for 23 shares at $0.50 price and oversubscribe for another 23 shares at $0.50 price (deadline for subscribing is February 19, 2019). Therefore every right represents up to 46 shares at $0.50 per share, or $23.00. So even though the subscription rights have only traded in the tens of thousands versus a daily volume in the few hundreds of thousands in the common shares, the volume in the subscription rights translates to a greater amount of common shares and dollar value. Additionally, the cost of the subscription right should be divided by the number of shares it buys you (23-46 shares depending on subscription levels) at $0.50 price. For example, if the subscription right is trading at $0.03, then the actual price per share by buying the subscription right equates to ~$0.5013 if 23 shares are received ($0.03/23 + $0.50) and ~$0.5007 if 46 shares are received ($0.03/46 + $0.50).
Unless the rights trade for more than 46 cents, you are better off buying rights than buying shares above a price of $0.51 because at 46 cents for a right you are paying 46 cents + $23.00 for full oversubscription, so an all in price of $23.46 for 46 shares, or $0.51 cents per share. The rights need to trade at $1.02 to be equal to the stock trading at $0.52 cents.
Based on current trading levels (driven by possible confusion), the subscription rights are the more economical instrument to build a position with. They might be somewhat illiquid at first as people become aware of their dynamic, but you can save a few pennies per share by buying rights over shares at current levels (just don't forget to exercise the rights otherwise they will expire worthless).
Conclusion
The rights offering may just be what's needed to recapitalize the balance sheet and catalyze the share price as market liquidity and trading volume expand significantly and allow RRTS to be institutionally-investable from a technical standpoint. It seems that all the proverbial "shoes" have fallen in the RRTS story and the worst is behind the Company. Either way, the risk/reward over the long term at the current market price is exceptionally attractive and the fundamental upside-to-downside is asymmetric.
Disclosure: I am/we are long RRTS. I wrote this article myself, and it expresses my own opinions. I am not receiving compensation for it (other than from Seeking Alpha). I have no business relationship with any company whose stock is mentioned in this article.