Nuveen AMT-Free Municipal Credit Income Fund Offers 5.50% Tax-Free Yield
Summary
NVG offers 5.50% tax-free yield, paid monthly.
The fund has high credit quality, but long duration.
The fund is at a -9.03% discount to net asset value.
This idea was discussed in more depth with members of my private investing community, CEF/ETF Income Laboratory. Start your free trial today »
This article was first released to subscribers 2 weeks ago. This article was co-produced with Triple F Fred.
Today, I will profile a large CEF municipal fund with several interesting attributes. My efforts with Stanford Chemist's Income Laboratory will be focused on the RIC classification companies within the investing universe. The Regulated Investment Companies are required to pay out 90% of earnings to shareholders or pay a significant penalty. Many idiosyncrasies exist in these funds and we will work to explain how to capitalize on these issues as we go.
This arena is where I specialize as often there are inefficiencies available where an investor can produce outsize income streams. 5% yield and up is the target as right now my focus is on safety and predictability of cash flow.
Many investors overlook these companies due to the lack of understanding surrounding this arena of Regulated Investment Companies. We will work together to clear away the smoke often hanging over these income generating entities. Never hesitate to ask questions if my descriptions are not clearly articulated and I will do my best to clarify.
Nuveen AMT-Free Municipal Credit Income Fund (NYSE:NVG)
Nuveen's NVG fund is a large $5.064 billion CEF focused on the US municipal bond market. The fund description as provided from Nuveen is below:
The fund's investment objectives are to provide current income exempt from regular federal income tax and to enhance portfolio value relative to the municipal bond market by investing in tax-exempt municipal bonds that the fund's investment adviser believes are underrated or undervalued or that represent municipal market sectors that are undervalued. The fund invests in municipal securities that are exempt from federal income taxes. The fund uses leverage. By investment policy, the fund may invest up to 55% of its managed assets in municipal securities rated at the time of investment Baa/BBB and below or judged by the manager to be of comparable quality.
The fund provides a current yield of 5.50% that is completely federal income tax AND AMT (federal auxiliary minimum tax) FREE. Tables are readily available that will show the taxable equivalent yield according to you particular tax situation (the below table is an example). Main point: No federal income tax and a 5.5% yield paid monthly!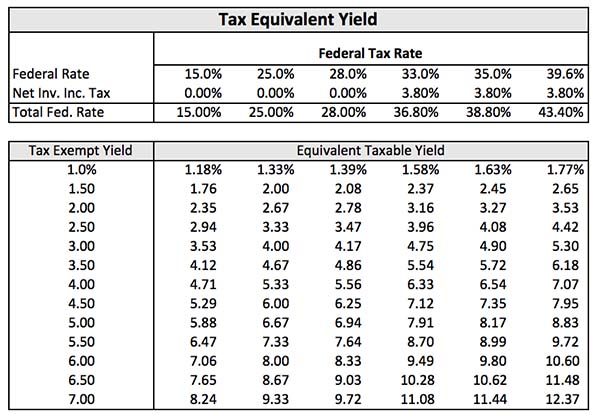 (Source: Russell Investments)
Bonds rated A-AAA make up 49.9% of their holdings and BBB plus over 72%, so overall a very smartly rated group of bonds.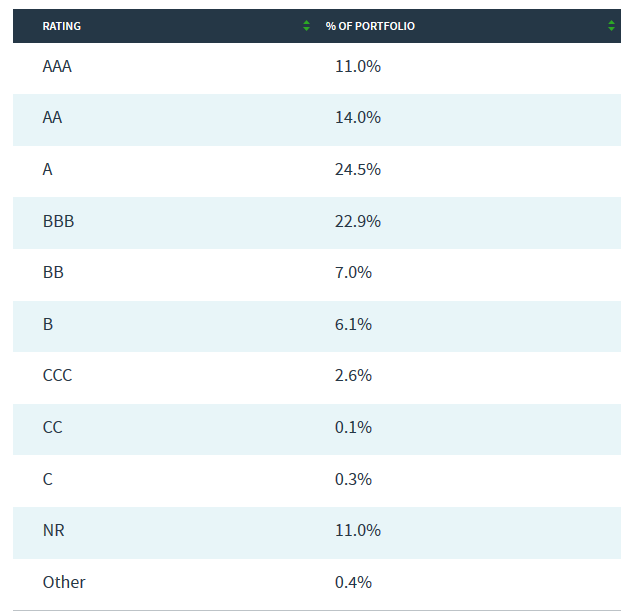 (Source: Nuveen)
The fund trades 425,000 shares daily on average and over $6 million so the liquidity is excellent. It uses 40% leverage and charges a baseline expense ratio of 1.04%. This is a fairly large fund with about $3.2 billion in net assets and $5.0 billion in total assets.
These are the top 5 states for NVG: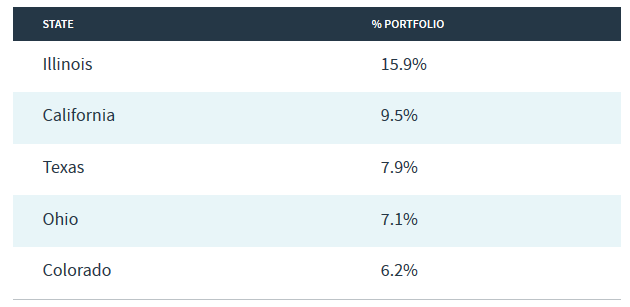 (Source: Nuveen)
The sector allocations for NVG are reproduced below: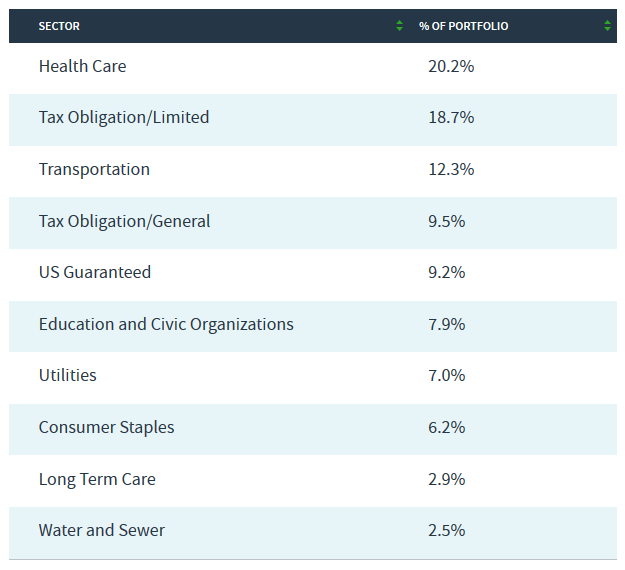 (Source: Nuveen)
The fund has a relatively high duration of 9.06 years and a leverage-adjusted effective duration of 14.20 years. The effective maturity is 21.71 years. This duration should be borne in mind by potential investors, as it will make the fund more susceptible to changes in interest rates both on the upside and downside.

(Source: Nuveen)
Valuation
The z scores are 3 months, 1.60; 6 months, 0.40; and 1 year, 0.20. There is some trading range so opportunity to trade the fund exists, although swings have not been excessive. It appears most of the trading differential has been around the small dividend changes in a fund which is paid on earnings. As you can see by looking at the "price charts" of the last few weeks, there is ample opportunity to get in or out of this fund at advantageous pricing.

The price is at a -9.03% discount to net asset value less than .40% deviation from yearly average. The 5-year premium/discount history of NVG is shown below.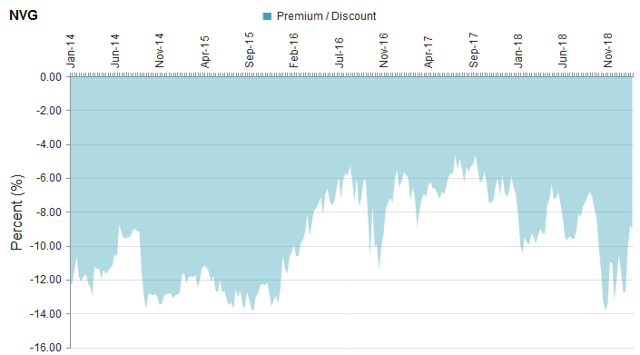 (Source: CEFConnect)
Distribution history
The changes from inception till now (15 years+) are barely over $.02 from extreme to extreme. Also, the accrued overages associated with pay from earnings are paid in a special dividend at the end of the year.
The following chart shows the distribution history of NVG since inception.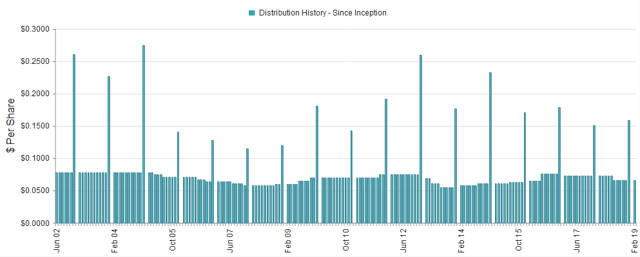 (Source: CEFConnect)
CEFConnect is the primary source used to provide the data seen in this report. You can access the income tax equivalent calculator available on this site in the distributions section of the data pages on this CEF ticker "NVG".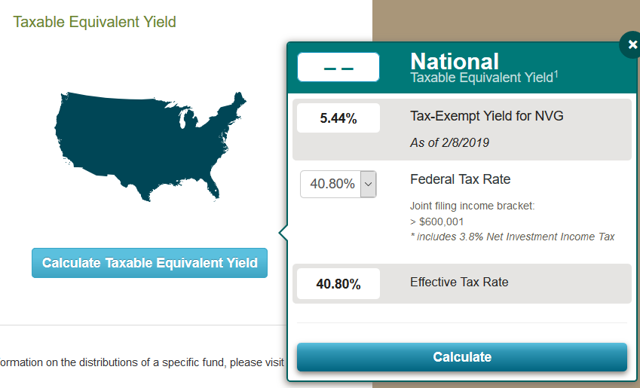 According to CEFdata, the fund has earnings coverage of 96.49% and UNII of $-0.027. The earnings coverage figure is confirmed by looking at the fund's most recent annual report (dated 10/31/2018). In 2018, the fund earned $0.81 in net investment income against $0.84 in distributions, corresponding to 96% coverage. It is also pleasing to see the trend in NII has been generally upwards, from $0.71 in 2014 to $0.81 in 2018. This has allowed the distribution to grow slightly as well.

(Source: NVG annual report, 10/31/2018)
Conclusion
Municipal bond funds are considered to be among the safest investment grade funds available. NVG has an excellent rating schedule and is very diversified. Its size and Nuveen's credibility as a fund provider gives us some additional security/safety due to their reputation. The federal tax free status is a big plus to many investors and particularly due to being able to hold in a taxable account where you can access funds without an early distribution penalty.
Housekeeping notes
Ideas presented are my own and ARE NOT a recommendation to buy or sell discussed entity. My activities within my own account are on me and my own Due Diligence procedures. I will discuss my ideas and actions on this forum but do understand I have several decades of experience in the financial markets and what is good for me may or may not be appropriate for others. I will make effort to answer all questions in a timely manner and look forward to lively discussions. I recently added this fund to my taxable portfolio and have no plans to buy or sell over the next 72 hours.
My thanks for reading my ramblings and especially to Stanford Chemist for providing his forum for exposure to your inputs on this entity. I do look forward to many future opportunities to share ideas with our group here at The Income Laboratory on investments.
We're currently offering a limited time only free trial for the CEF/ETF Income Laboratory with a 20% discount for first-time subscribers. Members receive an early look at all public content together with exclusive and actionable commentary on specific funds. We also offer managed closed-end fund (CEF) and exchange-traded fund (ETF) portfolios targeting ~8% yield. The sale has been EXTENDED for 1 more week only, so please consider joining us by clicking on the following link: CEF/ETF Income Laboratory. Also, check out our 5-star member reviews.
This article was written by
CEF/ETF income and arbitrage strategies, 8%+ portfolio yields
CEF/ETF Income Laboratory is a premium newsletter on Seeking Alpha that is focused on researching profitable income and arbitrage ideas with closed-end funds (CEFs) and exchange-traded funds (ETFs). We manage model safe and reliable 8%-yielding fund portfolios that have beaten the market in order to make income investing easy for you. Check us out to see why one subscriber calls us a "one-stop shop for CEF research."
Click here to learn more about how we can help your income investing!

The CEF/ETF Income Laboratory is a top-ranked newsletter service that boasts a community of over 1000 serious income investors dedicated to sharing the best CEF and ETF ideas and strategies.

Our team includes:
1) Stanford Chemist: I am a scientific researcher by training who has taken up a passionate interest in investing. I provide fresh, agenda-free insight and analysis that you won't find on Wall Street! My ultimate goal is to provide analysis, research and evidence-based ways of generating profitable investing outcomes with CEFs and ETFs. My guiding philosophy is to help teach members not "what to think", but "how to think".

2) Nick Ackerman: Nick is a former Financial Advisor and has previously qualified for holding Series 7 and Series 66 licenses. These licenses also specifically qualified him for the role of Registered Investment Adviser (RIA), i.e., he was registered as a fiduciary and could manage assets for a fee and give advice. Since then he has continued with his passion for investing through writing for Seeking Alpha, providing his knowledge, opinions, and insights of the investing world. His specific focus is on closed-end funds as an attractive way to achieve income as well as general financial planning strategies towards achieving one's long term financial goals.
3) Juan de la Hoz: Juan has previously worked as a fixed income trader, financial analyst, operations analyst, and economics professor in Canada and Colombia. He has hands-on experience analyzing, trading, and negotiating fixed-income securities, including bonds, money markets, and interbank trade financing, across markets and currencies. He is the "ETF Expert" of the CEF/ETF Income Laboratory, and enjoys researching strategies for income investors to increase their returns while lowering risk.

4) Dividend Seeker: Dividend Seeker began investing, as well as his career in Financial Services, in 2008, at the height of the market crash. This experience gave him a lot of perspective in a short period of time, and has helped shape his investment strategy today. He follows the markets passionately, investing mostly in sector ETFs, fixed-income CEFs, gold, and municipal bonds. He has worked in the Insurance industry in Funds Management, helping to direct conservative investments for claims reserves. After a few years, he moved in to the Banking industry, where he worked as a junior equity and currency analyst. Most recently, he took on an Audit role, supervising BSA/AML Compliance teams for one of the largest banks in the world. He has both a Bachelors and MBA in Finance. He is the "Macro Expert" of the CEF/ETF Income Laboratory.

Analyst's Disclosure: I/we have no positions in any stocks mentioned, and no plans to initiate any positions within the next 72 hours. I wrote this article myself, and it expresses my own opinions. I am not receiving compensation for it (other than from Seeking Alpha). I have no business relationship with any company whose stock is mentioned in this article.
Seeking Alpha's Disclosure: Past performance is no guarantee of future results. No recommendation or advice is being given as to whether any investment is suitable for a particular investor. Any views or opinions expressed above may not reflect those of Seeking Alpha as a whole. Seeking Alpha is not a licensed securities dealer, broker or US investment adviser or investment bank. Our analysts are third party authors that include both professional investors and individual investors who may not be licensed or certified by any institute or regulatory body.