The past few days have proved to be disappointing for the mental health and addiction-focused company, Alkermes (ALKS), with share prices slumping down by almost 6.74% from $33.08 on February 1. This month opened with the company receiving complete response letter or CRL from FDA related to NDA for its much-awaited investigational drug, ALKS 5461, for major depressive disorder. With FDA asking for additional clinical data to substantiate the efficacy of ALKS 5461, the future of the program seems to be shrouded with uncertainty.
However, despite this setback, and although the stock is down by almost 18.25% since I last covered Alkermes, I strongly believe that there is still a lot of steam in this company, especially at its current trading levels. Accepted that the 12-month growth projections have changed after the recent ALKS-5461 debacle, yet this seems to be a very good entry point for retail investors.
While the company has guided for revenues of $1.15-1.45 billion, Wall Street analysts have pegged the fiscal 2018 revenue to $1.03 billion, which will still be a year-over-year or YoY rise of 14.59%. The company has guided for non-GAAP net income of $20-50 million in fiscal 2018, while analysts have pegged the fiscal 2018 net income guidance to $35.45 million, a YoY rise of 27.55%.
Going beyond the numbers, in this article, I will be highlighting the fundamental factors that compel me to believe in the growth story of Alkermes for 2019.
Vivitrol is benefiting immensely from the raging opioid epidemic in the U.S.
In 2017 itself, we had almost 11.1 million people misusing prescription opioids, while 2.1 million reported opioid use disorder. Opioid overdose deaths in the U.S. have risen dramatically from 20K in 2010 to almost 65K in 2017. Of these, fentanyl-related overdose deaths have increased by a striking 45% since 2016. Opioid overdose problem has assumed such epic proportions that it has even lowered the overall life expectancy figures in the U.S. in the last three years.
In face of a problem of such epic proportions, having a drug like Vivitrol in its portfolio is definitely a big upside driver for Alkermes. Vivitrol is a long-acting injectable opioid antagonist, which allows patients to attain therapeutic levels of naltrexone for a one-month period. This prevents patients from relapsing to opioid dependence, after opioid detoxification. This drug is non-narcotic and hence has no abuse potential.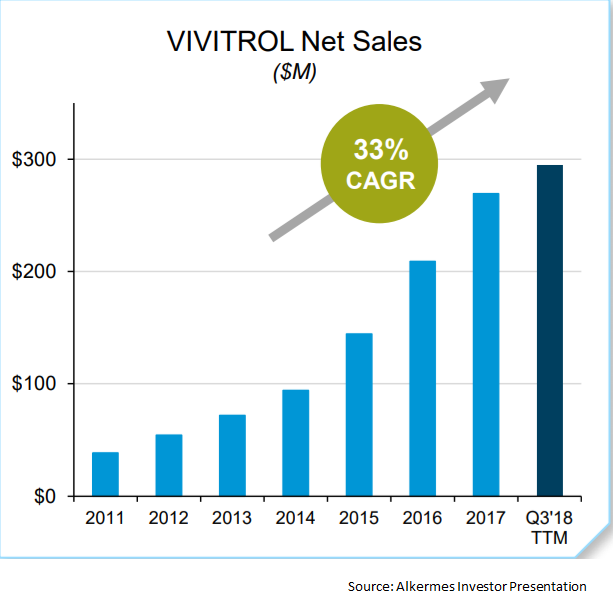 The above diagram shows Vivitrol's sales have grown at CAGR of 33% from 2011 to the third quarter of 2018, driven by public policy initiatives and improving access to opioid dependence drugs. At end of third quarter of 2018, Vivitrol was covered by 730 state programs and had demonstrated more than 25% YoY rise in sales in 27 states in the U.S.
To understand the future growth opportunity for Vivitrol, let us take help of some numbers. In January 2019, there were 13,084 facilities providing substance abuse services in the U.S. Of these, 5,470 facilities or less than 50% offer any FDA-approved opioid use disorder medication to its patients. Further, only 391 facilities or less than 5% offer all three types of FDA-approved opioid use disorder medications.
Increased allocation of funding through state and federal reforms to tackle the opioid abuse epidemic is also a big driving force for Vivitrol demand. The states have already received $2.0 billion worth federal funding as block grants for this purpose. Additionally, in accordance with SUPPORT for Patients and Communities Act, states are eligible to receive an additional $500 million annually from 2019 to 2021, through the State Targeted Response Grant program.
A large underserved market opportunity, coupled with increased funding, makes for a very strong case for the rapid growth of Vivitrol revenues in future years.
Alkermes is also targeting the high-growth and underserved schizophrenia market with the Aristada product family
Affecting close to 3.5 million patients in the U.S. and costing the healthcare system $32-65 billion annually, schizophrenia presents a significant growth opportunity for Alkermes. Currently, only 11% of the treated patients use long-acting injectables, despite better-demonstrated outcomes, while the remaining 89% are on oral medications.
Alkermes is striving to position its Aristada product family as a dominant treatment option in the schizophrenia space. Long-acting injectables is the major focus area for the company, and Alkermes has already seen 17% CAGR growth in net product sales in this segment since 2005. The company expects the long-acting injectable schizophrenia segment to emerge as $3.0-4.0 billion worth market opportunity in the U.S. by the year 2020.
Alkermes' advent in schizophrenia indication started with the launch of Risperdal Consta, the first atypical long-acting injectable with two-week dosing frequency, in 2003. This is a product developed by Johnson & Johnson (JNJ) using Alkermes proprietary technology. In 2009, Johnson & Johnson launched Invega Sustenna, again developed using Alkermes proprietary technology. This was the first monthly, atypical, long-acting injectable and was a pre-filled syringe requiring no refrigeration or oral lead-in.
Alkermes came out with its proprietary schizophrenia long-acting injectable, Aristada (aripiprazole) in 2015, which is now available in four doses and at three dosing frequencies of monthly, six weeks, and two months.
In July 2018, Alkermes secured FDA approval for Aristada Initio, which now allows for initiating Aristada therapy within one day of initiation unlike previous standard initiation regimen for Aristada which involves 21 consecutive days of oral aripiprazole starting with the first Aristada dose. Aristada Initio regimen provides patients with relevant levels of aripiprazole within four days of initiation. Hence, Aristada Initio can become an important tool for healthcare providers for one-third of the total long-acting injectable treated patients who are in inpatient treatment settings such as hospitals and crisis stabilization units. Aristada Initio can also help improve medication compliance as patients shift from inpatient to outpatient settings. The launch of Aristada Initio has thus enabled Alkermes to dose Aristada from day one and provide two-month dosing frequency to patients.
Aristada has reported 64% CAGR growth in net product sales, from 2015 to the third quarter of 2018. The next big growth driver for Aristada is the ongoing Phase 3 trial evaluating the combination of Aristada Initio and two-month Aristada dosage with the market leader, Invega Sustenna, in schizophrenia indication. In case the data from this trial, which is anticipated in H1 2019, comes out positive, it will make a very strong case for increased adoption of Aristada Initio and two-month Aristada dosage therapy. It will allow patients to avail fast initiation regimen as well as lower dosing frequency for a long-acting injectable therapy.
Alkermes is also not ignoring the oral schizophrenia market
Alkermes has completed Phase 3 registration studies, establishing efficacy and safety of oral antipsychotic and a fixed-dose combination of olanzapine and samidorphan, ALKS 3831, in the schizophrenia indication. The NDA for this drug is planned to be submitted in mid-2019.
Generic olanzapine drugs and Eli Lilly's (LLY) Zyprexa (olanzapine), the currently preferred options in the oral schizophrenia space, are associated with the side-effect of abdominal weight gain. This, in turn, leads to insulin resistance, elevated blood pressure, dyslipidemia, and cardiovascular risk. And despite these problems, olanzapine accounts for 19% of the atypical antipsychotic market share in the U.S. by total prescription volume.
In November 2018, positive topline results from the ENLIGHTEN-2 study highlighted the favorable weight profile of tested patients as compared to those on olanzapine. Hence, if approved by FDA, in addition to efficacy and safety, the favorable weight profile can prove to be a strong competitive advantage for ALKS 3831. The company plans to present full data from the ENLIGHTEN-2 trial in a medical meeting in H1 2019.
Alkermes is advancing its multiple sclerosis research program
On December 17, 2018, Alkermes and Biogen (BIIB) announced NDA submission for BIIB098 (diroximel fumarate) in relapsing forms of multiple sclerosis or MS indication. Biogen currently holds the worldwide commercialization rights for BIIB098 and is responsible for the development and commercial expenses of BIIB098.
Alkermes has already received $50 million payment from Biogen, after the latter's favorable review of preliminary gastrointestinal tolerability data for BIIB098. The company is set to receive $150 million milestone payments, in case BIIB098 is approved by the FDA by end of December 2021. Post regulatory approvals and commercialization of BIIB098, Alkermes will be receiving mid-teens percentage royalty payments to the drug's worldwide net sales.
BIIB098 has demonstrated favorable efficacy and tolerability profile in EVOLVE-MS-1 study. Biogen is also working with Alkermes to establish BIIB098 as an improvement over its market-leading MS drug, Tecfidera, in terms of gastrointestinal tolerability. The companies are comparing the two drugs in the EVOLVE-MS-2 trial, while data is anticipated in mid-2019. Tecfidera is a blockbuster therapy, and demonstrating an improvement over this drug will definitely be a big competitive advantage for BIIB098.
The strong data for BIIB098 makes even more commercial sense, when we consider the overall MS market opportunity even in the U.S. Currently, around 325K MS patients are being treated in the U.S., of which 75% are treated for RRMS. It is also seen that 15k patients are new to therapy, while 60K patients switch therapies.
From 2013 to 2016, the oral MS market has grown by 17%, with oral therapies making up 45% of this growth. In this backdrop, BIIB098 can prove to be a strong asset for Alkermes in future years.
Certain risks have to be considered prior to investing in Alkermes
R&D failures pose an immense risk for a research-focused company like Alkermes. The recent CRL for ALKS 5461 has been a major setback for Alkermes, especially when investors were eagerly awaiting the company's entry in major depressive disorder indication. In past years, Alkermes has suffered from multiple R&D setbacks such as termination of the development program for ALKS 7119 for agitation in Alzheimer's indication, for ALKS 7106 in pain indication and for ALKS 33 in binge eating disorder. Such clinical or regulatory setbacks can have a detrimental impact on Alkermes' future share prices.
Although there is a strong upside for the Aristada product family, it should be remembered that Invega Sustenna has a stronghold in the schizophrenia market. Aristada is also competing with other long-acting injectables indicated for schizophrenia such as Risperdal Consta and Abilify Maintena. Competitive pressures may have an unfavorable impact on the uptake trajectory of Aristada.
Alkermes is a good pick for February 2019
At end of third quarter of 2018, Alkermes carried cash of $579 million and long-term debt of $280 million on its balance sheet.
Wall Street analysts have estimated the 12-month consensus target price of this company to be $42.69, which is almost 38.37% higher than its last closing price on February 8, 2019. I believe this target price is a more accurate representation of the fair value of this stock, under the changed circumstances.
Hence, I believe retail investors should consider adding Alkermes to their portfolio in 2019.
Disclosure: I/we have no positions in any stocks mentioned, and no plans to initiate any positions within the next 72 hours. I wrote this article myself, and it expresses my own opinions. I am not receiving compensation for it (other than from Seeking Alpha). I have no business relationship with any company whose stock is mentioned in this article.