By all standards, the fourth quarter of 2018 turned out great for Masco (NYSE:MAS). Sales increased 10% to $2 billion in the quarter. The operating profit grew 21% to $309 million. Earnings per share for the quarter increased by 156% to $0.64 per share. The stock reacted well to the positive news by rising 5% after the fourth-quarter results beat expectations. But there are warning signs over the horizon. From the global economic slowdown to U.S. consumer confidence, there are many warning signs all flashing red at the same time. Even though Masco did very well in 2018 and gave a good EPS guidance for the fiscal year 2019, it's best to take a wait-and-watch approach in the first half of 2019 until the dust clears on the multiple threats facing the U.S. economy that could affect the company negatively.
In the fourth quarter, the company's Plumbing Products segment's net sales increased by 4%. This growth was mainly driven by growth in North America. The Plumbing Products segment did see an increase in commodity costs, an increase in logistics costs and an unfavorable sales mix. Its Decorative Architectural Products net sales increased by 8%, but the company mentioned that the sales were pulled forward from the first quarter of 2019. Its cabinetry products division grew sales by 4% (excluding the divestiture of Moores). Its Windows and Other Specialty Products net sales decreased by 1% due to continued softness in the UK market. The decrease in sales was offset by growth in North America. It seems like North America was immune to the global economic slowdown that started in the fourth quarter of 2018. But it may be just a matter of time before the global slowdown hits this continent.
Exhibit: Masco Corporation Revenue & Operating Profit From the Great Recession to the Fiscal Year 2017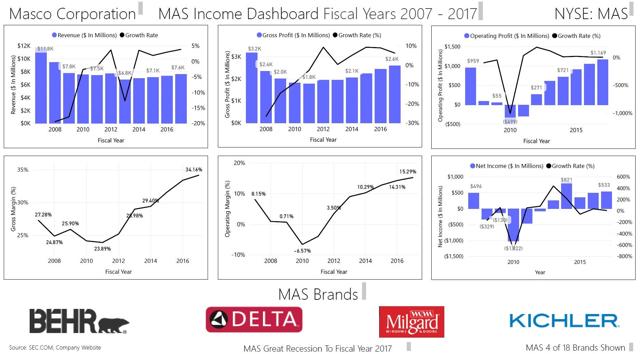 (Source: SEC.GOV, Author Calculations)
Pressure on Margins
The fiscal year 2018 saw operating margins come under pressure. The company blamed it on an increase in commodity costs, unfavorable sales mix and an increase in other expenses (such as salaries, logistics, and ERP system costs). Operating profit margin in its Plumbing Products segment has decreased by about 60 basis points since 2016 from 18.5% to 17.9%. Its Decorative Architectural Products has seen a decrease in operating margins of 350 basis points since 2016. Its Cabinetry Products segment saw operating margins fall from 10% in 2016 to 9.1% in 2018, a loss of 90 basis points. Its Windows and Other Specialty Products which had an operating margin of 7% saw that decrease in 2018 to 4.5%, a loss of 250 basis points.
Geographically, North America saw a decline in operating margins of 50 basis points from 16.7% in 2016 to 16.2% in 2018. International operating margins fell from 13.7% to 12.3% or a loss of 140 basis points.
Buybacks Continue in the Face of Uncertainty
Since 2016, the company has spent about $1.4 billion on share buybacks and the share count at the end of 2018 stands at 307 million compared to a share count of 330 million at the end of 2016. A reduction in share count of about 7%. Their debt-to-EBITDA ratio stood at approximately 1.7x, which is a manageable ratio. But given the uncertain operating environment, it may be wise to use their operating cash flow to further reduce their debt and put them on a strong footing to withstand a prolonged downturn. At the end of 2018, the company had $2.97 billion in long-term debt. From 2019 to 2023, the company must repay about $945 billion in debt and about $624 in interest payments if the debts were held to maturity. The company's operating cash flow was about $1 billion in the fiscal year 2018. The company is planning another $600 million in share buybacks in 2019.
Uncertain U.S. and Global Economic Picture
If economic growth were to slow down, that may put downward pressure on commodity and logistics prices and thus could help improve gross and operating margins. But, if the economy were to slow down, then revenue might fall too and that would put further pressure on margins.
The global economy is showing increasing signs of a dramatic slowdown. Europe has been stagnant or growing at a snail's pace and Asian economies, including China and India, are looking wobbly. Even though the company has accounted for potential tariff increases in 2019 in its fiscal year guidance, the U.S.-China trade dispute seems to be far from over. The longest U.S. federal government shutdown in history could further dent consumer confidence in the months to come and could lead to consumers holding back their spending. If a federal employee cannot take his job and paycheck for granted and must resort to food banks to feed themselves and their families, a person's self-esteem and confidence take a serious hit. The effects of the one-time bump in earnings from the Trump administration tax cuts could also be fading in 2019 and into 2020. In 2018, Masco had a normalized tax rate of 25% compared to a tax rate of 34% in 2017. That reduction in tax rate helped boost earnings.
Consumer confidence showed a decline in December 2018 and was followed by another decline in January 2019. The index stood at 120.2 in January 2019 compared to 226.6 in December 2018. Existing home sales have been on a downward trend since it peaked in November 2017. The company expects that the repair and remodel market would grow in the mid-single-digit range in 2019. The rate of growth would be slower than in 2018. They also expect new construction to be constrained given labor constraints and reduced affordability. Their principal international market, which is Europe, is expected to grow at low-single-digit. But lately, the economic news out of Europe and Asia have been dire. Germany's export-driven economy may be sputtering and that may drive their consumers to be even more thrifty than usual. Britain has been in Brexit driven turmoil ever since that vote and companies and consumers in the U.K. have every right to be concerned about their economic future. Masco does generate 80% of its sales from the U.S. But, it's difficult to see how the U.S. can escape a global slowdown unscathed.
Recently, the Bank of England joined several other nations across the globe, including the U.S., in announcing dovish interest rate policies for 2019. Do these moves portend a recession? That's the uncertainty facing Masco.
Disclosure: I/we have no positions in any stocks mentioned, and no plans to initiate any positions within the next 72 hours. I wrote this article myself, and it expresses my own opinions. I am not receiving compensation for it (other than from Seeking Alpha). I have no business relationship with any company whose stock is mentioned in this article.