Editor's note: Seeking Alpha is proud to welcome Radek Výtisk as a new contributor. It's easy to become a Seeking Alpha contributor and earn money for your best investment ideas. Active contributors also get free access to the SA PRO archive. Click here to find out more »
In the first blog post (further on referred to as "the blog post"), I explained my investment strategy to the Seeking Alpha audience. I also defined the criteria that I take into consideration while purchasing new companies into my portfolio. In this article, I am going to show the progress I have made during January 2019. I will also show the selection process of the next addition to the portfolio based on my entry criteria.
In the blog post, I formulated my long-term goal - to receive the equivalent of 81,000 USD in 2011 prices p.a. as a cash return from my investments to be able to retire from regular working process. I argued that this is the amount I find sufficient to support both comfortable living and my hobbies. I aim to reach this goal in 2040 when the target annual income will be equivalent to 190,882 USD (taking average inflation of 3% into consideration).
As was described in the blog post, my strategy is to buy and hold the dividend stocks with a track record of increasing dividends. This so-called dividend growth investing (or DGI) strategy is the one best fitting to my idea of passive income stream I intend to develop. I can very much understand that some people might find this type of investing not appealing for various reasons. Some have a much shorter investing horizon, some may have a much more active approach to their portfolios realizing profit through repeated sells and purchases of the stocks. What investors like and what brings them both joy and the results is the matter of individual approach. I've chosen the DGI mainly because of my conservative personality, I have a sufficiently long time horizon for investments to see it working. Another reason is that I really do not want to manage my portfolio too actively after I retire.
Portfolio update
I received 917 USD as dividends in 2018, and I set up a short-term goal to receive at least 1,300 USD in 2019 from current investments and planned additions to my portfolio. Meeting this goal will secure my position ahead of the 27% compound annual rate of income growth needed to achieve the final end state in 2040. So, how am I doing after the first month?
During January, I received dividends from six different companies and they totalled to 147.33 USD:
(Source: My brokerage account)
Starting this year with 800 USD on my brokerage account, I deposited 260 USD saved from my salary this month. With the received dividends (and less some small account fees), it makes a sum of 1,204 USD in total.
As I am approaching the 1,500 USD milestone triggering my next purchase, I started to look for some new company to purchase. Let me firstly remind you what holdings I currently own: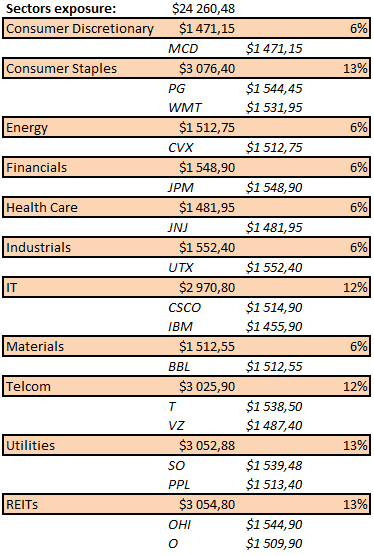 (Source: Own calculations based on my purchases)
In the blog post, I defined the rules for diversification of my portfolio as follows: I do not want any of my companies to represent more than 5% of my portfolio, at the same time, I do not want to have any of the sectors over 10% of my portfolio. This means that in each of the 11 individual sectors (as defined by Morningstar) I can only own two companies.
As you can see in the table, I still have 6 free "spots" to be filled in the portfolio, namely:
Consumer Discretionary
Energy
Financials
Healthcare
Industrials
Materials
I made some preliminary screening in these sectors and I chose the following six candidates to be discussed further. One of those will represent next addition to the portfolio (listed respectively to the sectors above):
For those of you who have not read the blog post outlining my investing strategy, let me quickly recap on the criteria I use for analyzing stocks.
I like to keep things small and simple, therefore, I apply only three basic criteria:
I would like to see the dividend yield at purchase equal or exceeding 2.5% with at least 5 years of dividend increases. The more, the better, of course. I set up this criterion back in 2011 and with current yields, I am more inclined to raise it to 3%. I take the pace of dividend increases into consideration as well and again, comparing two similar companies, the one with a higher rate of increases obviously wins.
Second criterion I use is the traditional P/E ratio. I like to see it below 15 in most cases, but I also tolerate it higher (never exceeding 20 though) in case of forward P/E around 15. This secures the healthy growth of the company in near future. I use other ratios like P/B, P/S, PEG, or D/E only as auxiliary comparative criteria in case I do not see a clear favorite in the sector I am examining.
Last but not least, I use one of Warren Buffett's criteria for company analysis which is: "Am I able to understand the business?" I like to identify with the company I invest in, so I need to know what they are actually doing before I put my money into their stock. This criterion is rather soft (qualitative) and not a standard quantitative metric, but I believe it is also important.
I fully realize that these criteria might be seen as oversimplified and I understand this view. However, rather than falling into the "analysis-paralysis" trap, I want to have a set of simple rules narrowing my options down to a manageable level. As my investing horizon is very long (ideally infinite) with interest in regular and increasing income stream, I mostly focus on the ability of the business to generate sufficient funds available for distribution. This is traditionally measured by its ability to increase EPS and FCF over time. I am not willing to pay an infinite price for the businesses though, therefore, I need an indication whether the particular stock is overpriced or not. This is done through the second criterion. The third criterion (not only but also) is meant to assess whether the business has a long-term competitive advantage and good future prospects. If I cannot understand the business model/product etc., there is a very good chance that vast majority of people cannot understand it and therefore, the business is not positioned well enough on the market yet and it is not a truly mature business yet. While such a business might be suitable for short-term oriented investing, it is very likely that it will not be a suitable candidate for DGI investment.
Let me now apply my criteria to the individual stocks mentioned above and see which of them fits my strategy best.
Criterion 1a: Number of years of dividend increases
I used the latest Dividend Champions list compiled now by Justin Law and we can see the following results: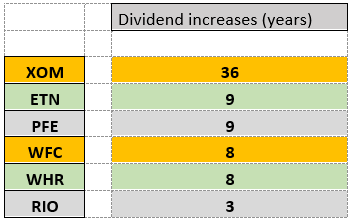 (Source of data: Dividend Champions list by Justin Law)
There is a very clear winner based on this criterion (and also one clear loser that is not fulfilling my entry condition at all). Other four companies are roughly comparable with the track record of eight to nine years of dividend increases.
Criterion 1b: Dividend yield
The second part of my first criterion is the dividend yield. I wanted it to be over 2.5% originally, now I raised this criterion to 3%. I found the following results:

(Source: Own calculations based on dividends declared by the companies)
We can see that there is a slight difference between the trailing twelve months (ttm) and forward (fwd) yields, however, the winner is clearly RIO, followed by XOM and WFC. I also took the next dividend hike into consideration. From this perspective, we can see that XOM is due for another hike in May, as well as WHR, while ETN coming already at the end of February.

(Source: Own estimate based on last dividend hike)
Criterion 2: P/E ratio
Looking at the traditional P/E ratio criterion, we are seeking the companies with ttm P/E under 15, or in special cases, below 20 but with fwd P/E below 15.

(Source: Own calculations based on companies' published quarterly results)
You can see that most of the companies are quite fairly valued at P/E around 15, with two of them being as low as around 10. However, strictly speaking, we see three companies outside of the required range, so let us also use the auxiliary criterion of the P/E ratio based on forward EPS. Note that not all companies have released the guidance for 2019 at the time of writing of this analysis. In those cases, 2019 earnings estimates published on Seeking Alpha website were used.

(Source: Own calculations based on earnings estimates by SA or the companies)
We see that Exxon is the only one not fitting in the "below 15" criterion, most of the other companies actually did present increase in EPS for 2019, so the forward P/E went down.
Criterion 3: Am I able to understand business?
Well, this is a bit arbitrary and subjective criterion, but I really believe that there are "too-hard-to-understand" businesses out there, so I try to choose only the ones I am able to understand. Is it so with the companies I put on my wish list? Let us see and analyze them in order of appearance:
WHR - Home appliances manufacturer with a global presence, definitely something easy to understand, we all use these products.
XOM - Oil and gas producer, also chemicals manufacturer, again, pretty straightforward and understandable business.
WFC - Bank, I would not say it is particularly easy to understand the details of this business, but it is definitely possible with a reasonable amount of effort, so no issues here either.
PFE - Producer of drugs, though there are complexities in the business operations, and there is a need for even more thorough assessment of uncertainties resulting from R&D activities and pipelines, again, with a reasonable amount of effort, one can really come to understand the business.
ETN - Manufacturer of electrical devices, hydraulics etc., mostly B2B, producing components for other devices. Advanced technology, however, this is basically a classic piece of manufacturing company which is fairly easy to understand.
RIO - Producer of basic raw materials, simple model: find resources - dig it up - sell it, again nothing too complicated.
I do not want to make the impression that all businesses are easy to understand though. There are some specific features present in each industry, however, the companies listed above are just classic examples of big, steady and well-developed companies operating in well-known and well-described industry. On the other hand, I am personally already losing the contact with the latest IT technology, so for me, the new IT companies present something very difficult to understand well as I sometimes cannot even understand what is the product good for, not even speaking about the business model.
Which company to buy?
Now that I went through all of my entry criteria, it is time to make a decision and choose one of the companies as a new member of my portfolio family. As they are all on my wish list, they will most probably end up in my portfolio sooner or later, but I can only buy one at a time, the one that offers the best match to my investment strategy at this moment.

(Source: Own calculations)
In the table above, I simply ranked the companies based on their results in each of the criteria with the best one receiving mark 1 and the worst one mark 6. Then, adding up the results, the lowest total number wins. This is a very simple ranking-based evaluation method without any weighs put to different criteria and it does not take into consideration how much do individual companies differ within any of the individual criteria either.
You can see that the best results were achieved by Wells Fargo as it ranked second in three out of four criteria and third in the dividend yield comparison. Rio Tinto comes second, but it does not fulfil my criteria of five years of dividend hikes (As a side note, the basic materials sector is the most cyclical and the companies have rarely a consistent history of increasing dividend. I will focus more on timing the cycle in this sector, rather than on fitting the companies into my criteria perfectly). Third place is left for Exxon Mobil which was originally my favorite, however, the valuation is too high at this moment.
Conclusion:
I ran the analysis of potential additions to my portfolio and determined that Wells Fargo will be my next investment when I collect the remaining 300 USD on my brokerage account. The criteria I use are quite simple and straightforward. It is possible to use them both for selecting suitable candidates within one sector for the compilation of the wish list and for actual selection of the best purchase from this pre-selected wish list at any particular time. By using these criteria, you can quickly find out which of the companies you previously selected are evaluated too high at the moment or whether the dividend increases maintain the pace with the stock price bringing the desired dividend yield.
Disclosure: I am/we are long BBL, CSCO, CVX, IBM, JNJ, JPM, MCD, O, OHI, PG, PPL, SO, T, UTX, VZ, CBLK, WMT. I wrote this article myself, and it expresses my own opinions. I am not receiving compensation for it (other than from Seeking Alpha). I have no business relationship with any company whose stock is mentioned in this article.
Additional disclosure: Additional disclosure: I may initiate a long position in WFC over next month.