Background
Express is a specialty retailer that focuses on professional attire for young adults entering the workforce. It also ventures into other apparel segments such as extended sizes and casual wear. Stocks have declined recently due to investors' worry over margin levels. Express's retreatment from Canada also signals a failure to expand its footprint internationally.
I believe Express is significantly undervalued due to its value proposition, unique niche, and management strategy. It is trying to become the new face of apparel retailer by test-opening technologically advanced stores that are customer-facing. It is also trying to maximize margins through foot-print optimization, such as converting their full-price retail stores to outlet stores and executing on its LCI (low-cost initiative) including a diversification amongst its suppliers.
Factors influencing valuation
Significant value to can be unlocked through a combination of the following ways: lowering discount to improve sales, lowering COGS (raw materials and occupancy costs) to improve gross margin, and lowering SG&A expense to increase EBIT. Express Inc. is currently trading at 0.095 EV to sales ratio. This means, for every $100 dollar the business makes in sales, the investors of Express are only paying $9.5 dollars for that amount. The concern here is that Express cannot effectively translate that $100 dollar in sales down to net income to prove its profitability to the investors.
Sales:
Although this is seldom mentioned, heavy discounts are a major driving source for Express. As a customer of Express, I have personally witnessed the insane discounts that they give out, and it seems like Express is trying to aggressively drive their online platform sales. Very often, you will see signs like "50% off clearance", which usually translates to roughly 60% to 70% off original prices. This is a common theme among apparel retailers and is certainly weighing on net sale figures. Customers driven by these heavy discounts are generally customers that

will flock to the most heavily discounted apparel stores and are thus unretainable. Management has addressed their use of discounts indirectly by saying that ship-from-store initiative is helping them better manage inventory and thus lessen their burden to discount aggressively on merchandise. However, the ship-from-store strategy is driving up the shipping costs in the meantime.
Management is actively finding ways to improve customers' footprint optimization. According to management, footprint optimization seems to be working for the past couple of quarters as they have converted two additional retail stores to outlets, completing their 2018 plan of 29 conversions. In total, they have converted 60 stores to outlets (the majority in the second and third quarter), and it has been showing signs of productivity increases for the management. Looks like Express is looking to convert all the generic retail stores to either an outlet (more productivity) or tech-savvy Omni-service full price retail stores (for higher traffic).
COGS:
Raw material cost: It is decreasing through sourcing-related cost savings initiatives. China sourcing use to take up 40%, but not it is only taking up 26% according to management. It will continue to decrease as suggested by the management, which will lower the potential of trade war impact.
Occupancy cost: With 60% leases due within the next 3 years, management has been aggressively lowering their occupancy costs with favorable lease terms.
SG&A expenses:
According to management, it will stay relatively stagnant with inflating wages and marketing expenses hard to come down. Will be partially offset by incentive compensation (source: 10Q).
Share Buyback:
Management has been aggressive with its buyback program, which will allow $150 million worth of buybacks in the foreseeable future. So far, it has bought back a total of around 100 million worth of stocks at an average price of around 8.4. The average market cap during the buyback is roughly 610 million, therefore the company bought back around 16% of its market cap and therefore increased shareholder's ownership by roughly 20%. I am a great fan of buyback compared to dividend due to its tax advantages. The general guideline is that if I am willing to buy the stock of the company, the company should be willing to buy its own stock as well. Trading at a trailing P/E of around 10, EXPR is roughly earning a little over 10% on its buybacks. It is also immediately accretive to the book value per share since the company is trading at a P/B of 0.6. I am extremely in favor of their buybacks because I think the earning power is very understated in the case of EXPR, and the appropriate value creation through buyback is closer to 25% in my opinion. Therefore, unless you are confident in making a pre-tax return of over 30%, I think you should be in favor of the buyback (instead of a dividend). There is still 50 million left in the bank for buybacks, and the management could approve even more buybacks depending on their view on Express's intrinsic value since their guidance for FCF is positive in 2018.
Some may have noticed that the market cap of EXPR is now around $370 million and may have some concerns over this shrink. To put this number in context, investors are saying that EXPR destroyed almost half of its value in just 1 year. That is not true, sales have been steady, and margins have been rather stable as well. It is simply market sentiment swinging, and shares buyback has nothing to do with this. Buyback generally has little effect on the market cap of a stock because it has no effect on the intrinsic value of the business at all. Theoretically, if a company, with $600 market cap and 200 shares outstanding ($3 dollars per share), buys back 100 shares, it will have 100 shares left outstanding with each share worth $6 dollars. Obviously, market sentiment will swing the market cap around, as observed in the case of EXPR (which has nothing to do with buybacks), but I am a happy investor knowing that I now own a larger share of the company than I would have if the company has not issued buybacks.
One issue to keep in mind is that, so far, EXPR's buyback strategy has not been a great investment due to its fall in market cap. It will take some time to determine if this strategy is ultimately worth it.
Same-store sales (SSS):
For Q3, E-commerce SSS increased 23% and now account for 29% of total sales compared to 23% last year.
However, total comparable sales have been pretty much flat, meaning that in-store traffic has been struggling.
Management has guided Q4 to underperform by 5% to 7% in net sales due to an underwhelming Black Friday. This assumption will be included in our little projection for fiscal 2019 towards the end of the article.
SSS have been up 1% for Q1 and Q2, flat for Q3, and perhaps slightly down for Q4. Since in-store footprint will be key to drive up SSS, management has addressed this concern and provided their solution (store conversion, tech-centered customer-facing full price retail store, and product optimization), which seems promising.
Leverage
The leverage I am mentioning here is its EV to sales ratio, not its debt level as it carries little long-term debt. Comparing two companies side by side with the exact same EV/sales ratio and P/E ratio, we can see how a company that is leveraged on its EV/sales ratio can outpace unleveraged companies significantly under the right circumstances.
First, consider two companies both trading at $20 dollars per share, both with a P/E ratio of 10. One company has significantly more sales and is trading at EV/sales of 0.1, while the other company only has modest sales numbers and is trading at 0.5 EV/sales. The reason that these companies are trading at the same P/E is that the expenses (including COGS etc. to simplify the formula) is weighing heavily on company A on a percentage basis.
Figure 1: EV/sales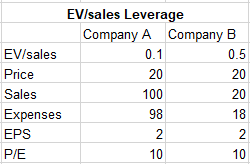 (Source: Excel)
Now, let's look at what happens when both of the companies increase their sales by 3% while everything else stays stagnant.
Figure 2: Sale increases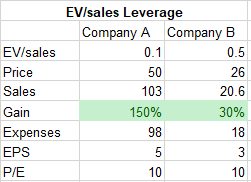 (Source: Excel)
Company A's stock price skyrockets by 150% while Company B only gets a slight boost of 30%. This is because company A is leveraged in its sales on a basis of 5-to-1 compared to company B. It is obvious that Express is company A in this story, and Gap, American Eagle, Tailored Brands, are other major apparel retailers with income statements more like company B. Things could work in the opposite way as well, however, with a clear strategy by the management and a proof of working catalysts in place (lease terms, store conversion etc.), I think the upside is much more favorable here.
Catalysts
Buyback: Buybacks will be helping investors in gaining a bigger share of the company.
Sales growth: Sales are trending in the right direction as management attempts to improve the footprint of its customers. Online sales are growing at a steady rate, which will continue to improve its top line.
Cost cutting: Low-cost initiative is proving to be a success. Although temporary costs such as shipping fees are weighing on the company's costs structure, the company should enjoy a long-term benefit from its inventory management due to this ship-from-store program.
Management Direction: Management is clear on their goals to produce effective results, they are actively looking for ways to improve their margins. Several concept stores have been rolled out in New York and Denver to attract new customers as the company continues to improve on its store technology.
Niche: I have seen articles stating that Express lacks an identity when compared to brands like American Eagle. I would disagree. Express is clearly focused on young adults entering the workforce and is offering value at an attractive price. It is a discount retailer with a strong value proposition for young professionals. I usually have a harder time telling the difference between GAP's brands and American Eagle. Express has also been increasingly focused on women, extended sizes, and fashion. NBA relationship for men should be increasingly popular as well. As sports betting become more prominent in the US, sports associations like the NBA will receive more attention and perhaps generate bigger buzz for Express.
Risks
Management change: CEO has stepped down, and Express did not give much of a reason behind this management change.
Concept store testing: While concept stores are showing signs of strength, they can eat up capital expenditures quite rapidly and lead to further margin compression.
Valuation
This company is trying everything in its power to improve margins, drive sales, increase customer retention, improve technology, and reinvent in-store experiences for retailers. The valuation is not representing a growth story, but quite the opposite. EV/sales is below 0.1, EV to EBITDA is at 1.5, and the company has practically negligible long-term debt. While Express is indeed having a hard time translating sales into net income, investors are disregarding the potential of a competent management team. Management is aware of all the margin pressures AND is testing out innovative ways to drive traffic while improving margins. Regardless of the short-term results, their effort is at least admirable. Obviously, the ultimate admiration should derive from numbers, but I think now is a good entry point for the stock with quite a bit of safety.
Calculation: Using the management's guidance, I have modified the sales number and COGS to arrive at the targeted net income of around $16 EPS (guidance is between 11 to 21) for Q4, which results in a LTM P/E of 17 (using current price of 5.3 and expected shares outstanding of 70 million diluted). What is interesting, however, is when I project the earnings out 1 year, I get significantly different results.
Figure 3: 2018 projection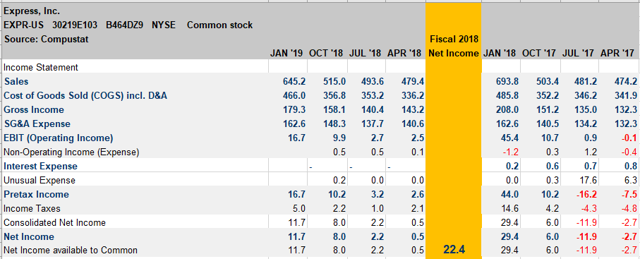 (Source: FactSet and Excel)
To project FY's earnings, I simply copy and pasted everything, acknowledging that I cannot predict the sales trend of a company in any given year. Then I decreased the COGS by 3% (I left the SG&A cost static). This is an acknowledgment to the management's Low-cost initiative to target a total cost saving of 44-54 million by the end of 2019. Since share buybacks are also a core strategy of the management, I am taking it into account when calculating EPS. The end results from simply decreasing the COGS by 3% and reducing the outstanding shares by 3 million effectively slashes the P/E ratio by over half. EXPR will be trading at around 7 times P/E ratio in fiscal 2019 according to my projections. I have also further discounted the projected net income by 15% to accommodate for margin of safety purposes.
Figure 4: 2019 projection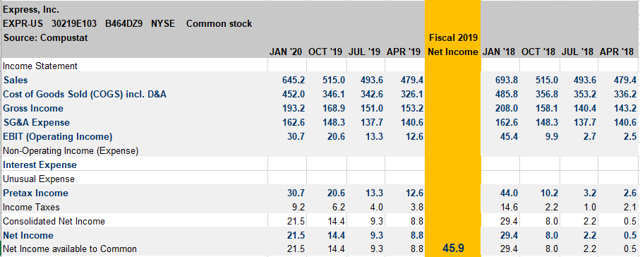 (Source: FactSet and Excel)
If we assume that EXPR will be trading at a modest 10 P/E ratio, we can expect a gain of around 30% for its capital appreciation. This explosive valuation difference can be explained in its EV to sales value, which is currently at around 0.09, any small changes in its margins will result in major unlock of value.
Figure 5: Upside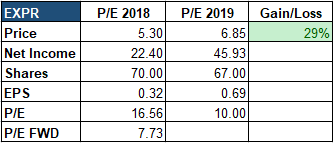 (Source: Excel)
Conclusion
Express is a very well-established apparel retail store and has a strong presence in the united states. The numbers are showing huge potential, and the investors are not buying into it. I think the stock is extremely overlooked due to its small market cap. I think 2019 will be a big year for this tech-focused, well ran apparel retailer, and patient investors will be handsomely awarded. I also think I was using very conservative numbers for shares outstanding, sales, and cost savings, which could contribute more to the upside.
Personally, I have built up 1/3 of my target position while waiting on the Q4 result and management's explanation for CEO's step down to see if my investment thesis still holds true and if there are any extraordinary things to look out for.