Is Virtu The Perfect Hedge?
Summary
Virtu benefits from volatility in the stock market. The correlation between Virtu and the S&P 500 is -0.04.
Adding Virtu to a portfolio tracking the S&P 500 can reduce the volatility by 5% and increase the return by 1%.
Virtu has a dividend yield of about 3.5% and is a capital light growing business. The acquisition of ITG should close in H1 2019 and should enable future growth.
Virtu seems undervalued with a Price/Earnings ratio of 13 based on 2018 earnings.
The TLT is a more effective hedge against market risk than Virtu and can reduce the volatility of the SPY by 45%, but at the expense of lower returns.
Introduction
The main business of Virtu Financial (NASDAQ:VIRT) is market making in the cash, futures and options markets in North America, Europe and Asia. As a market maker, Virtu commits capital on a principal basis by offering to buy securities from, or sell securities to, broker dealers, banks and institutions. The Execution Services business of Virtu offers execution services on behalf of institutions, banks and broker dealers. This execution services business will grow further after the planned acquisition of Investment Technology Group (ITG). Virtu is listed on the Nasdaq. The IPO of Virtu was on April 16th, 2015.
The market making business benefits from volatile markets, because during market turmoil, bid/ask spreads widen and the amount of transactions increase. The correlation between Virtu and the SPDR S&P 500 ETF (SPY) is -0.04. This is very interesting, because stocks with a negative correlation with the SPY are rare. The picture below shows this slight negative correlation.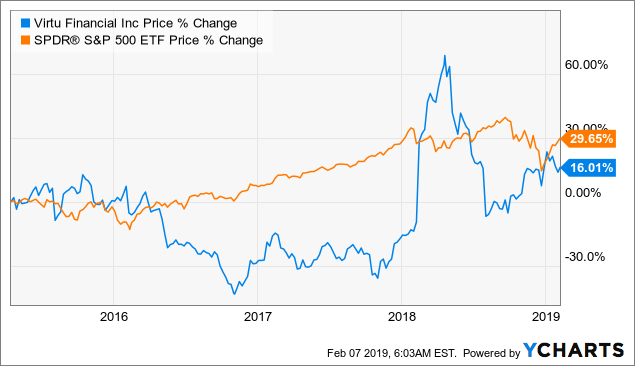 Is Virtu a good hedge for the SPY?
In theory, the negative correlation of Virtu can be used to hedge market risk. I did a back-test using daily closing prices of Virtu and the SPY since the Virtu IPO. The back-test showed that the volatility of a portfolio consisting of 17% Virtu and 83% SPY had an annual volatility of 12.3%. This is 6% less than the annual volatility of the SPY, which was 13.1%. This VIRT/SPY portfolio did not only reduce the volatility, but it also increased the annual returns by more than 1% due to the rebalancing of uncorrelated stocks. I explained in my article, Volatility Alpha: Capturing Additional Returns From The Volatility Of Uncorrelated Assets, that the rebalancing of uncorrelated assets increases returns.
Is Virtu a better hedge than the iShares 20+ Year Treasury Bond ETF (TLT)? The TLT has a correlation of -0.32 with the SPY, which is more negative than the correlation between Virtu and the SPY. A portfolio of 47% SPY and 53% TLT had an annual volatility of only 7.25%. It was even possible to reduce this volatility to 7.2% by adding Virtu's stock. All the results of the back-test are shown in the table below.
| | | |
| --- | --- | --- |
| Strategy (from 4-16-2015 until 2-5-2019) | Annual Return | Annual Standard Deviation |
| SPY | 9.3% | 13.1% |
| Virtu | 8.8% | 37.8% |
| TLT | 0.4% | 12.0% |
| 83% SPY / 17% VIRT (rebalanced) | 10.4% | 12.3% |
| 47% SPY / 53% TLT (rebalanced) | 5.0% | 7.25% |
| 8% VIRT /41% SPY/ 51% TLT (rebalanced) | 5.7% | 7.20% |
A combination of Virtu and TLT seems to be the most effective hedge for SPY market risk. However, the expected returns of TLT are only about 3% based on the current interest rates. Virtu has a dividend return of more than 3.5% and is a growing business. Adding TLT as a hedge to a stock portfolio will lower volatility, but it will also lower the expected returns.
Valuation of Virtu
The table below contains a collection of key financial data from the last 5 years. The data was collected from the Fourth Quarter and full year 2018 results, Fourth Quarter and Full Year Results 2016 and Fourth Quarter and full year 2015 results.
| | | | | | |
| --- | --- | --- | --- | --- | --- |
| | 2014 | 2015 | 2016 | 2017 | 2018 |
| Adjusted Net Trading Income | $435M | $500M | $414M | $556M | $1020M |
| Normalized Adjusted Net Income | $149M | $187M | $135M | $92M | $375M |
| Normalized Adjusted Earnings Per Share | $1.07 | $1.35 | $0.97 | $0.57 | $1.96 |
| Diluted GAAP Earnings Per Share | $1.38 | $0.59 | $0.88 | $0.03 | $2.78 |
| Dividends | | $0.48 | $0.96 | $0.96 | $0.96 |
| Equity - Goodwill | $-503M | $-158M | $-180M | $307M | $658M |
The GAAP earning are volatile. Therefore, I will use the normalized adjusted net income instead as reported by Virtu. The Normalized adjusted earnings per share have almost doubled from $1.07 to $1.96. In addition, Virtu has returned 89% of the Normalized Adjusted Net Income as part of dividends and share buybacks since the IPO in 2015.
The table also shows that the Virtu business can be run with little equity capital based on equity minus goodwill. Until 2016 the equity minus goodwill was even negative. However, Virtu had to sell $750 million of common stock to finance the acquisition of Knight Capital in 2017. More than half of this amount can be returned to shareholders if the expected $440 million in capital synergies have been achieved.
Acquisition Of ITG
On November 7th, 2018, Virtu announced the acquisition of ITG for $1 billion in a full cash transaction. Within two years after the completion of this transaction, Virtu expects to realize approximately $123 million of net pre-tax expense savings, in addition to $125 million of capital synergies. In my opinion, this is a value creating acquisition if these synergies are achieved in a timely manner. On January 25th, 2019, Virtu announced the acquisition was approved by ITG shareholders. The transaction is expected to close during the 1st half of 2019 after all required regulatory approvals.
Debt Position
On December 31st, 2018, Virtu had $931 billion in long-term debt. This is 1.5 times the 2018 full-year adjusted EBITDA. The debt capitalization is shown in the picture below.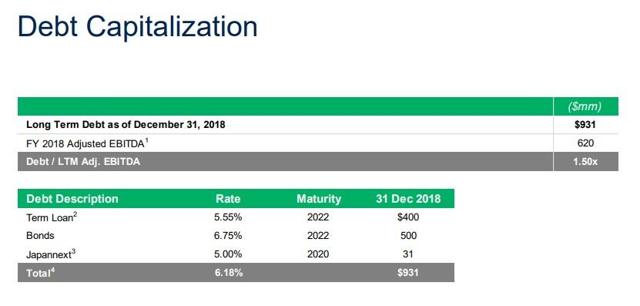 Virtu intends to fund the ITG acquisition with new gross borrowings of $1.5 billion and intends to repay the $400 million aggregate principal amount outstanding under its existing term loan. After the transaction, the long-term debt divided by the full-year adjusted EBITDA will increase to almost 3. I expect that this ratio will drop from 3 to a more comfortable 1.5 within 2 years assuming the promised cost and capital efficiencies of the ITG and Knight Capital acquisitions are fully realized and based on the cash generation of the Virtu business. Virtu intends to continue to pay a quarterly dividend of $0.24. This is taken into account in the calculation.
Competitive Advantages Of The Virtu Business Model
The main competitive advantages of Virtu are intellectual property and economies of scale. It is essential for a market making business to continue to improve the speed of their trading infrastructure and the intelligence of their fully automated software to stay competitive. The cost structure of a market making firm is relatively fixed. Main costs are employee compensation and technology related cost. The high fixed costs create barriers of entry but also high operational leverage if revenues increase. From time to time a market maker will take big positions in certain assets if an opportunity presents itself. This requires high amounts of capital and creates a competitive advantage for the market maker with the biggest amount of capital.
The market making business can be described as an oligopoly. There are, for example, only five designated market making firms on the New York Stock Exchange, including Virtu. The book Principles Of Economics describes that in an oligopoly all businesses can generate returns higher than the cost of capital.
Insider And Family Ownership
The Viola family, which includes Founder and Chairman Emeritus Vincent Viola and Board Member Michael T. Viola, owns 49.4% of the Virtu shares and has voting power of 89.4%. CEO Douglas A. Cifu owns 2.2% of the shares. Board Members Robert Greifeld and Glenn Hutchins have 21.2% voting power via their holdings in Northern Island Ventures. Virtu can be characterized as a family business. Research has shown that family owned businesses tend to outperform their non-family peers. This is also called The Family Business Premium. The high insider ownership also ensures that capital is used effectively. However, the interests of the controlling Viola family and small shareholders are not completely aligned. I have not found any indications that the Viola family has misused their power.
Risk
The Virtu business faces the following risks and uncertainties:
Trading errors caused by unreliable software. In 2012, Knight Capital lost $400 million because of a trading disaster. This is a low probability and high impact risk that automatic trading firms face. I have not found evidence that software bugs have caused material losses for Virtu. This is an indication that internal controls and risk management is adequate.
Virtu has to stay technologically competitive. Virtu will lose business if competitors are able to develop trading systems that are superior to the technology of Virtu.
Financial transaction fees could lower trading volumes significantly. This will have a negative impact on the Virtu business. A financial transaction tax exists in France, Italy and The United Kingdom.
Regulatory changes, including higher capital requirements, can negatively impact the Virtu business.
Low volatility in financial market will lower the profitability of Virtu. Volatility is difficult to predict, but it is mean reversing.
Virtu is a highly leveraged business. Virtu could default on its debt or has to raise equity, if cash generation and profits start to decrease. This scenario is not likely due to the strong competitive position at present.
From time to time, Virtu takes large position in specific assets if an opportunity presents itself. Virtu can face material losses if the price of such an asset changes significantly. In my opinion, this is a calculated risk of the Virtu business and part of the risk management framework.
Conclusion
The Price/Earnings ratio of Virtu is 13 based on 2018 earnings. This seems low for a capital light company which has a dividend payout of about 3.5% and which should continue to grow at an annual rate of 10% based on a strong market position in an oligopolistic niche market.
Virtu will lower the volatility of a stock portfolio due to the negative correlation with the S&P 500. The TLT is a more effective hedge for market risk, but at the expense of lower returns. In my opinion, Virtu deserves a place in a diversified portfolio, although it is not the perfect hedge for market risk.
This article was written by
I am a value and quant investor specialized in special situations.
Analyst's Disclosure: I am/we are long VIRT, TLT. I wrote this article myself, and it expresses my own opinions. I am not receiving compensation for it (other than from Seeking Alpha). I have no business relationship with any company whose stock is mentioned in this article.

I am short SPY
Seeking Alpha's Disclosure: Past performance is no guarantee of future results. No recommendation or advice is being given as to whether any investment is suitable for a particular investor. Any views or opinions expressed above may not reflect those of Seeking Alpha as a whole. Seeking Alpha is not a licensed securities dealer, broker or US investment adviser or investment bank. Our analysts are third party authors that include both professional investors and individual investors who may not be licensed or certified by any institute or regulatory body.