Tower Semiconductor (NASDAQ:TSEM) has seen its share price declined by over 55% since it peaked in January 2018. The price decline is driven by negative YoY growth and declining profitability. The price decline is exasperated by several management execution missteps, leading to loss of confidence. At current prices, TSEM shares are on sales. TSEM has a solid balance sheet. Even with lower revenue, it generates significant FCF. Revenue decline should bottom within a quarter or two. When growth resumes, the growth will come from higher margin businesses. Resumed growth and higher margin drop through will drive share prices much higher.
Company Background
TSEM is an Israel-based specialty semiconductor foundry. Its shares are listed on the NASDAQ. It has about 105 million shares outstanding, 108 million fully diluted. It shares are trading at around $15. As of the end of 3Q2018, it has net cash of $314 million, resulting in an EV of about $1.3B.
TSEM provides wafer fabrication services to semiconductor device companies. It provides fabrication technologies for the following segments: Radio frequency (RF) and high performance analog (HPA), power management, CMOS image sensor (CIS), and mixed signal and others. Revenue mix by technology segment is shown in Table 1.
TSEM provides wafer fabrication services to semiconductor device companies. It provides fabrication technologies for the following segments: Radio frequency (RF) and high performance analog (HPA), power management, CMOS image sensor (CIS), and mixed signal and others. Revenue mix by technology segment is shown in Table 1.
| | | |
| --- | --- | --- |
| Technology Segments | % of Total Revenue | Vertical Markets Served |
| RF Mobile | 21% | Mobile Phone |
| RF/HPA Infrastructure | 8% | Wireless Infrastructure |
| Power Management | 30% | Auto, Industrial, and Consumer |
| CIS | 15% | Medical and Industrial |
| Mixed Signal and Others | 26% | Computing, Industrial, Consumer and Auto |
Table 1: Revenue mix by technology segment. Source: Company conference calls and 20F
TSEM's strategy is to acquire older semiconductor fabrication facilities ((fabs)) from semiconductor manufacturers who want to exit the manufacturing business or who want to outsource some of their manufacturing operations. Its fabs are located in Israel (2), US (2) and Japan (3). The 3 Japanese fabs are owned through a JV with Panasonic, where TSEM owns 51% of the JV and operates the fabs. TSEM's current fab capacity supports up to $1.6B revenue.
Factors driving revenue decline
Figure 1 shows the quarterly revenue and the YoY growth rate.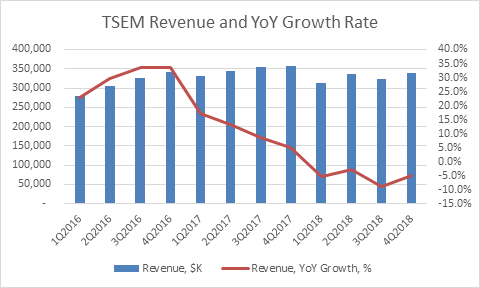 Figure 1: Quarterly revenue and YoY growth. Source: Company quarterly results releases and author's analysis. (4Q2018 data are based on midpoint of company guidance)
Part of TSEM's revenue comes from Panasonic as part of the JV agreement, and from Maxim under a contract when TSEM bought the San Antonio fab from Maxim. In order to estimate the organic growth rate, one has to back out these two revenue streams. TSEM does not disclose revenue from Panasonic and Maxim. Gleaning from management's comments from the conference calls and other releases over the years and making some assumptions, I modeled TSEM's revenue ex-Panasonic and ex-Maxim. The results of the analysis are shown in Figure 2. Figure 2 shows that organic growth rate, while declining, was in excess of 10% throughout 2017. The organic growth rate turned negative in 1Q2018 and stayed mostly flat throughout 2018.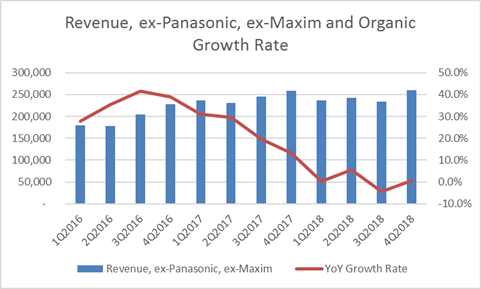 Figure 2: Revenue ex-Panasonic ex-Maxim and organic growth rate. Source: Company releases, conference calls and author's estimates.
There are several factors that drove revenue decline in 2018, one external factor and three management missteps. The external factor is the weakness in the mobile market. The three management missteps are: (1) management declined some low margin RFSOI business when the market was softening, (2) forecasted high margin silicon germanium ((SiGe)) business did not all come through, and (3) missed revenue in 3Q and 4Q due to a shortage of some specialty starting wafer materials. I will discuss each factor below.
External factor: weakness in the mobile market
It is well documented that the cell phone replacement cycle lengthened dramatically in 2017, resulting in reduced mobile phone unit sales. This came to a head in 4Q2017 when Apple released the iPhone X with limited success. When phone manufacturers adjusted production and inventory after the 2017 Christmas season, the effect rippled through the semiconductor supply chain, hitting TSEM in 2018. With mobile at 21% of revenue, the effect on revenue decline is significant. TSEM reports segment results once a year, during its 4Q CC. We will learn the severity of the impact on this market segment when TSEM reports its 4Q2018 results on February 19.
Management misstep 1: TSEM declined low margin RFSOI business when the market was softening
In 1Q2018, management declined some RFSOI business when a customer demanded a price reduction. Standard RFSOI business is intrinsically lower margin because of higher materials cost. A price reduction would compress margin further. What management failed to recognize was the growing weakness in the mobile market. The wafer fabrication business is intrinsically a high fixed cost business. It is better to fill the fabs with lower margin products than to run at lower utilization.
Management misstep 2: insufficient risk management in revenue planning
Management declined the RFSOI business partly because they wanted to reserve the capacity for some forecasted high margin SiGe, higher margin RFSOI and CIS business. Much of the new business in SiGe was delayed, resulting in missed revenue. The SiGe technology serves the Wireless Infrastructure market. This market is notorious for a long equipment field trial and qualification cycle that always takes longer than expected. Ramp up of deployment, which drives TSEM revenue, takes place only after the completion of the field trial and qualification. Counting on new revenue from this market without upside revenue from other segments as a buffer does not represent prudent risk management.
Management misstep 3: insufficient risk mitigation in supply chain management
TSEM reported that it missed 3Q2018 revenue partly as a result of shortage of a specialty starting wafer materials supplied by its customer. It further reported that the revenue impact will extend into 4Q and TSEM is working to mitigate this shortage. Again, this is a major lapse in risk management in the supply chain. Hopefully, management will report a resolution plan in the 4Q CC on February 19.
Share price decline and valuation
In the last 12 months, TSEM's share price declined from a peak of about $35 to the current price of $15, a 57% decline! This decline is caused by the decline in revenue, with concomitant decline in earnings and loss of confidence in management due to the missteps. The comparison data between peak valuation and current valuation are shown in Table 2.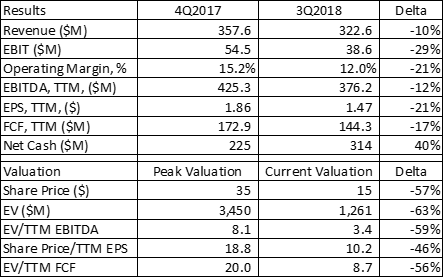 Table 2: Comparison between peak and current results and valuation. Source: Company results releases and author's analysis.
At current valuation, TSEM is cheap, regardless of which valuation metric we use. Balance sheet is solid with $314M of net cash. The results do not paint a picture of a company in distress. Rather, they paint a picture of a cyclical decline, typical in the semiconductor industry. There are management missteps. They are execution issues. They are correctable by improving internal processes and risk management. Even in this decline, TSEM is profitable, generating significant FCF. The value gap will close when the semiconductor market turns and when management demonstrates again that it can execute well. Two markers will help us to determine that TSEM is on the road to close the value gap:
The bottoming of this cycle, and
Signs that management's strategy in driving high margin growth is bearing fruits
Is the bottom at hand?
Recently, the CEO of Microchip (MCHP) called 1Q as the bottom for his company in this cycle. He has a good track record of accurately calling the turn of the cycle. In addition, the revenue of component suppliers of mobile phone appears to be stabilizing after several quarters of decline. These are early signs that the inventory correction is at the end. Since TSEM is further down the supply chain, its recovery may lag the component suppliers, its customers. However, given these earlier indicators, TSEM's bottom is in sight, perhaps within one to two quarters.
Management's strategy to drive growth
In the last 2 to 3 years, TSEM has been working to optimize the utilization of its fab capacity by aligning the technologies of its fabs to high growth markets. There are early signs that these strategies are beginning to bear fruits. New CIS products have begun to ramp in the Uozu 300mm fab in 4Q2018. Production ramp will continue into 2019 with new production in the CIS and power management segments. High margin SiGe products continue to ramp. TSEM continues to invest in SiGe capacity and expects to increase SiGe capacity by another 30% by the end of 2019.
Driving growth in high margin businesses
TSEM has acquired fabs from other companies to grow. When TSEM acquires a fab, it usually signs a supply contract with the previous owner, typically at a rather low gross margin, but enough to cover the fixed cost of operating the fab. This is an attractive strategy to gain capacity at low cost. The down side of this strategy is that TSEM reports a low gross margin compared to the rest of the industry. The challenge for TSEM is to grow high margin business with the acquired capacity. Management's stated goal is to achieve an incremental gross margin of 50% to 60% for new organic business. It has been management's focus for a long time and it is beginning to bear fruits. In the first 3 quarters of 2018, TSEM reported incremental gross margin of 52%, 55% and 47%. With the focus on higher margin technologies and the ramp of the 300mm Uozu fab, management expect this trend to continue.
Conclusion
TSEM shares are fundamentally undervalued at 10.2x P/TTM Earning, 3.4x EV/TTM EBITDA, 8.7x EV/TTM FCF. Balance sheet is solid with over $300M of net cash. TSEM generated FCF of $144M in the last 12 months. The semiconductor industry is close to completing the inventory correction due to the flattening of the growth of the mobile phone industry. TSEM's revenue bottom is within sight. It may take the first half of 2019, but it appears that growth will resume in 2Q or 3Q of this year. When growth resumes, it will be driven by high margin business. YoY revenue growth together with 50% to 60% incremental margin drop through will propel the shares higher to close the value gap.