Gilead Sciences Background
Gilead Sciences (GILD) reported product sales of $5.7 billion for the fourth quarter, up 4% sequentially and down 3% YoY. For the full year, product sales came in at $21.7 billion, down 16% YoY driven by lower HCV sales. More bad news, the company recorded an $820 million write-down to R&D, primarily related to its anti-BCMA CAR-T(KITE-585) because the company would not be advancing the candidate due to lackluster preliminary results.
I ́ve always liked to remind myself about why I ́m invested in a company, doing that exercise I try to offset the market noise, and instead focusing on asking myself whether my investment thesis remains valid or not. In Gilead case, the bad news is nothing new; I ́m talking about the HCV segment shortfall, an issue widely known since the beginning of the decline in the fiscal year 2016; and every quarter HCV sales have less and less weight on Gilead´s top line.
Investing in the biotech sector requires much patience from the investors and a lot of financial resources from the companies. That ́s because from the invention of a compound to market a drug, it takes on average twelve years if it finally makes it, since the chance for a new drug to make it to market is only 1 in 5,000-10,000 candidates. Given that facts, as an investor, I seek a company which works hard to maintain its leading position and has the financial resources required to keep building its pipeline with candidates with good potential, taking for granted some of them will fail.
HIV Franchise, stronger than ever
Regarding last earnings, putting HCV segment aside, the HIV franchise grew to an all-time high in quarterly revenues, reaching $4.06 billion this Q4 2018, (72% of total product revenue); 9% of growth sequentially, and 18% YoY mainly driven by increasing demand for Biktarvi and Truvada for PrEP. Gilead is also expecting for HIV segment, double-digit YoY growth in 2019.
Though in Europe, HIV revenue falls to $511 million in the fourth quarter, down 21% year-over-year and down 13% quarter-over-quarter, due to market share erosion and pricing pressures from the entrance of generics version of TDF treatments. This trend is expected to stabilize and return to growth, as Gilead begin to commercialize this year Biktarvi across all major European markets.
By this time, in Germany and France Biktarvy have had a strong uptake. According to the fourth-quarter earnings call, in Germany, it was the number one prescribed regimen, and in France, just six weeks after launch, Biktarvy was among the top five treatments for switch patients, and they anticipate by half year Biktarvy will also launch in Spain, Italy, and the UK.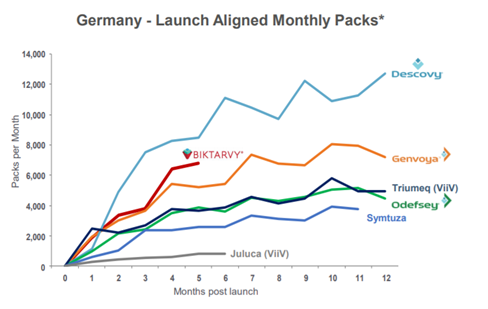 Source: Company Q4 2018 earnings slides
The European decline was more than offset by the U.S business, as exhibits its U.S market share in HIV treatment of naïve patients, now at 86%.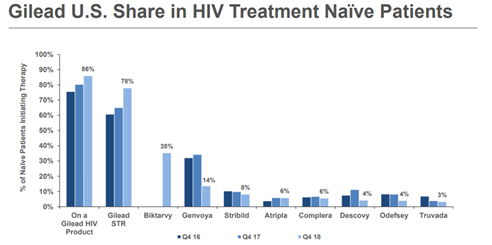 Source: Company Q4 2018 earnings slides
Following this figure back to the past three years, we observe this market share has been developing favorably, remarking the competitive advantage of Gilead, that for now, domains the market.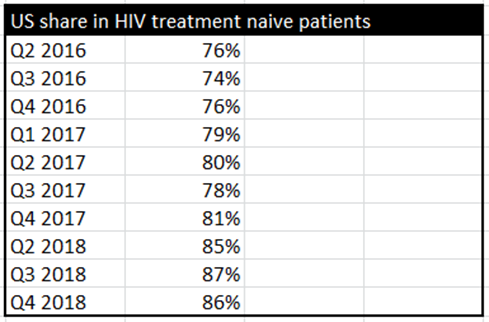 Source: Chart mine, data from company earnings slides.
The growth of the Descovy-based regimen led by Biktarvy and the increasing use of Truvada for PrEP is astonishing. Only Biktarvy with $578 million in fourth quarter sales is quickly approaching the $762 million total sales of HCV franchise.
Biktarvy remains the best HIV launch of all time in the U.S, generating $1.18 billion in its first 11 months. In its favor is its profile, given its strong efficacy and no identified cases of treatment-emergent resistance at week 96; it also provides the renal and bone safety advantages offered by Descovy with a minimal drug to drug interactions, a matter critical for an aging HIV population and younger people on lifelong therapy.
Moreover, Truvada use for Pre-exposure prophylaxis is the first drug approved that reduce the risk of getting HIV ahead, for people who do not have HIV but who are at substantial risk of getting it, by taken a pill once per day. When taken consistently, PrEP has been shown to reduce the risk of HIV infection in people who are at high risk by up to 92%.
Cell therapy. A long-distance race
The cell therapy research it´s a disruptive field in a very early stage of advancement. Gilead is aiming to lead this by enrolling in a multiyear r&d pipeline; like management reported in Goldman Sachs 39th Annual Global Healthcare conference "we're embarking on the 10-year plus R&D program here ".
However, it will be a route with a lot of obstacles and a slow rate of progress. It requires novel ways of thinking, training the scientists and physicians, sharing new medical approaches, doing partnerships between biotech companies, and combining treatments with different focuses. So, if you can´t digest this KITE-585 discontinuing, you probably will suffer a lot in the future.
Regarding Yescarta, it has made progress in term of revenues, albeit at a slow pace reaching $81 million in the fourth quarter, and the number of centers authorized has reached 68 centers in the US in January 2019, and 12 centers in EU. Management has reported it´s expected Yescarta to double the revenues made the past year.

Source: Chart mine, data from company earnings slides.

The decline in revenues at an inflection point
The inflection point this year is the data readouts from Selonsertib as it ́d put Gilead ahead of the competition in the NASH market, and from Filgotinib in inflammatory diseases. It ́s urgent for Gilead to diversify revenues from the HIV segment to stabilize the top line and become a stable pharma like Pfizer (PFE), for instance. An NDA filing by the half of the year would be a great engine to boost the share price; so I anticipate significant volatility in share price, regarding the upcoming phase 3 trials results.
On the m&a front, Gilead has been very active last year, supporting the success of the pipeline. Though most of the agreements are partnerships linked to pipelines in early stages of development, it is a low cost, low-risk strategy, that requires little amounts of capital deployed in the range of $10 -$100 million upfront, and I consider it gives Gilead more bullets to hit the targets.
I prefer this little deals more than significant mergers, because of the high execution risks of the last ones that sometimes ends destroying shareholder value, writing-off assets and deleting supposed synergies. On the contrary, limited partnerships fit better in in-house procedures, are easy to integrate, and implies less or none human resources restructuring; so potentially don ́t jeopardize the motivation of the workforce.
So, in summary, I think, these early-stage partnerships are risk/reward attractive and help to fend off competitors by binding future success of promising compounds, spending few resources.
Gilead´s M&A activity in 2018
I ́d like to break down the partnership activities from 2018 until now:
Gilead´s pipeline update
In the last fourth-quarter earnings slides, we see several changes in the pipeline I want to detail:
In HIV segment all remains equal, with the first milestone to reveal in Q2 2019 from DISCOVER phase 3 study of Descovy for PrEP extension use. The management continued silent about GS-9722 compound remaining stagnant in phase 1. We´d like seeing more movement in this field, to reinforce future growth.

Source: Chart mine, data from company earnings slides.
In leaver disease franchise, Gilead updated GS-9688 next readout to Q2 2019 expecting data from phase 2 study; and the starting of phase 3 study in Primary Sclerosing Cholangitis (NASDAQ:PSC) for Cilofexor (previously GS-9674). Here the critical readout in the first half of the year is phase 3, analyzing 48-week data of Selonsertib, in Stellar 3-4 studies.

Source: Chart mine, data from company earnings slides.
In the oncology segment, there was much more movement; within the Yescarta field: updating Zuma-5 of phase 2 study to complete enrollment in Q1 2019. Also, Zuma-12 initiating phase 2 in 1st line high-risk Diffuse large B-cell lymphoma (DLBCL) in Q1 2019.
About KTE X-19, in Zuma-2 study, it updated the filing for FDA regulatory approval in Mantell cell lymphoma (MCL) to the second half of 2019. Also, it updated complete enrollment of phase 2 in adult Acute lymphocytic leukemia (NYSE:ALL) to Q2 2019, in Zuma-3 study. Moreover, it´s just initiating phase 1 in Chronic lymphocytic leukemia (CLL) in the Zuma 8 study.
The bad news, with KITE-718 they are delaying complete enrollment of phase 1a for solid tumors, from the previous second half of 2019 to the first half of 2020.
Though discontinuing of Kite-585 for lackluster results, they are introducing Kite-439 targeting solid tumors (it just filed IND in the last fourth quarter) and Kite-037 for allogenic anti-CD19 CAR T, seeking to submit IND in the second half of this year.
I am surprised to learn that Entospletinib, a candidate for hematological malignancies, has disappeared from the pipeline without any comments from the management in the last earnings call. Like what happened last year with Andecaliximab, a compound that was at a standstill for a long time until suddenly disappeared. I expect from the new CEO, Daniel O'Day, refreshing communication culture with shareholders, and ending this habit of hiding vital information from shareholders scrutiny.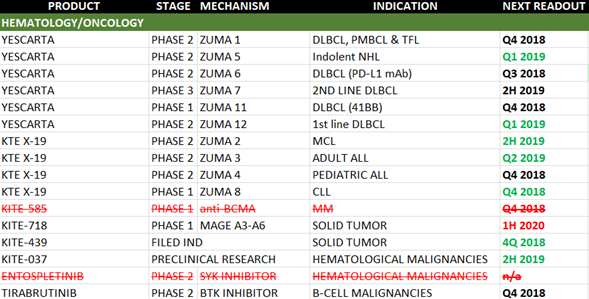 Source: Chart mine, data from company earnings slides.
Inflammation/Respiratory/Other
Finally, on the inflammation franchise, we see multiple delays in previously scheduled dates:
Already, Filgotinib was supposed to complete enrollment of DIVERSITY phase 3 study in Crohn's Disease, in the second half of 2019. However, Gilead´s postponed it to the third quarter of 2020.
On the other hand, Gilead completed the enrollment of SELECTION phase 3 study in ulcerative colitis in the past fourth quarter, and it´s forecasted to have clinical data readout in the second quarter of 2020.
Also, for psoriatic arthritis, it´s starting phase 3 trials and is expected to have data readouts for Sjogren´s Syndrome and Lupus in the third quarter of 2019.
About other agents, GS-9876, a syk inhibitor to treat Sjogren´s Syndrome and Lupus, was delayed from Q2 2019 to Q3 2019, to have clinical data readout from phase 2.
Also, Gilead updated GS-4875 status, to initiate phase 2 study in ulcerative colitis, in the second half of 2019.
Regarding the Ebola vaccine candidate, Remdesivir, also they´re delaying complete enrollment of phase 2 study in Ebola survivors, from the second quarter of 2019 previously reported to the fourth quarter of 2019, for now.

Ending considerations
I am not fixated on a, once again, HCV decline nor Kite 585 discontinuing, yes, It´s a disappointment, but it was a drug in clinical trials at phase 1, it´s often terminating products at this early stage. The pipeline is what it is, and some of the candidates will work out, and some of it won't.
That´s why the pipeline valuation is very difficult. This Kite 585 issue isn´t a surprise, since Q3 2018 earnings slide (slide 49), the Company stated that the decision on a registrational study of Kite 585 would be based on phase 1 data, just initiated in the last fourth quarter.
Regarding Gilead´s financial position, even though last two-year revenue has been declining, the balance sheet is still strong, with a prominent cash position, of $31.5 billion, leaving net debt at zero, gives Gilead the financial strength and flexibility, to develop new partnerships and keep advancing its r&d pipeline.
The game changer investors have long waited, could be the data readouts yet to reveal in the first quarter of this year. The chances are feasible to Selonsertib get to NDA filing, meanwhile Filgotinib, still have to resolve the safety MANTA study about men infertility risks, but management still doesn´t provide a deadline of this study. Nevertheless, I consider that the market doesn´t give any value to Gilead´s partnerships just did over the last year. It weighs too much every single bad news release, but in the many agreements done could be hidden gems to discover.
If these issues resolved in a good way, Gilead will at the same time diversify its business and boost top line, getting a first-mover advantage in advanced fibrosis NASH, and maybe with Filgotinib obtaining a blockbuster drug in inflammatory Rheumatoid Arthritis. If this is the case, then buying here is doing it at the bottom price of the stock, when everyone has much negative sentiment. Also, new management leading by Daniel O'Day may bring fresh air to better decision making. We´ll see.
Disclosure: I am/we are long GILD. I wrote this article myself, and it expresses my own opinions. I am not receiving compensation for it (other than from Seeking Alpha). I have no business relationship with any company whose stock is mentioned in this article.