Investment thesis and presentation of the company:
FNAC-DARTY is a specialized French retailer existing both online and offline. The group is the result of Darty's acquisition by FNAC in 2016. They have developed a multichannel model operating through 4 main segments (Consumer Electronics, Household appliance, Editorial products, Other products and services) and in 12 countries. In a very challenging market both because of the expected growth rates of products sold and the fierce competition coming from online pure players, FNAC-DARTY is trying to differentiate itself and to create a unique customer experience by integrating innovative services to its offer.
The roll out of the new "Confiance +" plan is what should enable the group to strengthen its competitive position. The group has a stated objective of a 4.5-5% "current operating margin" in 2020. As of the end of 2017, the margin was 3.6%. To reach this target, they can partly count on the expected synergies resulting from Darty's acquisition (130m expected in 2018). I believe that the group has some credibility in the execution of its strategy because they already beat 2017 synergy objective by 20m (€65m expected vs €85m actual). They also announced several major partnerships to reduce purchasing costs (with Carrefour & Ceconomy) and promotion costs (In-store corners with Google, Apple, and Microsoft).
The group has also been able to quickly deleverage its balance sheet following Darty's acquisition (Adj net debt/ebitda ratio of 1.26x in 2016 and 0.7x in 2017). Free cash flow generation looks healthy with 197.4m in 2017 against targeted annual investments amounts of 120m to 150m for the years to come (Source: 2018 annual report and personal computations)
However, we should also bear in mind that operating margins in retail are thin and operating leverage is high. Most of FNAC-DARTY products are experiencing price deflation and negative growth rates (Physicals books, CDs, Video games). The group only expects a small positive growth rate for the household appliance segment in the medium term. Moreover, the discretionary nature of their products is highly sensitive to economic cycles.
To conclude, FNAC-DARTY even if the markets for most of the group products' are expected to stay flat or to decline over the mid-term, the recent share price's drop in 2018 is an attractive entry point for an investment in the stock. Management have shown great results in the execution of the cost cutting strategy, however the unstable nature of revenues (innovation cycles, seasonality and economic cycles) will definitively add volatility to the stock. I do believe that over the long run, the company will be able to stand as one of the leader of European specialized retail.
SWOT Analysis:
Strengths:

Multichannel model
Loyalty programs (Deezer partnership)
Brand recognition in Europe
User experience (before, in and after sales services)
Track record in the execution of the cost cutting strategy

Weaknesses:

Heavy fixed cost base
Higher prices than competitors
Franchised stores dilute gross margin
Very high seasonality

Opportunities:

Franchise development
New technologies requiring special advices
Announced partnerships with major brands

Threats:

Aggressive competitors
Increasing dematerialization (music, video games, streaming) & disintermediation (Apple)
Product price deflation
Reliant on innovation cycles (products) & economic cycles
Competitors:
The scale factor being important for retail companies, it is worth mentioning that FNAC-DARTY is smaller than most of its direct peers.
Specialist online retailers : Amazon (USD 810bn Mk cap) ; Cdiscount (€2.1bn revenues in 2017 for Cnova, parent company of Cdiscount), Rue du commerce (Private)
Specialist retailers – Boulanger (Private) ; Ceconomy (€1.2bn Mk Cap)
Mass market retailers – Hypermarkets chain that also offers consumer electronics, editorial products & household appliances – Carrefour (€12.4bn Mk cap), Auchan (€52bn Revenues in 2017), Groupe Casino (€3.98bn Mk cap)
ISPs (Internet Service Providers) – Spotify (USD 21.2bn Market cap), Apple (USD 757bn Market cap), Steam (Private)
Activity: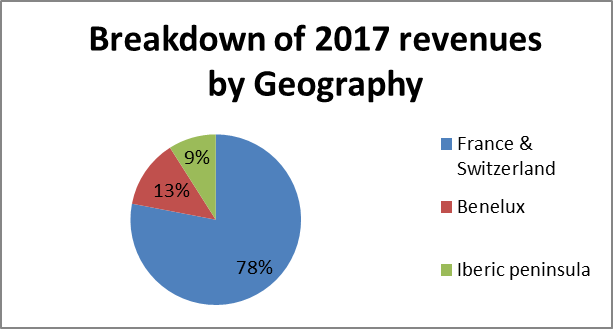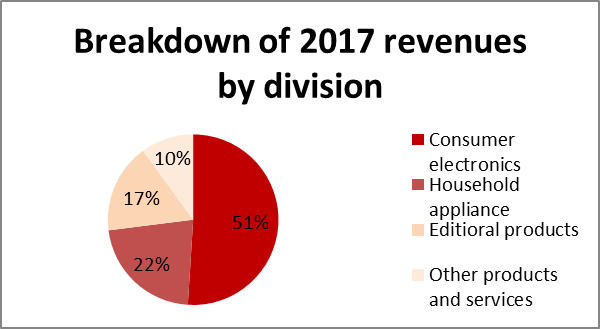 The "France et Switzerland" division includes stores from Morroco, Qatar, Congo, Cameroon, Cote d'ivoire
Consumer electronics: 51% of 2017 revenues:
Products sold: TVs, photography, sound, video equipment.
Household appliance: 22% of 2017 revenues:
Products sold: Washing machines, cookers, refrigerators, vacuum cleaners, small kitchen appliances)
Editioral products: 17% of 2017 revenues:
Products sold: Books, Audio, DVD, Blu-ray, Video games and consoles
Other products & services: 10% of 2017 revenues:
Products sold: After-sales, ticketing, gift cards
The growth pespectives look sluggish across all divisions. The group expects neutral growth for "Consumer Electronics" over the mid term, negative growth for "Editiorial Products" and only slight positive growth for "Household appliances", mainly driven by innovation on smart home devices. The two biggest segments are highly dependent on products' short innovation cycles (Release of new technologies such as 8K for TVs). Breakthrough technologies can have a major impact on revenues for a given quarter, adding unstability to financial statements.
Market for "Editioral products" is challenging given the increasing dematerialization trend happening across all products. Online platforms such as Netflix (Video content), Spotify (Music), Steam (Video games) are enabling customers to acquire virtual products in a highly convenient way and at cheaper costs.
The group aims to grow faster than the market, and to do this, they will partly rely on the opening of new stores, mainly franchise, to strengthen their position in their core markets. As of the 30 September of 2018, the situation was the following:
The group had 728 stores opened, including 510 in France. The total numbers of directly owned stores was 520.
On the 39 stores opened YTD, 37 are in France and all of them are franchise. If we extrapolate linearly, the group will fall short of its stated objective to open around 70 stores in 2018.
The decision to now open mainly franchise will enable the group to reduce their fixed cost base. However, it will also dilute gross margins over the mid-term.
Customer loyalty programs, brand awareness will also be key elements to limit customers churn rate. FNAC-DARTY has already implanted delivery options similar to the ones of Amazon. For example, products can be delivered 2h after being ordered in Paris and can be available in stores 1h after an online purchase. They are at the forefront of innovation with the implementation of the" Darty Button". Customers can now directly video chat with FNAC-DARTY customer's services with their smartphones.
The second main objective of the group for the mid-term is to grow the "current operating margin" to 4.5% to 5% in 2020. Beyond the opening of new stores to realize economies of scales, the group counts on the synergies stemming from Darty's acquisition to attain this objective.
The group has realized synergies of €85m in 2017
At the Q3 conference call, the group reiterated its objective of €130m of synergies for 2018, including €110m of cost synergies
Partnerships will also be a key element of the cost-cutting strategy. Purchasing agreements with Carrefour and Ceconomy will enable the group to further improve operating margins.
Debt:
To fund the cash component of Darty's acquisition, FNAC established new sources of financing and refinanced the existing ones in two groups.
A senior credit facility totaling €600 million with a tenant of 7 years (Initially 5, but extended on April 2018). The loan was contracted in April 2016 and was rated BB/Ba2

A €200 million medium-term loan (Senior Term Loan Facility) repayable after the 30th month -> drawn in full at the end of 2017
A €400 million revolving line of credit to finance cash flow fluctuations -> not used at the end of 2017
Two financial covenants are associated to the loan agreement and tested twice a year
Total adjusted debt (debt + 5x the amount of rent as shown in the latest consolidated statements) divided by consolidated EBITDAR (EBITDA + rent)
Consolidated EBITDAR (EBITDA + rent) divided by net financial expenses + rent
Both of them were complied with as of H1 2018. Furthermore, in the first half of 2018, Fnac Darty issued short-term negotiable debt instruments to finance its operations. This totaled €300 million at June 30, 2018 with €54 million already being used.
Liquidity:
The group has a decent amount of cash available on its balance sheet (775.1m available at the end of 2017). They can also count on a still undrawn credit line of 400m obtained in 2016. In April 2018, they extended the maturity of this line to 2023. As for most of retail companies, working capital is negative for FY17 (€-864.2m). It is also worth mentioning that the company, just like Amazon, has a negative Cash Conversion Cycle (-31.7 days in FY17). This is mainly due to the high amount of trades' payable on the balance sheet (€1757m in 2017) resulting in a DPO (118.3 days) higher than the sum of the DSO (11.6 days) and the DSI (74.9 days). It strengthens the short term liquidity of the company.
In addition to the realization of a share buyback in Q3 2018 to compensate for the dilutive effect of stocks options used in the last 18 months, the group committed to pay dividends in 2020, only if no significant M&A is realized until then.
Last published results:
Below please find short summaries of the last results published by the group. They used to assess if things are going accordingly with my investment thesis.
Q1 2018:
Sales came in line with expectations, +0.6% LFL vs Q1 2017 with a negative bad weather impact of approximately 0.4%. Management is positive for the Q2 given all the promotional activities planned for the football world cup. Guidance reiterated.
Q2 2018:
Sales for H1 2018 were slightly disappointing, LFL revenue growth was -1.7% In Q2. Revenue growth came at -0.5% YOY. EBIT, however, beat consensus expectations by 15%. This confirms the ability of the management to execute the cost cutting strategy. Outlook for H2 is better; the product line-up should be more favorable. Guidance reiterated.
Q3 2018:
Quarter over Quarter sales came at -2.3% LFL due to a negative base effect, consensus expectations were at -3%. The decrease for the French/Switzerland division has been limited to LFL -2.7% vs -3.7% forecasted by the consensus. Guidance reiterated.
The company announced a share buyback of 2% of the capital that will not jeopardize their prior announcement regarding dividend payments to shareholders in 2020.
Some difficulties are affecting Ceconomy (24% of FNAC-DARTY) capital. After two profit warnings this year, the CEO Pieter Hass has been fired. During its Q3 conf-call, FNAC DARTY affirmed that these issues were not affecting the partnership.
Q4 2018 outlook:
The recent "yellow vest" protest that sparked in France in November 2018 adds uncertainty to the FY18 results. Even if FNAC, thanks to its dual model, will not be the most impacted French retailer, negative impact on revenues will probably be observed. Due to that environment, I do not see FNAC beating its FY 2017 revenues in 2018. Nobody expected these protests to last this long, and the numbers for Q1 2019 can also be affected.
Disclosure: I/we have no positions in any stocks mentioned, and no plans to initiate any positions within the next 72 hours. I wrote this article myself, and it expresses my own opinions. I am not receiving compensation for it (other than from Seeking Alpha). I have no business relationship with any company whose stock is mentioned in this article.