We've been bulls on Charter Communications (CHTR) for awhile now, but for the last two years the stock has gone virtually nowhere.

Charter got bid up in 2017 on (irrational) hopes that it would be acquired by a larger telecom company. Then in mid 2018 the stock cratered, perhaps due to concerns about the TWC (Time Warner Cable) integration and video subscriber losses. In 2019, the stock took off after posting strong results including good high-speed Internet results, substantial progress on the TWC acquisition, and lower capital expenditures going forward. So after the wild ride what should Charter shareholders expect in the future?
Charter's Future Potential
One of the biggest things Charter shareholders have to be bullish about is increased free cash flow in the future. The table below from Charter's FY2018 10-K shows the company's cash flow over the past three years. We've highlighted in red the capital expenses for each year.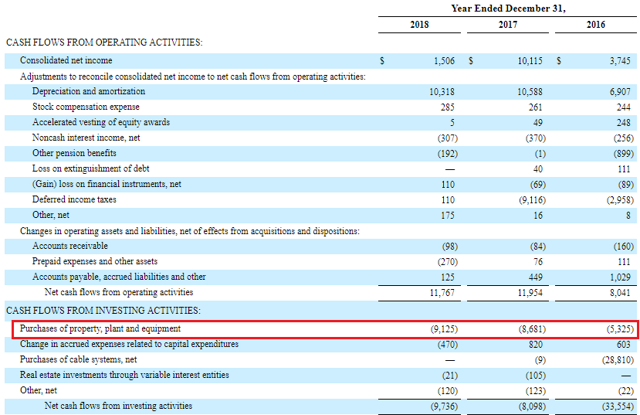 Last year the company spent more than $9B on capex, which was up from about $8.6B the previous year (2016 was pre-acquisition). This was mostly due to upgrading the company's network and integrating TWC. Going forward management is projecting capital expenditures of $7B. On the latest conference call, CFO Chris Winfrey said this about capex:
…cable capex will be down meaningfully in absolute dollar terms and in terms of capital intensity. We don't generally provide guidance, but with a significant decline in 2019 capital spend, I will tell you our internal plan calls for $7 billion, roughly $7 billion of total cable capex in 2019, down from $8.9 billion in 2018 for all the reasons we've said. Within that number, there's still single product and network development and some integration capital including both software development and real estate improvements which we treat as capex.
Shareholders also can look forward to decreased expenses and perhaps increasing revenue as the TWC integration is now mostly complete as shown below from a company presentation.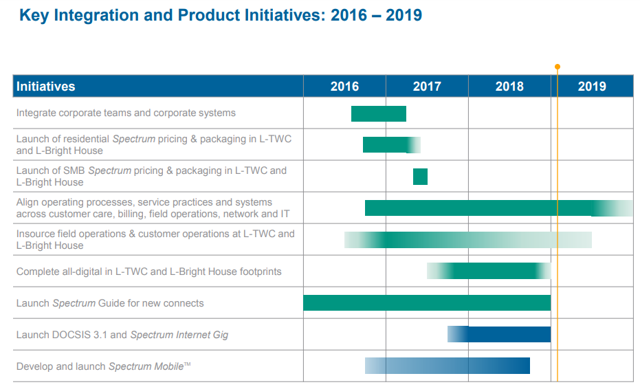 (Graphic source: 2018Q4 company presentation)
During the latest company conference call, CEO Tom Rutledge said this about the integration efforts.
With our biggest integration initiatives behind us, we're now in a position to drive long-term sustainable customer relationship growth, EBITDA growth and significantly lower capital intensity driving accelerating free cash flow growth.

In 2019 we are also well-positioned to reduce service transactions. With the vast majority of our integration behind us, we expect to see a meaningful reduction in network activity, CPE swamps, service calls and truck rolls. Service activity should also decline as our better product and pricing and services across a larger base improves. And as we begin to benefit from enhanced online self-service greater levels of self installs. So in 2019, the lower level of activity will raise customer satisfaction, reduce churn and extend customer lifetimes.
Later in the call, the CFO also added:
The OpEx per customer relationship is going to come down materially, as Tom said.
It really shouldn't be surprising that integrating two large companies and a smaller third company (Bright House) was expensive and required significant customer service expenses. Also, given management's history of success in merging acquired cable companies and the lack of competition in the industry (disgruntled customers have few options to turn to when it comes to high speed internet) there's no reason to think Charter will have a problem meeting its financial goals.
Valuation
The table below shows various revenue and expense metrics for both Comcast (NASDAQ:CMCSA) and Charter (note revenue and operating metrics may not equal the adjusted EBITDA calculation due to rounding and company calculation differences). We can see that it does appear that Charter management is correct about future opportunities for the company to increase EBITDA.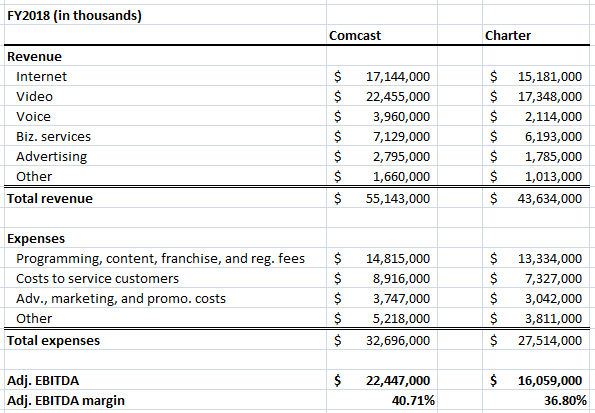 (Source: Company filings, author's calculations)
Charter's adjusted EBITDA margin is 391 basis points lower than Comcast.
The table below shows the total customer and service type relationships for each company and the second table down shows several revenue and adjusted EBITDA calculations.

(Source: Company filings, author's calculations)

(Source: Company filings, author's calculations)
Again, we can see Charter lags Comcast on most metrics. Revenue rates per Internet user and voice user is below Comcast (significantly in the case of voice). Additionally, adjusted EBITDA per customer is well below Comcast. Comcast earns about $168 in adjusted EBITDA more a year per customer than Charter.
If Charter is able to get to the same operational level as Comcast both from reduced expenses and increased revenues for certain services and/or bundles, then the stock looks potentially undervalued.

At this point there is some difficulty in determining a fair value EBITDA multiple. The cable industry has consolidated significantly. There are only two large public cable companies – Comcast and Charter. Cox Communications is much smaller and privately held. There are other publicly traded cable companies such as Altice USA (ATUS), WideOpenWest (WOW), and Cable One (CABO), but they are fractions of the size of Charter, and some such as CABO are rural oriented. Using previous M&A multiples may not be a good idea since those are based on potential synergies from consolidation so the multiples likely tended to be higher then what a mature cable company without and M&A premium would trade for.
The cable industry sector is currently valued at about 8.4 times EBITDA. It's likely that Charter should eventually trade at a slight premium due to its scale and lack of traditional media division (like Comcast has) that's under siege from streaming content.
In our opinion it's better to be generally correct than precisely wrong so we're not overly concerned with putting an exact target value on the stock. We're are mainly concerned with making sure the stock isn't overvalued and that the secular trends that benefit the company are still intact.
So long as there's little high-speed internet competition and consumers and businesses continue to be voracious consumers of data Charter stock looks like it's priced attractively enough to be a good investment.
Disclosure: I am/we are long CHTR. I wrote this article myself, and it expresses my own opinions. I am not receiving compensation for it (other than from Seeking Alpha). I have no business relationship with any company whose stock is mentioned in this article.
Additional disclosure: One of our clients holds Comcast (CMCSA) stock for personal reasons.