Over the past twelve months, the shares of Wayfair Inc. (NYSE:W) are up about 31%. I think investors would be wise to replace their shares with call options, as the latter represents a way to participate in any continued upside in the shares at far less risk. As I state below, I think there's little reason to buy at these levels, but the evidence suggests that the crowd is willing to invest entirely in hope here. Speculators will buy a company like this because they feel that something transformative will happen to stem the years of losses. I don't like to invest based on hope, but I don't think it's wise to bet against the crowd's mania. For that reason, I recommend a specific call option as surrogate for the shares. Before talking about the specific call strategy, though, I'll go through my reasons for avoiding the name. To be clear, I recommend avoiding the name, but if someone insists on staying long, they should switch to calls.
Financial Snapshot
Over the past 5 ¾ years, revenue at Wayfair has ballooned at a compounded rate of about 39%. Looking at the most recent 9-month period relative to the same period in 2017 suggests that this trend is intact, as revenue was 45% higher in the first three quarters of 2018 relative to the same period in 2017. Unfortunately, that's where the good news ends, in my view. In particular, while revenue has ballooned, so has the net loss. Specifically, net loss has grown at a CAGR of about 75% over the past five years. It seems that the more this company sells, the more it loses. Additionally, this trend seems to be continuing in light of the fact that the first nine months of 2018 saw net loss balloon by 109% in spite of the aforementioned revenue increase. To quantify this phenomenon, I ran a correlation on revenue and net loss and found that the two were very strongly negatively correlated (r = -.85). Of course, this prompts the question: if rising sales won't lead to net income, what will?! Thankfully, the loss per share has grown at "only" a CAGR of 23%, because of the dilution shareholders have seen over the past half decade (shares outstanding have grown at a CAGR of about 16%).
The problem of growing losses with growing revenues is largely a function of the growth of customer service and merchant fees, advertising, and selling, operations and G&A, with each of these expenses up at a CAGR of 37%, 38%, and 46%, respectively. In my view, this calls into question the scalability of the entire enterprise.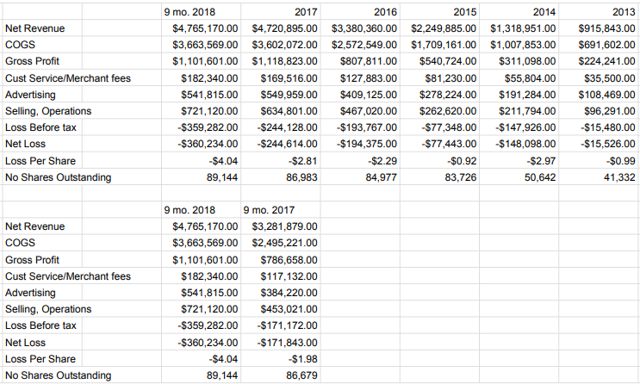 Source: Company filings
The Lawsuit
On January 10 of this year, a class action lawsuit was filed against Wayfair on behalf of investors. The suit alleges that Wayfair "made false and/or misleading statements and/or failed to disclose adverse information regarding Wayfair's business and prospects, including that Wayfair had been experiencing significantly diminished demand for its online product offerings and had significantly increased advertising spending to grow sales". Thankfully, I'm not a lawyer and, therefore, can't offer a legal opinion on this suit, but I would suggest the following. First, the claim that Wayfair hadn't disclosed that they have significantly increased advertising spending is ridiculous, in my estimation. A cursory review of the latest 10-K reveals that the company disclosed that advertising expenses have grown at a CAGR of about 38% over the past five years. Second, the claim that Wayfair has experienced diminished demand for its product offerings also seems ridiculous in light of the fact that, as stated earlier, revenue is 45% higher during the first nine months of 2018 relative to the same period a year ago. My advice to investors who complain about a 45% uptick in revenue is to recalibrate their expectations somewhat. Although I find the lawsuit generally entertaining, I think there are two relevant points to make about it.
Some (growth) investors seem shocked that sales growth can eventually slow down, as this lawsuit demonstrates. This may be a function of wide scale innumeracy, but it's clear that even fast growing companies must inevitably slow down. I'll demonstrate this fact with a relatively simple thought experiment. At the moment, Wayfair represents .03% of the U.S. economy. If we assume that, over the next 20 years, the U.S. economy grows at a CAGR of 2%, and that Wayfair continues to grow at 40%, in the year 2039, Wayfair would represent 16% of the U.S. economy (!). It's possible that, in the year 2039, we'll forego healthcare, travel, education, housing, transportation, haircuts, restaurants etc. because of our sudden and insatiable craving for seasonal decor, but I'm skeptical.
More immediately relevant is the fact that this lawsuit, however frivolous it might be, is a distraction for management at a time when competition is growing. This is obviously not an ideal state of affairs for the company.
The Stock
In my view, in order to invest well, one must not only find companies that generate high and growing free cash flow, but they must not overpay for those future cash flows. If an investor buys a great company at a level that is priced for perfection, they may still be disappointed. When shares are priced for perfection, anything less than perfect execution runs the risk of sending the shares lower. Given the many known and unknowable challenges associated with running a publicly traded business, "perfection" is too high a benchmark, in my view.
Thus, we must attempt to acquire future cash flows at a discount. One of the ways I use to judge whether a company is objectively expensive or not is to look at price to free cash flow per share. The lower the better, obviously. Unfortunately, Wayfair doesn't have free cash flow, so I must turn to operating cash flow. By that metric, the company is expensive even by its own standards, as shown in the chart below.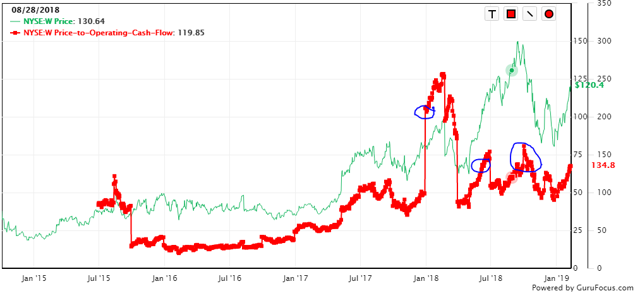 Source: Gurufocus
I've circled the times in the past when the company moved from a lower to the current valuation. This happened three times in 2018, and on the first two occasions, the shares went on to do well. On the most recent occasion, though, buying at these levels led to capital loss. Admittedly, this is hardly a long history of valuations at these levels, and that's largely the point. As of now, investors are in uncharted territory in terms of their expectations about the future. In my view, this is a bad time to buy.
Options to The Rescue
Although I think I've outlined part of my reasoning for being bearish at this point, I'm under no illusions that the crowd will catch collective sanity anytime soon. It's obvious that speculators are willing to bid shares higher on the expectation that something will happen sometime to make this a profitable company. For that reason, if someone is committed to this narrative, I would be hesitant to outright sell these shares. I think a more reasonable approach would be to replace the shares with call options. I think this makes sense because calls give the investor the vast majority of mania-driven upside from these levels at a fraction of the risk. In particular, I would recommend shareholders replace their shares with January Wayfair calls with a strike of $120. At the time of writing, these are bid-asked at $27-28. In other words, if an investor simply buys these at market, they will control 100 shares for about 23% of the capital. That means that they can eliminate risk on fully 77% of their capital from here. Thus, calls represent a skewed risk reward for investors. If the shares continue to rise, the investor will capture the vast majority of that upside. If, as I suspect, the shares eventually languish, this will be troublesome, but the call investor will be far less exposed to the shareholder. This is especially so in light of the fact that the call buyer won't be giving up a dividend.
Conclusion
I think there are a host of reasons to avoid Wayfair at these prices. Chief among these is the fact that there's a strong negative correlation between revenue and net income, and net income is the source of all investor returns. Additionally, the shares are quite expensive. This lawsuit may not represent an existential threat, but it certainly distracts management at a time when competition is growing. These are some of the reasons I'd recommend avoiding the shares. For those who are committed to this story, though, I strongly recommend switching from the shares to the call options mentioned. Doing so presents virtually the same return as these mania-driven shares at far less risk.