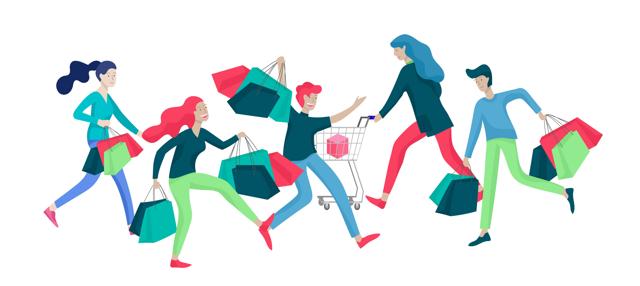 Source: Shutterstock
Retail sales data reports have been delayed due to the government shutdown, but we can still get a good idea of how the consumer is spending and the potential impact on retailers and retail real estate.
The SPDR S&P 500 Trust ETF (SPY) only has 3% exposure to real estate, but the low exposure belies the impact that real estate has on the overall market. With consumer spending making up about 2/3rds of the US economy, it's not surprising that retail sales data is scrutinized for indications of current and future consumer spending trends and how it might affect the overall market. As retail goes, so goes the US economy, and in many instances, so goes the S&P 500.
Retail Sales Data
The last reported retail sales data that was reported showed both Retail and Core Retail sales growth was slower than last month. Core was at least in line with forecasts and Total Retail Sales were slightly above consensus.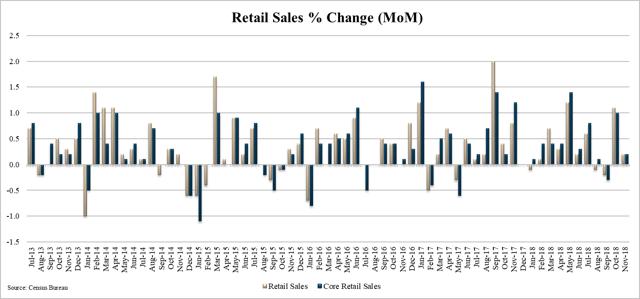 The biggest month to month growth in sales was in non-store retailers - a continuation of a trend that is only going to continue into the foreseeable future - which has implications for many brick and mortar retailers and the landlords that house their storefronts. Total non-store retail sales were also up 10.8% compared to the same period last year, far outpacing all other categories except Gasoline Stations, which grew 8.2% year over year even after a 2.3% decline from last month.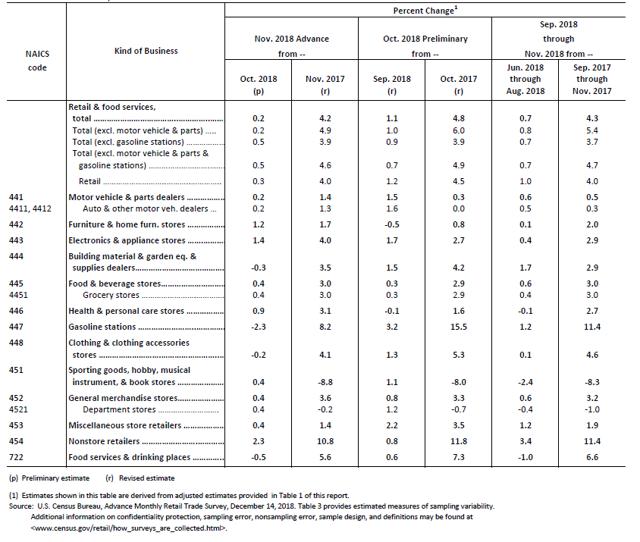 Non-store Retail Sales
Online sales growth has now outpaced Retail Sales growth every month since mid-2009. The latest figures also don't show any signs of a slowdown. Online sales have now expanded by more than 10% year over year in each of the last 5 months and in 20 out of the last 24 months.
This is great news for Amazon (AMZN) and the retailers who have successfully implemented or are in the process of implementing an omni-channel strategy. But it poses challenges to many retailers that have been slow to adapt to this trend or are in markets not conducive to online channels.
It is also a challenge for many Retail REITs, including Shopping Center, Regional Mall, and Free Standing REITs, who have had to contend with bankruptcies and store closures among their tenants. Some REITs have successfully adapted to this trend - such as Simon Property Group (SPG), while others, such as Kimco Realty (KIM) are in the process of 're-balancing' their portfolios for these changes.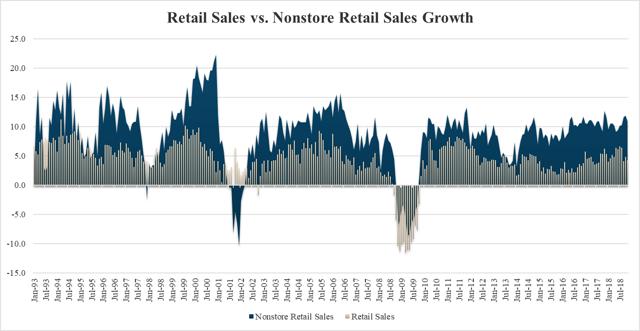 Despite the blazing growth of non-store sales, however, it is important to note that brick and mortar retail won't go away any time soon. Non-store retail sales still make up only about 12% of total retail sales.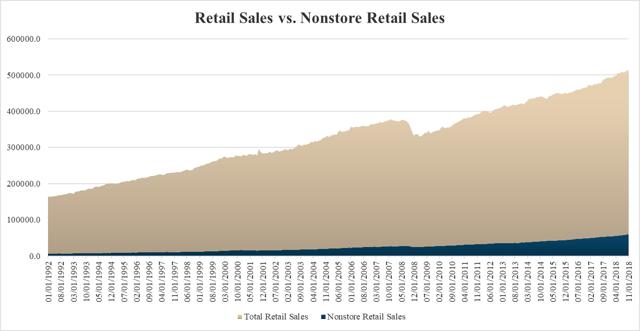 The following chart shows how each portion of total retail sales has evolved over time. Non-store retailers have shown the biggest proportion of sales increases but without any big negative impact on any of the other categories.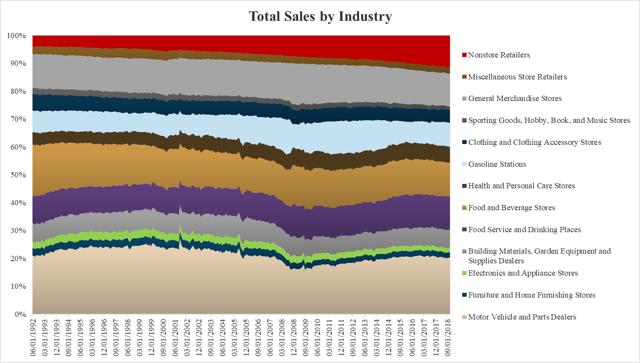 Motor Vehicle and Parts Dealers still make up the largest portion of Retail Sales by a considerable margin, but non-store retailers - currently, the fifth largest category - is set to surpass the level of sales in Food and Beverage Stores, Food Service and Drinking Places, and General Merchandise Stores. Interestingly, Food Service and Drinking Places has been one of the fastest growing segment after non-store retailers, but there was a noticeable decline this past month. This could be an interesting development because many of the Regional Malls and Shopping Centers that have successfully transitioned away from online sensitive retailers were primarily focused on adding consumer experiences via Food Service and Drinking Places. It was only a one month decline, but if this is the beginning of a trend reversal, we may see Retail REITs facing yet another repositioning of their assets.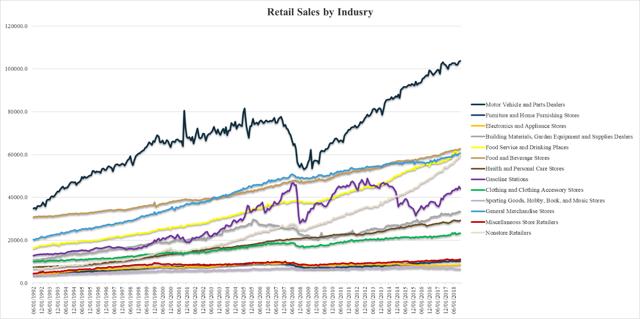 Our Positioning
For the time being, we believe that the highest quality Regional Mall REITs and Shopping Center REITs should perform well. We are, however, a tiny bit concerned about some of the trends we are seeing in the data for Free Standing REITs - as we mention in an article on Realty Income (O). We're not abandoning the sector, as the triple-net lease model has safety characteristics, but we are considering the potentially slower relative growth prospects within the sector compared to other retail REIT sectors and broader REITs in general.

ROI provides REIT ideas, high return opportunistic investments, and income generating ideas in dividend growth stocks, MLPs, BDCs, baby bonds, ETFs and Closed-end funds.
Detailed articles on some of our best ideas mentioned in this article can be found HERE, and they are updated regularly.
We also provide a number of Excel Spreadsheets such as the Market Dashboard, which provides a daily view of stocks, bonds, commodities, and currencies. As well as our ROI Stock Lists and Portfolios
Try it free for two weeks with no obligation
Start a free trial now.
Disclosure: I am/we are long O. I wrote this article myself, and it expresses my own opinions. I am not receiving compensation for it (other than from Seeking Alpha). I have no business relationship with any company whose stock is mentioned in this article.
Additional disclosure: Disclaimer: This article is meant to identify an idea for further research and analysis and should not be taken as a recommendation to invest. It does not provide individualized advice or recommendations for any specific reader. Also note that we may not cover all relevant risks related to the ideas presented in this article. Readers should conduct their own due diligence and carefully consider their own investment objectives, risk tolerance, time horizon, tax situation, liquidity needs, and concentration levels, or contact their advisor to determine if any ideas presented here are appropriate for their unique circumstances.
Long: BXP, CIO, MNR, PLD, KIM, RPAI, SPG, TCO, STOR, O, IRT, APTS, AVB, UMH, AMH, AHT, PSA, SELF, GMRE, HCP, SBRA, PCH, AMT, CCI, SBAC, COR, QTS, IIPR, NLY, BXMT, NOBL, EEMV, EFL, JPS, LDP, HYLS, MORL, REM, RINF, SHY, SPY, TBB, TVC, EEM, HFQIX, FFRHX, DELNX, VOO, EFAV, EFA, SMMV, VO