Main Thesis
The purpose of this article is to evaluate the Financial Select Sector SPDR Fund (NYSEARCA:XLF) as an attractive investment option at its current market price. The Financial sector is an area I was bullish on throughout 2018, but have been disappointed in the end result. While XLF has seen a positive return since my last review, it has still lagged the benchmark indices, and I have little reason to suspect we will see a marked turnaround this year. While I am not completely bearish on the sector this year, I believe the best we can hope for is market performance, which makes me reluctant to recommend positions at these levels. While XLF is trading at a very attractive valuation, that has been the case for a while, and investors do not appear to be interested yet. Furthermore, while many banks have been increasing their dividend aggressively, XLF's yield is still relatively low, making it a poor substitute for higher yielding dividend ETFs. Finally, the Fed has signaled a pause for interest rate hikes this year, which disproportionately impacts the Financials sector, which would benefit from higher long-term interest rates.
Background
First, a little about XLF. The fund is managed by State Street and "seeks to provide investment results that correspond to performance of the Financial Select Sector Index by investing in insurance companies, banks, and mortgage real estate investment trusts (REITs), among others". The stock currently trades at $25.67/share and has an annual yield around 1.94%, based on its last four distributions. I was bullish on the Financial sector for most of 2018, although the sector did not end up performing as well as I forecasted. That said, XLF is still up over 2% since my October review, when I recommended the fund. While this short-term gain is positive, the fund has noticeably underperformed the major indices over the past trading year, as illustrated in the graph below: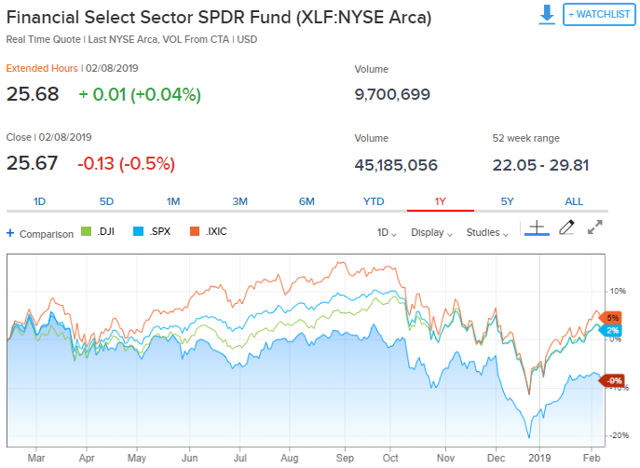 Source: CNBC
As you can see, XLF was not a very good investment in relative terms throughout 2018, and, unfortunately, I would expect similar results this year as well, for the reasons I will outline below.
Q4 Earnings - Strong, But Weaker Than The Market
The premise of this article is not that Financials are going to be poor performers this year, just simply that they are unlikely to beat the market. Essentially, I believe the best XLF and major financial stocks can hope for is to market perform. Couple this with a yield below 2% and I do not see a very compelling reason to go overweight this sector at this point. That said, given the relatively cheap valuation of the sector, I don't see a lot of downside either, so investors with a long-term horizon may decide buying now is worth it.
With that mindset, I want to examine the reasons behind my belief that, despite a cheap valuation, Financials are not going to outperform the market. To start, let us look at the current Q4 earnings results, which have been coming in over the past few weeks. To date (as of 2/8), about two-thirds of the S&P 500 has reported, with 71% of companies reporting actual earnings per share above estimates. While this sounds good, and it is a strong figure, it is important to note this figure is equal to the five-year average, according to data compiled by FactSet. With these results in, let us examine how well the Financials sector is performing, compared to alternative sectors and the broader market. So far, 60% of Financial firms are reporting earnings above estimates. While this seems like a solid figure, it is below the S&P 500 and actually puts the sector towards the bottom of the pack, as illustrated below: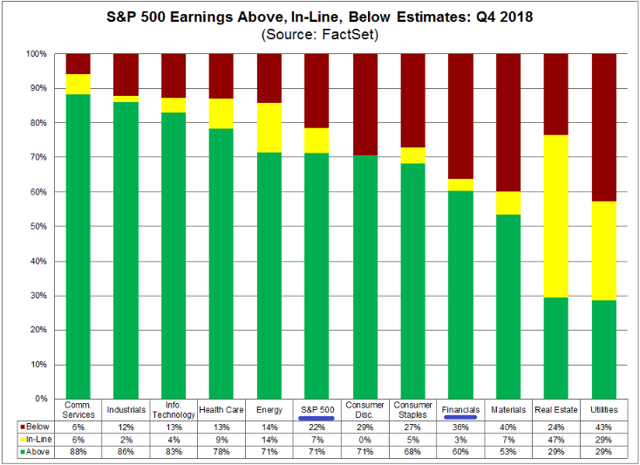 Source: FactSet
My takeaway here is this gives some credence to my belief that Financials seem unlikely to beat the market in the short term. While the earnings results are fairly good, they lag the market as a whole, and that makes me question why investors would load up on these shares when other sectors seem to be performing even better.
Mortgage and Refinancing Trending Lower
A second point on the Financial sector has to do with mortgage and refinancing demand, which is a key source of profitability for banks and other lenders. While the year had started off strong, February has seen some weakness in activity, which is surprising, given that interest rates remained steady after the most recent Federal Reserve meeting. In fact, according to data compiled by CNBC, the first week of February ended with activity declines across the board, as the chart below illustrates:
| | | |
| --- | --- | --- |
| Mortgage Application Change (Week-Week) | Mortgage Application Change (Year-Year) | Re-Finance Applications (Year-Year) |
| (2.5%) | 10% | (19%) |
Source: CNBC
As you can see, February started off showing some underlying weakness in the mortgage market. While the strong jobs numbers coming out of the U.S. could spark a turnaround on this front, the continued rise in home prices is keeping many potential buyers priced out of the market. Furthermore, with rates unlikely to decline from here, refinancing activity will probably continue its decline. These trends could hurt short-term profitability at banks and lenders across the board.
Regional Banks - Off To A Stronger Start
While I discussed a few areas of concern for the Financial industry, there are plenty of bright spots to be had. As I mentioned earlier, the valuation of the sector is very low, with XLF trading at a price to earnings (P/E) ratio just over 11. Furthermore, the U.S. job market remains strong, which should continue to support consumer borrowing and, most important, repayment, which should help boost profits for lenders of all types.
Therefore, there are likely many investors out there who want to initiate positions in Financials, despite some of the headwinds. While I see plenty of merit to this strategy, I would caution them away from XLF and in to a better-performing area of the sector. Specifically, this would include smaller, regional banks, which investors could gain exposure to through the SPDR S&P Regional Banking ETF (KRE). To see why, consider the year-to-date performance of both the XLF and the KRE, which has seen a marked divergence in just the first six weeks of 2019, illustrated in the graph below: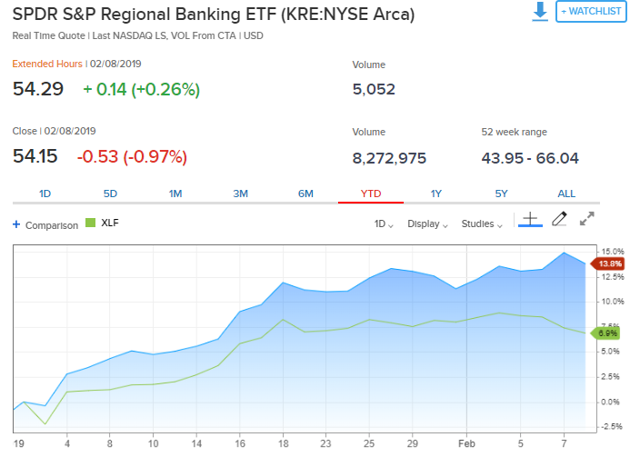 Source: CNBC
As you can see, KRE has offered a return of roughly double what XLF has offered. Furthermore, the fund trades at a similar valuation, with a P/E also above 11, despite the recent outperformance. While the dividend yields are also similar, there are a couple reasons why I believe regional banks will be likely to continue this outperformance throughout the year.
One, with Democrats now in control of the House of Representatives, the banking industry will certainly face increased scrutiny and, possibly, a rollback of the easing of former regulations. The brunt of the impact will likely be shouldered by the largest banks, who have been the targets of multiple investigations, very high penalties, and enhanced scrutiny over the past decade. While much of this is certainly deserved, future regulations will likely target these large, systemically important institutions, and should be less burdensome for the smaller, regional banks. In fact, prior to the 2018 elections, these hypotheses were already beginning to play out. Back in early November last year, the Federal Reserve announced a new supervisory rating system for the largest financial institutions. The key takeaway was the raising of the threshold for the new system from $50 billion in assets to $100 billion in assets, putting only the very largest institutions in this bucket. My point here is that the government seems keen to continue its aggressive oversight of the largest companies but may be unwilling to increase their scrutiny of the mid-tier firms. This would be a positive for the assets in KRE's portfolio.
Two, there continues to be consolidation in the regional bank space, and this has so far been a net positive for the sector. In fact, KRE's second largest holding, SunTrust Banks, Inc. (STI), was just involved in a major merger announcement last week. The immediate impact was largely positive, with STI's stock trading up over 10% the day the deal was announced. Furthermore, many industry experts expect similar announcements to continue going forward. To illustrate, consider the recent comments made by top executives, reported by Bloomberg. Brian Moynihan, the Bank of America CEO, stated at the World Economic Forum in Davos. "There are now 6,000 odd banks, and you'll find them continuing to consolidate". In line with this thinking, Citigroup CEO Michael Corbat stated "In the U.S. today, there's probably not much appetite for the big banks to get bigger (from politicians and regulators)". These comments suggest a couple key points. One, it is likely we will see more consolidation in the banking industry. Two, this consolidation will likely occur within the regional, smaller banking space, which will directly benefit the top holdings of KRE and have less of an impact on the major financial institutions that make up XLF.
Bottomline
I have been long the banking sector for a while but have been disappointed with the results. As the sector has rallied, along with most of the market, off the December lows, I am using this opportunity to lighten up on my positions within the space. While I still see value, I do not expect much in terms of market outperformance this year, and I believe funds like XLF will simply manage to move in line with the major indices, not above them. However, there are some potential tailwinds, such as higher interest rates and an economy that grows faster than expected, which could send the sector rallying broadly. While certainly feasible, I see the best way to play this potential through the regional banks, or funds like KRE that hold them. Recent performance shows KRE besting XLF, and the outlook, in terms of consolidation and government scrutiny, continues to favor the smaller players. Therefore, I would caution against going overweight funds like XLF at this time and, for investors who insist on having Financial exposure, would recommend the regional banking sector as an alternative.