Introduction
Cleveland-Cliffs (NYSE:CLF), a focus stock of The Contrarian since inception on December 7th, 2015, rallied strongly on Friday, February 8th, gaining 8.5% for the trading session, and rising 12.4% for the week, which was its seventh straight week of gains, following CLF's headline Q4 2018 earnings beat, and more importantly, CLF's implicitly raised guidance for both 2019 and 2020.
Bigger picture, CLF, partly through Vale's (NYSE:VALE) tragic misfortune, which is going to raise iron ore and pellet prices globally, and partly through their own innovation, including the forthcoming HBI (hot-briquetted iron) Toledo, Ohio facility, favorable contract renegotiations (past and upcoming), and future mine openings (Empire in Michigan and Nashwauk in Minnesota), is positioned to expand revenues and overall margins, driving an increase in equity value per share.
At this juncture, CLF shares are worth roughly $19 through EV/EBITDA valuation analysis, and I can model higher share price targets using a discounted cash flow approach that I have used privately.
A Healthy 2018 And A Brighter Future Ahead In 2019 And 2020
Cleveland-Cliffs' Q4 2018 results ex-adjusted items actually came in moderately below (elevated) expectations. However, the silver lining was that both 2019 and 2020 guidance were implicitly raised.
First, outside the tax allowance release (a favorable $461 million adjustment to GAAP income), there were positives and negatives during the quarter as shown by my highlighted excerpt from the press release below.

(Source: Cleveland-Cliffs Q4 & Full Year 2018 Earnings Press Release)
Bigger picture, higher pellet margins in 2019, and an expanded HBI plant coming online in 2020, are going to raise CLF's net income, operating cash flows, and operating margins.

(Source: Cleveland-Cliffs Q4 & Full Year 2018 Earnings Press Release)
With adjusted EBITDA coming in at $766 million for 2018, a $1 billion adjusted EBITDA year in 2019 or 2020 is in reach, depending, of course, on prevailing iron ore and pellet prices.
Seven Weeks In A Row Higher
After a very difficult fourth quarter of 2018, CLF's share price has started to respond to the favorable backdrop, rising seven weeks in a row.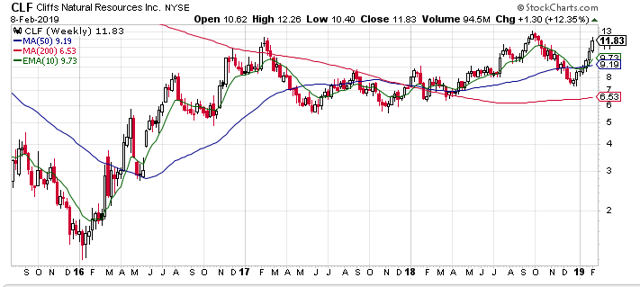 (Source: Author, StockCharts.com)
Looking at the price action from a longer time-frame view, CLF shares could conceivably make new post 2016 highs in the near term.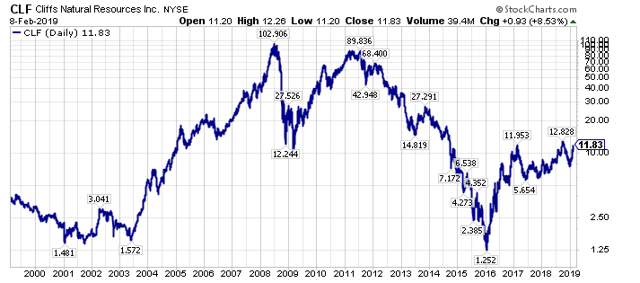 (Source: Author, StockCharts.com)
Longer term, CLF is not the same company it was five years ago, or a decade ago, lacking the metallurgical coal assets in the United States, which were sold by Lourenco Goncalves (maybe his only clear mistake in otherwise what has been an excellent tenure as the CEO of CLF) near cycle lows (a negative with met coal prices where they have been the past several years and where they are projected to be), and also lacking their Australian iron ore operations (generally a positive, though a negative at elevated global iron ore prices).
Still, with an improving domestic steel market (capacity utilization at 81% is at multi-year highs), and an entry into the higher margin HBI market, which will serve the dual purpose of absorbing existing pellet supply, which will provide an impetus for CLF to restart their idled Empire iron ore mine) while diversifying CLF's revenues, and higher iron ore prices and pellet prices for the foreseeable future, it is not hard to model a higher share price for CLF shares.
EV/EBITDA Valuation Suggests $19 Price Target
In a prior public Seeking Alpha article on Cleveland-Cliffs, published on May 31st, 2018, when CLF shares were trading at $8.31 (CLF shares closed at $8.31 on May 30th, 2018), I suggested a targeted share price range of $13.80 to $18.50 per share based on EV/EBITDA valuation analysis.
With adjusted EBITDA of $766 million for 2018, an increase of 67% compared to CLF's 2017 adjusted EBITDA of $460 million, cash of $823 million, long-term debt of $2,093 million, and 304,141,000 diluted shares outstanding at year-end 2018, CLF is current trading at an EV/EBITDA multiple of roughly 6.5.

This is below CLF's historical range of a 7-10x EV/EBITDA multiple. However, it is not the degree of undervaluation that some of the other undervalued commodity equities are trading at by a long-shot.
Favorable to CLF, however, is that they are in the sweet spot of an upturn in results, and with favorable pellet prices, and the HBI plant coming online later in 2020, adjusted EBITDA has a realistic chance of surpassing $1 billion per year, and then climbing further with Empire, Nashwauk, and potential future additional HBI plants adding to results in the intermediate-term future.
If that EBITDA target is hit, CLF's adjusted EV/EBITDA multiple would be under 5, creating plenty of room for share price appreciation. For example, a 7x EV/EBITDA multiple at a $1 billion EBITDA run rate (historically conservative) would imply CLF shares are worth $18.85 per share today, and a higher EV/EBITDA multiple, or higher EBITDA estimates can imply an even higher share price.
For members of The Contrarian, I have done more detailed financial modeling, including discounted cash flow, and future discounted values based on operating margin assumptions, profitability, etc.
Closing Thoughts
Cleveland-Cliffs is ahead of some of our other targeted downtrodden commodity equities in their turnaround, though CLF's balance sheet is just now starting to recognize this progress, with the almost $900 million improvement in tangible book value from December 31st, 2017, through December 31st, 2018.
Adding to the narrative, the rise from purgatory has been a two-steps-forward, one-step back journey, frustrating many shareholders, yet the progress at this juncture is undeniable.
Bigger picture, Cleveland-Cliffs owns top-notch assets on a relative basis located in the heart of the United States that have a moat. Specifically shipping iron ore to North America's steel mills from overseas is costly, pellet capacity is limited, and pellets are the feed-stock for the HBI plants CLF is building.
This dominant position, which has provided the cash flows for CLF's turnaround and had funded the balance sheet repair from the depths of late 2015, while simultaneously allowing CLF to internally fund their HBI plant construction, is going to lead to perpetually higher operating margins, compared to other North American steel companies, which are not really peers but provide a comparative template.
In summary, outspoken CEO Lourenco Goncalves has done an excellent job turning around Cleveland-Cliffs, and he is set to enjoy the fruits of his labor over the past five years.
Bigger picture, fundamentals still do matter, fundamentals were always the wrong scapegoat, and I still believe 2019 is going to be a banner year for value equities, as price discovery, after a decade of growth outperforming value, is poised to return with a vengeance. Specific to Cleveland-Cliffs, the positive fundamentals are just starting to shine through.
To close, even though it has been a very difficult almost decade-long stretch for value-oriented investors, with pockets of significant outperformance, including 2016, I think we are about to enter a golden age for active, value investors, who do the fundamental work, who can find the future free cash flow leading companies, and the most out-of-favor sectors, and the most out-of-favor equities will be at the forefront of this opportunity.
Thank you for taking the time to read this article,
WTK
Disclosure: I am/we are long CLF, VALE. I wrote this article myself, and it expresses my own opinions. I am not receiving compensation for it (other than from Seeking Alpha). I have no business relationship with any company whose stock is mentioned in this article.
Additional disclosure: Every investor's situation is different. Positions can change at any time without warning. Please do your own due diligence and consult with your financial advisor, if you have one, before making any investment decisions. The author is not acting in an investment adviser capacity. The author's opinions expressed herein address only select aspects of potential investment in securities of the companies mentioned and cannot be a substitute for comprehensive investment analysis. The author recommends that potential and existing investors conduct thorough investment research of their own, including detailed review of the companies' SEC filings. Any opinions or estimates constitute the author's best judgment as of the date of publication, and are subject to change without notice.