In August 2017 I wrote an article at Seeking Alpha assessing Margo Georgiadis' performance as Mattel's (NASDAQ:MAT) CEO after her first six months in that position. It was not altogether flattering.
I made two key observations in regard to her performance – one was that there was evidence that the retailers were induced to take more inventory than required by using the carrot of longer credit terms and this, in turn, artificially improved the company's top line numbers. The second was that the cost of excessive bureaucracy was continuing to accelerate. Both could only happen because Ms. Georgiadis either tolerated it or in fact actively encouraged it.
She stepped down from her position as CEO of Mattel on April 26, 2018, and was replaced with Mr. Ynon Kreiz.
The national buyers at the major retailers were and are very positive about his appointment and believe that Mattel has, for the first time in seven years, a CEO who has the skills and the personal attributes required to turn the company around.
It is hence interesting to see how four key company metrics evolved during his stewardship since his appointment.
First, shipments. These have continued to decline but then so have those of Mattel's arch rival, Hasbro (HAS):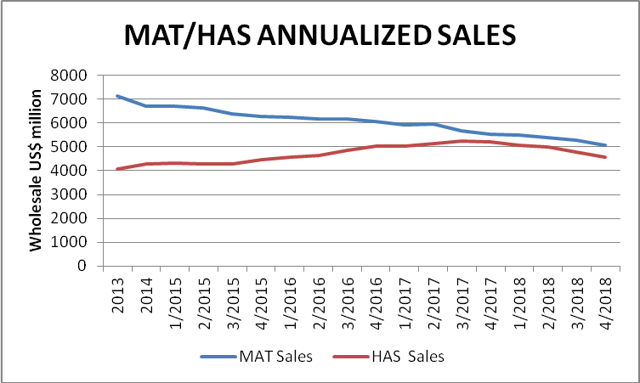 Source: SEC filings
Both companies blame Toys"R"Us' demise for this. This is partly correct in that Toys"R"Us had traditionally been much more generous in its inventory policies than for instance Walmart (WMT) or Target (TGT) which meant that these additional shipments evaporated when TRU hit the dust. However, the major reason why both Mattel and Hasbro lost sales during 2018 was that they had to work down the excessive retail inventories they had built up over the past two years to meet unrealistic sales expectations. The good news is that both companies have in fact done reasonably well in terms of sell-through over the past nine months and that this has continued in January.
One factor which characterized Ms. Georgiadis' leadership was her readiness to tolerate imprudent sales strategies at the expense of the company's long-term health – namely the fact that management encouraged retailers to take in excessive inventories by offering longer credit terms. All indications are that Mr. Kreiz has managed to reverse this trend as shown in the chart below: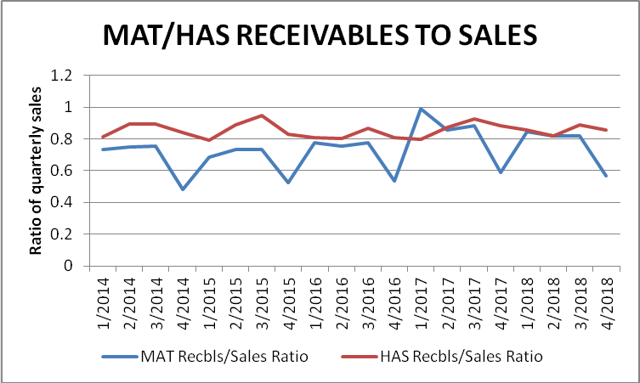 Source: SEC filings
What this demonstrates is that collections are now considerably faster than they were a year earlier which, in turn, has an immediate positive effect on cash flow.
Another factor affecting cash flow is the ratio between inventory and sales which again has an immediate effect on cash flow. Here again, Mattel shows a clear improvement during Mr. Kreiz' tenure: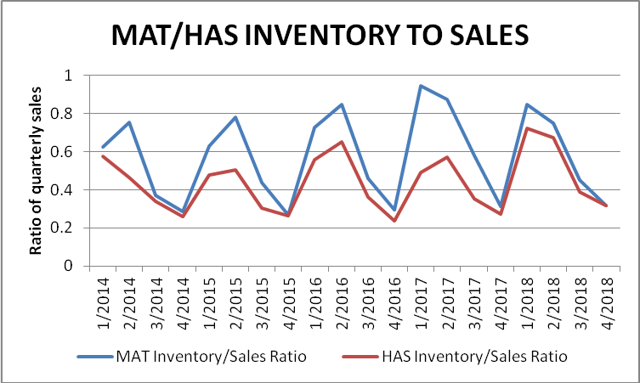 Source: SEC filings
Finally, bureaucracy. Every Mattel CEO has bemoaned the fact that the organization is top-heavy and cumbersome but has done little about correcting this. Last Summer, Mattel's top management finally decided to do something about it and cut 22% of its non-manufacturing jobs – 2200 people in all. The chart below shows that this is bearing fruit: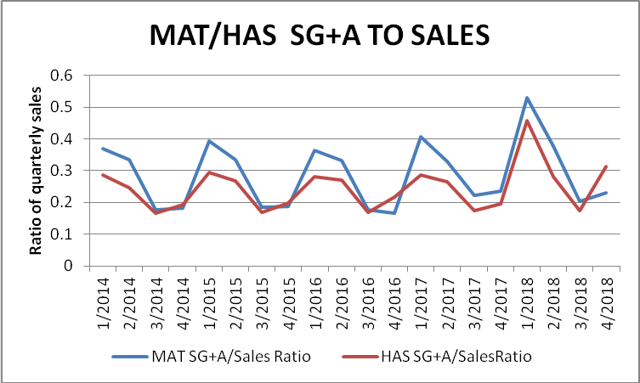 Source: SEC filings
Whilst all this suggests that Ynon Kreiz is a very effective manager of a company in turn-around mode, it does not tell us whether he is equally effective in positioning the company for future growth; growth that has been sadly lacking for a long time. For Mattel to recapture its magic takes something more – a talent to unlock the assets which the company commands and which have been neglected over the past decade. Mattel has absolutely stellar intellectual properties, a first rate sales operation, an unparalleled supply chain infrastructure, and a top-notch marketing team. And yet it has been beaten to a pulp by Hasbro when it comes to getting the consumer to buy toys.
The difference between the two companies is two-fold. One is that Hasbro is a leaner and more nimble operation. Mr. Kreiz has begun to address this as the charts demonstrate. The other is that Hasbro is telling a better story thanks to the movies churned out by Disney (DIS). However, given Mr. Kreiz' background - more than two decades of experience in the media and entertainment industries, particularly children's entertainment – we can expect him to begin focusing on the major issue holding Mattel back - its longstanding weakness in exploiting the stable of its intellectual properties.
The first steps have been taken. Mattel has now created a new division aimed at developing and producing movies based on its iconic brands. Mattel Films will be headed by Academy Award-nominated producer Robbie Brenner, known for her work on "Dallas Buyers Club," "Mirror Mirror" and "The Fighter."
Three major movies are now in the planning stage. The first is Masters of the Universe now scheduled for 2020. Barbie, too, is expected to have her first big-screen film also in 2020. The third is Hot Wheels likely to be released in 2021. There is also talk about three Thomas movies further out – "The Great Race", "Sodor Legend" and "Big World" – which should go a long way towards reversing the negative trend besetting the company's Preschool business.
These are in addition to the two movies already scheduled for 2019 and 2020 – Toy Story 4 and Wonder Woman. Also, the Mattel licensing team just acquired the BTS license and will launch dolls, collectible figures and games in Summer this year. This is potentially a very big deal and one the buyers are enthusiastic about.
All things considered, there appears to be a clear and viable road map for Mattel's key Boy/Girl category.
As for the second-most important category – Fisher-Price - the current focus is on ploughing ahead with the development of learning products. This is a preschool subcategory which is growing rapidly around the globe and where Fisher-Price has already made considerable progress against VTech and Leapfrog. The remainder of the Fisher-Price range appears to be in a holding pattern and this will need to change if overall significant growth is to be accomplished. This growth can probably only come from Thomas and the three movies mentioned above are presumably designed to achieve this. Again in this instance, Ynon Kreiz' focus on harnessing the movie media may well be instrumental in bringing this about.
American Girl continues to be a major headache and all indications are that the decline in its business will continue. One problem is price – American Girl 18" dolls retail at $115 whereas a very similar Our Generation doll from Battat, also 18", retails at $29.99. The other is innovation – whilst there have been numerous variants of the doll, it has not moved into new directions of consumer appeal the way Barbie has of late. The third is that Mattel has never been particularly good at running a retail operation – in terms of skill set, it is clearly an outlier for them. American Girl represents 6% of Mattel's business at this stage, down from 9.5% in 2014, which tells us that this business is worth saving. Mattel continues to talk about several years of turnaround efforts. However, it is unlikely that Mattel is still making money on American Girl and unless a reversal of its fortunes is evident within the next two or maximum three years, the company may be well advised to sell it.
Finally, Mega. At this point, Lego has a market share north of 70% and Mega stands at around 15%. There are two problems facing the brand. One is that the range was vastly oversold internationally once Mattel rolled it out from its traditional base in North America. Mattel definitely knows how to sell in product and get distribution but they went overboard this time. Yes, they were very successful in getting the retailers to stock the brand but then did not support it adequately. As a consequence, movement from the shelves was much slower than expected and the result was a vast overhang of product at the retailers – an overhang which only now is coming under control. The second problem was that Lego at the very same time faced a slowdown in consumer demand and compensated for this with increased advertising and promotional campaigns which totally overpowered Mattel's already minimal efforts. However, first quarter sell-through suggests that Mega is starting to do a little better and reports from the retailers indicate that the inventory overhand is no longer an issue. The forthcoming Pokemon Detective Pikachu movie for which Mega holds the license should also help and we can look forward to an overall improvement in the brand's performance this year, particularly since the long-anticipated Lego movie appears to be pretty weak in terms of box office or toy sales generation.
The final takeaway is that Mattel will continue to face headwinds but that the company is finally moving into the right direction. The national buyers believe this and are willing to again support the company in the many ways only the big retailers can.