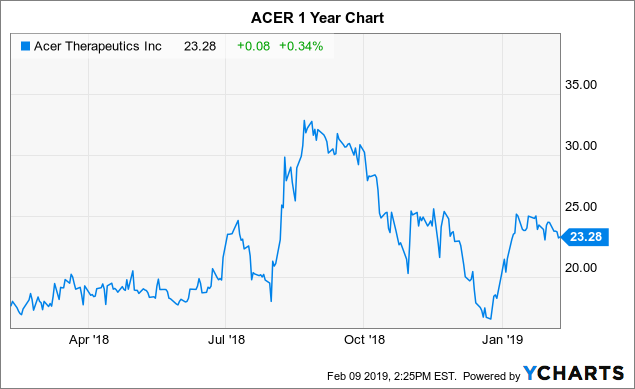 Acer Therapeutics Inc. (NASDAQ: ACER) ("Acer" or the "Company") is a pharmaceutical company headquartered in Newton, Massachusetts. On September 25, 2018 I published my first article on Acer in which I described the Company's history and its business plan to focus on orphan and ultra-orphan diseases with significant unmet need. I also described in some detail the background and market potential of Acer's first two late stage clinical drug candidates for the U.S. market for severe genetic disorders:
EDSIVO™ (celiprolol) for the treatment of vascular Ehlers-Danlos syndrome ("vEDS"). The Company anticipates, if all goes well, EDSIVO could be approved by the FDA by late June this year, and brought to market in the U.S. shortly thereafter; and
ACER-001 a fully taste-masked, immediate release formulation of sodium phenylbutyrate, for the treatment of urea cycle disorders ("UCD") and Maple Syrup Urine Disease ("MSUD").
Acer's first two drug candidates have already demonstrated clinical proof-of-concept, and Acer intends to seek approval for these drugs in the U.S. using an expedited regulatory pathway set out under sub-section 505( b)(2) of the Federal Food, Drug, and Cosmetic Act, (or "FFDCA"), that allows an applicant to rely for approval at least in part on third-party data. This expedited regulatory approval process will expedite the preparation, submission, and approval of these two drug candidates by the FDA.
For those unfamiliar with Acer, and for a more detailed discussion on EDSIVO, ACER-001 and orphan or ultra-orphan diseases generally, I invite you to read my September 25, 2018 article, Acer Therapeutics Focus on Rare and Ultra Rare Diseases: A Potentially Lucrative Business model.
Summary Of Corporate Structure Symbol: NASDAQ: ACER
Outstanding shares: 10.1 million as of December 31, 2018
Fully Diluted shares: 10.9 million includes approx. 800,000 outstanding options, as of December 31, 2018
52-week share price range: $16.02 to $34.10
Share price February 8, 2019 @ close: $23.28
Average daily trading volume: 26,290 shares
Market Cap: $234 million as of February 8, 2019
Debt: $0.00
Estimated Cash or equivalents: * $45 million as of September 30, 2018
Cash runway according to Acer: H1 2020
All dollar references are in $U.S.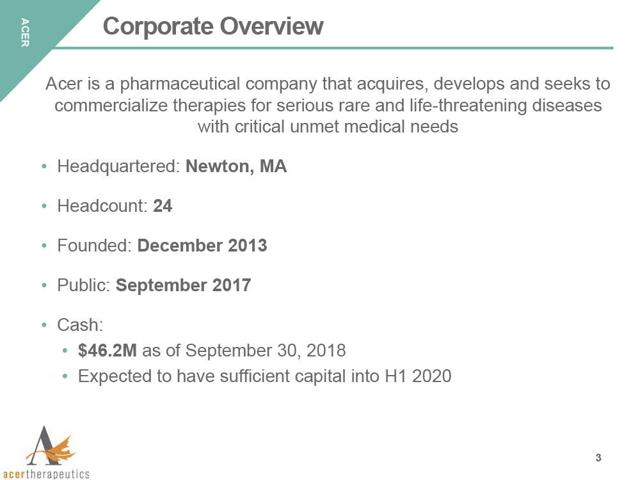 Source: Acer January 2019 corporate presentation on website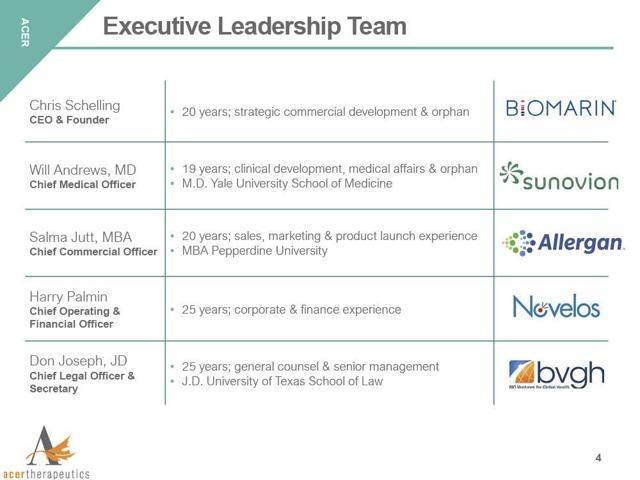 Source: Acer's January 2019 corporate presentation
Acer's business plan has been to take advantage of the opportunities to acquire commercial or near-commercial stage drugs into the U.S., the E.U. and other jurisdictions to treat rare or ultra rare diseases. The plan has been to acquire and bring to market at least one new orphan or ultra-orphan drug each year. To help achieve that goal, Acer has been actively searching for new potential candidates.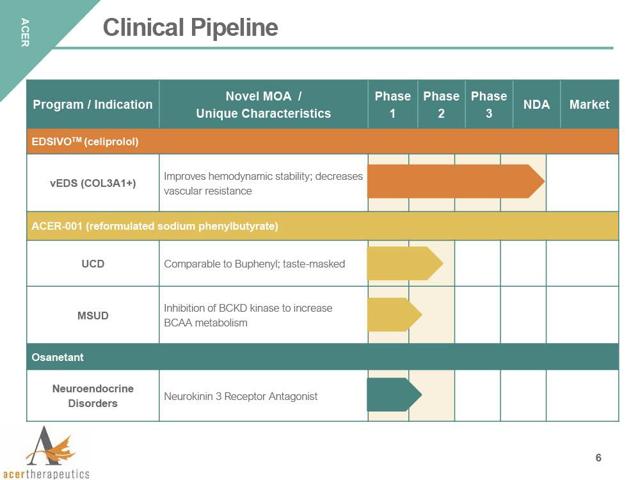 Source: Acer's January, 2019 corporate presentation
Prior to its new licensing deal with Sanofi for osanetant announced on January 2, 2019, discussed in more detail below, Acer owned two late stage drug candidates for the U.S. market for severe genetic disorders, EDSIVO™ (celiprolol) for the treatment of vascular Ehlers-Danlos syndrome and ACER-001 a fully taste-masked, immediate release formulation of sodium phenylbutyrate, for the treatment of urea cycle disorders ("UCD") and Maple Syrup Urine Disease ("MSUD").
EDSIVO is Acer's most advanced drug candidate and arguably its most valuable asset at the moment. On December 26, 2018 Acer announced that the FDA had accepted Acer's NDA for EDSIVO for the treatment of vEDS for review. The FDA also granted priority review of the EDSIVO NDA with a PDUFA target action date of June 25, 2019. Priority review accelerates the FDA review process for drugs that offer significant improvement in treatment or to provide treatment where no satisfactory alternative treatment exists.
I remain quite bullish on Acer's prospects for EDSIVO for the reasons set out in my September 25, 2018 article. The acceptance of the EDSIVO NDA by the FDA and the granting of the priority review simply reinforces my conviction.
There is no FDA approved drug to treat vEDS. The vEDS population is an estimated 5,000 patients in the U.S. I had previously estimated that Acer's commercial strategy of employing a 25 person strong sales force to initially target 50 Centers of Excellence to treat vEDS patients could generate an annual run rate of $50 million to $100 million in EDSIVO sales by H2 2020 (based upon an annual drug price of $100,000 to $120,000). With an estimated 100 Centers of Excellence being set up within the U.S. within 3 years, peak sales of EDSIVO have been estimated by analysts to be $350 million to $400 million per annum.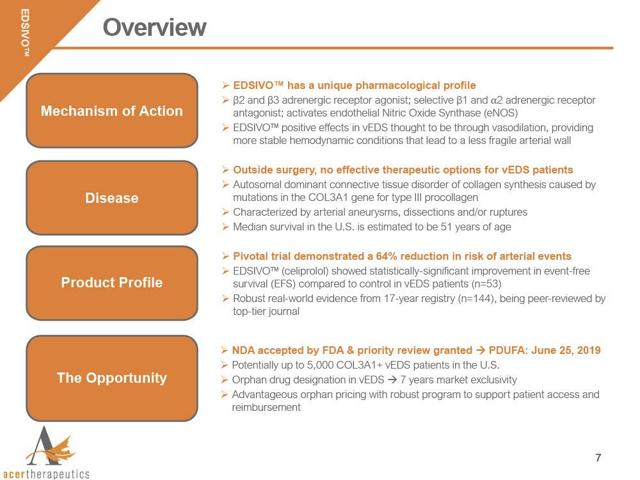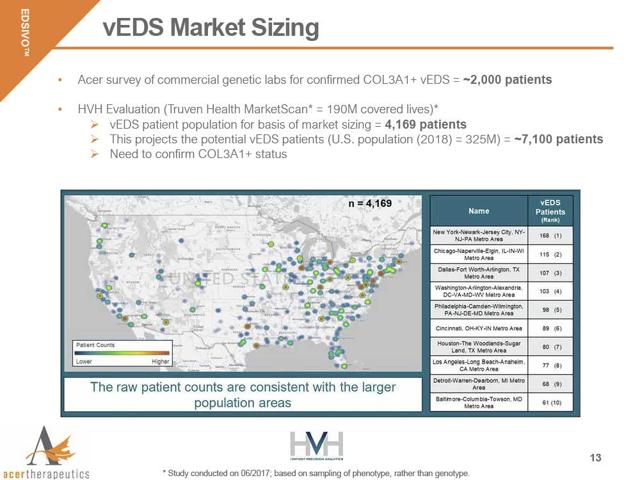 In a research note dated February 8, 2019 written by Tim Lugo and Myles Minder, Ph.D., of Willaim Blair, the authors wrote about their discussions with Acer's CEO Chris Schelling and COO/CFO Harry Palmin, following William Blair's hosting of a meeting with Acer's senior management on February 6, 2019. They indicated that Acer's management commented that they would also commence a pediatric program and submit an sNDA for pediatric use of EDSIVO, which made sense given the ability to conduct family genetic testing to identify COL3A1 children suitable for early intervention with EDSIVO.
ACER-101: Acer's second drug candidate ACER-001 is focused on the treatment of urea cycle disorders ((UCD)), another orphan disease. The FDA has suggested that Acer conduct a bio-equivalence studies in 64 health patients which is expected to be sufficient for regulatory filings. The bio-equivalence study is expected to be completed by Q3 2019 after IND clearance. The Company then expects to file an NDA filed for ACER-001 via the sub-section 505( b)(2) pathway to treat UCD in late 2019; if all goes well, approval of ACER-101 could be obtained in the U.S. in Q4 2020 with a commercial sales launch for the treatment of UCD to take place shortly thereafter.
ACER-001 expects to compete directly with Horizon's orphan drug Ravicti which is currently priced at $900,000 per year (closer to $500,000 per annum after rebates and discounts). Acer currently anticipates that ACER-001 will be priced at $250,000 to $275,000 per annum, and expects it will cannibalize Ravicti's sales. If only 300 UCD patients switch to ACER-001 for the treatment of UCD (at $250,000 per annum per patient in revenues) that alone could generate $75 million or more in annual sales for Acer which could ramp up very quickly.
Acer also plans to expand the treatment indications for ACER-001 to include maple syrup urine disease (MSUD ), already orphan drug designated. Early clinical studies at Baylor College of Medicine, albeit in a very small patient group, suggest ACER-001's potential to treat MSUD. Subject to Acer's capital constraints, Acer hopes to file an IND for ACER-001 for the treatment of MSUD in 2019, and subject to successful clinical trials, to file an NDA for ACER-001 to treat MSUD in 2021.
Acer's World-wide In-Licensing Deal with Sanofi for Osanetant, a NK3 Receptor Antagonist
On January 2, 2019 Acer announced an exclusive in-licensing deal with Sanofi under which Acer would be granted worldwide rights to osanetant, a clinical-stage, selective, non-peptide tachykinin NK3 receptor antagonist. According to the announcement, Acer plans to initially pursue development of osanetant as a potential treatment for certain neuroendocrine-related disorders, with no further details being provided. Financial terms of the license agreement were also not disclosed.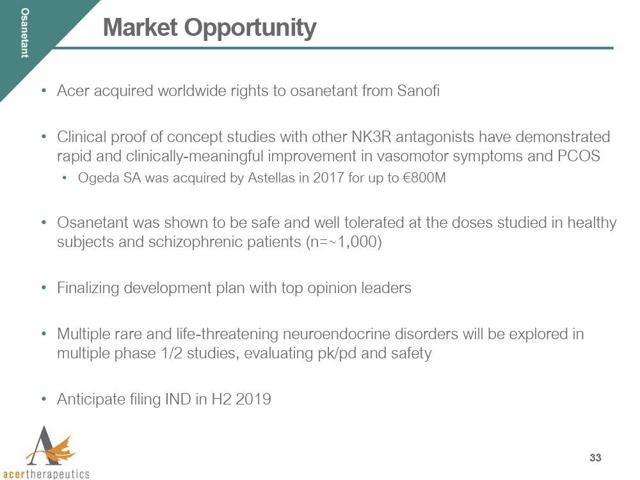 Source: Acer's January 2019 corporate presentation
CEO Chris Schelling is quoted in Acer's January 2 press release as stating,
The drug perfectly fits Acer's acquisition and development model of de-risked assets – it already has robust non-clinical, pharmacokinetic and human safety data, and based on recent studies involving antagonism of the NK3 receptor, we believe it can be successfully repurposed to treat a variety of neuroendocrine disorders.
There is no mention in the January 2 press release of osanetant being a drug specifically targeting an orphan or ultra-orphan disease. For the reason discussed below this deal may, in part, be an exception to Acer's business plan to focus on orphan and ultra-orphan diseases.
On January 4, 2019 I had a phone call with both Acer's CEO Chris Schelling and CFO /COO Harry Palmin to discuss the press release. Chris Schelling explained that NK3 receptor antagonists, including osanetant (owned by Sanofi) were originally thought to be of benefit for the treatment of schizoprenia, depression, and cocaine addiction. When the trials for those indications weren't successful, the 3 big pharma companies exploring NK3 receptor antagonists (AstraZeneca, GlaxoSmithKline and Sanofi) effectively abandoned further exploration of the NK3 receptor antagonists.
However during the past 5 years a number of smaller pharmaceutical companies began taking a second look and found that NK3 receptor antagonists may be effective to treat other medical conditions including: (1) non-hormonal treatment of menopause-related vasomotor symptoms which include hot flashes and night sweats, (2) Polycystic Ovary Syndrome ("PCOS") and (3) potentially other neuroendocrine-related disorders.
AstraZeneca's NK3 Receptor Drug Candidate Licensed to Millendo Therapeutics- Phase 2b Trial for PCOS Terminated Because of Liver Toxicity Issues
Back on January 5, 2016 Millendo Therapeutics announced that it had licensed AstraZeneca's Phase 2 NK3 receptor drug candidate AZD4901, also referred to as MLE4901, for the treatment of Polycystic Ovary Syndrome (PCOS). In fact the early clinical studies testing MLE4901 saw very positive results.
According to Millendo's January 5, 2016 press release,
..(PCOS) is the most common endocrine disease in women, estimated to affect 5% to 15% of the female population. ... Clinical symptoms include androgen excess, menstrual dysfunction, metabolic syndrome and infertility. Current treatments are used off-label and directed at managing symptoms. There are no approved therapies for PCOS on the market."
Unfortunately during the Phase 2B study involving MLE4901 for the treatment of PCOS, the Phase 2B study had to be terminated in late 2017 because of liver toxicity issues associated with MLE4901.
However, the earlier clinical study sponsored by AstraZeneca showing potential efficacy of AZD4901 in the treatment of PCOS involved 67 randomized female patients (65 evaluable). The early study results were published in the Journal of Clinical Endocrinology & Metabolism, Vol. 101, Issue 11, 1 November 2016, pages 4313-4321 with the title, Neurokinin B Receptor Antagonism in Women With Polycystic Ovary Syndrome: A Randomized, Placebo-Controlled Trial. Unfortunately, because of the liver toxicity issues, AstraZeneca's Phase 2b trial was terminated and AstraZeneca's drug candidate did not move forward.
AstraZeneca/ Millendo's clinical trial failure in treating PCOS may prove to be an opportunity for Acer to pursue with osanetant, which is similar to AZD4901/MLE4901 as it is also a NK3 receptor antagonist, but without the liver toxicity.
GlaxoSmithKline's NK3 Receptor Drug Candidate, Fezolinetant, originally licensed to Ogeda SA; Ogeda was then acquired for up to EUR 800 million by Astellas Pharma Inc.
GlaxoSmithKline's (GSK) NK3 receptor antagonist drug candidate, fezolinetant, was licensed to Belgium based Ogeda SA, a privately owned drug discovery company. Fezolinetant became Ogeda SA's lead investigational drug candidate. In January, 2017, Ogeda announced positive Phase 2a study results for fezolinetant in the treatment of non-hormonal treatment of menopause-related vasomotor symptoms (MR-VMS), generally characterized by hot flashes and night sweats. In the 80 patient Phase 2a study, fezolinetant reduced the frequency of moderate to severe hot flashes (HF) at week 4 by 89% from baseline compared to 38% for placebo (p <0.001) and 93% at week 12. No severe adverse events were reported.
A few months later on April 2, 2017, Ogeda announced that it was being acquired by Astellas Pharma Inc. for a total of up to EUR 800 million with an initial payment of EUR 500 million for 100% of the equity in Ogeda, with Ogeda shareholders being eligible to earn an additional EUR 300 million upon attainment of certain clinical development and regulatory milestones. Essentially Astellas was paying EUR 800 million (nearly US $1 billion) for Ogeda's NK3 receptor antagonist drug candidate fezolinetant even before AstraZeneca's own NK3 drug candidate clinical study was terminated because of toxicity issues.
Astellas posted a December 14, 2017 detailed power point presentation on its website on fexolinetant. See fexolinetant: A Novel Approach for Targeted Menopausal Sympton Relief.
According to the U.S. clinical government website tracking the Phase 2b clinical trial, 365 women patients were enrolled in the Phase 2b trial which was completed on September 14, 2018. On January 31, 2019, Astellas announced that interim results of its Phase 2b clinical trial had met all co-primary endpoints, and that full results would be released in March 2019 at ENDO2019. A Phase 3 clinical trial is planned. A summary of the Phase 2b clinical trial results was presented by Astellas in its January 31, 2019 corporate presentation. See below.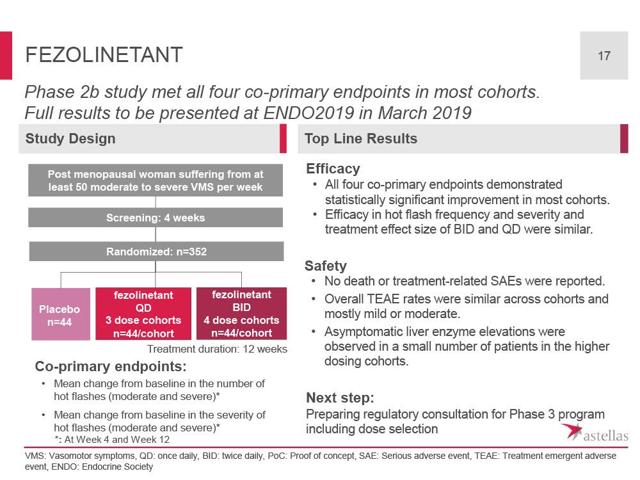 Source: Astellas January 31, 2019 corporate presentation available on Astellas' website.
VMS typically comprises of hot flashes and night sweats associated with decreases in reproductive hormones during menopause but also occurring in response to hormone-lowering therapies, for example, in the treatment of certain types of tumors.
VMS is a very large market affecting women generally from their mid-40s to their mid-60s, and affects up to 80% of menopausal women depending on region. Symptoms range from uncomfortable to debilitating with 64% of women with VMS experiencing moderate to severe symptoms. Approved treatment options included Hormonal Replacement Therapy and Anti-depressants. In the early 1990s a series of clinical studies determined that Hormone Replacement Therapies increased the rate of stroke, breast cancer, coronary heart disease and other serious illnesses. The number of women willing to take Hormone Replacement Therapies plummeted thereafter. Hence there is currently an enormous need to find a safe treatment for VMS, and fexolinetant may help fill that need. Acer's newest licensed NK3 drug candidate may also do so.
Acer's Licensing Deal with Sanofi.
The foregoing discussion of AstraZeneca/Millendo's and GSK/ Ogeda/ Astellas' NK3 receptor drug candidates provide insights to the potential opportunity which Acer obtained entering into an exclusive world-wide license for osanetant.
As a result of their earlier clinical trial experience with osanetant, Sanofi accumulated safety data from approximately 1,000 healthy and schizophrenic patients; according to Acer's CEO there is no evidence of liver toxicity. As well, Sanofi has already filed an IND for this drug with the FDA containing extensive safety and pre-clinical data.
Acer is currently working with leading neuro-endocrine key opinion leaders to determine what treatment indications they believe Acer should focus on in any upcoming clinical trials for osanetant. I assume the indications being considered include the treatment of PCOS and VMS (hot flashes and night sweats). Acer began its work obtaining advice and feedback from key opinion leaders as part of its due diligence process while studying Sanofi's NK3 receptor antagonist.
Given that an IND that has already been filed by Sanofi for osanetant, (in connection with its earlier schizophrenia trials) Acer believes that once it determines where it wishes to focus its treatment indications, it should be able to prepare and file an updated NDA with the FDA, and if accepted, begin one or more Phase 1b/2a sets of clinical trials (to understand dosing and efficacy in one or more treatment indications).
The number of indications to be addressed (and potential number of trials being run) will be decided upon by Acer after feedback is obtained from their key opinion leaders and other advisors considering factors such as market size, unmet need, potential competition, and other commercial factors. If all goes well, Acer's CEO believes that they could be in the clinic testing osanetant in at least one or more neuro-endocrine indications in H2 2019. Acer's CEO acknowledges that some indications may not be considered orphan diseases, such as PCOS. Osanetant may in fact have enormous commercial potential.
According to a comment in the William Blair February 8th report on Acer, Acer's management intends to hold an inaugural research and development event in mid-2019 to discuss its plans for osanetant. I expect that we may hear Acer announce multiple indications for which osanetant will be tested.
The financial terms of the osanetant licensing deal with Sanofi were not disclosed but given that there is no indication that Acer's balance sheet is being materially affected in the short term, I assume the deal requires a relatively small upfront payment but will be be back-end loaded with payments due upon meeting various milestone events as well as some royalty to be paid upon commercial sales being generated. This deal also reflects well on Acer in being able to forge a relationship with Sanofi. If all goes well with this licensing deal, perhaps other future deals with Sanofi might be negotiated.
Upcoming Potential Catalysts
Acer has the following upcoming potential catalysts:
a. EDSIVO's PDUFA date of June 25, 2019, with anticipated approval of EDSIVO for the treatment of vEDS in the U.S.;
b. Acer's announcement of its plans for osanetant - mid 2019;
c. Osenetant anticipated IND filing with the FDA in H2 2019, with anticipated Phase 1b/2a trial or trials to begin for at least one indication later in H2 2019;
d. commercial launch of EDSIVO in the U.S. in the first 50 Centres of Excellence in H2 2019, assuming approval by the FDA on or before the June 25, 2019 PDUFA date;
e. ACER-001 (NYSEARCA:UCD) anticipated NDA submission with the FDA in late Q4 2019.
Analyst Coverage (Acer's current share price is $23.28 at close on February 8, 2019)
Brookline Capital - Buy Recommendation: Price target: $56.00 (as of January 2, 2019).
Needham & Co: Buy Recommendation: Price target: $48.00 (as of February 8, 2019).
Roth Capital - Buy Recommendation: Price target: $66.00 (as of January 2, 2019).
William Blair & Co. - Outperform rating (as of February 8, 2019). William Blair calculates the sum of parts, risk adjusted NPV for ACER at $54.00, of which $47.05 is attributed to the present value per share of the value of EDSIVO.
HC Wainwright & Co. - Buy Recommendation: Price target: $55.00 (as of January 7, 2019)
Risks
Acer Therapeutics is a pre-revenue development stage pharmaceutical company. An investment in Acer involves numerous risks including, but not limited to, regulatory risks relating to approval of the drug products, potential changes to regulations and laws relating to orphan and ultra-orphan drugs, the FDA failing to approve one or more of Acer's drug candidates, clinical failures in bio-equivalence and other clinical studies, increased competition, intellectual property challenges, loss of key personnel, potential reimbursement challenges from payers, difficulty in raising new funds in the future, future dilution of shares, and general market conditions and risks.
For further details of the potential risks involved, see the risk factors set out in the company's most recent Form 10-Q filed with the SEC.
Before making an investment in Acer Therapeutics, please do your own due diligence and obtain professional advice to determine whether it is an appropriate investment for you as well as determining the sizing of such an investment.
Disclosure: I am/we are long ACER. I wrote this article myself, and it expresses my own opinions. I am not receiving compensation for it (other than from Seeking Alpha). I have no business relationship with any company whose stock is mentioned in this article.
Editor's Note: This article covers one or more microcap stocks. Please be aware of the risks associated with these stocks.