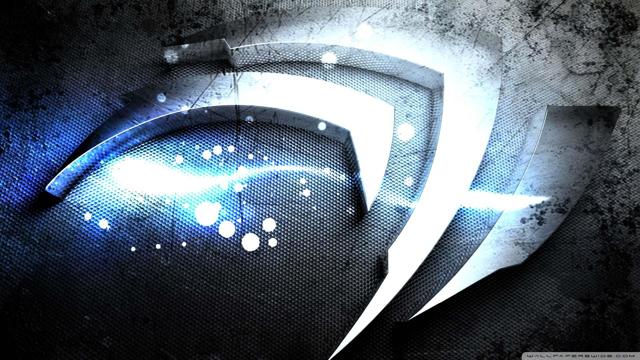 Just two weeks before Nvidia's (NASDAQ: NVDA) 4Q earnings announcement, CEO Jensen Huang made an unusual pre-warning for a sequential Q4 decline due to excess mid-range channel inventory, following the cryptocurrency bust. The market has come to the realization that the crypto demand impact may linger on another quarter or two, and a disappointing Nvidia 4Q earnings announcement may be a foregone conclusion. However, the short-term bull case is that the organic gaming demand after crypto fades out will overcome the macro impact from China slowdown. The long-term bull case is that AI application in Data Center will offset the Cloud spending cut which has become a common problem for the entire tech supply chain.
The Gaming-Crypto Interplay
Gaming still remains the largest revenue contributor (57.8%), although crypto mining demand has become a serious distraction to the organic gaming demand in recent years (Figure 1B). But even Nvidia has cooled in its enthusiasm after the recent crypto collapse. In one of its recent earnings report, Nvidia CEO Jensen Huang called crypto exposure a "small, but not zero, part of our business" after estimated revenue for chipsets used for mining fell by half to about $70 million in the third quarter from the second quarter (Figure 2B).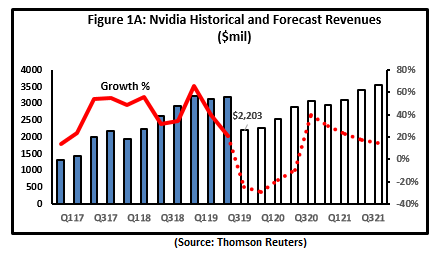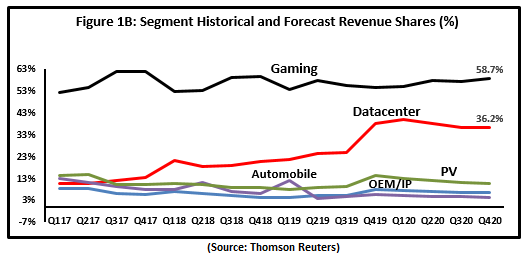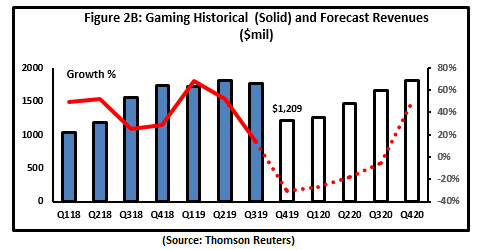 Over time, it has been estimated that graphics-card sales for crypto-mining only account for about 10% of revenue at AMD and about 6% at Nvidia (Figure AA). Based on Mitsubishi's Rakesh, "We believe increasing mining complexity in crypto-mining is driving mining away from CPUs/GPUs to farms and clouds of broad ASIC pools. Given the volatility of crypto-mining trends, while there could be softness in 2018 we believe [long-term] it should be a positive for AMD and Nvidia, with a focus on core PC/NB and data center markets."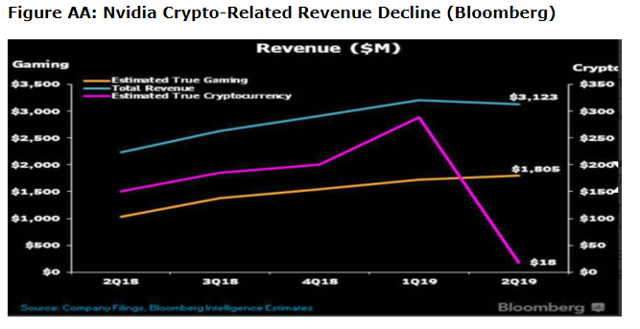 In one of his earlier reports, Susquehanna Financial Group's Christopher Rolland estimated that AMD and Nvidia split more than $500 million in Ethereum-related sales of their graphics processing units in the fourth quarter of 2017. But recognizing the complex trade-off, Rolland also considers crypto-related sales as "false revenue" because of future potential ASIC replacements or crypto prices crashing. During the subsequent 7 quarters into 1H 2019, the crypto impact would have been virtually depleted (Figure AA).
It is only reasonable to expect the same crypto upside trend in 2017 may reverse itself in 2019. Particularly, the crypto effect will likely create the same seasonal trend for Nvidia in 1H 2019. A year ago, with 1Q stronger vs. 4Q18 and 2Q weaker than 1Q, sales got a $289 million boost from cryptocurrency SKUs, driving 1Q's 66% growth (Figure AA). Crypto impact was up from 4Q18's $200 million, or 7% of sales, to 9% of 1Q19 sales. As a result of the reversal, 2Q19 and 3Q19 sales fell to 3% of guidance. With the CEO's pre-4Q warning, the remaining crypto demand should barely register in 2019. With or without the lingering crypto demand, a strong organic gaming demand is always needed to fuel strength but it seems unlikely to happen in 1H 2019 due to the China slowdown as well as the uncertainty in trade talks. The net effect is that gaming sales are poised to drop about 30% sequentially in 4Q (Figure 2B, Figure 2C, Table 1). Additional unintended complication of the gaming GPU pullback may also reflect that AMD GPUs have become a serious contender to Nvidia in 2019.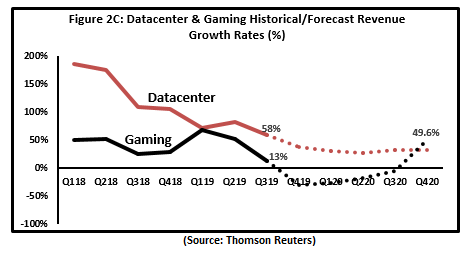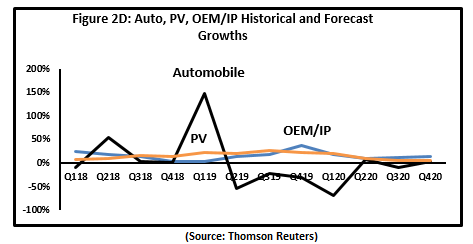 The Data Center-Gaming Interplay
Nvidia's Data Center triple-digit growth rates have always been the "white knight" to save the day (Figure 2C). Since 2017, Cloud vendors' rising use of GPUs in Data Center along with gaming and crypto-driven strength fueled Nvidia's 2017-2018 sales well above consensus. Data Center use of GPUs and widening PC gaming are long-tailed trends, per Bloomberg's Anand Srinivasan. Sales growth rates have not been expected to dampen as much as expected in fiscal 2019. Yet, Nvidia's Data Center has developed its own growth problem in recent quarters. As the industry-wide cloud spending cut has filtered through the supply chain, it becomes more than just the problem for Western Digital (WDC), Seagate (STX), Intel (INTC), or Micron Technology (MU). As a result, Data Center sales growth slowed to 71% from 100%-plus over the prior seven quarters (Figures 2A, 2C, 3B).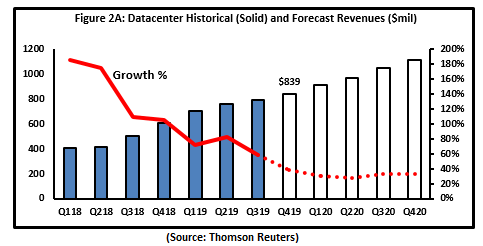 Nvidia's sales interplay between its large gaming segment and fast-growing Data Center unit may suggest significant short-term disruptions, even with strong secular trends in these segments, per Bloomberg's Johnathan Ritucci. The lack of clarity in the gaming GPU segment, widening use of gaming GPUs across non-gaming uses, and the wider GPU use in artificial intelligence are the main drivers of this trend.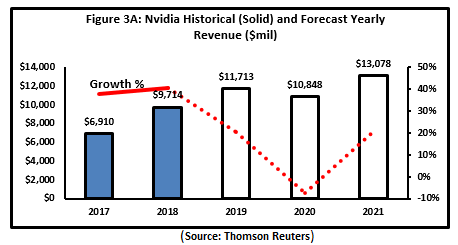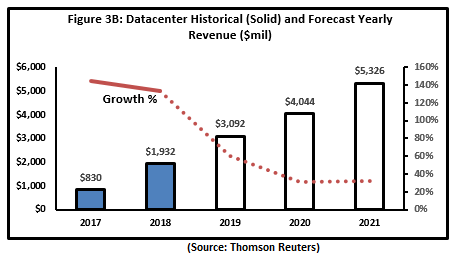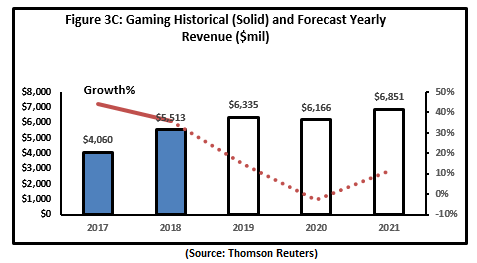 Reasonable 4Q ER Expectation
For Nvidia, the bottom line is that both Gaming and Data Center, two largest revenue centers, see some softness in next 2 to 3 quarters but the larger Gaming is expected to rebound in the second half of 2019 (Table 1). As crypto has to subside by then, the reversal of the Gaming outlook most likely reflects the expectation of some resolution of the current trade dispute or the improvement of China demand. In this case, it is the Gaming that carries the day as Data Center will remain subdued by the end of fiscal 2020. In fact, Nvidia's 2019 outlook seems to reflect the entire tech outlook. From Taiwan Semiconductor Manufacturing Company (TSM), Micron Technology, Advanced Micro Devices (AMD), and Apple (AAPL), the entire supply chain exhibits virtually the same 2019 outlook. Maybe being part of this giant supply chain from Apple as well as the global demand chain from China, Nvidia is expected to have a soft 1H 2019 but a better 2H 2019 (Figure 2B, Table 1).
For Nvidia shareholders, if there is any good news left, it may be that all the bad news has been out for a while. The badly-beaten Nvidia share prices have already reflected it. In the last four months alone, Nvidia has already lost more than half of its market capitalization over Apple's 4Q, Nvidia's 3Q, AMD's 3Q and 4Q downside guidance, and most recently, Nvidia's own pre-warning 4Q earnings. Using the most reasonable standards, the expected weak 4Q ER should have been baked into the prices. In terms of estimating the proper magnitude of post-ER price reaction, in a recent post, "I used management's perspective to estimate the proper Nvidia's share price reaction to its guidance changes. The evidence suggests that Nvidia's shareholders have overreacted to the negative information conveyed by the downside revenue guidance. If just looking at guidance changes alone, Nvidia's shares have been traded at a $40 discount or undervalued by 23%." In other words, there is approximately a $40 "credit" per share for Nvidia to miss its 4Q ER - Nvidia share price should not drop even after a missed 4Q ER.
Just a few days ago, in response to a clearly negative Q4 earnings announcement, AMD shares surged more than 27%. The counter-intuitive price moves have been attributed to investors' response to a simultaneous downside Q1 and Q2 2019 revenue forecasts and an upside Q3 and Q4 2019 revenue estimates.
Incidentally, this is exactly the same Street consensus that Nvidia goes in 4Q ER with.
Disclosure: I am/we are long NVDA. I wrote this article myself, and it expresses my own opinions. I am not receiving compensation for it (other than from Seeking Alpha). I have no business relationship with any company whose stock is mentioned in this article.