Overview and Thesis
In this article, I discuss Waddell & Reed Financial Inc. (WDR), an investment advisory and asset management firm. The company has an above market average dividend yield of 5.9% due to an almost 80% decline in stock price since its peak in early 2014. The current PE ratio is 7.4, almost half of its 10-year average and below the average of the S&P 500. Furthermore, the balance sheet has a net cash position, hardly the sign of a company in financial distress. However, Waddell & Reed is facing significant challenges in its asset management business, reflecting broader industry trends, changes in investor behavior and even more importantly company missteps including poor fund performance. Despite the perceived undervaluation and attractive dividend yield I outline below why small investors should not take a position in the company.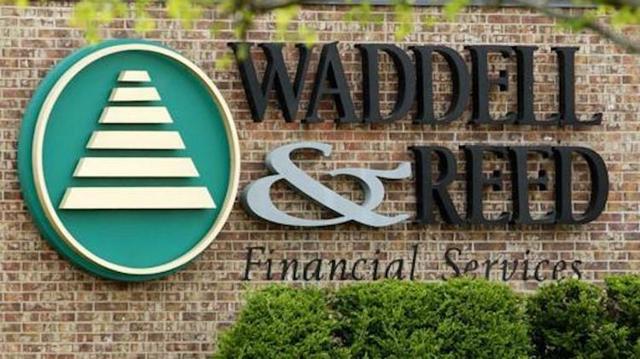 Source: bizjournals.com
Waddell & Reed's Core Business Is Its Actively Managed Mutual Funds
Waddell & Reed is an investment services provider that was founded in 1937. The company offers investment advisory and asset management services to individuals and institutions. The company had roughly $65B in assets under management (AUM) at the end of Q4 2018. Waddell & Reed derives the majority of its revenue from investment management fees, underwriting and distribution fees, and shareholder service fees. The core of the business is Waddell & Reed's product portfolio of mutual funds and a handful of ETFs. The company sells these funds to individuals through its own investment advisors, retail and wholesale broker-dealers, and retirement platforms. The company also acts as a sub-advisor to institutions.
Waddell & Reed Assets Under Management Has Declined Since 2014
Waddell & Reed reported mixed Q4 2018 earnings with a miss on revenue and EPS of $0.60 beating by $0.11 per share. EPS was up 2% sequentially and up 67% on YoY basis. Notably, EPS in Q4 2018 benefited from $16.1M in pension liability revaluation as opposed to a $6.5M loss in Q4 2017. More importantly the company's AUM decreased 17% sequentially to $65B and 19% from Q4 2017 due to market activity and continued net outflows.
The company's AUM and revenue peaked in 2014 at $124B and $1,598M, respectively, and began a multi-year decline as seen in the chart below. Seemingly AUM stabilized from 2016 to 2017, but the decline continued in 2018 due to net outflows from redemptions of $10.4B and market activity in the company's equity and fixed income funds. Notably, only the money market funds experienced net inflows. In parallel to the decline in AUM operating margin has decreased from slightly over 30% to approximately 20% indicating that costs remain elevated relative to AUM. If the company is to return to revenue growth and its previously profitability, then net outflows must be reversed to generate organic growth. However, this will likely be difficult due to industry changes and poor fund performance.
Waddell & Reed AUM History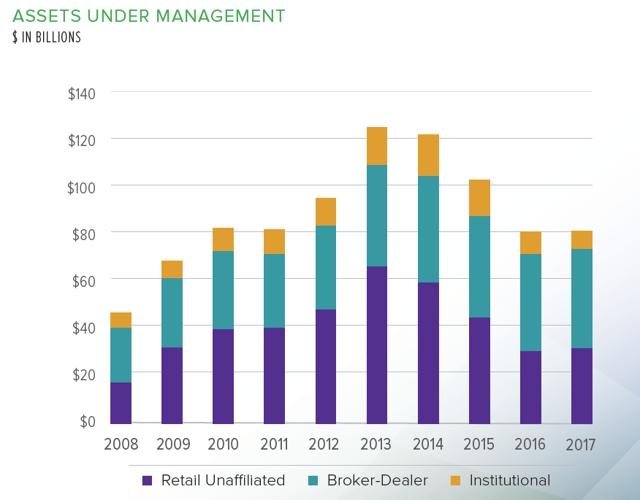 Source: Waddell & Reed 2017 Annual Report
Industry Wide Changes and Poor Fund Performance Are Causing AUM And Revenue Declines
The changes in the asset management industry are widely known. The industry is undergoing a shift where low cost index funds and exchange traded funds ((ETFs)) are gaining market share at the expense of actively managed funds. Waddell & Reed is not a major player in index funds or ETFs compared to Vanguard, Fidelity, Blackrock (BLK), State Street (STT) and Charles Schwab (SCHW), putting it at a distinct advantage to its larger competitors. Even though it is a relatively well-known active fund manager, Waddell & Reed is not as large as Vanguard, Fidelity and T. Rowe Price (TROW) in active funds. Furthermore, Waddell & Reed's funds have comparatively higher expense ratios putting it at a disadvantage in an environment where fund fees are scrutinized by investors.
In asset management, scale and a larger product portfolio provides a competitive advantage and Waddell & Reed is limited in this regard. A larger asset manager can spread its costs over a larger product portfolio of funds. Again, the company's AUM of $65B is much smaller than Blackrock's AUM of $6.3T, Vanguard's AUM of $5.1T, Charles Schwab's AUM of $3.4T and Fidelity's AUM of $2.5T, leading to higher relative fixed expenses. Another consideration is that the company has a smaller product portfolio that is mostly focused on the U.S. market, and further equity funds make up nearly 77% of AUM. The company also faces concentration risk in that five of its mutual funds provide roughly 30% of AUM and management fees. Poor performance in one could lead to a drop in both metrics.
In addition, the company does not have as large a distribution network focusing instead primarily on individual investors through its own advisors and broker-dealers than institutions. At the end of Q4 2018 only 5.6% of total AUM was derived from institutions. Despite the focus on retail, the number of advisors has dropped materially from 1,367 in 2017 to 1,060 in 2018 leading to concern about near-term AUM growth. This lack of scale, distribution network, diversification and product innovation most likely hinders future AUM and thus revenue growth.
Ultimately the single largest contributor to Waddell & Reed's AUM and revenue decline is that fund performance has been below average. In the past 3-year and 5-year time periods its funds have ranked in the bottom half of the Lipper and MorningStar rankings, as seen in the chart below. In the same time period, less than one-third of the company's funds have MorningStar rating of 4 or 5. Although relative performance has improved in the past 1 year, the company will struggle to generate organic AUM growth and lower redemptions unless fund performance improves. Poor fund performance has a compound effect as third-party advisors and institutions are less likely to promote and sell poorly performing funds.
Waddell & Reed Mutual Fund Performance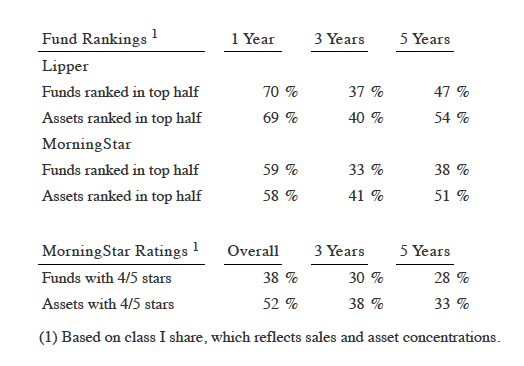 Source: Waddell & Reed Q4 2018 Earnings Release
Waddell & Reed Has A Conservative Balance Sheet With A Net Cash Position
The company makes conservative use of debt with only $95M in long-term debt but this is offset with $849M in cash and equivalents and investments giving it a net cash position. The company has made moves to retain its cash position at the expense of the dividend, which was cut from $1.84 in 2017 to $1.00 in 2018. This cut the payout ratio from an unsustainably high 109% to a more reasonable 44% preserving cash for investing in the business.
Waddell & Reed's Balance Sheet Data and Debt Metrics

Source: Dividend Power Research and Calculations Based on Data from Annual Reports, Quarterly 10-Q and Presentations, and Morningstar.com
Valuation
Waddell & Reed currently pays a dividend of $1.00 per share in 2018. Since I conventionally focus on dividends and their growth, I applied the Gordon Growth Model, using a desired return of 8% and assuming a stable dividend growth rate of 0% - 2% giving an estimated valuation range of $12.50 - $16.67. Note that I use this low dividend growth rate due to the recent dividend cut and the expectation that the company may not raise dividends in the near future. At the closing stock price on February 8, 2019 of $16.89 this implies that the stock is currently priced between 135% and 101% of estimated value suggesting that the stock is fairly valued to slightly overvalued, indicating that there is more downside to this stock.
Valuation Based On Gordon Growth Model
Dividend Growth Rate

Desired Return

0.0%

1.0%

2.0%

8.0%

$12.50

$14.29

$16.67

% Estimated Value at Current Stock Price

135%

118%

101%
Source: Dividend Power Calculations, Gordon Growth Model
From the perspective of current PE ratio and the 2018 EPS of $2.28, the company's current stock price is depressed. However, the long-term decline in AUM and industry trends is likely affecting investor sentiment. Assuming a PE ratio of 12, which is lower than the average over the pat 10-years, gives an estimated valuation of $27. Applying a sensitivity analysis using PE ratios between 11.0 and 13.0 I obtain valuation between $25 and $21. These values are somewhat higher than those obtained from the dividend growth model and may not be conservative. At the closing stock price on February 8, 2019 of $16.89 this implies that the stock is currently priced between 67% and 51% of estimated value.
Estimated Current Valuation Based On PE Ratio
PE Ratio

11.0

12.0

13.0

Estimated Value

$25

$27

$21

% Estimated Value at Current Stock Price

67%

62%

57%
Source: Dividend Power Calculations
Applying a sensitivity analysis using PE ratios between 11.0 and 13.0 and a projected EPS growth rate of 1% I obtain an estimated valuation range of $26 - $31 suggesting that the stock is undervalued. However, note that the there is a high degree of uncertainty in this valuation, as the future AUM, revenue and EPS growth rates are not known. If the company is unable to execute a turn around in AUM declines, then the valuation will be lower.
Final Thoughts
Waddell & Reed is a company that is in turnaround mode but has not yet gained significant traction in its efforts. The main issue here is that poor fund performance has driven AUM outflows and thus revenue decreases. In addition, industry trends such as index funds gaining market share and company-specific issues such as lack of scale and limited distribution network have hindered AUM growth. Although the PE ratio is at a multi-year low, there is risk that the company may take several years to turn around fund performance and reverse AUM outflows. This stock may be of interest for those seeking income due to the attractive 5.9% yield but there is risk here that the dividend may be cut again to preserve cash. Hence, I am not a buyer of this stock.
Disclosure: I am/we are long TROW. I wrote this article myself, and it expresses my own opinions. I am not receiving compensation for it (other than from Seeking Alpha). I have no business relationship with any company whose stock is mentioned in this article.