What Happened?
AT&T's (T) CEO Randal Stephenson spoke with CNBC's Squawk Box team at the AT&T Pebble Beach Pro/Am Golf tournament this morning.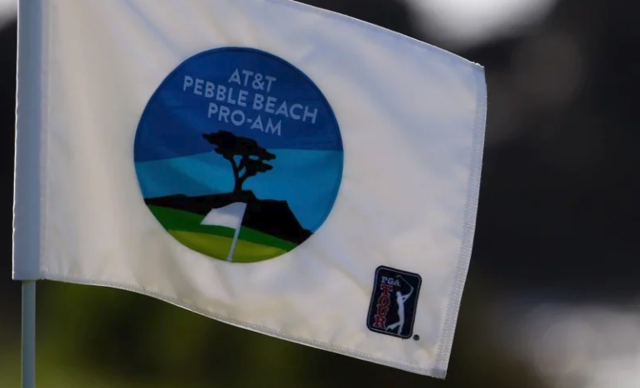 The great thing about the Squawk Box team is they do not pull any punches and get straight to the point. The primary question was why AT&T saw surprise DirecTV and DirectTV Now subscriber losses.
(Source)
Stephenson set the record straight and actually added to the bull case with some additional anecdotes of information. The following is a paraphrased breakdown of his answers, followed by my thoughts on each. Then, we will delve into other elements of the full bull case.
Why did DirecTV and DirecTV Now subscribers have surprise losses?
Those losses were not a surprise, as AT&T had projected the subscription losses in November.
The company expects DirecTV and DirecTV Now subscriber losses to continue.
The DirecTV purchase was needed to obtain the rights to distribute content to mobile and created $3.5 billion in synergistic cost savings.
DirecTV now contributes $4 billion to cash flow.
My Take
So, AT&T actually projected the DirecTV subscriber losses, and DirecTV provides $4 billion in positive cash flow. That does not sound like a reason for a selloff to me. It seems as though some investors have sold first and not asked any questions later. This was fully anticipated by management, as they are standing up the new Subscription Video On Demand, or SVOD, service.
What is AT&T doing with the $4 billion in cash flow from DirecTV?
The $4 billion in positive cash flows from the traditional linear TV services is be invested in the new SVOD service, the new ad business, and AT&T's fiber broadband service. And they are all doing quite well, according to the CEO.
The fiber/broadband service is growing by 6-7%.
The new ad business is a $2 billion business and growing at 26%.
The new SVOD service is where most of AT&T's "excitement, focus, and investment lie."
My Take
I see the recent selloff as just another complete misunderstanding by many (it seems) of what is actually going on here. AT&T is no longer investing in DirecTV. The company is taking the free cash flow from the traditional linear deliver model and using it to invest in a new SVOD service that has not even hit the market yet. 2019 guidance was very strong as well.
2019 guidance was very strong
The great thing about the situation that everyone seemed to miss was the fact that AT&T's guidance for 2019 was actually very strong.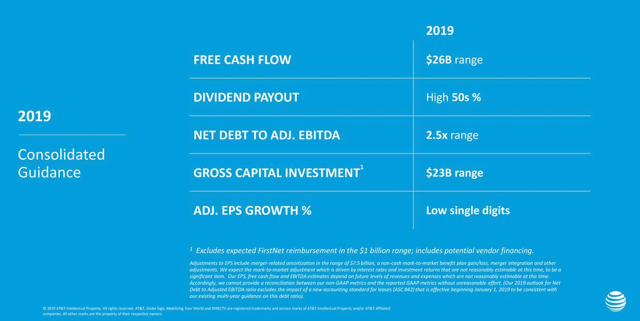 (Source: AT&T Q4 2018 Earnings Call Slides)
AT&T is looking at free cash flow in the $26 billion range even as it stands up an entirely new business. The entire dividend payout amounts to approximately $12 billion. If the company comes through on target, it should have $14 billion left to pay down the debt and invest in new growth businesses. Many are still wary of investing in AT&T because of its large debt load.
Moody's upgrade on the way?
Moody's is focused on AT&T's "willingness and ability" to reduce leverage back toward 3 times. Furthermore, it is paying attention to the company's free cash flows and liquidity levels.

(Source: Moody's)
Moody's also is reviewing the degree of subordination of the notes post merger. The following are AT&T's positive and negative attributes, according to Moody's from back in July 2018:
"AT&T is weakly positioned for its Baa2 unsecured rating reflecting elevated leverage following its merger with Time Warner. The company's qualitative strengths, including strong competitive position, scale and revenue diversity, are offset by weak financial metrics, anemic growth and continued vulnerability to business disruption across its end markets. AT&T's mammoth balance sheet following it merger with Time Warner could quickly test the depth of the credit markets under difficult market conditions, and its low free cash flow after dividends greatly limits financial flexibility. Moody's will continue to focus on AT&T's capital structure and the company's willingness and ability to reduce leverage in its assessment of rating."
If the company can "reduce leverage to 2.5 times debt to equity and free cash flow improves to 5% of debt, a ratings upgrade to A3 might occur." Nevertheless, Moody's stated it could "lower AT&T's rating to Baa2 if free cash flow is negative or if leverage remains above 3x, both on a sustained basis."
After reading over the Moody's information, I think AT&T may be in for an upgrade sometime in the near future. I haven't heard anyone talk about the prospects for that. If the company can get the leverage down to 2.5 like it promises by the end of 2019, I posit Moody's will be handing it an upgrade.
Here's another thing: in a late cycle environment, cash is king. And AT&T is still the king of cash flow. That allows me to sleep very well at night, even with all the uncertainties we are currently dealing with. AT&T had record cash flow in 2018, and it's only expected to grow.
2018 record cash flow
The company had record cash flow of $43.6 billion in operating and free cash flow for 2018.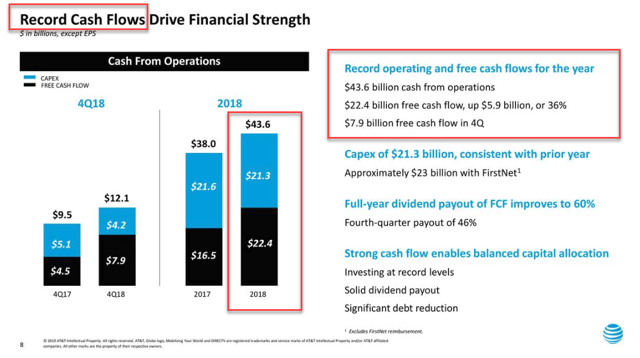 (Source: AT&T Q4 2018 Earnings Call Slides)
Free cash flow was up from $16.5 billion in 2017 to $22.6 billion in 2018. What's not to like? You would never suspect this with AT&T shares selling at such a vast discount to the market. On top of all this, the company has steadily grown its dividend for the past 35 years.
Dividend Aristocrat status
AT&T is a Dividend Aristocrat that has increased its dividend in each of the last 33 years.

Source: Dividend.com
The yield is outstanding at 6.93%, and the payout ratio is in line at 58%.

(Source)
The company's cash flow from operations is highly predictable and substantial. It has $12 billion annual payout covered by 200%. Moreover, with the recent selloff, shares are trading at rock-bottom prices.
Shares on sale
AT&T shares are trading at the low end of the recent trading range.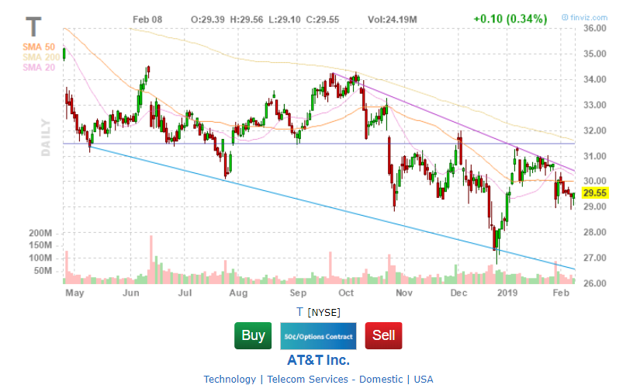 The shares are trading for a forward P/E of 8.25, making AT&T the cheapest mega-cap on the market. The only mega-caps that even come close are the big banks.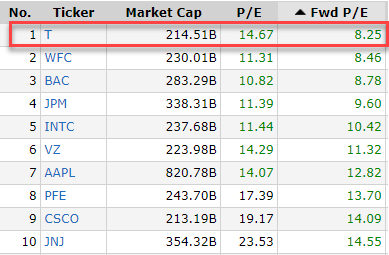 (Source)
This is actually absurd to think that AT&T has lesser prospects than the big banks under the Fed's scrutiny. Maybe the banks should be even cheaper, who knows. All I know is AT&T is trading for half the price on the S&P 500 in general. The S&P 500 is trading slightly above its historical average of 15 times earnings presently.
Bottom line
So, let's sum it all up. AT&T is firing on all cylinders presently. Nonetheless, investors seemed to have misinterpreted the weak results related to DirecTV subscribers. The recent interview with CEO Stephenson should have put those fears to rest, yet I am not sure how many people actually watched the interview. The misunderstanding regarding the difference between the DirecTV products and the new SVOD service has created an excellent buying opportunity for those looking to start a position with the outstanding 6.9% yield to boot. The company produced record 2018 cash flows, which included $22.6 billion in free cash flow, up 36% from $16.5 in 2017. 2019 free cash flow is projected to be $26 billion. Furthermore, it plans on reducing the debt to 2.5 times earnings by the end of 2019, which augurs well for a ratings increase by Moody's. I do not see a more asymmetric risk/reward scenario out there right now. The cheapest mega-cap stock in the index is providing the largest dividend payout and has solid cash flow and growth prospects. I don't get it - someone please point out what I am missing.
Those are my thoughts on the matter, and I look forward to reading yours.
If you enjoyed this article please check out Discovered Dividends! Discovered Dividends is a highly rated service with twenty two 5 star ratings. We are currently offering a FREE TRIAL at the legacy rate of $49/month or $399/year to the next 50 new members! The Quality High Yield Retirement portfolio currently yields 8.41%.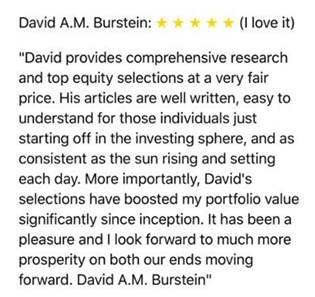 Check it out!! You have nothing to lose and everything to gain! Look forward to hearing from you!
Best regards, David Alton Clark, Founder
Disclosure: I am/we are long T. I wrote this article myself, and it expresses my own opinions. I am not receiving compensation for it (other than from Seeking Alpha). I have no business relationship with any company whose stock is mentioned in this article.