We remain positive on the shares of DXC Technology (DXC), as the company's digital transformation strategy is paying off, and despite the upheaval of the transformation, financial results are surprisingly strong.
DXC Technology is going through a major transformation, which we have covered in earlier articles (here, here and here). After the divestiture of its public sector business, the company operates in two segments: GBS (Global Business Services) and GIS (Global Infrastructure Services).
The main plank is to move towards new growth markets, helping its clients navigate the complex landscape towards digital transformation, in part based on the company's digital platform DXC Bionix (which it has first used in its own organization).
Q3 results
From the Q3 earnings deck: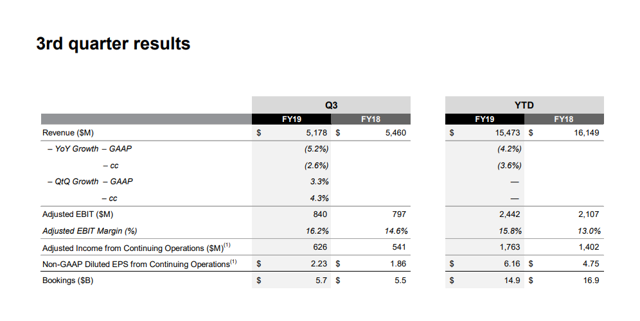 And what is no major surprise for a company in the midst of a transformation and multiple acquisitions, there is a substantial gap between GAAP and non-GAAP earnings: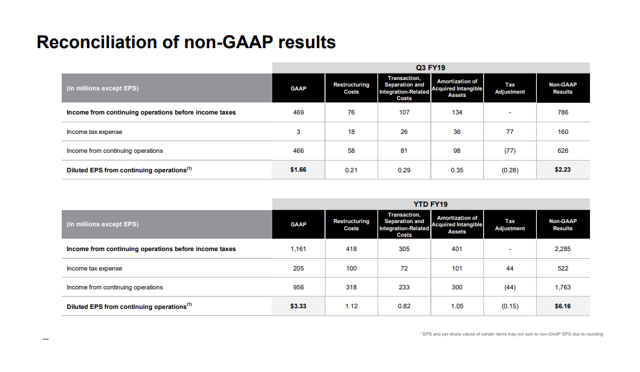 But what's also clear is that whilst revenues are still down, there is a fairly strong recovery in bookings, showing that better times are ahead: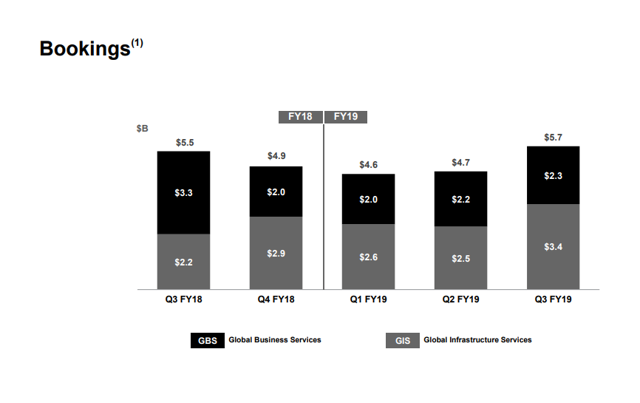 This is largely driven by digital bookings, which were up 85% y/y and boast a book-to-bill ratio of 2:1, while cloud has a 3.3:1 ratio. The company's strategic redirection is clearly paying off.
And the progress in digital isn't manifesting itself only in bookings but also in actual revenues (+16.9% y/y and +9.5% sequentially), even if this is still well short of the CAGR target of 25-30% that was formulated when the strategy was implemented. Cloud revenues do grow in excess of that (+32% y/y).
This growth isn't yet enough to compensate the decline of their more traditional business, but at some point it will, because the relative weight is shifting in favor of the growing parts of the business, not only organically but also through acquisitions.
Guidance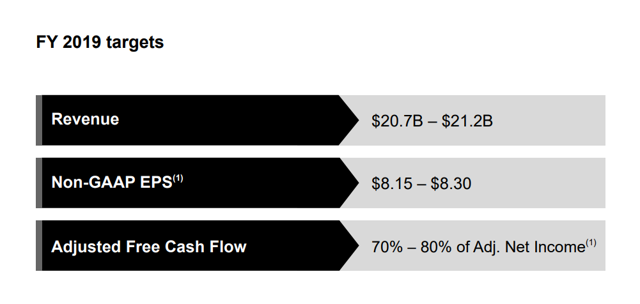 The EPS guidance has been increased somewhat, and the adjusted free cash flow guidance decreased (see below).
Transformation cost
What is remarkable to us is that while revenues are still declining (despite acquisitions), financial results are really quite solid, despite the upheaval of the transformation and its related acquisitions (and divestitures, like that of its public sector business).
The digital transformation is a major operation, and as such, it involves major cost. It's like a big oil tanker changing direction at mid-sea.
Here are a number of items, though this is by no means a complete list:
Management resources (time, effort) in planning and executing
Shifting away from traditional markets
Shedding old capabilities assets and people (14,000 of them)
The cost of investing in and acquiring new companies and capabilities, and the cost of integrating these
Retraining efforts
Anyone who has gone through a major change at a large organization can testify that these are often protracted, even traumatic, journeys which meet much resistance from parts and people with a stake in the past. Since the end of October, the company has hired over a thousand digital employees and identified more than 20000 to be retrained in digital technologies.
The shift in strategy is now starting to pay off. because the demand is there and previously the company couldn't meet all that as it didn't have the resources (especially people). So, digital growth was re-accelerating in Q3, even if management "isn't really happy until digital grows 20%-23% which they think can happen."
There is also something of a shift away from very large ITO contracts to smaller contracts for clients after what management called an "ideation process" in Digital Transformation Centers (from the Q3CC):
And we usually start out with a simple, what we call, ideation process, where we get the client and us together, that's why we've made this investment in the Digital Transformation Center.

So we go and we problem solve. And that usually results in some sort of statement of work or project that may not be huge, some of these are measured in hundreds of thousands of dollars, not millions. But you go in, you rapidly prototype that, you demonstrate that it works and then you take the next step and you begin to scale. And that's how we see more and more of that occurring every day, every week, every month.
Acquisitions
The digital transformation started off with the merger in 2016 with HP Enterprise, but since then the company has acquired (or is in the process of acquiring) a host of other companies, like:
Molina Medicaid Healthcare
Argodesign
BusinessNow
TESM
Luxoft Holding
The services division (Microsoft Dynamics practice) of EG
The most important of these is one that is not yet closed, Luxoft, which generates over $900 million in revenues. From the Q3CC:
Luxoft strengthens DXC's portfolio of digital offerings with proven capabilities in high-growth areas, including analytics and business intelligence, user experience, IoT and blockchain... Luxoft also has a very strong outsourced engineering business. Luxoft has highly skilled digital workforce of more than 13,000 people and as I said earlier an established digital recruiting engine. More than 80% of Luxoft's workforce has a Masters degree or Ph.D... We're estimating $200 million to $300 million - $300 million to $400 million of incremental revenue for the combined company by fiscal year '22.
The company hopes to close the acquisition by the end of June.
Partners
A company of this size in this sector can't operate alone but usually has an extensive partner network, and DXC is no exception. From the company website:
DXC Technology's extensive partner network helps us drive collaboration and leverage technology independence. The company has established more than 250 industry-leading global Partner Network relationships, including 16 strategic partners: Amazon Web Services, AT&T, Dell EMC, HCL, Hitachi Vantara, HP, HPE, IBM, Lenovo, Micro Focus, Microsoft, Oracle, PwC, SAP, ServiceNow and VMware.
From the latest corporate overview: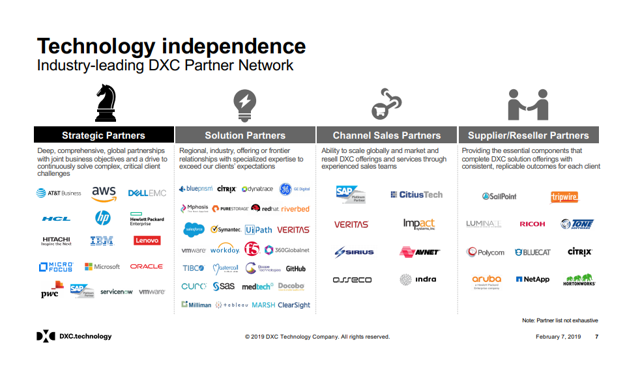 Margins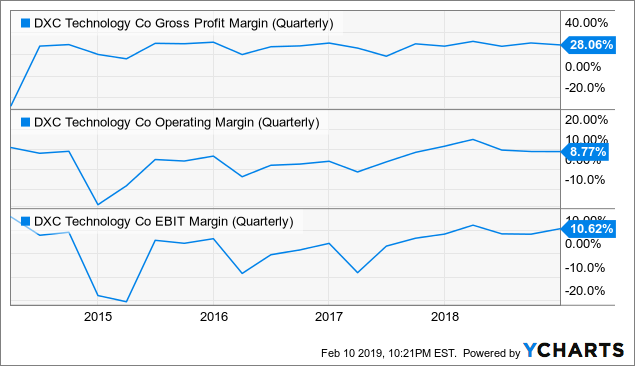 Given the fact that these are GAAP margins, significantly impacted by acquisition cost, they are holding up pretty well. The adjusted margins are considerably higher - for instance, adjusted EBIT margin was 16.2% (compared with 14.6% in the year-ago quarter).
The company is on track to produce $575 million in cost cutting. For instance, during Q3 the headcount was reduced by roughly 3000 people, and by over 14,000 in the last 12 months.
Cash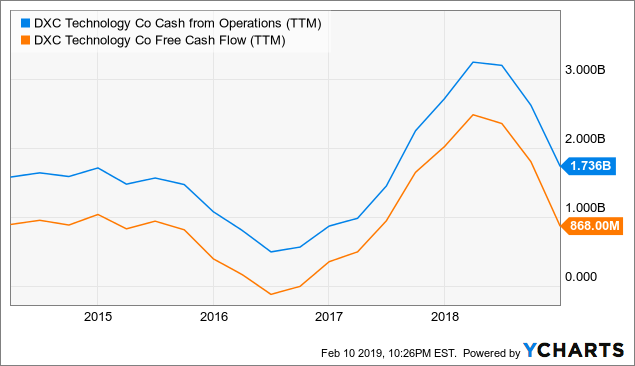 There was a bit of a bonanza earlier in the year, which has petered out, but cash flow is still very solid.
A bit of a problem is working capital, as there was a substantial increase in DSO, which is why the company has decreased its guidance for free cash flow as a percentage of net income. But efforts are underway to improve this, and it will happen naturally as smaller projects become more important.
DXC paid $54 million in dividends and repurchased $797 million in shares, returning $851 million in capital to shareholders ($1.4 billion for the first nine months of the fiscal year).
The company does have a substantial debt of $7.56 billion and $2.5 billion in cash.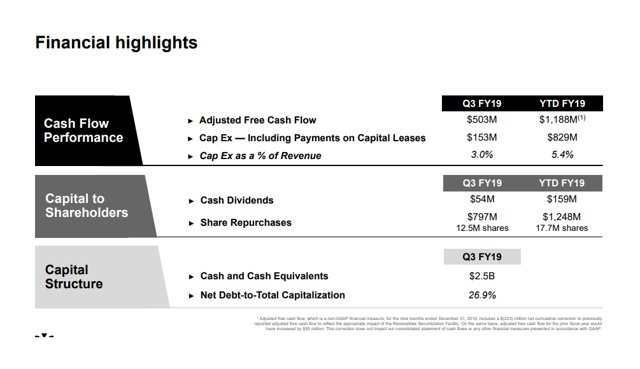 Valuation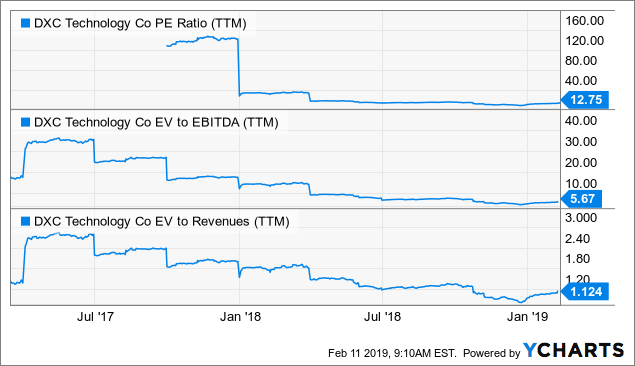 Even on a GAAP basis the shares aren't expensive. Non-GAAP EPS is expected to reach $8.23 this year (which is already well into Q4) and $9.15 the next, which makes the shares very reasonably valued, in our view.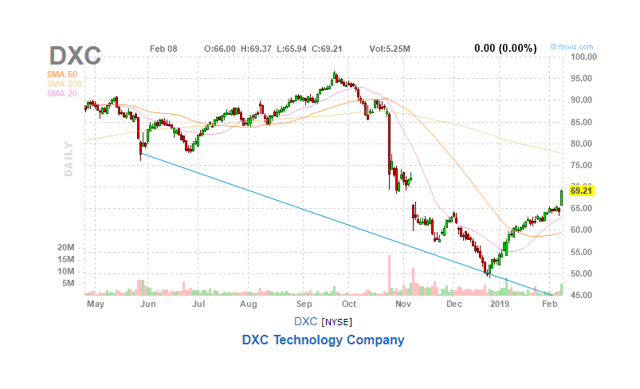 Conclusion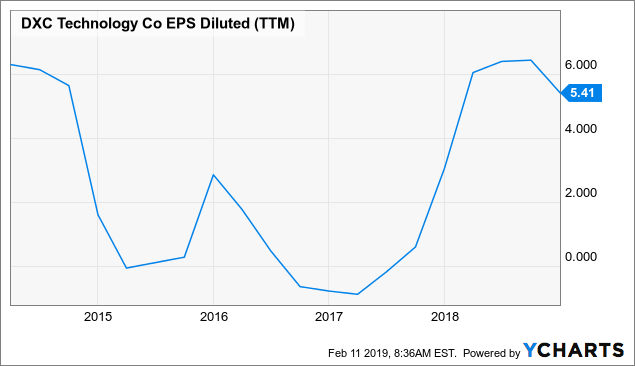 Above is more evidence that DXC's transition is working, and one has to keep in mind that this is GAAP EPS which is marred by acquisition and restructuring costs, which are the result of the transformation.
Therefore, our main takeaways from the company's digital transformation are:
The transformation itself makes eminent sense.
The financial results during the transformation were significantly impacted, but are actually improving considerably.
The results testify to its own digital transformation (with the help of its Bionix platform).
While the path is likely to be rocky and DXC has a long way to go, the end result is likely to deliver a company that will be growing again and producing even better financial results for investors.
Disclosure: I/we have no positions in any stocks mentioned, but may initiate a long position in DXC over the next 72 hours. I wrote this article myself, and it expresses my own opinions. I am not receiving compensation for it (other than from Seeking Alpha). I have no business relationship with any company whose stock is mentioned in this article.