Brookfield Property Partners L.P. (BPY, BPR) reported Q4-2018 results. We examined the numbers and give you our take below on this global real estate play.
Radical pace of dispositions
Considering that by December 31, 2018, it had been under 6 months since the General Growth Properties acquisition closed, BPY has accomplished a rather substantial amount. While BPY made net investments that drained it of $571 million during the quarter, it also disposed assets that generated $1.425 billion. These investments were exited at about 5% over IFRS values, which adds further confidence in the company's NAV valuation. We would add that the latter part of Q4-2018 was rather problematic for capital markets, and the fact that deals got done at such good values again points towards the quality of the portfolio.
Impressive funds from operations (FFO) run rate
BPY's FFO comfortably covered the dividend, and that is without even taking into account the realized gains portion.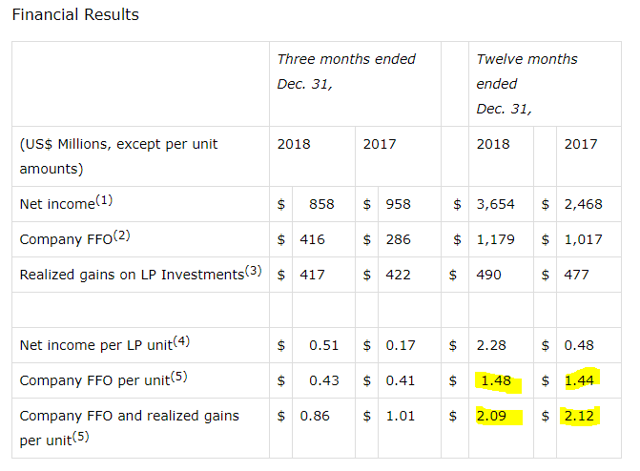 Source: Q4-2018 press release
Investors struggle with whether the realized gains should be ignored or taken into consideration for valuing the company. From our point of view, considering BPY is actually in the business of developing and selling properties, we should take the realized gains into the numbers. It is a comfort to know that the core FFO does also cover the dividends.
Buyback and more buyback and some more buying by parent
All too often we hear of REITs that complain that their shares are undervalued and then land up doing zip about it. That is certainly not what BPY has stood for.
Unit Repurchase Program

Utilizing BPY's in-place NCIB, the Partnership purchased 3,927,910 of its Limited Partnership units in the fourth quarter of 2018 at an average price of $17.04 per unit. In 2018, the total units purchased under the NCIB were 4,661,145 units at an average price of $17.35 per unit.
Buybacks like this are like jet fuel when done so substantially below NAV. The only other company which does this better is this one. But generally, real estate companies live to issue shares, as they rarely have met a deal that they do not find "accretive". Not only did BPY purchase units, but its parent, Brookfield Asset Management (BAM), also jumped into the fray.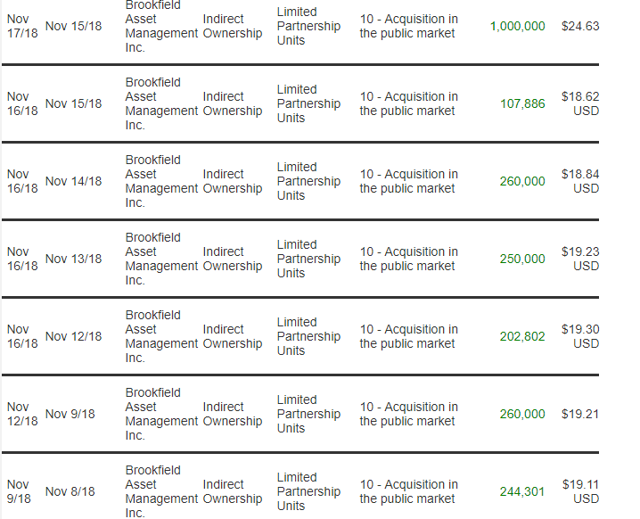 Source: What Is Wrong With Brookfield Property Partners?
Please note that the $24.63 purchase was made on the TSX in Canadian dollars.
If all of this did not already scream that insiders love the stock, BPY added a substantial issuer bid totalling $500 million. Now, a substantial issuer bid is a bit different than a market buyback, as the company declares the price it is read to pay and accepts "bids" tendered in. In BPY's case, the price is between $19 and $21. Most likely they will get their bid filled at close to $21 and take off several weak hands of the market. We would also point out that the $21 price is still well below the NAV of $28.73.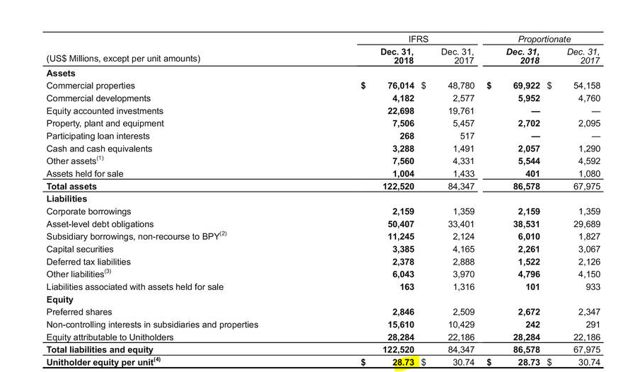 Source: Q4-2018 Supplemental
Key risks
While BPY continues to deleverage its balance sheet, the current leverage is still exceedingly high. The REIT's complicated balance sheet makes it hard to parse through, but the easiest place to visualize this is in its interest coverage.

Source: Q4-2018 Supplemental
This coverage is under 2X and is one of the lowest we have seen in the business alongside Hannon Armstrong Sustainable Infrastructure Capital (HASI) and Landmark Infrastructure Partners LP (LMRK).
Let's look at this another way. BPY's weighted average interest rate is 4.46%.

Source: Q4-2018 Supplemental
If that shifted overnight by 100 basis points, it would amount to a 22.4% increase. That would increase interest expense by $124.5 million quarterly. At Q4-2018 run rates, that would chop core FFO by close to 40%.
The other key risk is BPY's payouts to BAM, which increase rather radically as we go above an annual $1.20 distribution.

Source: Q4-2018 Supplemental
So that latest dividend increase lines BAM's pockets as well as yours. Nothing wrong with that. However, there is always a risk that a company like BPY distributes more than it should to satisfy the general partner. This risk is amplified when BPY is so leveraged that one can definitely debate additional uses of cash.
Conclusion
BPY was radically undervalued in December, and some of that undervaluation has been corrected. There is still some upside, but more backing and filling is likely in order as the market digests those gains and BPY executes its substantial buyback. Going into 2019, we think the NAV will move higher as the foreign currency headwind recedes. In 2018, that did hinder results quite a bit.

Source: Q4-2018 Supplemental
BPY still has above-average risks, and hence, this should always form a small portion of an investor's portfolio. Those thinking that we are being overcautious should note the stark resemblance between BPY's metrics and GGP's pre-bankruptcy metrics in 2008.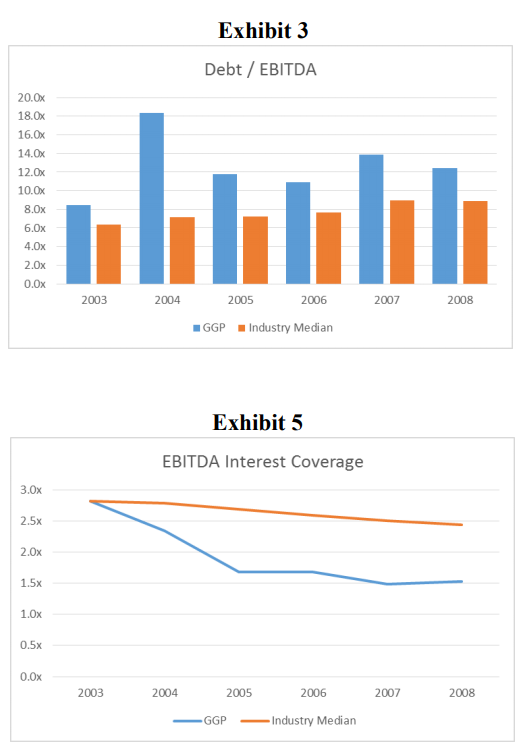 Source: The Bankruptcy Of General Growth Properties
The Wheel of FORTUNE is a comprehensive service, covering all asset classes: common stocks, preferred shares, bonds, options, currencies, commodities, CEFs & ETFs.
Take advantage of the two-week free trial and gain access to our:
Monthly Review, where all trades are monitored.
Trading Alerts. We don't trade every day, but we issue one trade per trading day, on average.
Model Portfolio, aiming at beating the S&P 500 performance.
"Getting Ready For 2019", a 19-part series, featuring our top picks across eleven sectors plus eight segments.
Disclaimer: Please note that this is not financial advice. It may seem like it, sound like it, but surprisingly, it is not. Investors are expected to do their own due diligence and consult with a professional who knows their objectives and constraints.
Disclosure: I am/we are long BPY. I wrote this article myself, and it expresses my own opinions. I am not receiving compensation for it (other than from Seeking Alpha). I have no business relationship with any company whose stock is mentioned in this article.