In my last piece I covered Amgen (NASDAQ:AMGN), which is an up and coming dividend growth stock that I think many DG investors wrongfully ignore. AMGN has only been paying a dividend since 2011 so it doesn't meet the screening requirements for those who want to see longevity regarding the dividend growth histories of their holdings. But, as I pointed out in that article, AMGN's performance from both total return and dividend growth perspectives has been great (much better than many better known DG companies). Well, I wanted to follow through on that theme, highlighting another very high quality company that probably doesn't get the attention it should from dividend growth investors because of its relatively short dividend growth history. That company is Cisco (CSCO), which also initiated its dividend in 2011 and hasn't looked back since.
From a dividend growth perspective, you'd be hard pressed to find a better investment than CSCO since 2011. The company announced a $0.06/share quarterly dividend in March of 2011 and it hasn't looked back. In the ~8 years since, CSCO has grown that quarterly dividend to $0.33/share. This ~5x increase in the quarterly dividend has done wonders for investors' yield on cost. CSCO's yield was relatively small when it first started paying a dividend, at less than 1%. Well, someone who bought CSCO's shares in 2011 have a yield on cost nearing 7% at the moment.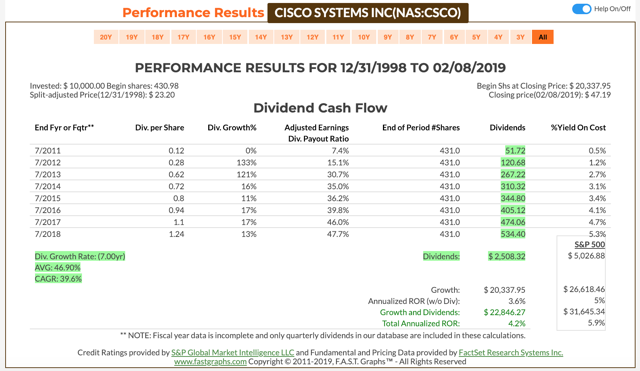 Source: F.A.S.T. Graphs
I didn't get in quite that early, but it doesn't matter; CSCO has treated me great, regardless. I initiated exposure to CSCO in December of 2013. At the time, shares were trading for ~$21. Since then I've added several times, with the last one being in March of 2017, increasing my overall cost basis to $23.80. These purchases have led to serious wealth generation for me. CSCO is now trading for ~$47.50, meaning that I'm up ~98% on my position. Furthermore, my yield on cost has risen to ~5.5%.
And, making matters even better, CSCO is scheduled to announce its upcoming dividend increase in the coming days. I expect the company to increase its quarterly dividend from $0.33/share to $0.36/share. This will mean that my yield on cost will rise to more than 6%. And, even if you didn't get in back when shares were trading in the $20s and $30s, a ~$1.44 annual dividend still represents a yield north of 3% at today's share prices. Buying shares that offer a safe 3% yield and double-digit annual dividend growth prospects always brings a smile to my face.
I say that CSCO's dividend is safe for several reasons. First of all, the company's earnings cover the dividend payment by a wide margin. CSCO posted EPS of $2.60 in 2018 and the company's current annual dividend is $1.32. Looking ahead, analysts expect CSCO's EPS to grow by double digits in FY19 and in the high single digits in FY20 and FY21. The company's ~50% payout ratio probably means that management won't want to increase the dividend at a much faster rate than earnings growth, but that's okay because I think most investors would be more than happy with a 2.8% yielder growing at a high single-digit/low double-digit clip.
CSCO also has a very strong balance sheet. At the end of the company's most recent quarter, CSCO had ~$8.4B of cash and $34.2B of investments compared to ~$7.2B of short-term debt and $18.3B of long-term debt. Furthermore, CSCO generated $12.8B of free cash flow during the trailing twelve months. This is a highly profitable company that is not over-levered. It's this cash flow that gives me peace of mind when it comes to CSCO's dividend. The company can easily pay its shareholders, buy back shares, and make strategic acquisitions with these profits. All of this should help put investors' minds at ease who question this dividend due to its relatively young age.
And speaking of buying back shares, before I move on to the company's operations and recent performances, I think it's worth noting that this management team has been very effective at buying back shares. CSCO has reduced its outstanding share count by ~15.3% during the last 5 years. I know there's been a lot of debate recently about the effectiveness of buybacks and whether or not they actually result in shareholders increasing their wealth, but I think CSCO is a perfect example of how and why responsible buybacks are great.
Since 2014, CSCO's sales growth has been relatively slow. The company is known for low single-digit top-line growth, though that does appear to be picking up the pace a bit in recent quarters (and management must believe that trend is here to stay with their recent guidance for Q2 FY19, which they expect to be up 5-7% y/y). However, even with the low single-digit sales growth, CSCO has been able to increase its EPS at much higher rates.
CSCO's management has done a great job of increasing margins slightly, but a lot of this EPS growth is due to the "financial engineering" associated with them reducing the float and therefore, increasing the earnings per share when looking at a smaller share base. What's best about this is that CSCO has not increased its debt load to fund these buybacks. The company's long-term debt is basically the same as it was 5 years ago, yet CSCO has spent billions on both buyback and acquisitions in recent years, further emphasizing the importance of its cash flows.
So, what's generating these cash flows? Well, in short, a rather wide variety of products and services. Cisco is no longer the networking hardware company that it was known as 5-10 years ago. CSCO's management team has made a handful of significant acquisitions in recent years that have sort of transformed the company into a broad spectrum tech play.
Sure, the company still sells switches and routers, but it also has a significant digital security division (which generated $651M in sales during the last quarter and grew 11% y/y) and a services platform that generated $3.2B last quarter from its clients in the hardware space. Infrastructure platforms were responsible for ~58% of the company's sales last quarter. This is still a big chunk, yet modernized applications, such as data centers, have driven growth for CSCO's hardware and turned what was once a segment viewed as a dying legacy business with strong cash flows back into a bit of a growth segment (infrastructure platforms grew 9% y/y last quarter). This growth is impressive, but it's the more diversified structure of the overall business and the double-digit growth potential of the applications and security segments combined with the reoccurring nature of the services business that has inspired the market to pay a much higher multiple today (~16.7x TTM EPS) than it was willing to pay for much of the last decade, when CSCO shares hovered in the 10x-13x range.
I think this higher multiple is here to stay. CSCO will likely continue to make acquisitions and take market share in attractive markets. Their strong cash flows afford them this luxury. Many of their smaller, nimbler competitors simply don't have the same cash to burn that CSCO has. Management's success and willingness to embark upon M&A to create growth potential for this company, combined with the safety and reliability of the income that it generates should go a long way towards making CSCO a mainstay in any income oriented investor's portfolio who desires a bit of exposure to the tech space.
The way I see it, CSCO sits in the Goldilocks zone of the tech space when it comes to value, growth potential, and income. CSCO might not have the growth potential of a Salesforce (CRM) or a Alphabet (GOOGL) (NASDAQ:GOOG), but it also trades with a much more conservative (and easily justifiable) multiple. When looking at other popular dividend growth type tech names, such as Microsoft (MSFT), CSCO has a higher yield (and once again, a cheaper valuation). And, while there are names in the tech space with higher dividend yields than CSCO, such as International Business Machines (IBM), CSCO offers an acceptably high yield without the negative growth concerns that have driven those rival yields so high in the first place.
To me, it simple doesn't get much better than CSCO from a dividend growth perspective. This company checks about every single box I'm looking for in a DGI name. I'm not a buyer today at ~16.5x earnings, but that has a lot to do with my current position weighting. For me to add to my position, I'd have to see a wider margin of safety than what is available in the market today. I'd probably be looking to add shares somewhere in the 14x forward EPS range. This represents a share price of ~$42. However, it's hard to say that the current $47.50 share price is expensive. I think it's rather fair, at ~15.8x forward EPS and I can hardly blame anyone for being interested to add to their position before the upcoming dividend increase announcement.
If you enjoyed this piece, please stay tuned for the upcoming Seeking Alpha marketplace service that I'm currently working on, The Dividend Growth Investor Club. I'm hoping that this will be a place where income-oriented individuals can come together and discuss their ideas as we all pursue financial freedom. I'll be posting a variety of exclusive content, including single stock research, sector DGI watch lists chock-full of relevant fundamental data and sample portfolios with different target dividend yield and growth thresholds for Club members. The service should be launching in the coming weeks.
Disclosure: I am/we are long CSCO, MSFT, GOOGL. I wrote this article myself, and it expresses my own opinions. I am not receiving compensation for it (other than from Seeking Alpha). I have no business relationship with any company whose stock is mentioned in this article.