Financially distressed Legacy Reserves (LGCY) has been in a tough spot for awhile. Management forced conversion of the preferred stock awhile back. The willingness to go to court over this issue should have demonstrated the severity of the financial situation. Now the resignation of some key officers and the classification of the bank line as current at more urgency to the situation. Those same officers were paid more than $13 million for their phantom shares while forfeiting nearly $8 million.
The company issued 1 million shares in exchange for about $2.6 million of debt on January 25, 2019. This adds to a long string of attempts designed to add equity while paying off long term debt.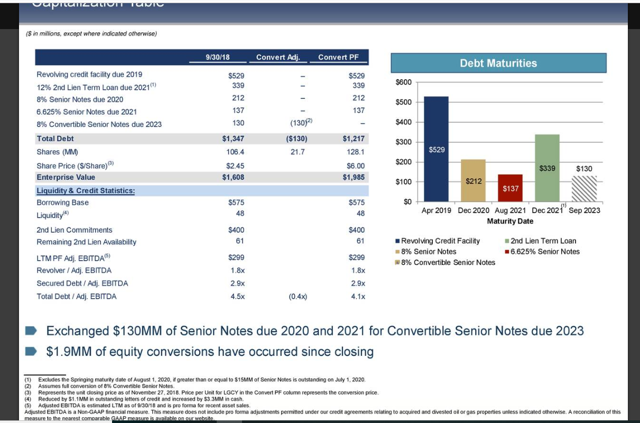 Source: BAML Leveraged Finance Conference, December, 2018
As shown above, the company has a particularly unfavorable debt profile. The revolving credit facility has due in about two months. Management has several times announced that they can refinance that bank line. Yet the line is now dangerously close to the due day without any material announcements on the issue.
Even if management should be able to refinance the debt due, there is still more debt payments in the near future. The second lien notes may limit management financing alternatives. Generally second lien notes are a last resort in the financing world. The 12% coupon should advertise a fair amount of risk.
In fact, this debt structure indicates that investors should consider the bonds if they consider any investment. Even the bonds appear to be very high risk just reviewing the second lien coupons and the other bond trading prices. Probably the best thing for an investor to do would be to wait on the sidelines until the debt issues are clearly resolved and any shareholder dilution is known. Normally companies that survive situations like this dilute equity holders heavily.
The $130 million of convertible notes probably will not make a significant difference to the current situation. This company needs an equity injection badly. The EBITDA ratio shown above is also stretched beyond normal lending limits. Cash flow from operating activities is likely to be far less. But banks generally want cash flow to be about one-third of long term debt. Clearly this company is not close to conventional lending guidelines.
Indeed, cash flow from operating activities approached $160 million for the nine month period. That amount is more than double the previous nine month figure shown in the 10-Q. Normally that would be considered excellent financial progress. However, the company needs at least $450 million to properly service the debt load. Lenders could require more because the oil industry generally needs a cash flow cushion when oil prices decline.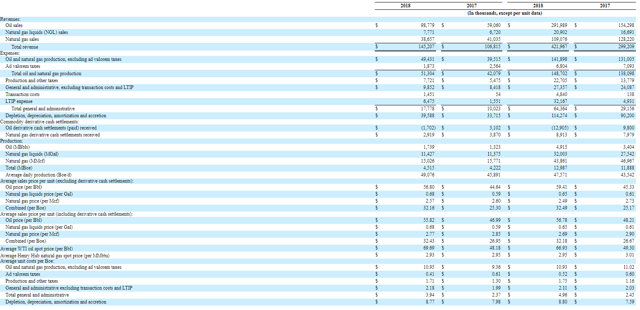 Source: Legacy Reserves Third Quarter, 2018, 10-Q
The problem is that the interest alone is more than 20% of revenues. That is a huge competitive burden in a commodity industry. The operating costs shown above are reasonable. But they really needed to be spectacular to service the debt load shown above. The company really needs production closer to 100 BOED to properly service the debt load.
The other negotiating challenge has to be the borrowing base. That is currently set at $575 million as of the third quarter report. Usually companies that have liquidity this tight have a significant chance of a borrowing base reduction below the amount owed to the banks. That is one very dangerous situation and it may account for the lack of an announcement of the credit line extension.
Many companies that have successfully navigated large debt repayments quickly have done so by keeping the bank line open. Then they can pay debt at a reasonable pace while not making the bankers nervous. This company obviously never cleared the bank line by issuing bonds or selling some properties. The result is relatively little liquidity remains on the bank line.
Two other companies that the author follows are Chesapeake Energy (CHK), and California Resources (CRC). Both have credit lines that are relatively free of debt. Chesapeake just merged with another low debt company, WildHorse Resources (WRD) to provide a way to climb out of its debt straight-jacket. California Resources is still burdened by debt that is far too high. Nonetheless, California Resources is currently trying to joint venture its way out of its debt challenges.
Both companies have an open bank line. No matter how generous the bank line appears to be, lenders do not want to lend money to a company that appears to be in bad shape. Two other companies covered by this author, Pengrowth Energy (OTCQX:PGHEF) and Bellatrix Exploration (BXE) both had to pay down debt rapidly to avoid a worse fate. Clearly bonds offer a more stable financial foundation for a speculative and financially leveraged strategy.
Legacy Reserves has some good properties and some decent prospects. But the leverage has not worked in the favor of the shareholder. Management may not be able to continue as a going concern with the current financial arrangements. The current situation appears to mark the common stock as a reasonable short candidate. The fact that the bank line has not been extended probably means that any loan made to cover the current balance will be onerous.
At the very least, common shareholders should expect significant dilution. Most likely they will not have any stake in the company in the near future. There is always a chance for a more optimal solution. However, as the deadline approaches for the maturity of the bank credit line, those optimistic solution decline in probability. At this point the stock is best left for experts who are well trained in specialized situations such as the current situation.
Most average and risk averse investors need to look elsewhere. There are far better possibilities having far less risk than the current company. The award of cash to the retiring company officers really is an affront to shareholders. This shows that management and the board of directors has placed itself above the considerations of shareholders. The current stock price demonstrates no way that this management has met any reasonable performance goals for some time. Therefore buyer beware.
Disclaimer: I am not an investment advisor and this is not a recommendation to buy or sell a security. Investors are recommended to read all of the company's filings and press releases as well as do their own research to determine if the company fits their own investment objectives and risk portfolios.
I analyze oil and gas companies like Legacy Reserves on Oil & Gas Value Research, where I look for undervalued names in the oil and gas space. I break down everything you need to know about these companies - the balance sheet, competitive position and development prospects. This article is an example of what I do. Oil & Gas Value Research members get this first and get more coverage on names that don't reach Seeking Alpha. Interested? Sign up here for a free two-week trial.
Disclosure: I am/we are long CHK. I wrote this article myself, and it expresses my own opinions. I am not receiving compensation for it (other than from Seeking Alpha). I have no business relationship with any company whose stock is mentioned in this article.