Few investor favorites have held on to their mantle as long as Zendesk (ZEN), the cloud-based provider of customer support software. The company's stock rose double digits after reporting one of its best fourth-quarter results ever, with revenue growth accelerating from the prior quarter and lending support to a bullish outlook for FY19. Zendesk's post-earnings rally has lifted the stock to new all-time highs near $80: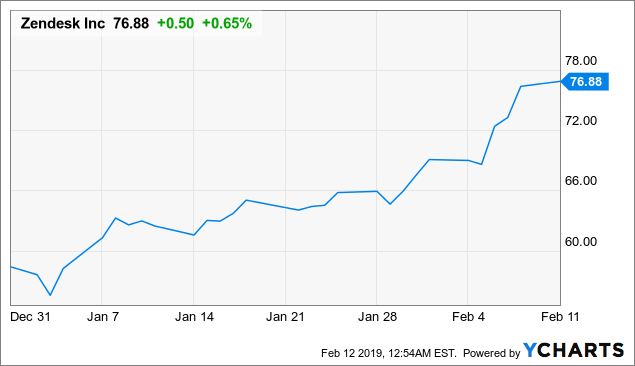 The question that is now weighing on investors' minds: is all of Zendesk's upside already priced in, or is the stock ready to break out? Year to date, Zendesk is already up 31% (more than double the software index (IGV), at 13% for the year-to-date); and over the past twelve months, Zendesk shares have rocketed up 96%, versus 26% for the IGV.
Last quarter, I wasn't fully bullish on Zendesk, believing the company to be a hold amid a steep valuation at ~10x forward revenues and a turbulent market. Now, however, Zendesk's bullish outlook has pushed its valuation multiples down, and the combination of accelerating growth and operating margin gains have me positive on Zendesk despite its higher share price. In my view, barring a wider market meltdown, Zendesk can continue to outperform its peers in the software sector as well as the broader S&P500. Now is a good time to go long on Zendesk.
Let's quickly check where Zendesk is currently trading against its latest guidance view:
Figure 1. Zendesk FY19 guidance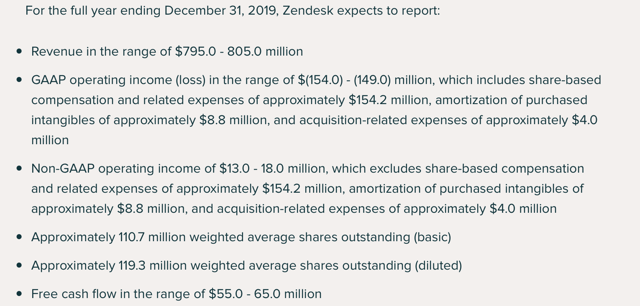 Source: Zendesk 4Q18 earnings release
Zendesk's guidance range of $795-$805 million represents a midpoint growth pace of 34% y/y versus this year's revenues of $598.7 million. Note that this guidance outlook came in well above Wall Street's expectations of $779.3 million (+30% y/y). Yet even Zendesk's higher outlook feels like there's additional opportunity on top. Considering that this quarter's revenue growth accelerated to 41% y/y, it wouldn't be unreasonable to see Zendesk's growth clocking in at the high 30s next year - especially since this is a company that typically sees very little deceleration from quarter to quarter.
Zendesk currently has a market cap of $8.17 billion; after netting out $821 million of cash and $458 million of convertible debt, the company has an enterprise value of $7.81 billion. Versus an $800 million revenue outlook for the coming year, Zendesk trades at a revenue multiple of 9.8x EV/FY19 expected revenues.
While that certainly isn't cheap, there are plenty of software peers in a similar 30-40% growth range that trade at higher multiples. Zendesk is far from being the most expensive stock in the software sector: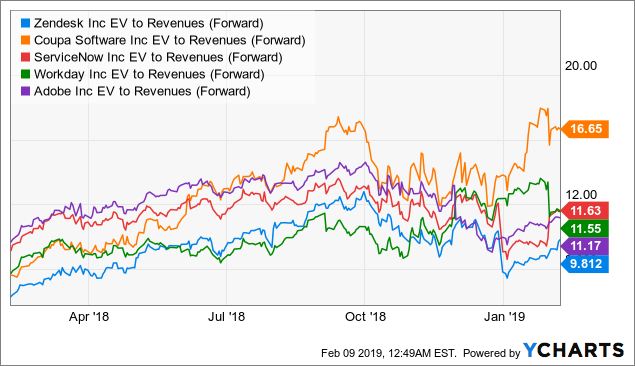 What is additionally encouraging about Zendesk's outlook is that it also bakes in some operating margin improvement (2% expected in FY19; versus 1% in FY18), as well as significant free cash flow growth (midpoint of $60 million represents 65% y/y growth over FY18). Given the turbulent state of the market and investors' still-leery perspective on growth stocks that are suffering huge losses, Zendesk's ability to churn out strong bottom-line metrics offers the company a huge safety net.
In my view, Zendesk is tackling a sufficiently large market (especially with the recent addition of its CRM product, which addresses one of the largest market categories within enterprise software) to continue growing at its high 30s/low 40s pace over several more quarters. Though the stock price has glided upward, Zendesk's growth trajectory has sailed upward in tandem. Be prepared to benefit from a breakout in this stock.
Q4 download
Let's take a closer look at how Zendesk performed in the fourth quarter of FY18:
Figure 2. Zendesk 4Q18 results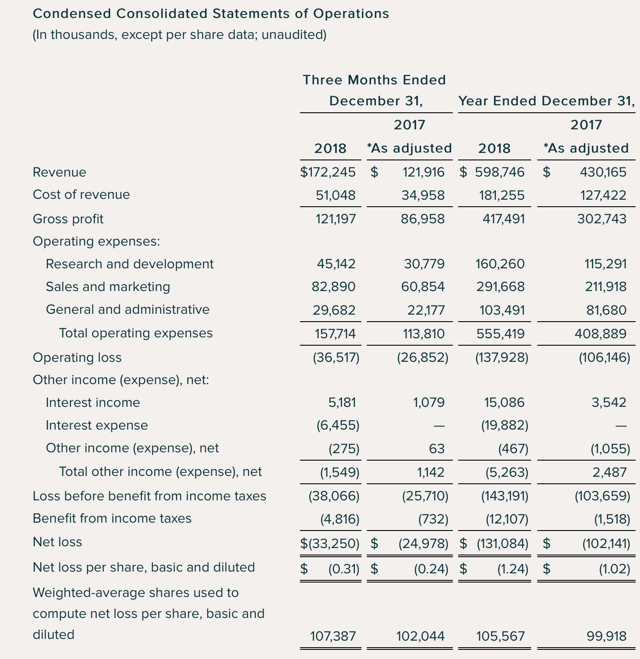 Source: Zendesk 4Q18 earnings release
Revenues grew 41% y/y to $172.2 million, putting Zendesk at just shy of a $700 million annualized revenue run rate. Wall Street was expecting a much tamer growth rate, with consensus expectations coming in at $165.6 million (+36% y/y) - indicating a five-point beat this quarter. Note also that last quarter's revenues had grown at 38% y/y, meaning Zendesk accelerated three points this quarter. For a company of Zendesk's scale, approaching nearly a $1 billion revenue run rate, a three-point acceleration is a true accomplishment.
One driver behind the outperformance in the fourth quarter is the release of Zendesk Sunshine, the company's new CRM platform that competes head-to-head against industry heavyweights like Salesforce Sales Cloud (CRM) and Microsoft's Dynamics CRM (MSFT). Customer-support software and CRM tend to go hand in hand, so Zendesk has natural cross-selling synergies in introducing Zendesk Sunshine. The blurb below offers some color on the product's key features:
Figure 3. Zendesk Sunshine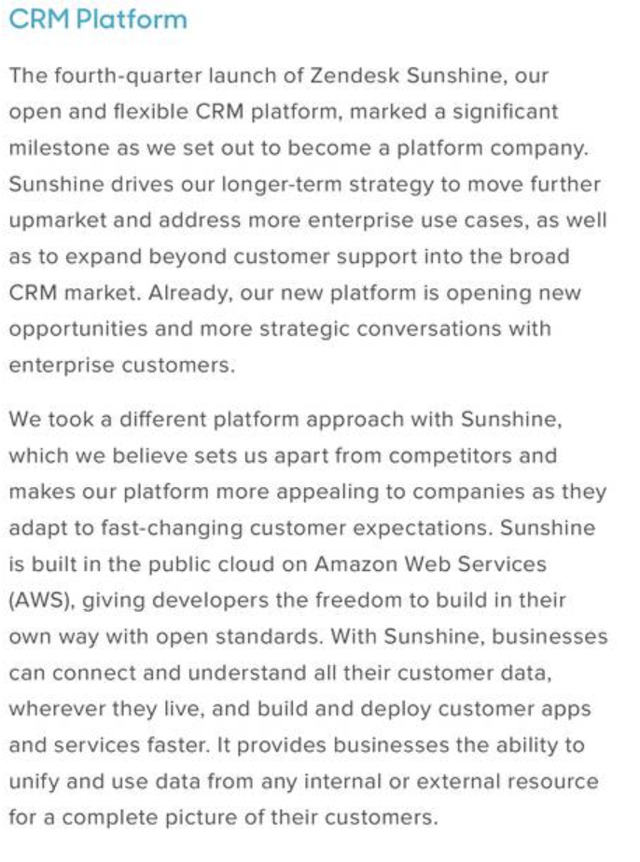 Source: Zendesk 4Q18 earnings deck
Mikkel Svane, Zendesk's founder and CEO, also offered additional qualitative insights on the Q4 earnings call that highlighted Sunshine's current traction in the market:
Sunshine represents an entirely new approach to CRM platforms. We built it on top of AWS in the public cloud and made it incredibly open and flexible so companies can build new customer apps quickly and developers can use the tools they already know and love.

We're already seeing the platform change the kind of conversations we have with our prospects and with our customers. We can solve more of their problems and more of their use cases and also go deeper into their business and be a true partner for them. Sunshine sets us up to further accelerate our enterprise momentum in 2019 and beyond, while laying the foundation for a longer-term strategy that will help us become a multibillion dollar revenue company."
It's useful to recall that CRM is a billion-dollar category for companies like Salesforce already. Even capturing a small piece of this market can help Zendesk to maintain its high growth rates.
Profitability metrics also trended well in the quarter. Zendesk retained its high pro forma gross margins of 74% (flat to last quarter), while driving terrific improvements to its operating margin. Like most software companies, the biggest expense category for Zendesk is sales and marketing - this quarter, Zendesk drove down S&M costs to just 41% of revenues, down three points from 44% in the year-ago quarter. Pro forma operating profits came in at $4.8 million, representing a 3% margin - four points better than a -1% in the year-ago quarter.
Unsurprisingly, Zendesk's pro forma EPS of $0.10 also beat Wall Street's estimates of $0.03 by a wide margin. Full-year free cash flows also grew approximately 2x from the prior year to $36.3 million, hitting an FCF margin of 6% (versus 4% in FY17). As previously mentioned, Zendesk's guidance calls for a midpoint of $60 million in FY19 FCF, representing further FCF margin expansion to 7.5%.
Key takeaways and risks
Zendesk is nailing targets across the board. On top of accelerating its revenue growth, the company is managing to slim down its sales costs and drive operating margin expansion, while also continuing a rapid growth pace for free cash flows. Management has also indicated that Zendesk's CRM product has had strong early traction in the markets, laying the groundwork for sustained growth in 2019.
That being said, we always have to be mindful of the risks facing a high-growth stock with a premium valuation multiple. In my view, one of the biggest risks facing Zendesk is competition within its core service desk space. While the company is doubling down on CRM, losing market share in its flagship product may cause unexpected deceleration for Zendesk. Salesforce's (CRM) Service Cloud is a major contender; as is Twilio's new Flex offering that allows developers to self-build their own customer contact centers.
For now, however, Zendesk has retained a "best-in-breed" reputation that has allowed it to retain its pace of growth and customer acquisitions. Amid this recent outperformance, Zendesk's near-double-digit revenue multiple doesn't appear too expensive. In my view, Zendesk will continue to lead the pack of software stocks in 2019.
Disclosure: I/we have no positions in any stocks mentioned, but may initiate a long position in ZEN over the next 72 hours. I wrote this article myself, and it expresses my own opinions. I am not receiving compensation for it (other than from Seeking Alpha). I have no business relationship with any company whose stock is mentioned in this article.