This article was first released to subscribers 3 weeks ago.
The recent price action of Oxford Lane Capital Corp. (OXLC) versus its close peer, Eagle Point Credit Company (ECC), would make an interesting case study in investor psychology. Why? Read on to find out!
Check out the total return profiles of OXLC and ECC over the past year. OXLC has apparently blown ECC right out of the water, with +19.01% in total return versus -5.35% for ECC.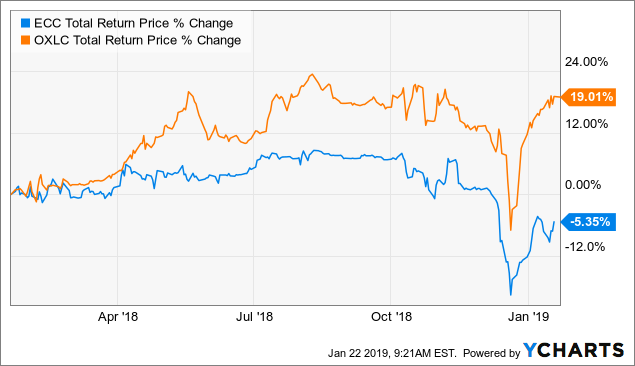 Experienced members will know to check the premium/discount histories of the two funds to ensure that the price return comparison above is a meaningful reflection of their portfolio performances. Here, we can see that OXLC and ECC both started and ended the year at similar discounts, suggesting that changes in valuation were not a major driver of the performance discrepancy between the two funds. To put this another way, this would suggest that OXLC's NAV has ostensibly performed much better than ECC's NAV over the past years.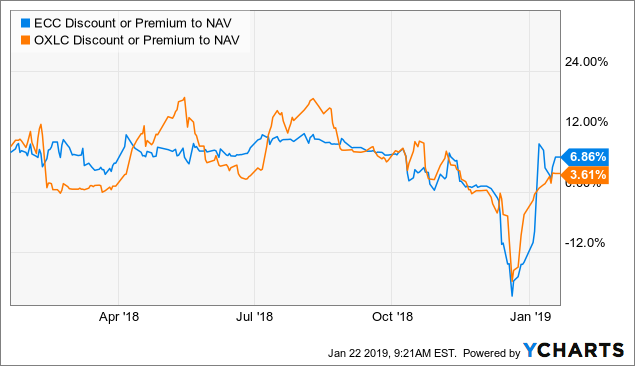 Indeed, OXLC's NAV has increased by +7.20% over the past year compared to a substantial -16.6% drop for ECC. There's only one slight problem though: OXLC's NAV hasn't been updated for over six months! (This also means that the above premium/discount chart is also incorrect for OXLC).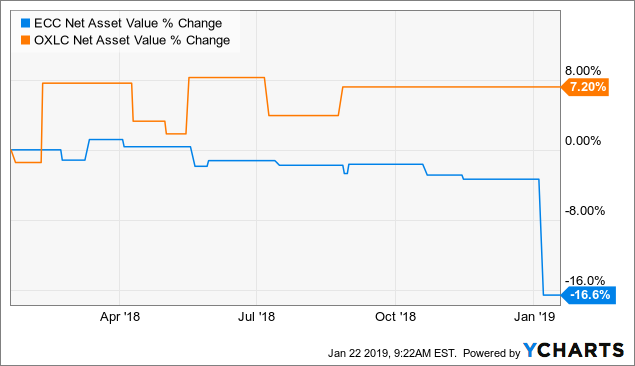 Yes, you heard that right. YCharts, as well as CEFConnect, is still showing OXLC's NAV from 6/29/2018 (!), which is $9.98.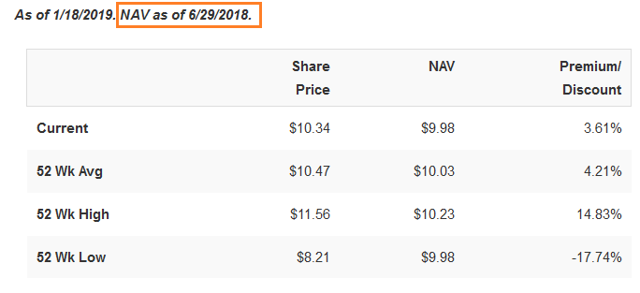 (Source: CEFConnect)
To be fair, OXLC has already provided their NAV for 9/30/2018, which was $9.93, a small (-0.5%) decrease from $9.98 on 6/29/2018. However, loan prices did not start sliding until the start of November, meaning that OXLC's NAV is certainly substantially lower now than on 9/30/2018.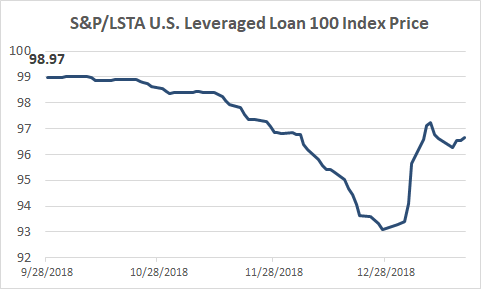 (Source: Stanford Chemist, LSTA)
OXLC's NAV on 12/31/2018
To estimate a "back of the envelope" number for OXLC's NAV, I make the simple assumption that the total return of OXLC's portfolio is the same as the total return for ECC's portfolio over any period of time. I believe that this is a fair assumption under normal conditions since both CEFs invest largely in CLO equity securities. This method has previously given an estimated NAV that was within a few percent of the actual NAV when reported by OXLC.
OXLC is due to announce their 12/31/2018 quarter end results in early February. Last year, the corresponding press release was issued on February 8, 2018.
I suspect that OXLC investors may be in for a rude shock. Remember, ECC announced a fairly large -12.4% monthly NAV decrease on 12/31/2018 as loan prices headed towards their nadir. The month before that, ECC's NAV fell by -13.7%. In total, ECC's NAV fell by over -25% during the fourth quarter of 2018.
My numbers suggest that OXLC's NAV on 12/31/2018 will show a similar magnitude of the decline, falling from $9.93 to an estimated $7.40, a -25.5% decrease.
If my estimates are correct, this would make OXLC's current price of $10.34 a whopping +38% premium to its 12/31/2018 NAV.
Why hasn't OXLC sold off like ECC? My suspicion is that many investors in the fund are simply not aware that OXLC's NAV (and hence premium) that is currently being reported on data aggregator sites such as CEFConnect is extremely stale and does not reflect the deterioration in loan prices that occurred over the final months of last year.
Ironically, ECC's transparency in providing monthly NAV updates may have hurt its share price performance as trigger-happy investors "realized" the hit that the fund has taken to its NAV. (As an aside, this is a good place to remind members that although NAV declines are normally worrisome for CEFs as they may impact a fund's ability to continue to pay its distributions, we were not worried at all about ECC since the cash flows of CLO equity securities, in the absence of defaults, are not linked to their NAV. See our previous analyses of ECC:
In contrast, OXLC's relative opacity has seemingly protected the fund from being sold off by investors, who perhaps do not realize that the +3.61% premium for OXLC that is currently being reported by CEFConnect is a gross underestimation as it is based on a 6-month old NAV that has not yet reflected the significantly lower loan prices from last month.
After all, how many investors actually look beyond CEFConnect or Morningstar for their investment decisions? I suspect that many casual investors do not. Speaking of Morningstar, the situation is even more egregious as the 6/29/2018 NAV of $9.98 is being presented as the "Last Actual NAV" with a date of 1/21/2019! (To be fair, it seems that Morningstar does this for every CEF. They should really fix it!).

(Source: Morningstar)
Exacerbating this situation is the fact that OXLC is much more retail dominated than ECC. According to data from NASDAQ, ECC has 39% institutional ownership compared to only 6% for OXLC. While I dislike using terms such as "smart money" and "dumb money" to describe institutional and retail ownership respectively, it could just be the case this time that the typical retail investor's fixation on yield has blinded them to the fact that OXLC's NAV is about to show a very serious decline from the previous quarter when it is announced sometime next month.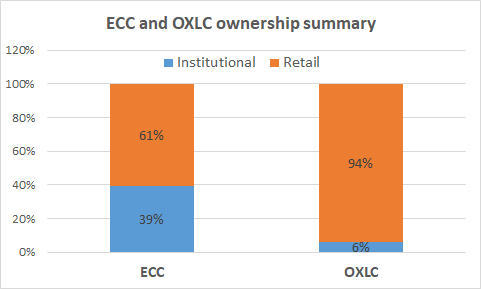 (Source: Stanford Chemist, NASDAQ)
Estimating OXLC's current premium
Of course, loan prices have now rebounded significantly from their 12/31/2018 values. The S&P/LSTA U.S. Leveraged Loan 100 Index par weighted price is currently 96.65 (as of yesterday), which is very similar to the 96.81 par weighted price at the end of November last year. The par weighted price on 12/31/2018 was 93.27, just slightly above the actual low of 93.11 reached four days prior. If we make the very crude assumption that ECC's current NAV is the same as its 11/30/2018 NAV, we can estimate the current premium for both ECC and OXLC based on their current prices.
Our estimates show that OXLC is trading at a +22% premium based on its current estimated NAV of $8.45. This is far lower than the estimated +38% premium that is calculated based on the 12/31/2018 NAV of $7.40 (again, an estimate) but still represents a sizable valuation premium to ECC, which has an estimated premium of +7%.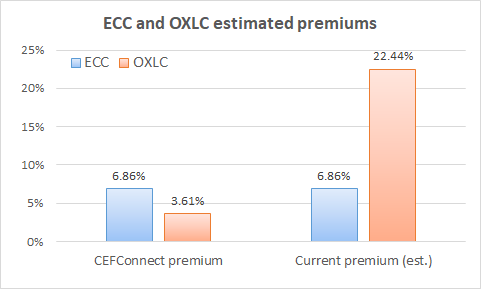 (Source: Stanford Chemist)
I honestly do not believe that OXLC should be trading at a 15% higher valuation than ECC, meaning that OXLC investors should really be counting their lucky stars that the fund has held up so well over the past several months.
If I were an owner of OXLC, I would seriously consider selling it now, and if not now, then definitely before its 12/31/2018 NAV gets announced early next month. For those wishing to retain CLO equity exposure, then ECC would be a good replacement.
Summary
OXLC's 12/31/2018 NAV, due to be reported in early February, is likely going to show a substantial (ca. -25%) decline from its $9.93 value last quarter. However, in contrast to what has happened with ECC, investors in OXLC are seemingly either unaware or simply do not care that OXLC is currently trading at a substantial premium both to its current estimated NAV as well as to ECC. A swap from OXLC to ECC is recommended, if not now, then definitely before OXLC's NAV is announced next month.
Is OXLC's current premium a case of "out of sight, out of mind"?
Addendum: I forgot to mention that similar to what we analyzed for ECC, I am not concerned at all with OXLC's ability to maintain their distribution. Investors who are purely interested in cash flow may still prefer to hold onto OXLC and its outsized 16% yield, despite its overvaluation and upcoming NAV shock. However, selling before the NAV announcement and buying back afterwards could allow one to pick up more shares at lower prices and compound income faster than just via buy and hold. Indeed, this is what many members did for ECC when they announced their NAV last week.
We're currently offering a limited time only free trial for the CEF/ETF Income Laboratory with a 20% discount for first-time subscribers. Members receive an early look at all public content together with exclusive and actionable commentary on specific funds. We also offer managed closed-end fund (CEF) and exchange-traded fund (ETF) portfolios targeting ~8% yield. The sale has been EXTENDED for 1 more week only, so please consider joining us by clicking on the following link: CEF/ETF Income Laboratory. Also, check out our 5-star member reviews.
Disclosure: I am/we are long ECC. I wrote this article myself, and it expresses my own opinions. I am not receiving compensation for it (other than from Seeking Alpha). I have no business relationship with any company whose stock is mentioned in this article.