There are many biotechnology companies that manage to gain the excitement of investors with the next revolutionary advancement in medicine. In reality, however, most of these companies are often a long, long way off to proving they will ever make it to an FDA authorized Phase III trial, much less commercialization. In fact, there are several billion-dollar market cap biotechs that come to mind that still haven't demonstrated safety. The CRISPR-Cas9 stock sector, the promising next big thing, is such an example. Editas Medicine Inc. (EDIT) and CRISPR Therapeutics AG (CRSP) are currently in the billion-dollar club, with market caps of about $1,000,000,000 and $1,540,000,000, respectively, yet definitive questions about safety still need to be answered. Another example is Moderna, Inc. (MRNA). Last December, Wall Street underwriters sold this company to the public at an eye-popping valuation of $7,500,000,000, 40% above a still rich current market cap of $5.6 billion. Moderna is a leader in the next, next, big thing… messenger ribonucleic acid or mRNA. However, almost the entirety of the company's pipeline is still either in the exploratory Phase I stage of development or in the experimental pre-clinical phase: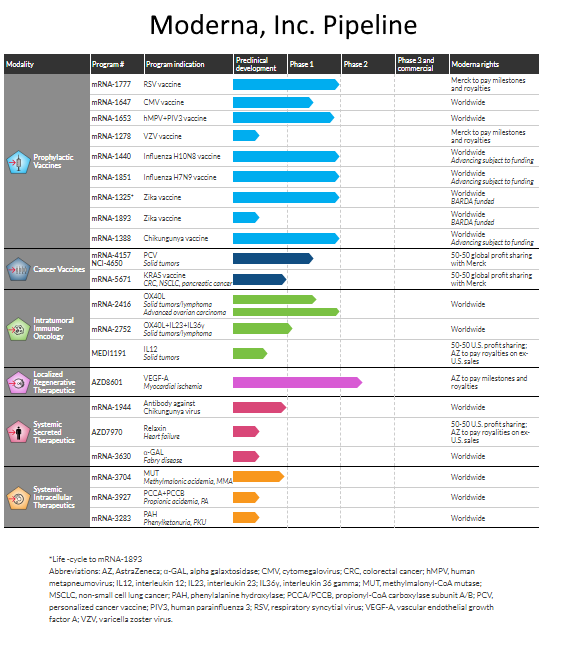 Source: Moderna, Inc.
So, when biotech with a market cap of less than $200,000,000 gains FDA Approval to sell a novel therapy in a more seasoned "next big thing" known as regenerative medicine, it calls for a deeper look.
Avita Medical Ltd.
Avita Medical Ltd. is an Australia-domiciled company that trades on the Australian stock exchange under the symbol AVH. In the U.S. its shares trade as ordinary shares (OTCPK:AVMXF) and ADRs (OTCQX:AVMXY). Each ADR represents 20 ordinary shares and trades in U.S. dollars.
On September 20, 2018, Avita obtained FDA approval for a relatively simple, yet very effective, regenerative medicine innovation called the RECELL Autologous Cell Harvesting Device that is best described in this excerpt from a company presentation: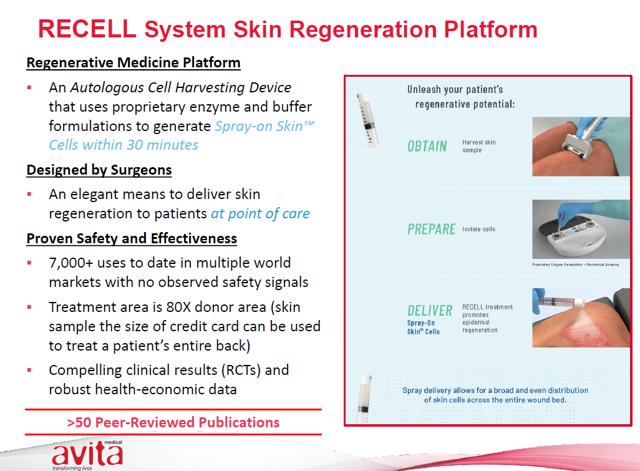 The Better Mouse Trap?
Although the reality may not always be as simple, this device brings to mind the old phrase "Build a better mousetrap and the world will beat a path to your door." RECELL is a better mousetrap. Simply take a small sample of a burn patient's skin, and the RECELL device system will dissolve the sample into its component parts to extract a solution of regenerative skin cell components that is then sprayed onto a burn wound as a fine mist that can treat a burn area that is 80 times larger than the skin sample. Put simply, this mist of autologous regenerative cells bridges the gap in the wound by planting the regenerative seeds that allow a wound to heal faster and with better results than the current standard of care. This article will focus on a subset of pages derived from a company presentation (that also includes some graphic photos) that will help explain why this company may be a compelling investment.
The Regeneration Process
The illustration below provides a handy visualization of what actually happens in the wound when treated with a cocktail of the patient's own regenerative cells liberated by this relatively simple device: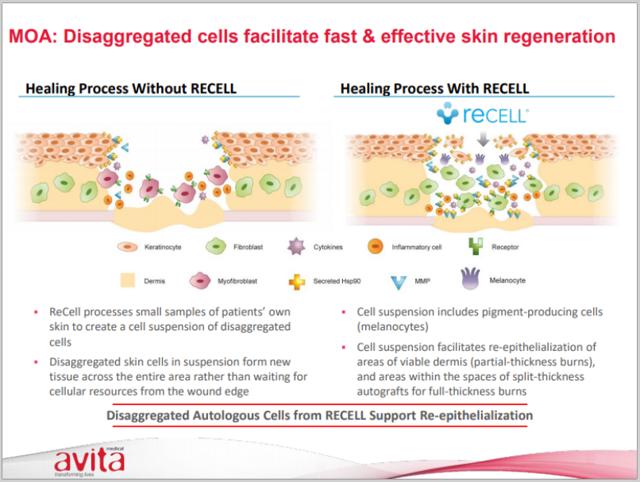 Clinical Support for Substantial Improvement over Standard of Care
On September 20, 2018, RECELL became the first and only FDA approved skin burn therapy using stem cells and/or other regenerative cells. The company ran two pivotal trials that clearly demonstrated the superiority of its stem cell therapy over the standard of care. Results of the first trial that treated deep-partial thickness burns in adults are presented here: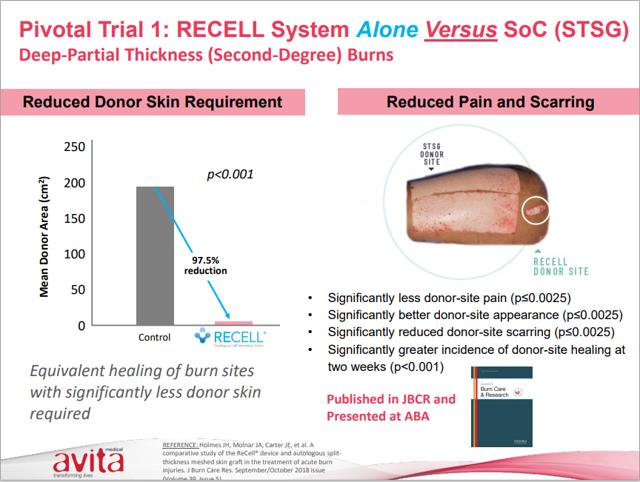 In the second pivotal trial, covering patients with more serious full-thickness wounds, the primary benefits were a 32% reduction in the amount of required donor skin and significantly reduced pain and scaring: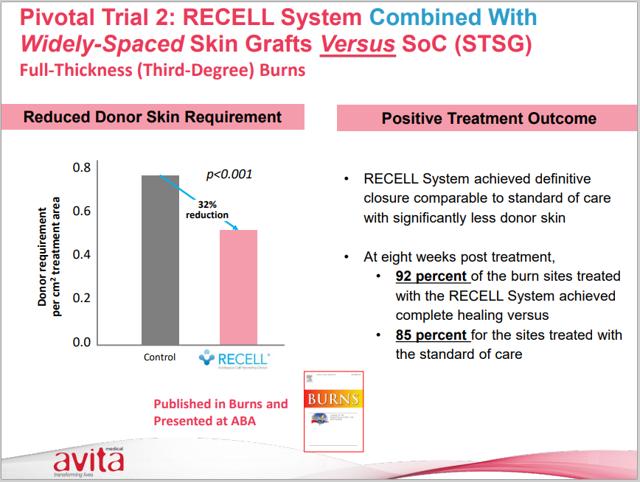 These trials were substantially funded by Biomedical Advanced Research and Development Authority (BARDA), a division of the U.S. Department of Health and Human Services, Office of the Assistant Secretary for Preparedness and Response (OTC:ASPR).
Substantial Cost Savings
Many new cutting-edge therapies involve treatments that are approaching the stratosphere with regard to costs to the healthcare system, as the trend towards expensive personalized medicine advances. A company that can develop a cutting edge treatment that provides substantial cost savings in conjunction with superior efficacy has an unusual and an important commercialization advantage. According to this company-financed study, the RECELL system provides substantial savings: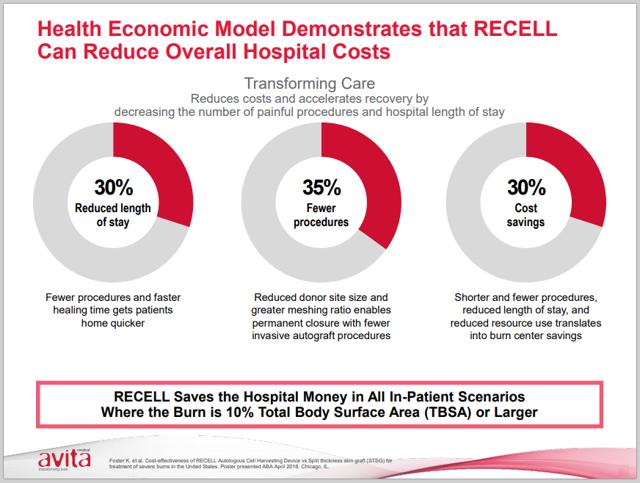 Vertical Integration and Significant Competitive Pricing Advantage:
One of the compelling advantages of the RECELL Autologous Cell Harvesting Device is its simplicity. As an autologous treatment, there is no need to screen donor cells, no need for cell expansion and no need for HLA matching. Unlike the allogeneic stem cell model that entails pricey manufacturing demands for cell expansion and invariably, the reliance on specialized outside manufacturers (especially in the early stages of development), the manufacturing of RECELL is very simple, so much so that the unit is disposable and runs on 4 AA batteries. Moreover, Avita was fortunate when it recently was offered the unexpected opportunity to take control of, and operate, the manufacturing facilities for the hardware components of RECELL from an S&P 500 contract manufacturer that was consolidating its operations. Interestingly, Avita obtained the manufacturing and warehouse equipment for free and simply rehired existing employees. A biotech at this stage of development is rarely able to commence commercialization with the advantage of being vertically integrated. With manufacturing now in house, Avita has publicly projected that it anticipates gross margins of 90%+ when it fully ramps up.
These advantages translate into a tremendous pricing advantage over competing regenerative medicine products from Vericel (VCEL) and PolarityTE (PTE). Furthermore, neither of these competing products has the marketing advantage of having performed an FDA-approved clinical trial and the credibility that comes with a formal FDA premarket application approval, the first in 20 years in for ANY burn treatment. The following chart illustrates these pricing advantages along with the pricing of complementary burn treatment products: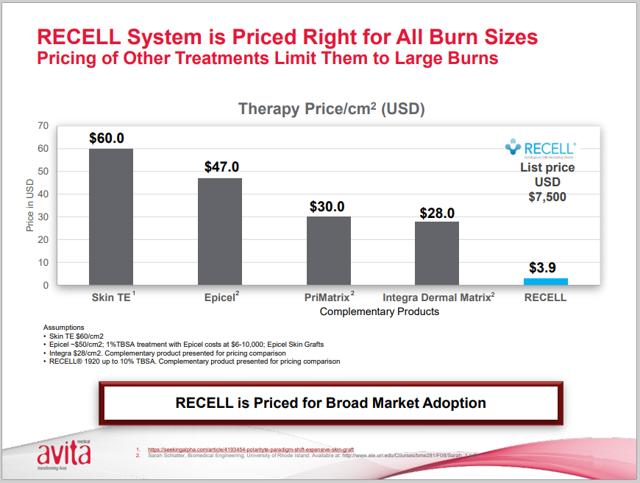 In the chart above, PolarityTE is the company behind SkinTE and, as a cautionary side note, has been the target of well-known short seller Citron Research. Nonetheless, PolarityTE still maintains a market cap that is currently about double the market cap of Avita Medical, yet has minimal sales and no formal premarketing approval from the FDA.
Vericel owns Epicel but also has other regenerative therapies such as FDA-approved Matrix Associated Chondrocyte Implantation (MACI), a product that has found commercial success in the orthopedic market and has helped make Vericel a rare big winner in the stem cell space. VCEL shares have gained about 600% in the two years since FDA approval of MACI. With regard to Epicel, approved under a Humanitarian Device Exemption, Vericel reported $6,000,000 in sales for the 3rd quarter of 2018 up from $4,400,000 in the 3rd quarter of 2017. Since Epicel is a cultured product, it is expensive to manufacture and is intended solely for very large surface area burns and represents a much smaller market than available for RECELL. An interesting video showing the elaborate manufacturing process of Epicel can be found on this page.
Commercialization: Hitting the Ground Running
The following excerpt from Avita's press release on January 31, 2019, shows U.S. sales of A$1,102,000, or about $782,000 in U.S. dollars in the December 2018 quarter before the national commercial launch, that commenced in January 2019, with a full sales force in place.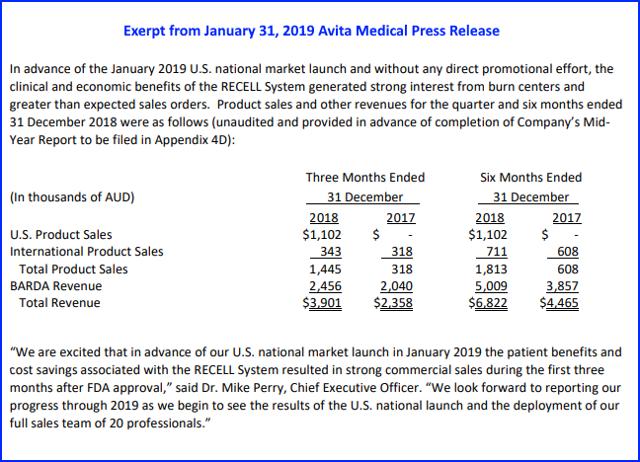 Recent Institutional Private Placement Gives Avita Medical a Solid Cash Position
In December 2018, Avita announced an institutional placement of ordinary shares to U.S., Australian, international institutional and sophisticated investors. Net proceeds provided by Tranche 1 of the placement were AUD$22,268,000 resulting in a cash position of AUD$30,342,000 on December 31, 2018. In January, net proceeds of AUD$13,829,000 and AUD$1,765,000 were received in Tranche 2 of the placement and from a share purchase plan, respectively. As a result, the pro forma cash and cash equivalents balance at December 31, 2018, was A$45,936,000 or about USD$32,200,000.
As far as cash burn is concerned, total net cash used in operating activities during the quarter ended December, 31, 2018, was AUD$6,583,000, a AUD$2,763,000 increase compared to the quarter ended 30 September 2018 of AUD$3,820,000 as the company scaled up its sales force for the national launch of RECELL in January. As far as cash burn going forward, the company had this to say in the most recent earnings release:
Future cash requirement will be dependent upon the success of AVITA Medical's efforts to commercialize the RECELL System, particularly in the U.S., and the timing and magnitude of clinical and other research and development programs the Company elects to undertake to expand its product pipeline. Until such time that the Company generates sufficient cash flow from operations, it expects to fund its future cash requirements through a combination of current cash resources, and potentially the issuance of shares and debt financing.
The Avita Medical Pipeline
While Avita Medical is positioned for an immediate revenue ramp up from the commercial opportunity directly ahead in adult burn wounds, they also have real-world evidence that suggests that RECELL is effective in other skin injuries and disorders. Aside from the clinical trial already underway for pediatric burns, these are the other indications in the pipeline: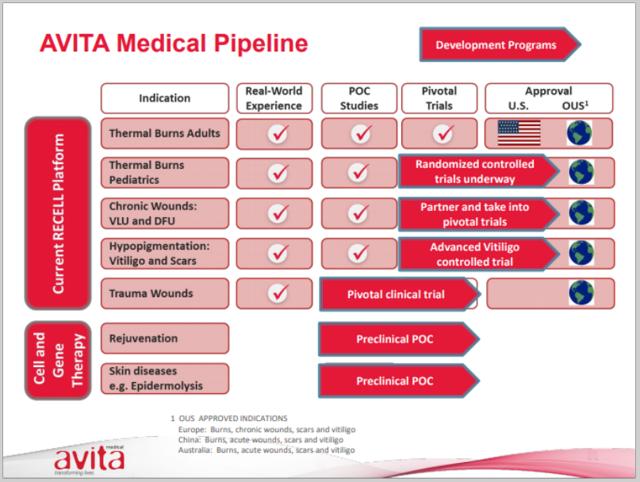 Once the company demonstrates commercial success with its FDA-approved opportunity this year, investors should also start focusing on this pipeline and the revenue and cash flow opportunities it represents. Would it be far-fetched to project that some of the other indications on this list could become more immediate revenue producers through off label use?
Expanded Shareholder Base with Expected Move from OTCQX Market to NASDAQ in 2019
As stated earlier, in the U.S., ADRs representing 20 ordinary shares trade under the ticker AVMXY and are the best option for U.S. based investors as they trade in U.S. dollars. However, these shares are listed on the OTCQX market, not on the NASDAQ. As a result, the shares may be on the restricted list of many full service brokers such as Morgan Stanley (MS) and Wells Fargo (NYSE:WFC). I was able to purchase shares at Fidelity, and I suspect that most online brokers offer trading on companies listed on this market. However, there probably is currently a share price penalty for not being listed on the NASDAQ or another major exchange. Avita plans to rectify this shortcoming by listing on the NASDAQ sometime this year.
Current Lack of Wall Street Coverage Will Likely Change
Avita Medical is an Australia-based company whose ADRs are listed on an OTC market that doesn't exactly exude investor confidence. Not surprisingly, it has virtually no U.S.-based research coverage. However, the bulk of Avita Medical's current operations are based in the U.S. and will be the source of its revenue growth in 2019. Expect some of the mid-tier investment banks that cover other companies in the sector to take notice and initiate coverage as the company progresses and eventually lists on the NASDAQ. This additional exposure can only help the shares.
Conclusion
This article began by focusing on the valuations of a few bleeding edge biotech companies that still have much to prove with regard to both efficacy and safety, yet have market caps that imply success is highly likely. While the potential markets for companies pursuing potential revolutionary mRNA and gene-editing technologies are very large, the risks are also substantial. Avita, on the other hand, has already developed a simple but revolutionary product using the science of regenerative medicine that the market seems to be underestimating, given the relatively low execution risk with an FDA approval already in the rear-view mirror. Does that mean the success of RECELL is without risk? Of course, not. However, the execution risk of launching an FDA-approved product with clear advantages is preferable to the binary risk involved in clinical result outcomes.
If you like this article. considering signing up for my Premium Service - Stem Cell News and Analysis for a first heads up on ideas like this and direct access.
Disclosure: I am/we are long AVMXY. I wrote this article myself, and it expresses my own opinions. I am not receiving compensation for it (other than from Seeking Alpha). I have no business relationship with any company whose stock is mentioned in this article.
Additional disclosure: These are the personal views of Wall Street Titan Research and should not be relied upon for your investment decisions. All investors should always do their own due diligence.