Introduction
Lions Gate Entertainment (LGF.A) (LGF.B) reported fiscal Q3 numbers on February 7. This article will use the press release, earnings-call transcript and the following news item as sources.
Those who have read my articles on Lions Gate know the essential thesis: it's a target for a takeover. As such, it is a waiting game. There are no guarantees, however, that Lions Gate will be acquired. Nevertheless, it's hard to imagine that a transaction will not occur at some point.
When that "some point" is, I don't know. Therefore, it is obligatory to talk about the stock simply as a buy or sell at any given time. Based on current strategies, I do think the company needs work, but I remain willing to be patient and to hold for the long term.
The company can be talked about in terms of numbers and in terms of qualitative creative vision. Lions Gate has always appeared to me to be a collection of multiple small deals/partnerships that sometimes lack keen focus. That is still the case. The third quarter stats show declines/challenges. Those who own the stock are simply counting on more investment in content, a better movie slate, and a higher Starz subscriber count to eventually move the needle. Given the popularity of content/streaming in the marketplace, I would say that the current share price offers a good risk/reward situation for the speculative side of an overall portfolio.
The Third Quarter
One of the first items I go to when looking at a quarterly report from Lions Gate is the free cash flow. This company can be hit-or-miss on that metric because of its scale, the timing of its product releases and the acceptance by the marketplace of those releases. I always hope for a positive result, even if there is a decline, although truthfully, I still experience disappointment with a decline. This particular earnings report is a bit of mixed bag. Free cash flow for the three-month period was $274 million versus $140 million for the year-ago similar period. For the nine-month period, free cash was $487 million versus $373 million. If you look at the way management calculates free cash, it's a bit complicated, taking into account production-loan inflows/outflows. This time around, for both the three-and-nine-month periods, there was also a line dedicated to litigation settlement charges. Moving away from free cash, we see that there was a use of cash for operations in Q3 of $14 million, compared to a generation of cash last year of $33 million. For the nine-month period, $256 million of operational cash was brought in compared to $369 million, a significant decrease. Revenue dipped to $933 million from $1.1 billion during the quarter and dropped to $2.8 billion from $3.1 billion during the nine-month frame. OIBDA was sort of flat at $171 million for Q3 and a little more in decline-mode at $417 million for the nine-month period. Just from those numbers, it's difficult to say this was a great cash-flow moment for Lions Gate. The earnings call gives some further cash context. Here's a quote from CFO James Barge:
Just a reminder, when you're comparing to the prior year quarter, recall last year's reported fully diluted earnings per share was positively impacted by the $165 million tax benefit related to U.S. tax reform. Now turning to free cash flow. Free cash flow for the quarter came in at $274 million as cash flow from operations benefited from timing of working capital improvements and monetization of receivables."
Taking everything together, it is my opinion that Lions Gate's content slate wasn't a big driver of value this time around. If you look at the individual segment results, you will see declines in both revenues and profit, for both the three/nine-month frames, for motion pictures and television production. Bucking the trend is media networks, which includes the Starz asset. Media networks is generating much higher revenues in the over-the-top format, $4.7 million versus $1.7 million during Q3, and $12 million versus $4 million during the nine-month. Of course, the streaming services are operating at a loss as the company is still in the early stages of chasing that higher-margin operation. Overall, media-network profit was $134 million versus $122 million (Q3) and $345 million versus $315 million (nine-month). Starz now has 25.1 million subscribers, which was the same level compared to the previous quarter but 1.1 million higher than one year ago. I'm not impressed by that growth. It also brings up concerns of churn in terms of subscriber growth. That needs to be addressed more aggressively. CEO Jon Feltheimer did have this to say about the subject:
The strength of this programming lineup highlighted by season over season growth for Outlander in the quarter coupled with everything we're learning from our over the top business about reducing churn and targeting our audience with laser precision resulted in overall domestic subs holding steady at 25.1 million with post power churn down 27% compared to last year."
Perhaps a more salient item in some respects is the debt situation. That line increased to close to $3 billion from $2.5 billion. In my previous article on the company's second quarter, I highlighted a comment from the CFO stating that the litigation activity would be better served by debt so that the studio could focus on investing in growth. Fair enough. But shareholders do need to keep an eye on debt levels the next couple quarters. I would like to see a more aggressive approach to reduction.
As for bottom-line earnings, the company made an adjusted $0.35 per share on a diluted basis. That missed Wall Street estimates by two pennies.
The Lions Gate Strategy
Let me turn now to a brief discussion of the more qualitative aspects of the Lions Gate story. I will use an article from Deadline that was published back in October. It focused on comments made by CFO James Barge at an investor conference.
First, the CFO spoke about not doubling down on investments in celluloid entertainment. This is puzzling. Lions Gate is a movie studio which values its large library of celluloid assets. It considers filmed-entertainment IP valuable. To create scale sans an outright sale, one would think more releases would be necessary, especially considering that the company lacks the operating-segment depth of a media company like Disney (DIS). The article then almost immediately quoted Barge expanding on that statement lest there is any misunderstanding: he said it isn't an absolute necessity to increase investment in film projects, that it is basically Lions Gate's choice. Okay, then, what exactly is Lions Gate management thinking about its ability to make money at the multiplex? Shareholders, and potential shareholders, need to think about that.
The CFO also talked about output deals with AT&T's (ATT) HBO and Metro Goldwyn Mayer's (OTC:MGMB) Epix. Barge suggested Lions Gate film slates might eventually move over to Starz for the first pay-TV window. That is an understandable tactic, but it may come with some risk for the company. If Starz were to get all the Lions Gate output -- and let me say, that isn't a bad idea, I do obviously see the merit of such exclusivity and have written about the subject prior -- how would talent react? If Starz has less subscribers than HBO, then, presumably, the value of the Starz output deal would be less. I would have to assume talent would want that deficit in value to be made up. Would that result in higher budgets, driven by increases in above-the-line expenses? Also, would this increase the risk of sweetheart-deal litigation, which is all too common in Hollywood (see the legal mess of The Walking Dead)? I'm not predicting bad things here, I'm only wondering if talent and agencies would perceive a new distribution structure in a negative fashion.
This brings up another topic concerning Lions Gate: management is really eager to work with more high-profile talent, which I wrote about during the Q2 report. This is one of the reasons the company invested in 3 Arts, a management/production outfit. As I did in a previous article, I will refer to this Hollywood Reporter article from the fall on management promoting the studio as a place where talent can explore topics beyond typical tentpole fare.
When I think about Lions Gate's perceived need for more relationships with talent from the higher tiers, and put that together with the CFO's reluctance to invest more aggressively in movies, I come away with some trepidation, because to me, the synthesis becomes obvious: management does not know how to use the risk of Hollywood movies in an appropriate, value-generating manner. My hope is that, as time goes on, the company will increase its investments in film slates, produce more bets, and only develop bets that are deeply commercial in nature. This reduces the need for large budgets or celebrities. Of course, star-driven vehicles are always needed to power a slate, but lower-budget action/comedy/horror movies using actors/writers/directors that might not be as well-known (i.e., are cheaper to pay) would seem to be the archetype that would come natural to Lions Gate's current scale. The bottom-line concern is that the studio cannot pay talent in the same way that Disney can, and if the company oversells itself as the place where talent can make any type of movie it wants (in exchange, I assume, for relatively smaller fees), then that might increase film-slate risk.
Barge also mentioned a desire for Lions Gate to own more of the rights to its projects, as well as a desire to make better pictures in general (the specific quote was "better execution on production"). I would love to know what this specifically means, but I assume it mostly centers on distribution rights. This is definitely a welcome idea to me. I've always said Lions Gate should take on more risk instead of always mitigating risk with foreign-rights sales, as an example. I would also hope that Lions Gate would reduce its reliance on funding its slates with co-finance partners. I'll repeat that using strong concepts and lower budgets should be the goal.
Valuation/Conclusion
Lions Gate isn't expensive right now on a P/E basis. The ratio is a little above 9 right now. That's cheaper than the market. Plus, the shares are closer to the lower end of the 52-week range. Here is a chart: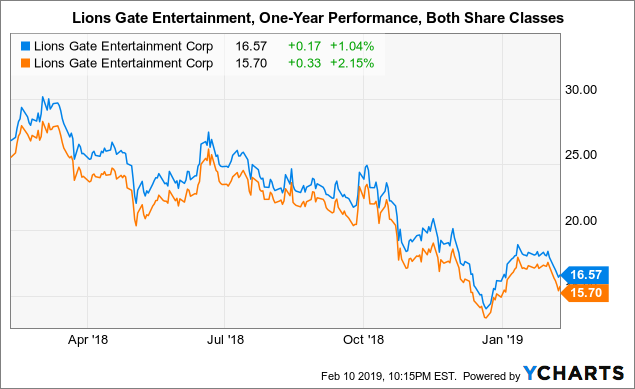 But I also see how the market is pricing in risk. Lions Gate stock is not for everyone. It is speculative.
However, for those who do believe in it, it's arguable that the current share price/valuation is compelling. Even without a takeover, I am still willing to give management the benefit of the doubt as it continues to grow Starz, execute a debt-payment plan, and utilizes its assets and Hollywood deal-making abilities to identify valuable content ideas and to generate new IP in the marketplace.
The third quarter wasn't great. There is work to be done. I will continue investing in the company, but if the story changes, I will obviously reassess my opinion. Perform your own due diligence, as always.
Disclosure: I am/we are long DIS, LGF.A, T. I wrote this article myself, and it expresses my own opinions. I am not receiving compensation for it (other than from Seeking Alpha). I have no business relationship with any company whose stock is mentioned in this article.