Nutrien's (NTR) FY 2018 earnings, released last week, missed expectations by a small margin ($0.01 per share), and the 2019 guidance was on the soft side at first glance. After the initial disappointment, the market realized that the guidance was rather conservative and that the outlook remains promising for Nutrien.
Traders looking for a quick profit may find the shares boring going forward. However, for long-term investors looking for slow and steady growth, the story has been playing out well. More share buybacks and dividend increases are on the horizon to reward patient investors.
FY 2018 results in a nutshell
Q4 2018 came in slightly below expectations due to lower retail sales, as wet weather conditions delayed fertilizer application. This timing effect doesn't change the overall picture of a successful 2018 across all business units (see below). The year was marked by the resumption of the Potash segment whose underlying EBITDA was $1.6bn (the negative figure below includes a $1.8bn impairment charge related to the closure of the New Brunswick plant).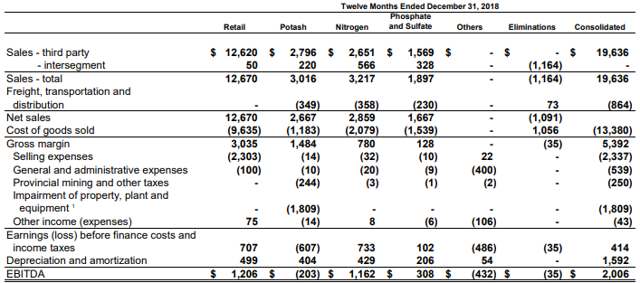 Source: Nutrien's Q4 2018 earnings release
Importantly, Nutrien's 2018 performance was characterized by the much-improved free cash flow ("FCF") generation, at almost $2bn for the year:

Source: Nutrien's Q4 2018 earnings release
At the current price of $53 (for the NYSE-traded shares), Nutrien trades for 16x its 2018 FCF. Put differently, this equates to a 6% FCF yield for investors, which isn't particularly cheap. However, FCF is expected to increase going forward, as operating cash flow will grow along earnings, while sustaining capex are projected to remain stable (see guidance below).
2019 Guidance
In conjunction with the 2018 results, Nutrien shared the following guidance for 2019: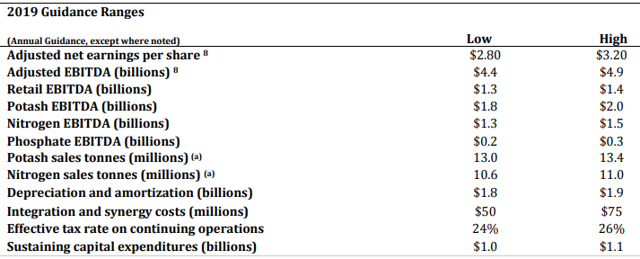 Source: Nutrien's Q4 2018 earnings release
Adjusted EBITDA (here's hoping that there won't be too many "adjustments") is expected to be between $4.4bn and $4.9bn, compared with $3.94 billion in 2018. Nutrien's CEO Charles Magro indicated during the Q4 earnings call that Nutrien typically has an EBITDA to operating cash flow conversion ratio of 70% to 73%.
On that basis, 2019 operating cash flow should be in the region of $3.3bn, assuming mid-range EBITDA. With about $1bn in sustaining capex, FCF would be $2.3bn. If EBITDA reached the top end of the range ($4.9bn), FCF would, theoretically, rise to $2.5bn.
The above number would give a forward P/FCF ratio of 13, at the current share price. What's important to note is that Nutrien doesn't need to invest heavily to maintain its operations. Sustaining capex is much lower than depreciation (~$1bn capex vs ~$1.8bn depreciation as per guidance above) as the company reaps the benefits of investments completed in recent years, such as the Rocanville potash mine in Canada.
Smooth execution of Nutrien's strategy
The above guidance doesn't include potential revenue from large acquisitions, as confirmed by Mr Magro during the Q4 earnings call:
The guidance range for retail [...] includes really a normal or historical M&A activity as part of that number. It certainly does not include a significant step up in capital spending for acquisition.
Nutrien does have a war chest at its disposal, following the divestiture of its equity investments in fellow fertilizer companies Sociedad Quimica y Minera de Chile (SQM), Israel Chemicals (ICL) and Arab Potash Company (OTC:ABPZF, OTC:ABPTY), for $5.3bn in net proceeds. As a result, Nutrien will forfeit about $150m in yearly dividends from its equity investments (mainly SQM). However, Nutrien managed to get a good price from buyers (in particular, $4.07bn from the SQM stake sold to China's Tianqi Lithium, equating to $65 per SQM share). All in all, these divestitures, which were required by the Chinese and Indian regulators as part of the Agrium-Potash Corp merger, did Nutrien no harm, in my opinion.
Some of the proceeds have been used in the share repurchase program ($1.9bn in 2018). More buybacks are being considered, along with further dividend increases:
In terms of returning cash to shareholders, we are focused on providing a stable and growing dividend that is underpinned by growth in our retail business and will review the renewal of the share buyback program when it concludes later this month.

CEO Charles Magro, Q4 earnings call
As part of the strategy, there will also be room for acquisitions in the retail business in particular:
We would expect to make some acquisitions this year where we'll actually start expanding our retail presence and we'll also continue to look for opportunities to add content in the Brazil market from a proprietary standpoint that will also build out our business there. So I think there will be some movement in Brazil in 2019, but we'll go there slow and steady and we'll build it over time.

Michael Frank, EVP & President, Retail, Q4 earnings call
The fact that Nutrien hired a Brazilian national, Mr Pedro Farah, as its new CFO, is no coincidence. However, it looks like the company will favor gradual additions to its portfolio (including in the U.S.) rather than a very large acquisition. The focus on smaller targets was displayed in early February, as Nutrien announced the purchase of soil and plant health products maker Actagro for $340M (analyzed in this article).
Also among the positives from 2018, synergies from the merger have exceeded expectations, according to the company:

Source: Nutrien's Q4 2018 earnings release
Supportive potash market
Despite a recent softening in urea and phosphate prices, the market was supportive going into 2019:

Source: Nutrien's Q4 2018 earnings release
Potash, the main driver of Nutrien's performance, saw its price increase by about 20% in the main regions. The market has benefited from delays in the ramp-up of new capacity. The factors described in this article are still at play. Israel Chemicals, commenting on competition in their Q4 earnings report, indicated that "The Turkmenhimiya (Turkmenistan) Garlyk mine (nameplate capacity of 1.4 million tons per year) is believed to be inoperable".
This failure and the slower ramp-ups at Eurochem's mines in Russia and K+S's (OTCQX:KPLUF, OTCQX:KPLUY) Bethune mine in Canada, account for the firm pricing environment. Meanwhile, Nutrien has the flexibility to adapt its production levels, meaning that any shortfall from competitors is likely to translate into higher sales volumes on Nutrien's side (swing producer ability).
Takeaways
Nutrien's Q4 earnings were not spectacular, and the 2019 guidance was rather conservative. However, there's no denying the steady progress made by the company since the merger. Furthermore, the upside potential from potential acquisitions and growth capex was not factored in the guidance.
Investors should not expect the stock price to take off overnight, and traders looking for action may want to look elsewhere, for instance at Intrepid Potash (IPI). However, for buy-and-hold investors, Nutrien has been delivering on its strategy, and in my opinion, it remains the name to own in this space.
Disclosure: I am/we are long NTR, IPI. I wrote this article myself, and it expresses my own opinions. I am not receiving compensation for it (other than from Seeking Alpha). I have no business relationship with any company whose stock is mentioned in this article.
Additional disclosure: The opinions and views expressed in this article are for information purposes only and should not be used or construed as an offer to sell, a solicitation of an offer to buy, or a recommendation to buy, sell or hold any security, investment strategy or market sector.
Editor's Note: This article discusses one or more securities that do not trade on a major U.S. exchange. Please be aware of the risks associated with these stocks.