Lannett Pharmaceuticals (LCI) announced that it lost the contract with JSP for the distribution of Levothyroxine and Digoxin on August 20th, 2018. The contract terminates the distribution business for all JSP products on March 30th 2019. In my opinion management should report Levothyroxine and the rest of the JSP products in "discontinued operations" so that investors could easily understand what the "core" or remaining business looks like. Levothyroxine was such a powerful economic force for LCI that the remaining company should really be considered "New-Co" as it barely resembles the company that distributed Levothyroxine.
Because management has chosen to include Levothyroxine (Levo) sales in their most recent quarterly report we are all going to have to perform some gymnastics in order to tease out what is left of the company after the March period concludes.
Below I detail a few ways to solve for the earnings power of "New-Co" - in the end - we will find that shareholders are left with a business that has negative growth trends and looks rather unremarkable. In fact by my calculations the base generic drug business EBITDA is down 21% since Mr. Crew took over in January of 2018 and down 33% year over year. This is a melting ice cube that looks like it will trip its newly expanded debt covenants.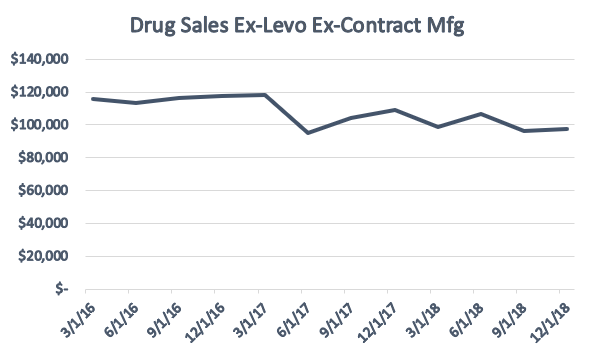 Source: company filings, my calculations
Levo Is The Nitty Gritty
To its credit LCI has disclosed that Levo produces Gross Margins of 60% (form 10q page 33) although the company has not disclosed what the EBITDA contribution is of the product, which is critical considering the $863 million in debt has a 4.25 debt to EBITDA covenant via the latest credit amendment. I believe that the gross margins of terminated Levo distribution agreement had close to 100% pass-through to EBITDA, meaning that for every dollar of Levo sold 60 cents went to gross margin and virtually all of that fell to EBITDA.
Seeing is Believing?
Let's run a back test to see if we can get close to a 60% EBITDA contribution from Levo. I'm going to look back at Hurricane Maria, if you recall Hurricane Maria knocked out a facility in Puerto Rico (owned by TMO) that was the contract manufacturer of Levothyroxine for Sandoz causing a temporary disruption in supply of the product, which helped boost LCI's revenue briefly. You can clearly see the transitory effect in the revenue numbers from Q4 2017 and Q1 2018.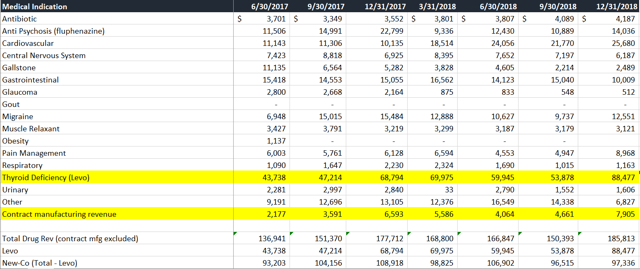 Source: EDGAR, Company Filings, My Calculation - all figures in the charts/tables in the article are in thousands
I need to isolate Levo, I do this by excluding Contract Manufacturing so that we can compare the incremental sales of Levo vs the rest of the drug products. The Hurricane Maria benefit hit in the quarter ending 12/31/17 - below I establish that Levo had a sequential bump of $21.6M for the quarter and the rest of the drug products had a $4.8M bump for the quarter, totaling $26.3M in sequential incremental drug sales.

Source: EDGAR, Company Filings, My Calculation
The next step is to decipher what % of the incremental Levo made its way down to the EBITDA line. Below you can see that the company reported a sequential increase in EBITDA of $14.3M produced from the incremental sales.

Source: EDGAR, Company Filings, My Calculation
The conclusion that I generate from this exercise is that 54.2% of the incremental sales during the hurricane Maria bump converted to EBITDA (14,270/26,342=54.2%).
This Is The Math We Need To Establish New-CO
Let's stop and talk about what we have established for a moment. I proposed that nearly all of the 60% gross margin from Levo probably passed through to EBITDA, this is a fairly conservative attempt at establishing what the EBITDA margin is for Levo so I feel comfortable saying that Levothyroxine has at least a 54% EBITDA margin. Importantly I wouldn't need to do any of this if the company simply put their discontinued business in discontinued operations.
So let's apply this logic to the reported financials and present them annualized forward so that we can get a runrate calculation for the New-Co.

Source: EDGAR, Company Filings, My Calculation
For the Quarter ending in December 2018 I calculate that the company generated $74.694M in EBITDA, $47.93M of which was attributable to Levo, resulting in $26.764M in New-Co EBITDA.
That yields a annualized "Run Rate" EBITDA of $107.057M for New-Co.
With $68.380M of Cash Interest Expense
And an annualized CAPEX number of $25M (again conservative given that guidance was for $30M-$35M)
Which results in $13.765M in Operating Free Cash Flow (once more this is conservative as I didn't tax effect any of this)
The Debt is Crushing and the Covenants are Too Tight
According to Tim Crew the cash balance is currently "comfortably more than $200 million". Let's give him credit for $220 million in cash to net out against the $863 million in debt he reported in his form 10Q.

Source: EDGAR
This yields a net debt calculation of $643 million in net debt, which is problematic for a host of reasons.
Organically the company only generates $13.765M in FCF, this will take 46 years to pay off the debt
The covenant on the debt is currently 4.25x but the operations suggest a run rate of 6x ($643 of debt / $107 of New-Co EBITDA = 6.00x)
The company needs to get EBITDA above $150M to maintain compliance with its covenants so the run rate is $43M short at the moment.
At the current New-Co EBITDA margin of 25% the company will need to generate $172M in new sales in order to maintain its 4.25x debt covenant.
Conclusion
This math isn't perfect, but is serves its purpose in that even with wildly conservative assumptions and non-taxed numbers this company has little to no ability to ever pay off its debt. Equally concerning are the looming debt covenants and lack luster performance of management to date.
Disclosure: I am/we are short LCI. I wrote this article myself, and it expresses my own opinions. I am not receiving compensation for it (other than from Seeking Alpha). I have no business relationship with any company whose stock is mentioned in this article.
Additional disclosure: I am/we are short LCI. All information for this article was derived from publicly available information. Investors are encouraged to conduct their own due diligence into these factors. Additional disclosure: This article represents the opinion of the author as of the date of this article. The information set forth in this article does not constitute a recommendation to buy or sell any security. This article contains certain "forward-looking statements," which may be identified by the use of such words as "believe," "expect," "anticipate," "should," "planned," "estimated," "potential," "outlook," "forecast," "plan" and other similar terms. All are subject to various factors, any or all of which could cause actual events to differ materially from projected events. This article is based upon information reasonably available to the author and obtained from sources the author believes to be reliable; however, such information and sources cannot be guaranteed as to their accuracy or completeness. The author makes no representation as to the accuracy or completeness of the information set forth in this article and undertakes no duty to update its contents. The author may also cover his/her short position at any point in time without providing notice. The author encourages all readers to do their own due diligence.