Note: Dollar amounts are in Canadian dollars.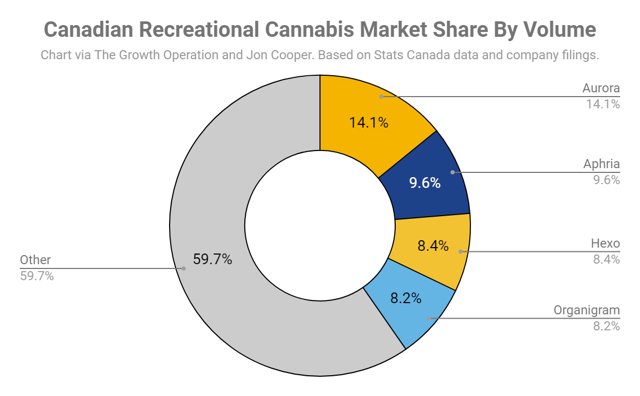 Summary
On Feb 11, 2019, Aurora Cannabis (NYSE:ACB) reported their earnings for the Dec. 31st quarter. This is the first quarter that overlaps with Canadian recreational cannabis legalization, beginning Oct. 17th.
Aurora Cannabis is the fourth major Canadian cannabis producer to report post-recreational earnings, after HEXO (OTC:HEXO), Aphria (OTC:APHA), and Organigram (OTCQX:OGRMF). As with each of those three companies, Aurora saw tremendous growth in the post-legalization quarter despite the somewhat rocky start to Canadian legalization of cannabis.
Aurora forecast $50-55 million in revenue, and they hit that target with revenue of $54.2 million, up 83% sequentially and up 363% year over year. Aurora's recreational cannabis sales were very strong, with perhaps 20% market share according to Aurora, although my estimate is closer to 14% market share. Aurora also reported great revenue/gram on the recreational market, higher than any of its peers.
Aurora's cash flow continues to be quite negative. This quarter, free cash flow dropped to a $142 million deficit, ticking down marginally from a $141 million deficit last quarter. About half of this cash flow is the result of Aurora's investment in their production infrastructure while the remainder is primarily due to high operating costs. Aurora guides to positive EBITDA in their fourth quarter (ending June 30th) and guides to positive operating cash flow shortly thereafter - presumably in either the September or December quarter.
Aurora, as with Canopy Growth (OTC:CGC), is targeting the global cannabis market. Because of this, valuations are stretched, and it will take years for Aurora to mature into a more modest EV/EBITDA ratio. Today, Aurora trades at ~46x annualized sales, which is a lofty multiple in any industry. Aurora will need to continue to execute very well to prove they are worthy of this valuation.
For my part, I will continue to stay on the sidelines. Aurora had an excellent quarter, and I really like their move to provide revenue guidance to prevent the market from being disappointed. That said, cash flow and valuation remain concerns for me, and I prefer other cannabis investments like HEXO and Organigram.
Hitting The Target
Last month, as I discussed in Aurora Lowers The Market's Expectations, Aurora announced revenue guidance for their second quarter of fiscal 2019, ending Dec. 31st. Prior to that guidance, analysts had optimistically estimated that Aurora might generate $67 million in revenue. Aurora corrected those analysts and guided to $50-55 million in net revenue.
Today, Aurora delivered on their guidance, generating $54.2 million in net revenue, with $62 million gross revenue minus excise taxes. This is by far Aurora's highest revenue, up 83% sequentially and 363% over last year.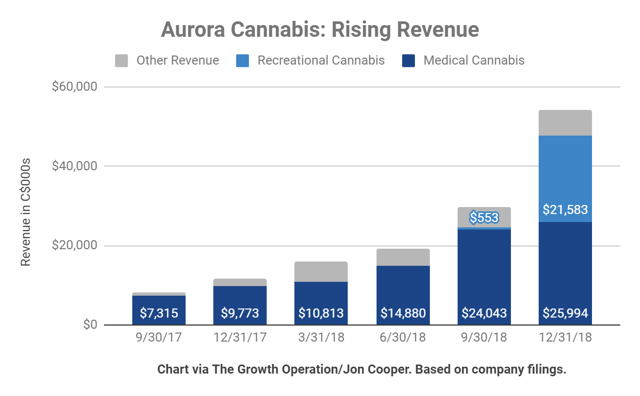 Aurora's revenue is made up of three components: Medical cannabis sales, recreational cannabis sales, and other revenue, including patient counseling and analytical testing services. Nearly all of Aurora's growth this quarter is attributable to the launch of recreational cannabis in Canada, which led to $553,000 in revenue last quarter and $22 million in revenue this quarter.
Pro forma medical revenue decline: While Aurora's medical cannabis revenue was up 8% sequentially, this is actually a decline from the prior quarter pro forma. Last quarter, as I discussed in a November article, MedReleaf only included about two months' worth of results. With all of MedReleaf's September quarter results, Aurora would have earned ~$35 million excluding recreational revenue. This quarter, Aurora earned $33 million excluding recreational revenue - a slight decline over pro forma results.
This decline is due to falling medical cannabis volumes in the December quarter (as I discussed in my revenue forecast for Canopy Growth last week) and because Canada instituted an excise tax on medical cannabis. Because of the latter factor, Aurora saw unit prices for medical cannabis drop ~13% sequentially to about $8.14/gram.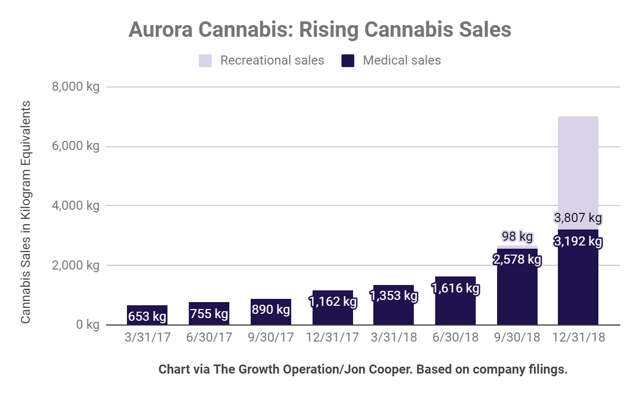 Strong recreational cannabis sales: While Aurora's medical cannabis results suffered marginally due to excise taxes and low unit revenue, Aurora posted very strong medical cannabis sales.
During the December quarter, Aurora sold 3,807 kg of recreational cannabis, which is 48% more than the medical cannabis they sold last quarter. As a whole, Aurora sold 162% more cannabis this quarter than last quarter - phenomenal sequential growth. Aurora's recreational cannabis sales included 3,500 kg of dried cannabis and 306 kg equivalents of cannabis extracts, including cannabis oil, capsules, softgels, and topicals.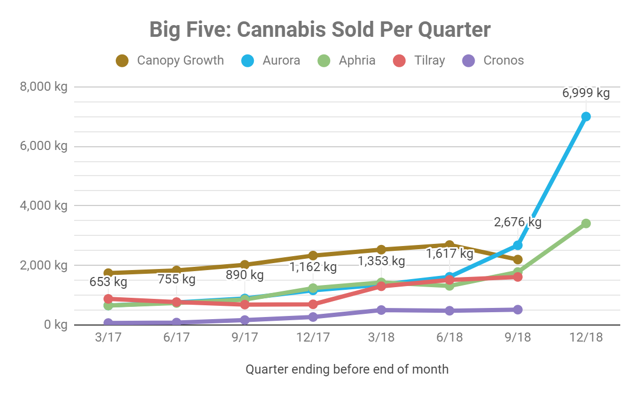 Aurora's cannabis sales are, by far, the largest yet reported by any Canadian cannabis company and are nearly twice as much as the sales of Aphria last month. By my estimate, this gives Aurora a market share of 14% in the Canadian recreational cannabis market. Canopy Growth may eclipse this mark later this week, but Aurora's sales growth is remarkable.
Margins and Cash Flow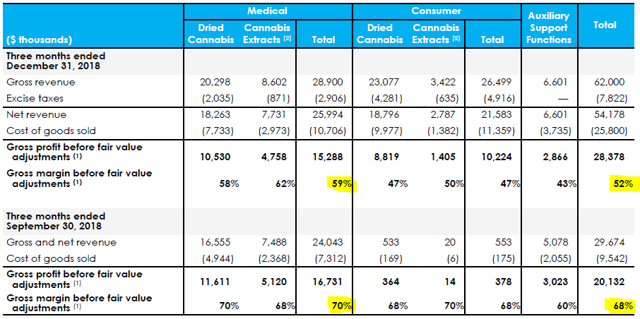 Source: Aurora Second Quarter MD&A.
Lower margins: Recreational cannabis generates less unit revenue than medical cannabis. During the quarter, Aurora earned about $8.14/gram for medical cannabis but earned only $5.67/gram for medical cannabis. Combining medical and recreational revenue, Aurora's net selling prices declined $2.16/gram for dried cannabis and $2.12/gram equivalent for cannabis extracts. This decline was due to the launch of excise taxes and due to lower unit revenue from recreational cannabis.
As a result, Aurora's gross profits, excluding fair value adjustments, dropped from 68% last quarter to 52% this quarter. Medical cannabis gross margins declined from 70% to 59%, due to the impacts of the excise tax on medical cannabis and due to higher production and packaging costs.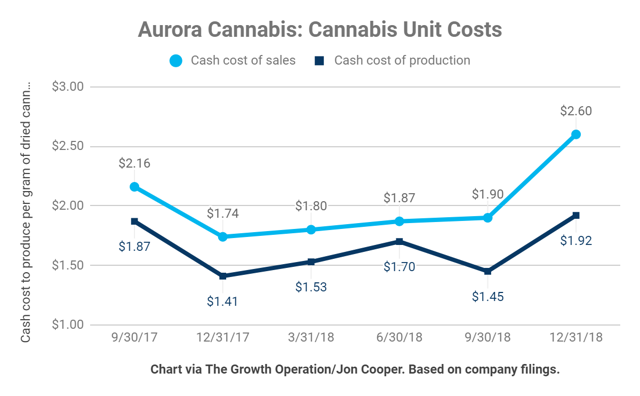 Higher growing costs: Aurora will likely generate higher margins in future quarters are growing costs decline. Costs per gram were higher in the second quarter than in any of the past five quarters, which hurt margins. Aurora attributed this increase to higher labor and logistics costs in preparation for the legalization of adult-use recreational cannabis in Canada. Aurora expects these costs will improve in the future when their Aurora Sky facility is fully operational and efficiencies from automation and scale are realized.
These costs are quite high, especially when compared to companies like Organigram, which reported costs of cultivation of $0.74/gram last quarter. However, the calculation methods for these costs are not standardized, so it isn't clear if these two metrics are directly comparable.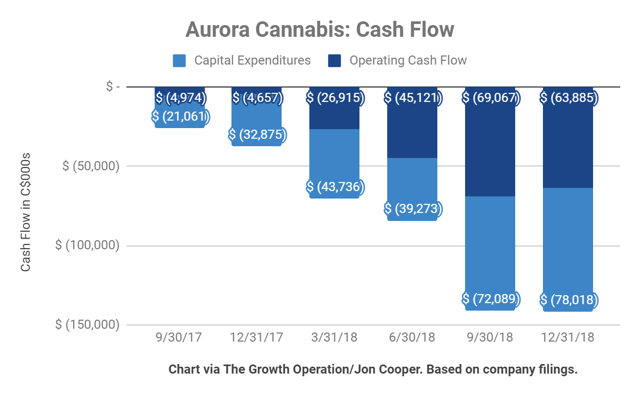 Cash flow continues to be negative: Despite rising revenue, Aurora is not yet making a profit. During the December quarter, operating cash flow increased sequentially from a $69 million deficit to a $64 million deficit. The reason for this deficit is much the same as last quarter: Aurora earned revenue of $54 million but had operating costs of $112 million. Notably, this gap was narrower than last quarter with revenue rising and operating costs falling: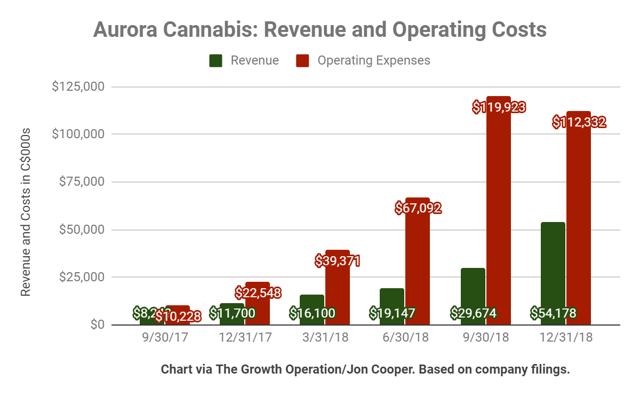 This deficit will be corrected over the next several quarters. Aurora is guiding towards positive EBITDA in their fourth quarter (ending June 30th) and guiding towards positive operating cash flow shortly thereafter - presumably in either the September or December quarter.
Cash position: As of Dec. 31st, Aurora had about $206 million in cash, restricted cash, and marketable securities. This was offset by about $348 million in debt and convertible debt. Since the end of the quarter, Aurora has also issued U$300 million of convertible notes to shore up their finances. After the financing, Aurora will have nearly $600 million of cash and short-term instrument - enough to last several quarters at the current $142 million free cash flow deficit.
Notably, Aurora has emphasized that these convertible notes are not dilutive. Aurora has the option to repay the notes either in cash or in debt, and Aurora has repeatedly said they plan to repay the notes in cash:
A lot can change in five years before the notes are due, but as of today, Aurora does not plan to dilute shareholders - these notes are simply a loan at 5.5% interest.
Market Share and Footprint
As of Feb. 11th, Aurora shares trade for $9.50/share on the TSE. At this price, Aurora's market cap is ~$9.9 billion, and their enterprise value is slightly over $10 billion. This makes Aurora the second most valuable cannabis company, behind Canopy Growth but narrowly ahead of Tilray (TLRY).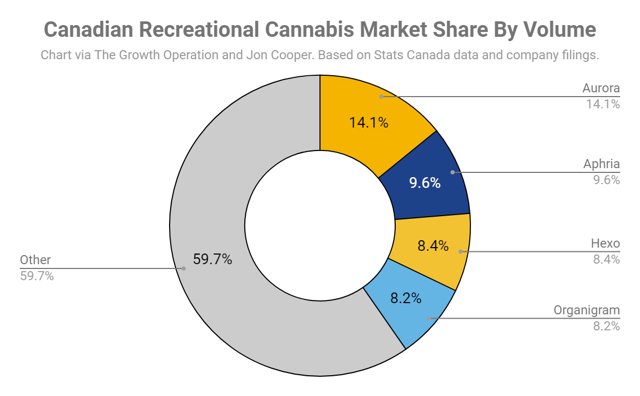 In Aurora's filings, the company suggests that they have ~20% market share:
"The company is performing well in the Canadian consumer market, recording $21.6 million of revenue in Q2 2019. Based on available data released by Health Canada for the Q2 2019 period, Aurora accounted for approximately 20% of all consumer sales across the country."

Aurora Cannabis Second Quarter Earnings Letter
I am not sure where they are deriving this figure from, since a derivation is not provided. That said, I believe that Aurora Cannabis has ~14% market share by weight based on statistics from Stats Canada and filings from Aurora and other companies. This compares favorably to the results of each of Aphria, HEXO, and Organigram, each of which has under 10% market share by weight. The methodology used here matches that from The Cannabis Chronicles: Sales Cool Off In November, But Hexo And Aphria Stand Tall last month.
Notably, Aurora is also more costly than any of Aphria, HEXO, and Organigram. Aphria is the most expensive of those three companies, and it trades for an enterprise value of ~$2.5 billion - about one-fourth as much as Aurora.
International footprint: However, Aurora also has much more extensive international operations than Aphria or its smaller Canadian peers, including Aurora's first shipment to the United Kingdom announced on the morning of Feb. 11th.
After that shipment, according to a chart that I keep on The Growth Operation, Aurora Cannabis's international footprint is even more extensive than Canopy Growth: Aurora operates in approximately 17 countries that are home to a combined nearly 800 million people.
Thoughts
Overall, I thought it was a strong quarter from Aurora.
Aurora had already announced guidance, and after the quarter had ended, so it was little surprise that they were able to meet their targets. I am especially impressed with Aurora's market share of the Canadian market, which I estimate to be 14% but Aurora suggests is approximately 20%. At either figure, Aurora is performing well in Canada and is well worthy of being the second most valuable cannabis company in Canada.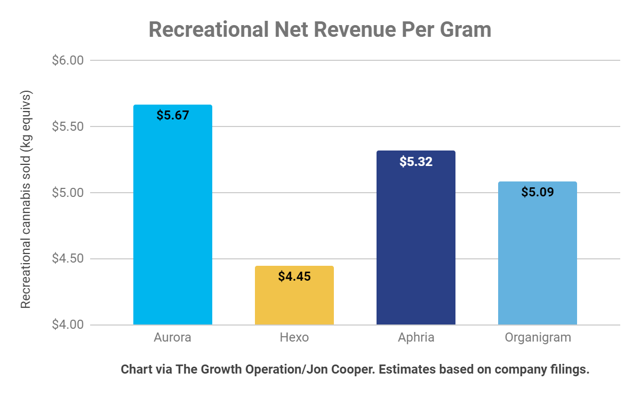 I am also impressed at Aurora's recreational cannabis revenue per gram. Based on my own estimates, Aurora appears to be generating more revenue per gram than its peers, generating $21.6 million on sales of 3,807 kilogram equivalents of cannabis. This compares favorably to each of HEXO, Aphria, and Organigram.
However, there are still two points that might concern skeptics: Cash flow and valuation. Both of these concerns will take some time to solve - perhaps 2-4 quarters for cash flow to improve and several years for Aurora to grow into its $10 billion enterprise value.
Aurora's cash flow continues to be negative, with $140 million free cash flow deficits in each of the last two quarters. That said, Aurora is planning to generate a positive EBITDA in two quarters and a positive operating cash flow shortly thereafter.
As I explained with Canopy Growth last month, Aurora's valuation is optimistic, pricing in years of growth. Aurora trades at a value of ~$10 billion and generated $54.2 million in quarterly revenue. Annualized, this means that Aurora trades at an EV/Sales ratio of 46x. Aurora is experiencing explosive growth - revenue was up 363% this quarter over last year - but it will take many years of growth for Aurora to grow into its current valuation. For example, based on some analyst projections, it may take until FY2023 (ending June 30, 2023) because Aurora earns enough EBITDA to trade at an ~15x EV/EBITDA ratio. This valuation means that Aurora could be a very volatile investment. Its current price depends on the market continuing to believe in Aurora's growth story.
Today, however, Aurora's growth story is still intact. At least until Thursday, Aurora Cannabis has set the record for most revenue in a quarter from any cannabis company.
Happy investing!
I run a cannabis investment newsletter community on the Seeking Alpha platform, called The Growth Operation. Among other features, members of this community receive:
Daily run-downs of breaking cannabis news - including news on both U.S. and Canadian cannabis producers, including the ongoing Namasteand Auxly/FSD Pharma dramas.
Exclusive access to my in-depth research articles cannabis companies and the cannabis market in the United States and Canada. Last week, this included in-depth coverage of Slang Worldwide and Origin House.
Access all my past Seeking Alpha articles - even back-articles that are no longer free.
Free trials are available all month.
Disclosure: I am/we are long CGC, OGRMF, HEXO. I wrote this article myself, and it expresses my own opinions. I am not receiving compensation for it (other than from Seeking Alpha). I have no business relationship with any company whose stock is mentioned in this article.
Additional disclosure: I am long Organigram via warrants.