As an investor with experience only dating back to September 2017, I often find it helpful to seek the perspective of a more experienced and versatile investor.
One such individual that I seek wisdom from is Warren Buffett. Buffett is famous for not only being a wise and practical man, but also for being one of the greatest investors of the past 100+ years. His "Buffettisms" are the thoughts and ideas that guide many investors with a long-term time horizon in their investment strategies.
One of the more prudent Buffettisms was in the 2004 Berkshire Hathaway (NYSE:BRK.A) (NYSE:BRK.B) Chairman's Letter and was as follows: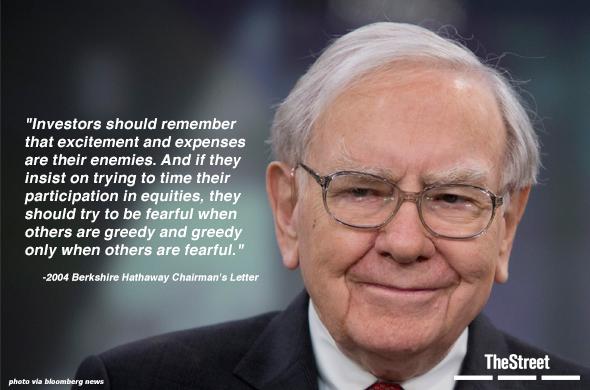 Image Source: TheStreet
Although I'm an investor that believes in owning individual equities because of my love for the analysis that goes into investing, not to mention my belief that the market is inefficient in valuing businesses over the short to medium term, I'm also an investor that believes in dollar-cost averaging into the market through various holdings over time.
It is with that said, that I'll delve into a particular equity that I believe fits the above Buffettism for those who are tolerant of the risk profile of the investment opportunity presented below.
That investment opportunity is CVS Health (CVS). Since peaking at over $112 a share in July 2015, CVS has fallen 42% to just above $65 a share at the time of writing. For context, this precipitous drop has occurred while the S&P 500 has delivered 27% returns (or 7% annual returns during the same time period). One would believe by examining the chart of CVS Health compared to the chart of the S&P 500 that the fundamentals of CVS have materially deteriorated, when in fact, that isn't the case. The company has grown earnings by an average of 10% per annum over the past 5 years and is poised for an acceleration of that growth to 12% per annum over the next 5 years, per Yahoo Finance analyst estimates
This isn't to say the drop has occurred over nothing (as we'll discuss in more detail in the risks to consider section), but I believe it is reasonable to say that this drop while the market rose during that same time does highlight the inefficiencies of the market over the short and medium term.
I believe that the market has cast their vote and that in the short to medium term, CVS will continue to be an "unpopular" stock due to the market's fixation on the risks facing them and the dismissal of the opportunities that will likely materialize in the coming years.
CVS offers investors an opportunity to collect an above-average dividend yield compared to the S&P 500 (though currently frozen dividend due to management's deleveraging strategy), growth catalysts over the long term, and a current price that suggests undervaluation in comparison to fair value of the company.
We'll delve into these factors and how I believe these factors will coalesce into CVS being an investment that will beat the market over the long term.
Reason #1: A Safe, Soon To Be Fast-Growing Dividend
As I've outlined in the past, I consider dividend safety and dividend growth potential to be a testament to the fiscal responsibility of a management team over the long term.
As a dividend growth investor, my investment strategy is to find companies for my portfolio that offer a combination of both dividend safety and dividend growth.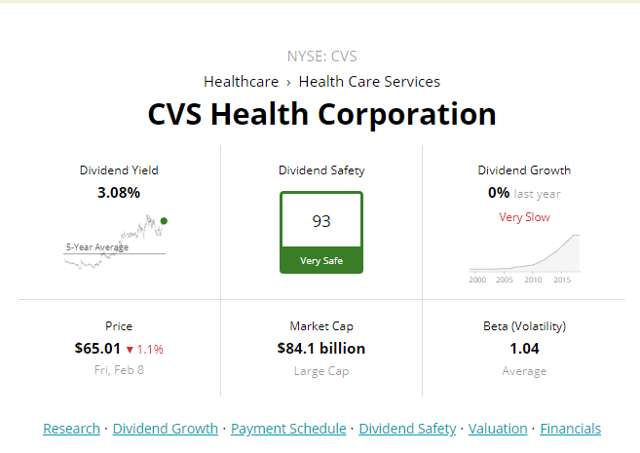 Image Source: Simply Safe Dividends
As evidenced by the dividend safety score of 93 awarded by Simply Safe Dividends, the dividend of CVS is well-covered.
Next, we'll delve into why both Simply Safe Dividends and I believe the dividend of CVS is very safe by examining both the company's EPS payout ratio, and the company's FCF payout ratio.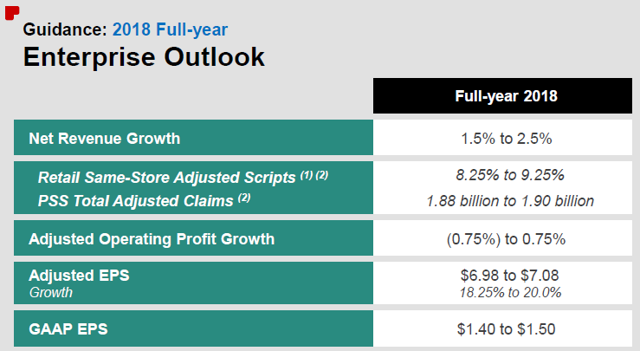 Image Source: CVS Health Q3 2018 Earnings Presentation
Upon examining the adjusted EPS guidance for 2018, we can see that the midpoint of CVS adjusted EPS guidance is $7.03, compared to the annualized dividend of $2.00. This equates to a current year EPS payout ratio of just over 28%, indicating the dividend is, in fact, safe.
The second aforementioned metric is the FCF payout ratio, which is more highly touted by many analysts over the EPS payout ratio because unlike the EPS payout ratio, the FCF payout ratio measures the amount of cash a company has at its disposal after business operations to pay dividends, pay down debt, or fund acquisitions.
According to CVS Health's Q3 2018 Financials, the company issued FY 2018 FCF guidance of approximately $7.0 billion while dividends paid in 2018 should be around $2 billion. This leads us to a fairly similar FCF payout ratio of 28% compared to the EPS payout ratio.
Using both metrics, we can see why Simply Safe Dividends awarded CVS Health one of the highest dividend safety scores possible.
However, that dividend safety alone isn't going to be enough to provide an inflation-crushing series of dividend increases in the years to come. Fortunately, I do foresee CVS resuming its dividend increases sometime in 2020 or 2021 once the company achieves its objective to deleverage to what it believes is a reasonable debt load, following the Aetna acquisition.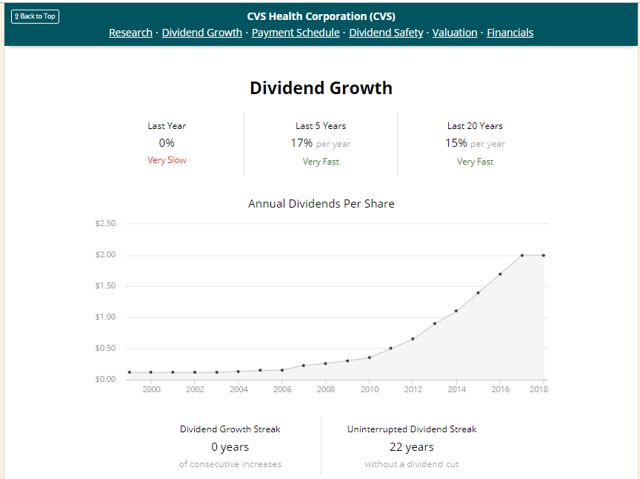 Image Source: Simply Safe Dividends
As we alluded to with the 5-year earnings growth forecast for CVS, I do believe that in a couple years, CVS will resume not just dividend growth, but meaningful dividend growth.
I don't believe the dividend growth will resemble the growth we have seen over the past 5 years and 20 years, respectively. However, even a deceleration to dividend growth that roughly mirrors EPS growth would mean in a conservative scenario, dividend growth of high-single digits.
In my view, that's a compelling combination of dividend safety and dividend growth in the coming decade and beyond.
We'll now delve into why some analysts are bullish on the long-term outlook of CVS.
Reason #2: Growth Catalysts With A Long Runway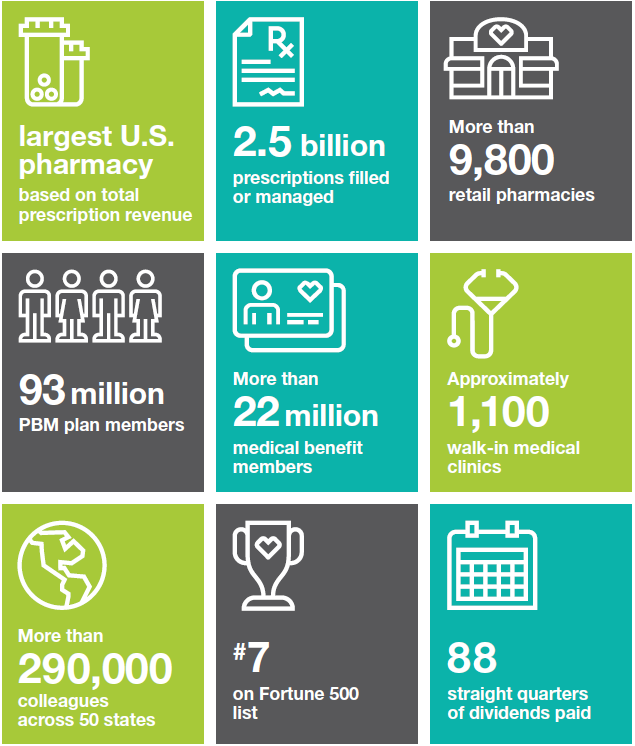 Image Source: CVS Health Investor Fact Sheet
Although CVS Health initially began as a pharmacy chain, it has since expanded into one of the nation's largest pharmacy benefit managers or PBMs with its 2007 acquisition of Caremark.
Given that the mega-merger with Aetna recently closed for $78 billion (including debt), CVS has firmly established itself as one of the largest and most vertically integrated healthcare companies in the country. As prescription volumes increase, the costs of administering such prescriptions barely increases. This means that the economy of scale that CVS currently boasts will continue to benefit the company.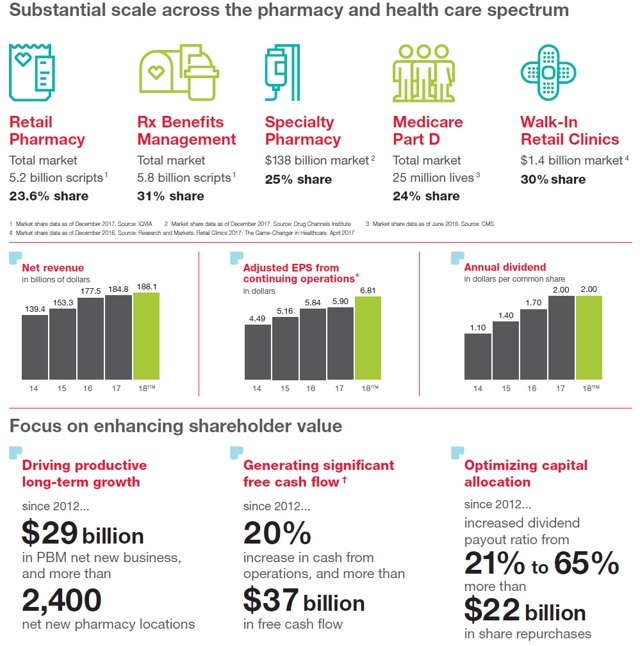 Image Source: CVS Health Investor Fact Sheet
As evidenced by the above graphic, CVS enjoys a strong market share throughout the healthcare landscape. The sheer scale of CVS means that over 75% of Americans live within 5 miles of a CVS pharmacy and 1/3 of the US population interacts with the company in some way each year.
The primary intention of the CVS/Aetna merger is to enable CVS to get ahead of the cost-cutting curve, in which politicians, consumers, and companies are all desperate to find ways to improve efficiency and reduce waste.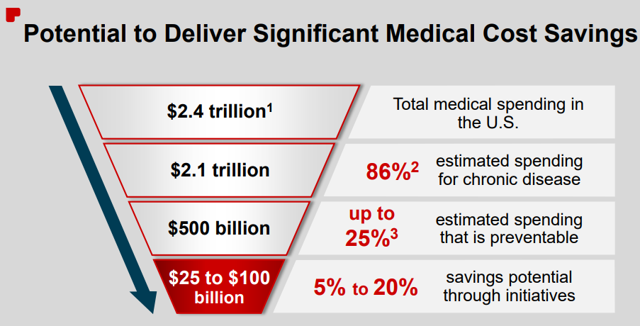 Image Source: CVS/Aetna Merger Presentation
CVS believes that by leveraging its tremendous scale, it can help achieve $25-100 billion in annual savings through initiatives, while also benefiting from billions in additional profits.
CVS expects to fulfill this by investing extensively in its technology, thereby reducing pharmacy mistakes and improving patient care via minute clinics.
Management expects to achieve over $750 million in cost synergies by the end of the second year of the merger, which is 2020. Besides the elimination of overlapping administrative functions through the merger, CVS expects to achieve the cost-cutting goals by simplifying the drug formulary and health plans in comparison to when CVS and Aetna were each independent, standalone companies.
These measures by themselves would boost profitability. This is without even considering that the net margins of Aetna were more than double that of the margins of CVS in 2017.
In addition to the cost synergies and boosted profitability as a result of the merger, CVS also intends to invest billions in repurposing some of its pharmacies into healthcare hubs.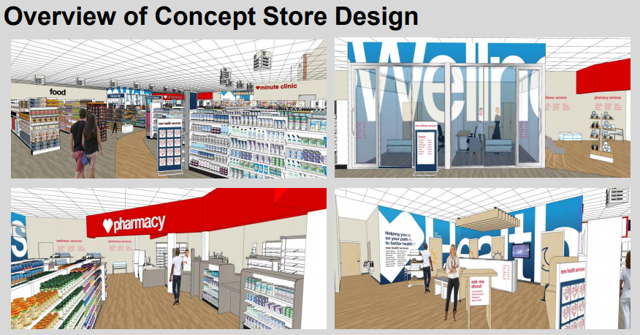 Image Source: CVS/Aetna Merger Presentation
CVS envisions approximately 20% of its under-performing retail space will be transformed into healthcare clinics, which are not only more profitable to CVS, but also offer more utility for consumers.
It's this added utility that this transformation will provide customers that will ultimately lead to a wider moat for CVS. As we all know, the more value a company can provide for its customers, the wider its moat theoretically becomes.
Though this massive acquisition of Aetna can be scary to think about at times, it is reassuring to realize that the last major acquisition that CVS engaged in was the Caremark acquisition. It was that major acquisition that transformed CVS from a pharmacy chain into a PBM, rewarding shareholders with impressive dividend growth over that time.
This Aetna acquisition unlocks a whole lot of potential savings and value for consumers, which should translate into success for CVS as well. Having brought this up, it would only be fair that I present the risks that CVS will face both in the short-term and in the long term. As we know, there is no "safe" equity investment and CVS is no exception to this rule.
Risks To Consider:
In their acquisition of Aetna, CVS took on $40 billion of debt, at an average interest rate of 4.2%, in addition to anticipating the need to issue around 285 million additional shares of stock to fund the Aetna acquisition. That massive amount of debt that CVS incurred to acquire Aetna came with an inevitable credit downgrade by Standard & Poor's from BBB+ to BBB, among other credit rating firms. The share dilution also does pose a risk to CVS shareholders should the expected $750+ million short-term synergies not materialize as expected. The near-term effect of this mega-merger is that there will be a material dilutive effect on adjusted EPS as the cost of revolutionizing healthcare over the long term.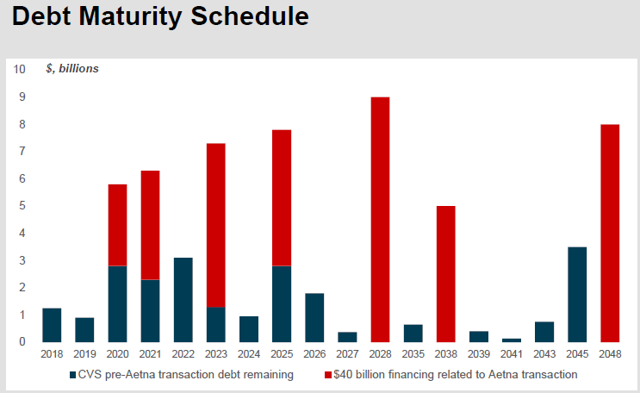 Image Source: CVS Health Q3 2018 Earnings Presentation
Because a strong balance sheet is critical to the overall prospects of a company's financial health, CVS has announced its intention to reduce its combined pro-forma debt to EBITDA ratio from the current 4.6 to 3.5 within 2 years of the Aetna deal closing. Looking out longer term, CVS is aiming for a low 3 leverage ratio. CVS intends to do this by suspending its share buyback program, in addition to freezing the dividend until the desired leverage ratio of around 3 is achieved.
While the interest coverage ratio of CVS of 4.8 leaves quite a bit to be desired in terms of balance sheet strength, this will rapidly improve over the next couple of years with CVS allocating billions to debt repayment, reducing that leverage ratio considerably as I mentioned above.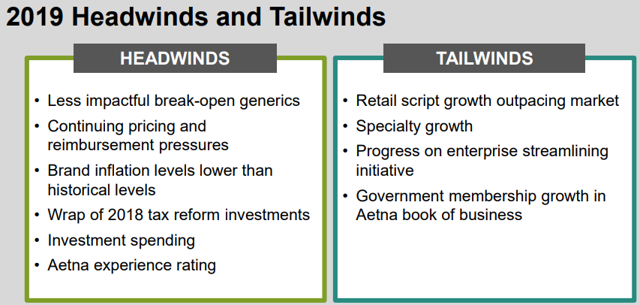 Image Source: CVS Health Q3 2018 Earnings Presentation
Other headwinds that are in the short term include pricing and reimbursement pressures from insurance companies and major medical companies (who are also consolidating in an effort to increase their economy of scale and bargaining power with companies such as CVS, thereby potentially reducing the margins of CVS). Another headwind in 2019 and beyond is that with 2018 behind us, CVS won't be expected to benefit from tax reform in the years ahead.
Yet another headwind in the near term is as the company is transitioning from pharmacies into healthcare hubs, this will cost several billion dollars and result in limited FCF growth. Fortunately, this should result in long-term benefits for the company in terms of increased profitability and a widened competitive moat.
A more long-term risk is that given the extensive involvement of the government in the healthcare industry, regulatory risk needs to be a concern that investors consider.
Recently, the Department of Health and Human Services proposed a new rule banning backdoor rebates between drug companies and PBMs, in addition to Medicaid managed care organizations and Part D plans. This would pass on 26-30% (compared to list price) of the typical drug rebate onto consumers.
Though this proposed rule should theoretically have little impact on CVS, as with all considerable government healthcare regulatory changes, there is a degree of uncertainty that accompanies these types of proposed rule changes.
An additional risk facing CVS in the long term is the strategic alliance between Amazon (NASDAQ:AMZN), JPMorgan Chase (NYSE:JPM) and Berkshire Hathaway that aims to reshape the healthcare landscape. Given that these three companies boast some of the best business minds in the world, there is a real possibility this alliance could potentially alter the healthcare landscape and compete with CVS.
However, having discussed a few of the risks facing CVS, the one we haven't yet mentioned is the most important consideration for a current or potential CVS shareholder to consider.
The majority of the 2020 Democratic presidential candidates have endorsed Bernie Sanders' "Medicare for All" single-payer plan. Should the "blue wave" of the Democrats be realized in 2020, with them taking control of the White House and Congress, this could result in the passage of a single-payer plan potentially. If this were to occur, this would devastate private health insurance in the US by possibly banning it.
It goes without saying that if the final risk materializes, that could be catastrophic for companies such as CVS. This would break my investment thesis, rendering CVS a sell rather than the strong buy that I consider it today.
Reason #3: CVS Health Is Currently Trading At A 16% Discount To Fair Value
Having discussed the merits of an investment in CVS, we now arrive at the current price to fair value aspect of the case for an investment in CVS.
I'll use a variety of methods to arrive at what I believe to be fair value for CVS and we'll compare that to the current price, highlighting the chasm between the fundamentals of the company and current market sentiment toward CVS.
First, we'll examine CVS Health's current price to cash flow ratio and compare that to the historical ratio, in addition to the current broader market's ratio.
Per Morningstar, CVS is currently trading at a price to cash flow ratio of 10.59, against its 5 year average of 11.73 and the broader market's average of 12.40. The company is trading at a 9.7% discount to fair value compared to its average price to cash flow ratio over the past 5 years, offering 10.8% upside in multiple expansion. This would indicate that against the current price of $65.01 (as of February 10, 2019), the fair value of CVS using this valuation method is $72.01.
In addition, Morningstar also awards CVS a fair value of $96 a share. This doesn't necessarily mean that Morningstar is infallible (none of us are), but it only serves to reinforce the notion that CVS is undervalued. Quantifying that degree of undervaluation is as much art as it is science, but as long as one is even somewhat optimistic on what the future holds for CVS, they would agree with this argument.
Moreover, Simply Safe Dividends notes that the dividend yield of 3.08% is 69% above its 5-year average of 1.82%. While part of this is due to the rise in interest rates over the past several years and the flight to treasury notes, this serves as additional evidence that CVS is currently undervalued. Rather than use the 5-year average of 1.82% (indicating a stock price of $110 a share, which would prove to be a marked overvaluation), I will build in a more reasonable reversion to a 5-year average yield of 2.5% as this compares more favorably to the 2.98% 30-year treasury yield, offering more growth opportunity to compensate for the increased risk profile that accompanies an equity investment.
Applying a 2.5% fair value yield, we arrive at the conclusion that CVS is currently trading at a price to fair value discount of 18.7%, offering 23.2% upside in terms of valuation expansion during its reversion to a fair value yield. This would translate into a fair value price of ~$80 a share.

Image Source: Investopedia
As a final indication of undervaluation, we can look no further than my estimation of fair value using the dividend discount model or DDM. For the intents and purposes of this article, I'll be using the single stage DDM rather than the multi-stage DDM for the sake of simplicity and to better illustrate my point.
Using the current annualized dividend of $2.00 per share, a required rate of return of 10%, and a conservative long-term dividend growth rate of 7.5% (roughly half the 20-year DGR), we arrive at a fair value of ~$80 per share.
Because I aim to be conservative in my fair value estimates, I will exclude Morningstar's fair value estimate of $96 from my fair value estimate. In doing so, we still arrive at a fair value of $77.34 a share. This would indicate CVS is currently trading at a 15.9% discount to fair value while offering 19% upside, on top of the dividend and earnings growth accompanying the investment in CVS.
Summary: CVS Health Offers Investors A High Probability Of Market-Beating Total Returns
While I'll concede I don't have a crystal ball as one can't predict for certain whether management will be able to execute on growth catalysts and minimize risks facing the company, I believe CVS offers a high probability of delivering market-beating total returns over the long term.
CVS offers an above-average dividend yield, both in terms of its historical dividend yield and in comparison to the broader market. While some would say this suggests the company could be a value trap, I will argue to the contrary.
Though the Aetna merger does mean CVS has taken on $40 billion in debt, it also means that CVS has the opportunity to fundamentally transform the healthcare industry. It will take strong management to execute on this generational type opportunity and I believe CVS has the management to deliver on its promises, which leads me into my next point.
While the market is discounting the capabilities of CVS to capitalize on this opportunity, this has pushed the current price of CVS to both an attractive entry point for investors looking to initiate a position or for current CVS shareholders to add to their position.
When we couple the ~3.1% starting yield, a highly conservative earnings growth rate of 8%, and even a static multiple valuation, we arrive at 11.1% total returns over the next 5-10 years. In even a slightly disappointing scenario, we could see total returns of 14.9% in the next 10 years. (3.1% yield plus 10% earnings growth plus an average annual 1.8% multiple expansion). The bottom line is CVS could fall short of the analyst estimates of 12% earnings growth over the next 5 years and still prove to be a market-beating investment.
Disclosure: I am/we are long CVS. I wrote this article myself, and it expresses my own opinions. I am not receiving compensation for it (other than from Seeking Alpha). I have no business relationship with any company whose stock is mentioned in this article.