Last week, Skechers (SKX) provided an excellent example of why it is important to keep on one's radar companies that may not be the most glamorous or well-known of their sector.
Company management reported solid Q4 2018 and FY 2018 numbers, reporting sales of $4.64 billion (up 11.5% year/year) and operating income of $438 million (9.4% of net sales and up 14.4% year/year).
Management also reported operational improvements, as SG&A expenses decreased by 130 basis points as a percentage of net revenue (note that rising SG&A expenses and general concerns about profitability were two of the primary reasons shares nearly halved from early to late 2018).
Gross margins also improved 90 basis points to 47.7%, which the company attributed to improved pricing power and product mix in the North American region (more on why this is significant later).
Overseas Momentum Continues
Sales in international markets have been a key source of sales growth for China over the past several years. International sales grew in FY 2018 by 19.2% year/year and now comprise 54% of sales.
China, in particular, has been a key revenue driver for Skechers: sales in the region have ballooned from just $86 million in FY 2014 to over $700 million in FY 2018 (per the below chart).
| | | | | | |
| --- | --- | --- | --- | --- | --- |
| | FY 2014 | FY 2015 | FY 2016 | FY 2017 | FY 2018 |
| Skechers' China Revenue (in m) | 86.00 | 220.00 | 375.00 | 575.00 | 731.4 |
| Growth Year/Year | 100% | 156% | 70% | 53% | 27% |
| % of Sales | 3.6% | 7.0% | 10.5% | 13.8% | 15.8% |
(Source: Author's calculations and Skechers annual reports).
Skechers' international momentum has been a strong and valuable tailwind for the company, which has experienced slowed domestic growth in recent years. Management referenced the company's international sales potential during its most recent earnings call, noting that:
We are still a relatively young brand in developing markets with great opportunities in regions like Latin America and Eastern Europe as well as in high-growth international countries including China, India and Mexico. In 2019, our focus will be on continuing to drive sales with new product offerings and building our brands in international markets
Skechers' Domestic Resurgence
North America has been a particularly tough market for Skechers over the past few years for a couple of reasons: first, North America (the United States in particular) has one of the largest, most competitive, and mature sportswear markets globally.
As such, Skechers has been forced to compete for a slice of a relatively fixed pie against much larger and well-heeled competitors, the largest of which are Nike (NKE) and Adidas (OTCQX:ADDYY).
In addition, as I've described in past articles on the company, Skechers has a bit of a brand perception issue in the United States: its products have traditionally been viewed as less "cool" and fashionable than those of its competitors.
This has made it difficult for the company to make inroads among younger, more fashion-conscious consumers which has (in my view) contributed to the company's weakness in North America over the past several years: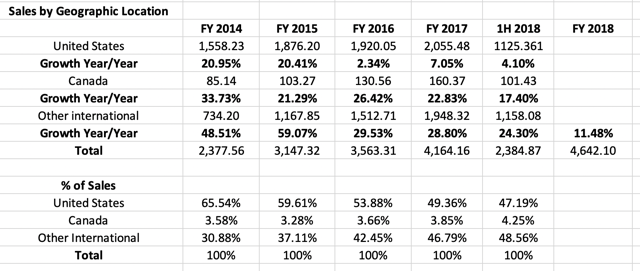 (Source: Skechers' annual reports).
Note that sales in the United States slowed sharply after 2015 and that sales in the region have declined as a percent of net sales from 60% to 47% from 2014 to 2018.
However, it appears that the company has begun to turn a corner in the U.S.: domestic wholesale sales increased 4.8% in Q4 2018 and management attributed improved gross margins to increased pricing power and a better product mix in the U.S.
Skechers' performance in the United States has improved recently for several reasons: one, the company has hired high-profile celebrities such as Camila Cabello to promote its shoes, which has given the company a means of gaining clout among younger consumer.
Secondly, Skechers has benefited from a renewed interest in retro "chunky" shoe styles, which had before been perceived as unfashionable and out of touch. This article does an excellent job of describing the trend and Skechers' place in it.
This is great news for Skechers' shareholders since slowing domestic sales have been a major weak point of the company and one of the best arguments for the bear case.
Valuation
Even after recent share price outperformance, Skechers still looks attractive on a fundamental basis: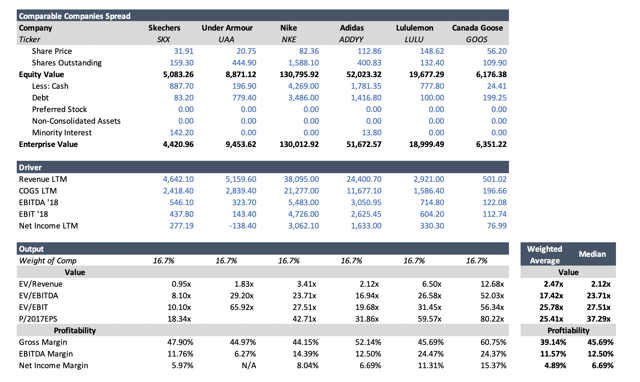 (Source: SEC filings)
Note that the company's shares are the least expensive (relative to those of its peer group) based on almost every conceivable valuation metric: EV/Revenue, EV/EBITDA, price/earnings, etc. I believe this is partly attributable to the company's weak North American performance over the past three years and margins that had (up until recently) been on a downtrend.
In addition, I believe that investors have a tendency to flock to the companies that are considered glamorous or "in", as dictated by the whims and predilections of modern society. This has led to Skechers' valuation diverging sharply from those of its more popular peers (e.g. Lululemon (NASDAQ:LULU), Nike, and Canada Goose (NYSE:GOOS)) over the past few years.
These factors have presented a compelling buying opportunity for Skechers over the past twelve months, which I described in an article I published last year. While shares have rebounded nearly 50% from 2018-lows, it stands to reason that shares have additional room to run if the company can continue to grow sales while maintaining cost efficiencies.
Investment Concerns
Skechers faces FX risk from currency fluctuations. One example of this is as follows: if the RMB devalues, then the price of Skechers shoes for Chinese consumers will increase. In addition, USD strength is also a headwind as foreign earnings must eventually be converted into USD.
The dominance of Nike and Adidas and additional pressure from smaller sportswear firms like Under Armour (NYSE:UAA) (NYSE:UA) and Lululemon makes it possible that recent domestic sales growth will be temporary and that international growth will soon decelerate, as has domestic sales growth.
Skechers' joint venture model (employed in overseas markets) allows it to leverage the "on the ground" insights of foreign companies and reduces upfront capital expenditures but reduces overseas sales and earnings.
Investment Positives
As mentioned earlier, Skechers looks undervalued relative to peers based on a number of valuation metrics.
Skechers also has a great balance sheet with significant cash and a small amount of debt, which it has begun to employ in order to repurchase shares.
Skechers' top-line performance should continue to be solid given that the company has significant room to grow in China, India, and other countries.
Skechers occupies a comfortable niche in the sportswear industry as it offers shoes at more affordable price points relative to those of its competitors.
The Greenberg family owns a large number of shares and has done an excellent job of increasing shareholder value since SKX first became a publicly-traded company in 1999.
Incentive Compensation Plan
As I wrote in my last article on the company, Skechers' current incentive plan rewards executives for growth, not profitability. Annual bonuses are determined by a formula that measures the "amount by which net sales for the quarter in fiscal 2017 exceeded net sales for the corresponding quarter in fiscal 2016."
This aligns with management's stated intent (mentioned on multiple previous earnings calls) to focus on top-line growth, even if short-term profitability suffers. The company paid a total of $6.2 million to five executives under this incentive compensation plan in 2017.
I mention this in order to note the following points:
Skechers has a simple lever that it can pull to reverse this trend by redesigning said incentive structure so as to reward company employees for bottom-line improvements. In theory, this means that Skechers could readily address concerns about profitability (which it has begun to do).
I believe that as smaller companies like Skechers gain market share, profitability must suffer to some degree in the short-run in order to drive product innovation, marketing, and operational efficiencies that are necessary to take market share from incumbents and dominant players (which in this case are mainly Nike and Adidas).
This focus on top-line performance should translate to increased operating leverage in the future due to scale.
Conclusion
Skechers has done an admirable job of righting its ship after a series of earnings mishaps last year. The company has continued to drive both domestic and international sales momentum while improving its bottom line by focusing on marketing to younger consumers and taking advantage of growth potential overseas.
As a quick aside, I'd like to remind investors of the importance of avoiding cognitive and psychological biases when evaluating companies by briefly mentioning my experience writing about Skechers.
One of my first articles on Seeking Alpha was sharply bearish on Skechers, which in retrospect was driven by a personal perception of the company's products as unfashionable and unpopular.
I failed to recognize the company's potential overseas and instead myopically focused on the company's weakness domestically when developing a view on the company. Since then, I have become more positive on the company and wrote a mea culpa article in early 2018 and a bullish article in mid-2018.
However, the sportswear industry, in particular, can be quite fickle and shift rapidly due to changes in fashion trends and consumer taste. I'll continue to monitor the company's progress and will keep readers updated via articles on this site.
Please feel free to reach out with any comments or questions either via the comments section or through email (email address is in my Seeking Alpha bio). Thanks for reading!
Disclosure: I/we have no positions in any stocks mentioned, and no plans to initiate any positions within the next 72 hours. I wrote this article myself, and it expresses my own opinions. I am not receiving compensation for it (other than from Seeking Alpha). I have no business relationship with any company whose stock is mentioned in this article.