[Warning: This post is double my usual length because I'm introducing a new idea. But like Moby Dick, it's worth it.]
I admit it. I'm a sucker for value stocks. Keep your Amazons, keep your Nvidia's. Give me a cheap stock with a reasonable story any day. A friend recently tipped me off to a likely new candidate, Ally Financial (ALLY). After doing some work, I liked what I saw, then bought the stock, then thought I'd share it with ya'll. I'm friendly that way.
I put in the work on Ally for three reasons. First, it's a simple story even a B student like me can grasp. Ally is a bank that primarily makes car loans and finances them through an online bank. That doesn't sound too hard, right?
Second, Ally's businesses are in my wheelhouse. During my working career as a stock analyst I covered consumer lenders and savings banks, among others. So there is a real chance that I might know what I'm talking about! No guarantees of course, but hey, you got this for free.
Third, Ally's valuation is intriguing. The stock is selling at only 81% of its $32.80 book value, so Mr. Market believes its assets are significantly overvalued. For example, to write down its $32.80 book value to yesterday's $26.42 stock price, Ally would need to increase its reserve for loan losses from $1.2 billion to $4.5 billion. Further, Mr. Market appears to assume that its online bank is worth nada. Finally, the stock sells at a substantial 13.5% earnings yield (the flip of its P/E ratio), based on Wall Street consensus EPS of $3.57 this year. A 13.5% yielding bond says investors see a high likelihood of a default. A 13.5% yield on a stock says that its EPS will soon turn down and stay down.
Therefore, to see value in this stock, I don't have to conjure up a growth story. I just have to conclude that a disaster is not imminent. And I in fact so conclude:
Auto loan quality, and in particular Ally's, is nowhere near a bubble about to pop.
Ally's online bank has real value.
The consensus EPS estimate of $3.57 for 2019 is quite reasonable.
And as a bonus:
Ally has a very shareholder-friendly capital management policy.
All in all, I think the stock has a 50% upside over the next few years. Take that, Nvidia.
Let me show you what I mean.
U.S. auto loan quality is in decent shape.
Auto loan quality is a function of (1) lending standards, and (2) job growth, as a proxy for car owners' ability to pay. Four pictures and a quote should convince you that U.S. auto lending is in reasonably good shape on both counts.
#1: Auto debt to household income. Lenders get into trouble when they lend too much relative to borrowers' repayment source, namely their income. Here's a history of the ratio of auto debt outstanding to household income: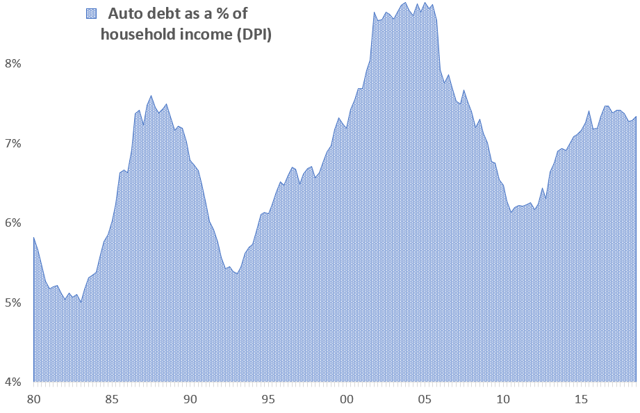 Sources: Federal Reserve, Bureau of Economic Analysis
We're not in a bad place at all. The ratio is far off its peak, and actually declined a bit recently.
#2: Borrower quality. Risky borrowers are called subprime. Here's the percent of auto loans made to subprime borrowers with less than a 620 credit score: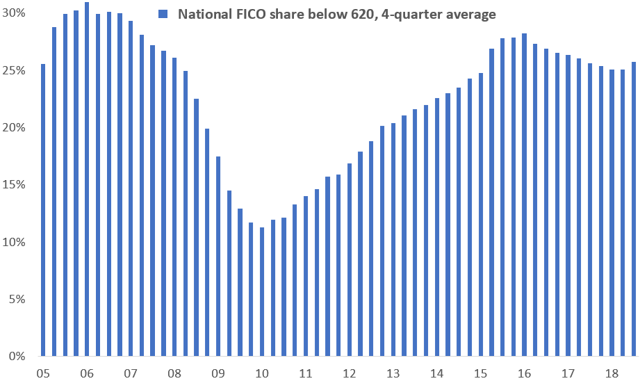 Source: New York Federal Reserve
This is not as pretty of a picture. Subprime lending boomed in the mid-'00s, then blew up. Auto lenders waded back into the subprime waters beginning in 2010, nearly reaching the old peak by 2016. That showed up in increased delinquent and defaulted loans, as we shall shortly see. But lenders sobered up a bit over the past few years, which is very good news.
#3: Auto lending competition appears sane. Lending gets dangerous when the industry players collectively set growth plans that materially exceed the long-term growth rate of their product. As a mature product, auto loans outstanding should grow at about the rate of household income growth, which has been running at 5% recently. The auto lending industry collectively seems comfortable with that growth rate, as this quote from Ally's last earnings conference call suggests:
"With respect to the competitive environment, I'd say, overall, it's pretty stable. We haven't seen any meaningful shifts…For the most part, the past 6 months has been stable and pretty rational, still very competitive. I don't want to imply that competition is decreasing. It's still a very competitive market. But I think we've all found in niches where we all can play successfully there."
As further evidence of competitor rationality, Ally said that it was able to raise its average auto loan yield by 0.8% last year, right in line with the increase in market interest rates. In their words, "We have…passed on…a little over 100% of the rate increase to date." An overly competitive market wouldn't allow that to happen.
#4: The unemployment rate. The higher unemployment is, the more likely that auto loan defaults will rise. A publicly available long-term measure of auto loan default rates doesn't exist, but the Federal Reserve has a loss rate for non-credit card consumer loans, a category that is very largely car loans. I therefore compare that loss rate history to the U.S. unemployment rate: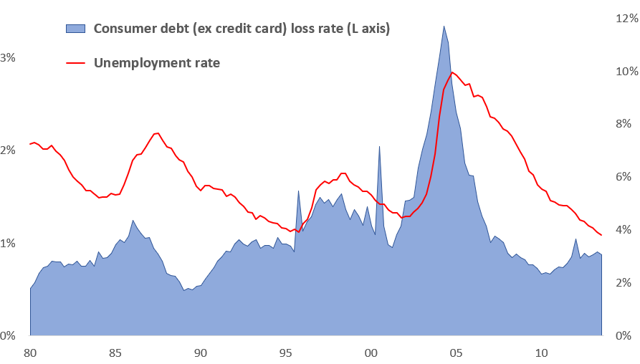 Sources: Federal Reserve and Department of Labor.
Excellent correlation. And since the current unemployment rate is near a record low, that's good for car loan quality.
#5: A job growth forecast. Will the US unemployment rate rise sharply soon? My preferred forecasting tool for the economy is real private sector (consumer and business) debt growth. Private sector debt growth is therefore also a good predictor of job growth, as this picture shows: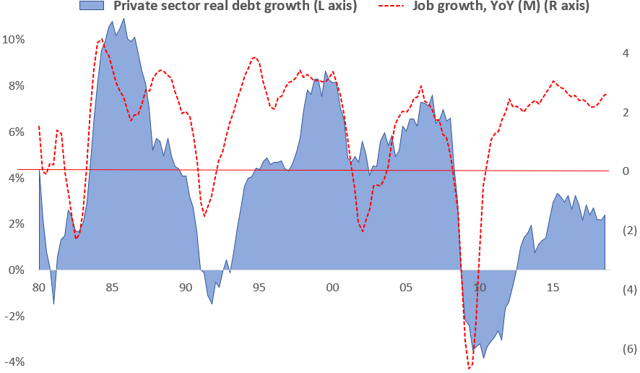 Sources: Federal Reserve, Department of Labor
Historically, lenders over-lend, then restrict credit, which in turn causes a recession and job losses. But lenders aren't over-lending today. Private lenders therefore have no reason to materially tighten credit. I therefore don't foresee a near-term recession or sharp rise in unemployment.
Net/net, the environment for auto lending is pretty gosh darn good.
Ally's own auto loan quality appears solid. Ally has a more conservative lending profile than the average U.S. auto lender:
Its charge-off rate (write-offs divided by loans outstanding) appears on the low side. Ally's charge-off rate was 1.5% last quarter. That compares favorably to major competitors – Capital One was 2.0% and General Motors was 1.8%.
Its growth rate has been reasonable. Over the past 3 years Ally grew its consumer car loan portfolio by 4.9% on average, right in line with the industry average.
Its share of subprime loans is well below average. Over the past three years, 26% of lenders' car loans have been to borrowers with less than a 620 credit score. Ally's average was 11%.
It is therefore highly unlikely that Ally will experience a material rise in defaults unless its peers are doing so also.
Online banking is the future, and Ally is there already.
I don't know about you, but I'm thinking the internet is here to stay. Even internet banking is catching on, as this snippet from Ally's 2017 10-K noted:
"According to a 2017 American Bankers Association survey, 72% of customers prefer to do their banking most often via digital and other direct channels (internet, mobile, telephone, and mail). Furthermore, over the past five years, estimated direct banking deposits as a percentage of the broader retail deposits market increased…from 6.3% to 8.1%."
The online economics for a bank is pretty simple. Running a bank branch system costs about one percentage point of deposits or more to run. Ally, with no branches, claims that it spent $263 million to acquire deposits during 2017, or only 0.3% of deposits. It uses that 0.7% cost advantage to pay a higher deposit rate to attract new customers. In fact, of the eight best ranked (by BankRate) bank money market account rates, six were offered by branchless banking networks. The U.S. banking system will be branch-heavy for many years ahead, allowing Ally to take market share relatively painlessly for a long time because of its operating cost advantage. And Ally tries to be cost-effective even versus its online peers: "Our strategy around deposits has been largely to lag some of the leaders in the space and to be prudent with our expenses around branding." (Q4 earnings conference call)
Keep in mind that Ally, which once was General Motors' lending arm, didn't get a bank charter until 2008, so financing its auto loans is still transitioning from debt to deposits. The following table shows the rapid progress the company has made:

Sources: Company reports.
Ally's retail deposits increased by 61% over the past three years. Its 14% growth last year compares to 4% national deposit growth. Better yet, Ally noted on its Q4 earnings conference call that "Millennial customers accounted for 55% of new account openings during the year"; younger customers should have a better growth rate.
Retail deposits now comprise 55% of Ally's funding, up from 40% in 2015. The transformation is lowering Ally's overall funding costs. For example, Ally has been able to greatly reduce its secured debt, which costs about one percentage point more than Ally's deposit costs. As a result, despite a rise in the fed rates rate from 0.25% at the end of 2015 to 2.40% today, Ally's interest margin (interest income divided by earning assets) held steady at about 2.7% over the period.
Is Ally's EPS jump for real? It sure looks like it.
Ally earned $2.16 of operating EPS in 2016. But its Q4 2018 operating EPS was $3.68 annualized, and the Wall Street consensus for 2019 is $3.57. Is this 70% jump explainable and sustainable? I think so. My argument starts by summarizing Ally's Q4 '16 and Q4 '18 operating income statements: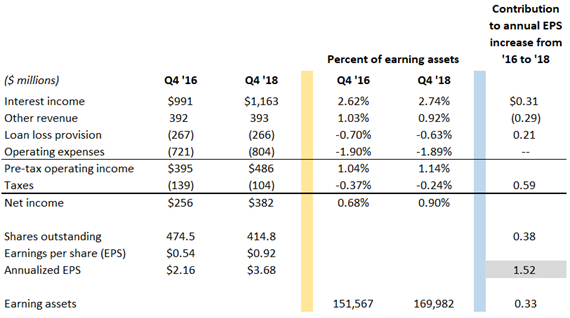 Let's review Ally's earnings drivers:
Earning assets grew by 6% annualized over the past two years, somewhat faster than auto debt alone because Ally built its home mortgage portfolio. I'd assume slower growth ahead, but remember that Mr. Market expects Ally's EPS to materially decline. Any growth is a positive at Ally's current stock price.
The interest margin widened by 12 bp over the past two years, despite a material rise in interest rates. That is because of two factors I noted above. One is that auto lending competition has been benign, so Ally has been able to increase loan yields in line with market interest rates. Second, the rapid growth of Ally's online banking business has been lowering its funding costs. Management was optimistic on its earnings call that its interest margin will widen again this year.
Other revenues were flat in dollars but fell relative to earning assets over the past two years. Ally said it has de-emphasized some fee-based auto-related businesses.
The loan loss provision was also flat in dollars but fell relative to earning assets, clearly due to Ally's conservative underwriting and the strong job market. My optimism above about US job growth suggests Ally won't have to push the provision much near-term.
Operating expenses grew in line with earning assets. Management was optimistic about cost controls this year on its conference call.
Shares outstanding declined by an impressive 13% over the past two years. A reasonable guess is that Ally will reduce its share count by another 5% this year.
Net/net, I expect Ally to equal or exceed Wall Street's $3.57 EPS forecast for this year. That makes for a very cheap stock indeed.
Finally, Ally has a very shareholder-friendly capital management policy. It's one thing to earn good money. It's another to use that money to actually benefit shareholders.
What do I mean by that? The fact is that Ally's core businesses – car lending and deposit-collecting – are mature businesses, with secular growth rates of perhaps 4-5%. Growing by 4-5% a year isn't sexy. Mr. Market loves growth stories, so many managements of mature businesses can't resist the temptation to juice up their growth rate, either through acquisition or by trying to take market share. In my experience, the success rate of those growth efforts by financial companies is awful. Most of the time the growth efforts end up in big write-offs, of bad loans or over-valued acquisitions.
The far better strategy for managements of mature businesses is to give back to shareholders any free cash flow earned, through dividends or stock buybacks. Chuckie Schumer and Bernie Sanders may hate buybacks, but I love them. Shareholders can then use that return of capital to chase growth on their own, to buy a rocking chair or to contribute to Chuckie Schumer's next campaign.
Ally has been superb in returning capital to shareholders. Over the past three years it earned $3.3 billion. Shareholders received three-quarters of that sum - $532 million in dividends and $2.0 billion in stock buybacks. The buybacks reduced its share count by a hefty 16%. The current dividend per share is $0.68, for a 2.6% cash yield.
I am quite confident that management will actively continue its share buyback program. As Ally's management said in its earnings conference call "…Our stock is trading today at a discount to book value. We've been leaning heavily into share repurchases…We really like the returns we're seeing from buybacks." (Seeking Alpha)
Summing up, this is one cheap stock. Hopefully I convinced you that:
Auto lending, and in particular Ally's auto lending, is nowhere near a bubble about to pop.
Ally's online bank does have real value.
The consensus EPS estimate of $3.57 for 2019 is quite reasonable.
Ally has a very shareholder-friendly capital management policy.
I see Ally earnings $4+ a share a few years from now. Put a moderate 10 P/E on that number and that's my 50% upside. And maybe yours.
Disclosure: I am/we are long ALLY. I wrote this article myself, and it expresses my own opinions. I am not receiving compensation for it (other than from Seeking Alpha). I have no business relationship with any company whose stock is mentioned in this article.