Introduction
Costco Wholesale Corporation (COST) is a worldwide company that sells a wide range of consumer products and services through a membership service. These include high-ticket items such as bedding and low-priced essential items such as groceries. The company does not sell through the usual retail outlets.
As the company also sells low-value essential items, these should help reduce the negative impact on its earnings during periods of economic weakness.
Costco's earnings have grown over the years with more growth excepted heading into 2020. The company has 20 new warehouse planned for 2019 and is also entering the Chinese market.
While the stock is expensive, most good growth stocks are expensive as investors are happy to pay for growth. Given its strong growth potential, I think Costco would make a sound long-term investment.
Financials
Costco has reported financial results for the first quarter ending November 2018 (data from Seeking Alpha and Yahoo). Note: Costco's financial year starts in September.
The company's revenue was up 10 percent and its earnings were up 19 percent from the same quarter last year. Over the last five years Costco's revenue has grown 5.9 percent per year and its earnings have increased by 8.6 percent per year.
The return on equity is very good at 27 percent. Over the last decade the return on equity has broadly worked its way higher from around 13 percent ten years ago.
The profit margin (profit to revenue ratio) is quite low at 2.25 percent. The profit margin over the last ten years typically ranged from 1.5 to 2.0 percent. The profit margins from the last five quarters ranged from 2.01 to 2.35.
Costco's current liabilities almost equals its current assets (giving a current ratio of 1.02). The company has a history of operating with the bare minimum of working capital. Over the last ten years its current ratio has never exceeded 1.2 on its annual balance sheets.
The debt ratio (liabilities to tangible assets) is 0.69, which means that the value of Costco's Tangible Assets covers its liabilities (Tangible Assets are hard physical assets that can be sold in the event of liquidation).
The company's book value is currently around $30 and with a stock price of $208 Costco is trading at 7.0x book value.
The analysts' consensus forecasts are for revenue to increase 7.9 percent in 2019 and increase 6.6 percent in 2020. Earnings are forecast to increase 28 percent in 2019 and increase 8.3 percent in 2020. The 2019 PE ratio is 27x and the 2020 PE ratio is 25x.
Costco has a solid history of growth with its return on equity doubling over the last decade. The return on equity has broadly increased year after year implying that management is becoming increasingly efficient at utilizing the company's assets to generate profits.
Long-term debt is under control, but Costco does operate with the bare minimum of working capital with a current ratio of almost 1.0. The company has an established history of operating with minimal working capital and seems to manage as the company's debt ratio has remained under control over the years.
Earnings Risks
In Costco's Earnings Call, the company stated that their first quarter shopping traffic increased 4.9 percent worldwide and increased 5.2 percent with the United States.
While Costco sells through memberships via their warehouse network, the company is still a retail company selling to consumers.
Being a retail consumer company puts them at risk of a reduction in consumer spending. An often-cited indicator is the Consumer Sentiment produced by the University of Michigan. This indicator is generally considered to be a leading indicator and is shown below going back to before 1980.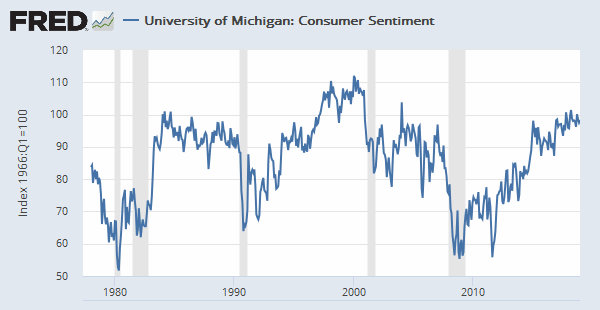 Chart: Federal Reserve Bank of St. Louis, Data: University of Michigan
The shaded bars shown on the chart are U.S. recessions. The chart shows how the Consumer Sentiment has generally increased from the recession of 2008. As the indicator is still showing a distinctive uptrend, at this stage I think that consumer spending is sufficiently strong to support Costco earnings growth. Should the indicator dip down like it did in 2001, then I would be concerned.
An economic measure I like to follow is the nonfarm employees report produced by the Bureau of Labor Statistics. The number of nonfarm employees has currently increased by 1.7 percent year on year.
Though many years of personal experience I have found that when the nonfarm employees' index drops below one percent the economy then really starts to struggle. This is due to people finding it more challenging in obtaining work. This leads to people avoiding high priced items which will most likely affect Costco's revenue since the company sells high ticket items like kitchen appliances, bedding, computers, jewelry, vacation travel and the list goes on.
Again, given that the nonfarm employees' index is currently at 1.7 percent I think the economy is sufficiently strong at present to support Costco's earnings growth, but this could change in the future.
By the looks of things Costco expects consumer spending to continue as the company has plans to expand both locally and overseas. As part of Costco's expansion plan, the company has opened six new warehouses during the quarter. For 2019 the company expects to open about 20 new warehouses in total.
Costco also have plans to enter the Chinese market, with construction underway in Shanghai which is expected to open later this year. I think is a smart move by management as china is fast becoming a huge retail consumer market. Expanding into china will really help boost Costco's future revenue.
Even the analysts have forecast healthily revenue and earnings growth heading into 2020. I personally think that Costco will continue to thrive and expand its operations worldwide. While the economy is certainly a risk factor for Costco's earnings growth, I think the most an economic slowdown will do is put a temporary dent in the company's growth.
While the company does sell high ticket items, it also sells all sorts of low ticket items that are largely shielded from economic weakness. These include groceries, optical and pharmacy products. These items are needed irrespective of the state of the economy and should provide some buffering to Costco's earnings.
Stock Valuation
Costco is a growth stock as evident by its historical growth with revenue increasing 5.9 percent per year and earnings increasing 8.6 percent per year since 2014. The PEG (PE divided by the earnings growth rate) is an appropriate method for valuing a growth stock like Costco.
The forward annual earnings growth using forecast data is 8.3 percent for 2020. This is marginally less than the historical earnings growth of 8.6 percent per year.
Using the slightly lower 2020 expected earnings growth of 8.3 percent leads to a slightly more conservative valuation. This gives a forward PEG of 3.0 with a 2020 PE of 25x.
A forward PEG of 3.0 means that Costco is overvalued with a current stock price of $208. It is commonly accepted that a stock is fairly valued when its forward PEG is 1.0 which gives Costco a fair value stock price of around $70.
Costco's forward PE is 25x and its book value is 7.0x which makes the current stock price expensive. However, most good growth stocks are expensive as investors are happy to pay for future growth.
Stock Price Target
As an active investor I personally like to determine some likely price targets. This gives me a feel for how high the stock price could go in the short term and how soon it could get there.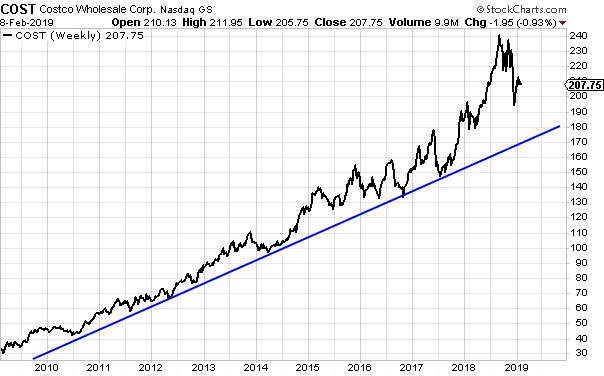 Costco chart by StockCharts.com
Examining the stock chart reveals that Costco has had a fantastic run in price over the last decade. The stock price has essentially followed a trend-line (blue line shown slopping upwards underneath the price).
The stock pulled back from its 2018 high along with the broader market indices before showing a short rally for this year (which also corresponds with the rally seen so far this year from the broader market indices).
Costco had a strong run up in price during 2018 having pulled away from the trend-line. For the stock to make new highs I think it will only do so if the market itself trades to new highs.
If the market does trade to new highs I would expect the stock to rally. The $60 gain seen in 2018 (which is the $240 high less the $180 at the start of the year) could easily be replicated in 2019.
The $60 rally added to the $193 low for this year would give a target of $253 which could be reached in 12 months.
Stock Price Risks
The broader market poses a risk to Costco's stock price. The market indices have been trending upwards with a bull market that began in 2009. These market indices have currently pulled back from their highs with a short rally so far this year. It's always possible that this is the start a bear market with the current market rally being nothing more than a bear rally.
Given the strength seen in Costco's stock price and its relative earnings strength in a weak economy I would expect the stock to be somewhat resistant to a major decline if a bear market took hold. The trend line shown on its stock chart could possibly provide support. If not then the general trading range (with the lows around $130) seen during the market weakness of 2015 leading into 2016 may provide some support.
Over the longer term, the stock price would likely work its way higher as long Costco's earnings growth continues. If its earnings growth rate falls significantly in the future I would expect the stock market to revalue Costco's downwards.
Conclusion
Costco is a company that has shown strong growth over the years with more growth excepted heading into 2020. Management has expansion plans in place with 20 new warehouse planned for 2019. Costco is also entering the Chinese market which could see a nice boost to earnings in future years.
While Costco's earnings are not immune to a slowing economy, the company does sell a large range of low value essential items. These should help reduce the negative impact on its earnings. At present I think that consumer spending is sufficient to support Costco's earnings growth.
The stock is expensive and is trading at high multiples. However, most good growth stocks are expensive and do trade at high multiples. In my opinion Costco would make a sound long term investment, but in the short term the stock price could temporarily decline in the event of economic weakness.
Disclosure: I/we have no positions in any stocks mentioned, and no plans to initiate any positions within the next 72 hours. I wrote this article myself, and it expresses my own opinions. I am not receiving compensation for it (other than from Seeking Alpha). I have no business relationship with any company whose stock is mentioned in this article.