Small cap exoskeleton maker Ekso Bionics (EKSO) saw shares get a boost last week when a new joint venture was announced for China. The venture is great news, as China has the largest population of stroke patients. Ekso can collect royalties on sales and strengthen its financials as a rollout happens in China. Investors may also have bid shares of Ekso up on an article linking Boeing (NYSE:BA) to using Ekso industrial vests that help improve worker productivity. Today, I look at these two exciting catalysts and why Ekso Bionics continues to be a high reward stock, with less risk than in the past.
Ekso Bionics announced a new joint venture with Zhejiang Youchuang Venture Capital Investment Company and Zhejiang Silicon Paradise Asset Management. The venture covers developing, selling, and supporting exoskeletons in China, Hong Kong, Singapore, and Malaysia. The new joint venture will start with a capitalization of $100 million.
Ekso will license its manufacturing technology and contribute patent rights in China for a 20% ownership in the joint venture. The other companies will invest $90 million in the joint venture. Ekso will also receive royalties on medical and industrial product sales from the joint venture, offering a possible huge revenue stream in the future. A portion of the $90 million in cash will be used for the construction of a production facility in the Zhejiang province, near Shanghai. The factory will be purpose-built to manufacture component parts at scale, and help improve margins. The partners in the joint venture will invest $5 million in Ekso now and $5 million after the venture begins shipping products.
This joint venture is a huge catalyst for Ekso for many reasons. The partnership strengthens the IP of Ekso, creates a royalty stream in the region, and takes advantage of an area that has a huge stroke population. In China, stroke is the leading cause of death. Every year, more than 2 million Chinese residents die from stroke, with 12 million in the country among the current stroke population. This figure is expected to double to 30 million by the year 2030. China also has 2 million spinal cord patients that could benefit by exoskeletons.
According to statistics from 2017, the Chinese opportunity is huge for stroke:
China #1: 2.1 million deaths, 22.5% of related deaths for the year
United States #5: 131,954 deaths, 5.8% of related deaths for the year
Singapore #4: 1,806 deaths, 7.4% of related deaths for the year
Malaysia #3: 15,642 deaths, 11.3% of related deaths for the year
In the United States, heart disease is the number one cause of death with over 479,000, making up 20.9% of related deaths. The number of deaths in China from stroke is more than all of the top ten causes of death in the United States. The number of stroke rehabilitation centers continues to rise fast in China. By the year 2021, the number of stroke rehab centers in China is expected to exceed the United States and Europe combined. This is a huge opportunity for Ekso and with the right partners here, this could lead to Ekso's revenue and share price increasing significantly beginning in the next fiscal year.
The industrial segment continues to be a huge opportunity for Ekso in my opinion. I wrote before on the partnership between Ford (F) and Ekso and how exoskeletons worn by factory workers were helping with productivity and reducing workplace injuries. At that time, I suggested that the positive press from the Ford partnership could lead to additional large industrial companies piloting and testing the Ekso products.
Similar to the Ford partnership, Ekso once again got some positive press thanks to a partner. This time it was a Reuters article highlighting Boeing using EksoVests to help with production of its planes. While shares were believed to have initially jumped more than 35% in pre-market trading on the day of the joint venture announcement, it could have been the Reuters article, or a combination of both.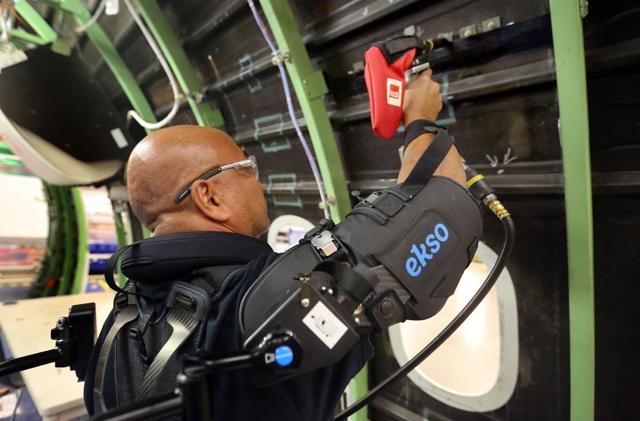 (Photo Credit)
Boeing is facing a problem every company would love to have. The company has record orders and can't keep up with demand. With a current production rate of 12 787 Dreamliners per month, Boeing is trying everything in its power to increase this rate to 14 a month to help increase revenue and profit margins. Dreamliner factories in South Carolina and Washington have both tested EksoVests to create a new bionic style worker, that is half human, half robot.
Just like with Ford, the EksoVests are helping Boeing employees reduce fatigue on repetitive tasks, such as overhead drilling. The vests are also said to increase strength and speed. Christopher Reid, a Boeing associate said of the vests, "You have the capability of a robot and the capability of a human being melded together."
The 787 Dreamliner has a minimum list price of $239 million. The increased rate of production can help reduce over $20 billion in production costs. The EksoVests cost $4500 to $7000 each. The Reuters article says if trials continue at current rates, they will deploy vests to thousands of workers across the company over the next two years. You will find out below just how big of a deal it could be to land orders for thousands of EksoVests. In simple revenue figures, one thousand vests at the minimum $4500 is $4.5 million.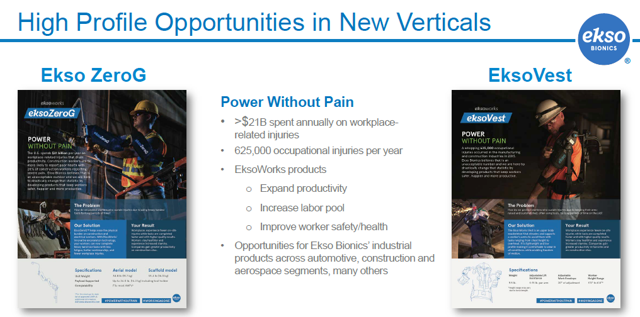 (Photo Credit: October Presentation)
From an October investor presentation, we have an idea of the amazing growth being seen in shipments of products from the industrial segment:
Quarter 1 2017: 57
Quarter 2 2017: 48
Quarter 3 2017: 34
Quarter 4 2017: 56
Quarter 1 2018: 75
Quarter 2 2018: 103
In fiscal 2017, a total of 195 EksoWorks products were shipped. The first two quarters in fiscal 2018 set new records for industrial devices shipped. This is incredible growth for the company and showcases the long-term potential of this segment. In the presentation, Ekso again highlighted the Ford partnership and how it is expanding. The company also listed automotive, construction, and aerospace as possible industrial areas that could benefit from Ekso products.
Back in November, when Ekso reported its third quarter earnings, the company announced it hit record revenue for its EksoWorks segment. The company went on to say that it was seeing new opportunities to expand partnerships similar to the Ford one. Ekso said at the time it had several Fortune 500 companies that were piloting its products.
Ekso described the industrial cycle best with this timeline for trying out and ordering its EksoWorks products:
Discovery phase
Education
Trial
Pilot
Deployment
Ekso said it had a number of large scale manufacturing companies that fell between the trial and pilot phase. That is good news for the future growth of the company and could mean more press releases in the short term announcing major partners and product orders.
Along with China and Boeing, the company's main medical device business is also progressing well. After shipping 61 exoskeletons in fiscal 2017, the company has made great progress in fiscal 2018. The three quarters in fiscal 2018 have seen shipments of 24, 25, and 16 respectively. Compare that to 9, 20, and 11, in the previous year's first three quarters.
Ekso reported its best third quarter in company history back in November. The quarter also marked the second best in company history in terms of total revenue. The company said it has more than doubled its sales pipeline in the United States since the first quarter and continues to see growing adoption of its products.
Ekso will announce fourth quarter and full fiscal year later this month. Last month, Ekso announced preliminary results. Revenue is set to come in at $3.3 million for the fourth quarter, an increase of 32%. That was made up of $2.4 million from medical and $710,000 from industrial. The company said the industrial segment EksoWorks had a robust quarter, with growth in demand for its EksoVest and EksoZeroG. Purchase orders were made in the fourth quarter from two global aerospace manufacturers to create and expand pilot programs utilizing the EksoVest. I look forward to more details on this and guidance for 2019 when actual results are turned in.
Risks remain with this small company. Ekso continues to lose money and while margins are improving, it needs to continue to strengthen its revenue and decrease its associated costs. The company has minimal cash and is always at risk to need to raise money to keep operations going. With the stock price rising recently, I would not be surprised if the company decided to do a stock offering when shares are over $2. To me, the possible long-term outlook for the company outweighs the risk here. This is a company with great technology that has exciting catalysts that could provide short term and long-term boosts to the shares as we look to the rest of 2019.
Disclosure: I/we have no positions in any stocks mentioned, but may initiate a long position in F, EKSO over the next 72 hours. I wrote this article myself, and it expresses my own opinions. I am not receiving compensation for it (other than from Seeking Alpha). I have no business relationship with any company whose stock is mentioned in this article.